<![if !vml]>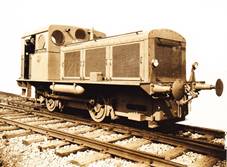 <![endif]>
Sole 2DL (Fablok 610/1935) built for the Gostyń District Railway, location and date unknown. Source: Fablok monograph (see References).
<![if !vml]>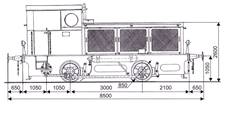 <![endif]>
Side drawing of the 2DL; source: LSPP.
In late 1931 Pierwsza Fabryka Lokomotyw w Polsce S.A. (First Locomotive Factory in Poland JSC) of Chrzanów, known as Fablok, built their first diesel locomotive, G1C. This type proved too weak for intended tasks and remained a sole prototype. It was decided to base further development of diesel motive power on German Deutz designs and documentation of several types was purchased. Diesel engines, gearboxes and transmission were to be imported from Germany and locomotives were fitted with Fablok-Deutz plates. In all, eight types of locomotives powered by internal-combustion engines were planned, designated 1DL through 8DL. Of these, 1DL and 7DL were narrow-gauge ones and 4DL (the only one powered by a benzol engine) was never built. Fablok counted primarily on orders from Silesian collieries; these, however, failed to materialize.
Two-axle type 2DL was the largest and most powerful type from this family, weighting almost 29 tonnes. It was fitted with the Deutz A6M220 diesel engine, rated at 160 hp, and four-speed mechanical transmission with coupling rods. Single example was ordered in late 1934 by the Gostyńska Kolej Powiatowa (Gostyń District Railway) and completed in May 1935. Due to short deadline, most components were purchased from Deutz, with only final assembly taking part in Chrzanów. The locomotive was successful, but no further orders followed. Ultimate fate of the sole 2DL is unknown.
Main technical data
No.

Parameter

Unit

Value

1.

Years of manufacture

-

1935 

2.

Total built / used in Poland

-

1 / 1

3.

Axle arrangement

-

B

4.

Transmission type

-

mechanical

5.

Design maximum speed

km/h

48

6.

Prime mover type

-

Deutz

A6M220

7.

Engine rating

kW/hp

118 / 160

8.

Bore x stroke

mm x mm

9.

Number of cylinders

-

6

10.

Number of electric engines

-

-

11.

Rated output of electric engines

kW

-

12.

Main reduction gear ratio

-

13.

Diameter of drivers

mm

850

14.

Total weight

kg

28 800

15.

Axle load

T

14.4

16.

Axle base

mm

3 500

17.

Overall length

mm

8 500

18.

Maximum width

mm

2 960

19.

Train heating

-

-

20.

Brake type

-

Knorr
References and acknowledgments
<![if !supportLists]>- <![endif]>LSPP;
<![if !supportLists]>- <![endif]>Fablok w Chrzanowie. Monografia (Fablok of Chrzanów. A Monograph) by Bogusław Krasnowolski (ed.), 2004.