<![if !vml]>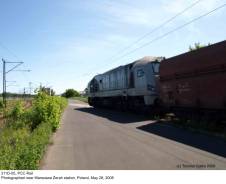 <![endif]>
311D-05 from PCC Rail, photographed near Warszawa Żerań station on May 28, 2008. Several pictures of their locomotives from my collection can be found here.
<![if !vml]>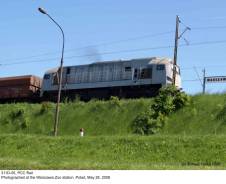 <![endif]>
Another picture of this locomotive, taken a few minutes later at the Warszawa Zoo station.
<![if !vml]>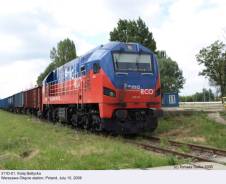 <![endif]>
311D-01, Kolej Bałtycka, with a heavy draft at the Warszawa Okęcie station; July 10, 2008.
<![if !vml]>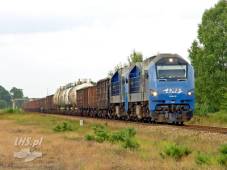 <![endif]>
ST40S-01 and ST40S-02, LHS, double-heading a heavy draft near Nowosielec on July 20. 2008. Photo by Tomasz Ciemnoczułowski (thanks for permission!).
<![if !vml]>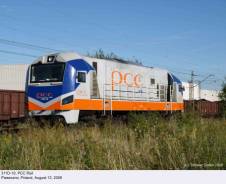 <![endif]>
311D-19 from the PCC Rail fleet, photographed in Piaseczno near Warsaw on August 13, 2008.
<![if !vml]>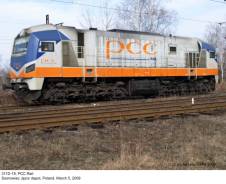 <![endif]>
Another picture of the 311D-19, taken at the Sosnowiec Jęzor depot on March 5, 2009.
<![if !vml]>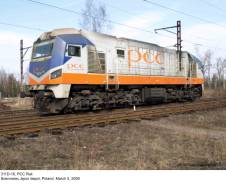 <![endif]>
Two more pictures, taken on the same occasion: 311D-16…
<![if !vml]>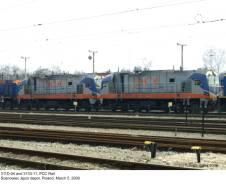 <![endif]>
… and 311D-4 with 311D-11.
<![if !vml]>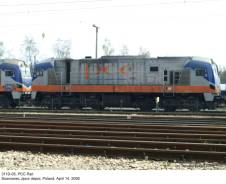 <![endif]>
Second visit to the PCC Rail depot, April 14, 2009: again 311D-05…
<![if !vml]>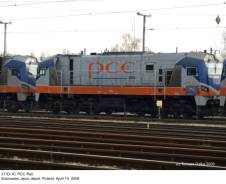 <![endif]>
…and 311D-10. Basically I hate graffiti 'artists', but this monster is quite nice.
<![if !vml]>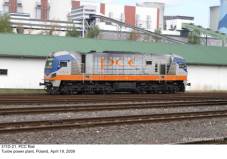 <![endif]>
PCC Rail had the largest fleet of 311Ds, later taken over by DB Schenker Rail Polska (now DB Cargo Polska). This 311D-21 was photographed at the Turów power plant premises on April 19, 2009.
<![if !vml]>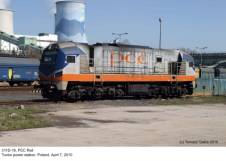 <![endif]>
Another picture from this location: 311D-18, also from PCC Rail, photographed on April 7, 2010.
<![if !vml]>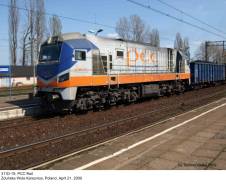 <![endif]>
Third encounter with the 311D-19, this time at the Zduńska Wola Karsznice station on April 19, 2009.
<![if !vml]>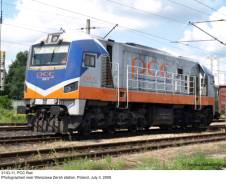 <![endif]>
311D-11 again, this time photographed near the Warszawa Żerań station on July 3, 2009.
<![if !vml]>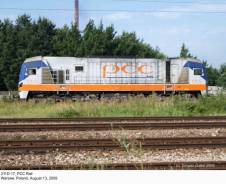 <![endif]>
Another picture taken at this location: 311D-17, August 13, 2009.
<![if !vml]>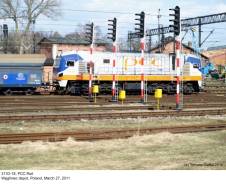 <![endif]>
311D-18 again – this time photographed at the Węgliniec depot on March 27. 2011.
<![if !vml]>

<![endif]>
311D side drawing by B. Żurawiński; from the monograph by Ryszard Rusak (see References).
<![if !vml]>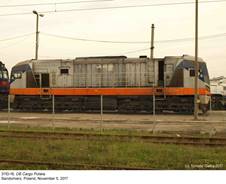 <![endif]>
311D-16 from the DB Cargo Polska fleet, photographed in Sandomierz on November 5, 2017.
<![if !vml]>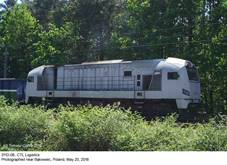 <![endif]>
311D-06, CTL Logistics, photographed near Bąkowiec on May 20, 2018.
<![if !vml]>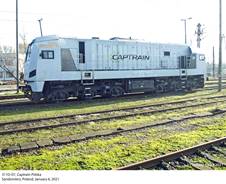 <![endif]>
311D-07, Captrain Polska, Sandomierz, Poland, January 6, 2021.
<![if !vml]>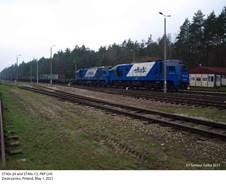 <![endif]>
Broad-gauge ST40s-24 and ST40s-13, double-heading a heavy draft; Zwierzyniec, Poland, May 1, 2021.
<![if !vml]>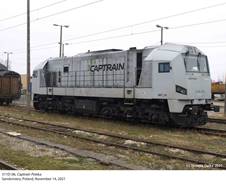 <![endif]>
Back to Sandomierz: 311D-06, Captrain Polska, November 14, 2021.
Between 1965 and 1988 Polish state railways PKP took delivery of almost 1200 M62 heavy diesels from the Lugansk (then Voroshilovgrad) locomotive works, classed ST44. A few dozen more second-hand machines of this type were imported by various private operators during last few years. ST44 has been the most numerous line diesel locomotive in Poland, as well as in some other Eastern European countries. Commonly nicknamed 'Gagarin', this machine has earned itself a good reputation for power, ruggedness and reliability. However, economy of the
low-speed
(750 rpm) 14D40 two-stroke diesel engine, derived from a pre-war GMC design, has left much to be desired. Manufacturer's specification gave specific fuel consumption of 160 g/hp
×
h and oil consumption at rated power of about 4.5 kg/h, but in service these values were usually exceeded. High noise level was a nuisance for crews and from the environmental point of view ST44 is hardly acceptable by current standards.
The majority of Polish ST44s have already been withdrawn from service. In 2007 PKP had less than 140 examples. In fact, their main stronghold is LHS, a PKP subsidiary – the only broad-gauge (1524 mm) line in Poland, connecting Upper Silesia with the Ukrainian border. LHS has always relied almost exclusively on ST44s (often double-heading) and no replacement has been provided. Together with second-hand machines purchased by private operators, this makes a fleet of about two hundred machines intended for further operation. This certainly justifies measures aimed at improving their performance and extending service life.
M62 has turned out to be surprisingly susceptible for modernization. Of course, prime mover replacement is of prime importance. Until now, a number of Polish locomotives have been fitted with Russian Kolomna 12ChN26/26 diesels, as well as Caterpillar or GM units. The most radical project has, however, been developed by Newag company (former railway stock repair works of Nowy Sącz) in co-operation with General Electric. The result is a virtually new locomotive, known under factory designation 311D, which hardly resembles the renowned 'Gagarin', both internally and externally.
Type 311D is based on the M62 frame, wheelsets and traction engines, which are married with a completely new power-pack and body. Obsolete 14D40 has been replaced with GE 7FDL12EFI four-stroke turbo-supercharged diesel, with a nominal rating of 2900 hp at 1050 rpm. Complete diesel-generator units are supplied by General Electric. ED118A traction engines have been up-rated and are now designated ED118A GE, but the main difference is improved H-class insulation. Of course control (microprocessor-based GE BrightStar), monitoring and diagnostic systems, which in M62 had been either obsolete or missing, are completely new. Modern silhouette has already earned the new locomotive several nicknames, which include 'Lord Vader', 'Terminator' and 'Robocop'. There have been, however, some complaints about cramped crew compartments and open, narrow footplates between two cabins.
All 311Ds supplied so far (except those for LHS – see below) are ex-DB locomotives, classes 120 and 220, withdrawn from service between 1990 and 1995. First four of them were completed between August and October 2007 and went to Kolej Bałtycka – new private operator (member of the Heavy Haul Power Services group) that had appeared on the market a few months earlier. Next two went to another private operator, PCC Rail. Two locomotives (311D-13 and 311D-14) were supplied to LHS in early 2008. The broad-gauge version was given factory designation 311Da, so these two examples became 311Da-01 and 311Da-02, respectively. LHS is a PKP subsidiary, so in June 2008 a PKP-style service designation ST40S was assigned to these locomotives, which became ST40S-01 and ST40S-02. Due to their satisfactory performance, much superior to 'old' ST44s, LHS ordered further conversions and in April 2013 their fleet included seventeen locomotives of this type (along with forty-four ST44s). A contract for further ten conversions was signed in July 2017 and completed between March and December 2018. Of the remaining twenty 311Ds supplied so far, the majority (fifteen) are owned by DB Cargo Polska. At the time of writing (mid-2021) all have been leased to PKP Cargo. German and Czech railway authorities intend to issue approvals for 311D operation on their networks, which may be of importance for their further use.
Main technical data
| | | | |
| --- | --- | --- | --- |
| No. | Parameter | Unit | Value |
| 1. | Years of manufacture | - | 2007 – 1) |
| 2. | Total built / used in Poland | - | 47 / 472) |
| 3. | Axle arrangement | - | Co'Co' |
| 4. | Transmission type | - | electric |
| 5. | Design maximum speed | km/h | 100 |
| 6. | Prime mover type | - | GE 7FDL 12EFI |
| 7. | Engine rating | kW/hp | 2133 / 2900 |
| 8. | Bore x stroke | mm x mm | 229 x 267 |
| 9. | Number of cylinders | - | 12 |
| 10. | Number of electric engines | - | 6 |
| 11. | Rated output of electric engines | kW | |
| 12. | Main reduction gear ratio | - | |
| 13. | Diameter of drivers | mm | 1050 |
| 14. | Total weight | kg | 120 000 |
| 15. | Axle load | T | 20.0 |
| 16. | Axle base | mm | 12 800 |
| 17. | Overall length | mm | 17 550 |
| 18. | Maximum width | mm | 2 950 |
| 19. | Train heating | - | - |
| 20. | Brake type | - | Oerlikon |
<![if !supportLists]>1) <![endif]> Reconstruction.
<![if !supportLists]>2) <![endif]>Until mid-2021.
References and acknowledgments
<![if !supportLists]>- <![endif]>SK (various issues);
<![if !supportLists]>- <![endif]>www.newag.pl, www.lhs.pl;
<![if !supportLists]>- <![endif]>Lokomotywy spalinowe serii ST44 (Class ST44 Diesel Locomotives) by Ryszard Rusak (Kolpress, 2012);
<![if !supportLists]>- <![endif]>LHS stock list published in SS vol.115.