<![if !vml]>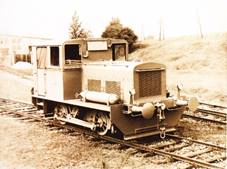 <![endif]>
Fifth 3DL (Fablok 719/1938) photographed at the Fablok premises, date unknown. This locomotive was sold to the Nitrat chemical works. Source: Fablok monograph (see References).
<![if !vml]>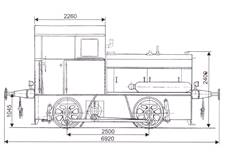 <![endif]>
Side drawing of the 3DL; source: LSPP.
First two standard-gauge diesel locomotives built at Fablok (Pierwsza Fabryka Lokomotyw w Polsce S.A., First Locomotive Factory in Poland JSC), G1C and 2DL, remained prototypes. The third one, designated 3DL, fared slightly better. Like its predecessor, it was based on the documentation purchased from Deutz in 1932. Type 3DL was intended mainly for industrial establishments that operated minor sidings. Power was provided by four-cylinder Deutz A4M220 diesel engine, rated at 100 hp, imported from Germany. Mechanical transmission with four-speed gearbox was used. In 1936 Fablok purchased license from Deutz for gearboxes, reversing gears and transmission, which were later used in several types of light diesel locomotives and, in a slightly modified form, in post-war Ls40.
Prototype 3DL (Fablok 627/1936) was purchased by a chemical works, together with the second example, 655/1936. Seven more locomotives of this type were built until 1938, of which four went to chemical industry and three were sold to armament industry establishments. Of all pre-war Polish standard-gauge diesel locomotive types this one was built in the largest, if not impressive, number. No details on the service of these locomotives are known, apart from the fact that they were considered entirely successful. Ultimate fates of all seven examples remain unknown.
Main technical data
No.

Parameter

Unit

Value

1.

Years of manufacture

-

1936 – 1938   

2.

Total built / used in Poland

-

7 / 7

3.

Axle arrangement

-

B

4.

Transmission type

-

mechanical

5.

Design maximum speed

km/h

21

6.

Prime mover type

-

Deutz

A4M220

7.

Engine rating

kW/hp

74 / 100

8.

Bore x stroke

mm x mm

9.

Number of cylinders

-

4

10.

Number of electric engines

-

-

11.

Rated output of electric engines

kW

-

12.

Main reduction gear ratio

-

13.

Diameter of drivers

mm

850

14.

Total weight

kg

25 000

15.

Axle load

T

12.5

16.

Axle base

mm

2 500

17.

Overall length

mm

6 920

18.

Maximum width

mm

3 000

19.

Train heating

-

-

20.

Brake type

-
References and acknowledgments
<![if !supportLists]>- <![endif]>LSPP;
<![if !supportLists]>- <![endif]>Fablok w Chrzanowie. Monografia (Fablok of Chrzanów. A Monograph) by Bogusław Krasnowolski (ed.), 2004.