<![if !vml]>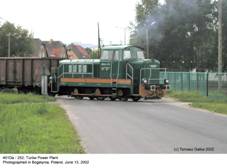 <![endif]>
This 401Da-252 belongs to the Turów power plant and was photographed in Bogatynia on June 13, 2002.
<![if !vml]>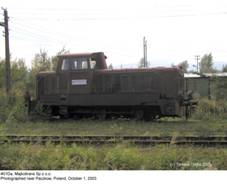 <![endif]>
401Da (number unknown), Majkoltrans (probably withdrawn), photographed near Paczków on October 1, 2003.
<![if !vml]>
<![endif]>
401Da-248 from the same company, photographed near Paczków on May 4, 2006.
<![if !vml]>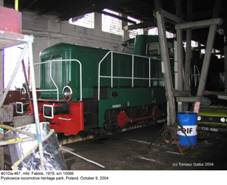 <![endif]>
401Da-467 (Fablok 10066/1978) belongs to the TOZKiOS railway fan society collection and was photographed in Pyskowice on October 9, 2004.
<![if !vml]>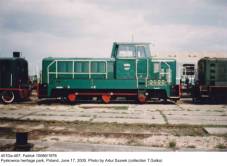 <![endif]>
Another picture of the 401Da-467, taken on June 17, 2005. Photo by Artur Szarek (from my collection).
<![if !vml]>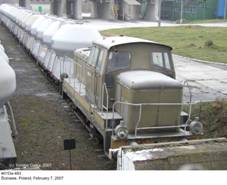 <![endif]>
401Da-483, photographed at a cement storage yard in Ścinawa on February 7, 2007.
<![if !vml]>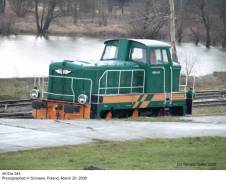 <![endif]>
401Da-345, photographed at the same location on March 20, 2009.
<![if !vml]>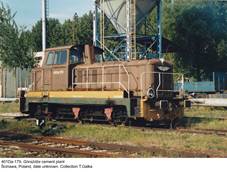 <![endif]>
One more picture from this location: 401Da-179, date unknown. Photo from my collection.
<![if !vml]>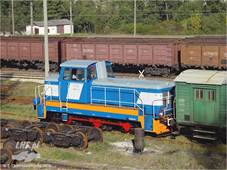 <![endif]>
SM32-001, Sędziszów Północny, October 7, 2006. Photo by Tomasz Ciemnoczułowski (thanks for permission!).
<![if !vml]>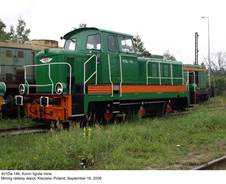 <![endif]>
This 401Da-146, operated by the Konin lignite mine, was photographed at the mining railway depot in Kleczew on September 16, 2008.
<![if !vml]>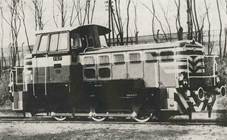 <![endif]>
This somehow mysterious picture of a 'SM31-001' has been taken from the book published in 1974 to commemorate 50 years of Fablok. Designation, possibly retouched, suggests PKP and was later used with a completely different machine.
<![if !vml]>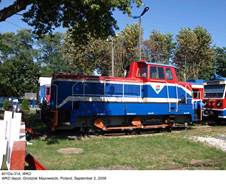 <![endif]>
401Da-314 is used for switching at the WKD suburban railway depot in Grodzisk Mazowiecki; photo taken on September 2, 2009.
<![if !vml]>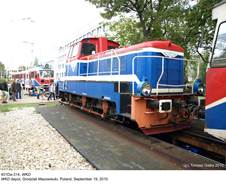 <![endif]>
Another picture of this locomotive, taken during the 'Public Transport Days 2010' at the same location on September 19.
<![if !vml]>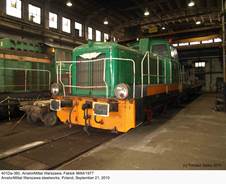 <![endif]>
Two days later, together with my friend Chris West, we visited ArcelorMittal Warszawa steelworks that still operate a number of 401Das. This example is 401Da-380 (Fablok 9684/1977)…
<![if !vml]>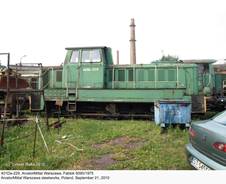 <![endif]>
… next come 401Da-229 (Fablok 9390/1975), in much poorer condition…
<![if !vml]>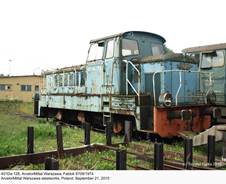 <![endif]>
…even more derelict 401Da-128 (Fablok 8709/1974)…
<![if !vml]>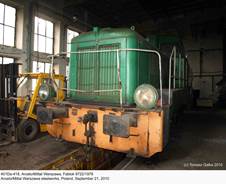 <![endif]>
…401Da-418 (Fablok 9722/1978), intended for sale…
<![if !vml]>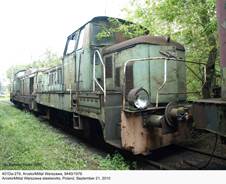 <![endif]>
…and withdrawn 401Da-279 (Fablok 9440/1976).
<![if !vml]>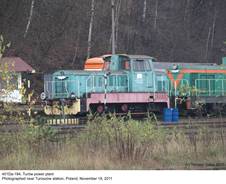 <![endif]>
This 401Da-194, operated by the Turów power plant, was photographed near the Turoszów station on November 18, 2011.
<![if !vml]>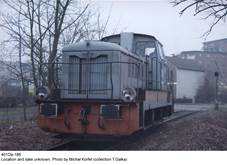 <![endif]>
401Da-186…
<![if !vml]>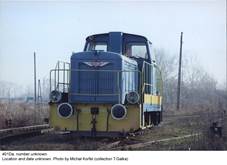 <![endif]>
…and a second 401Da, number also unknown. Both photos by Michał Korfel (from my collection).
<![if !vml]>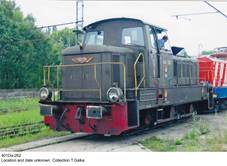 <![endif]>
401Da-262, location and date unknown; this locomotive is probably operated by ZNLE Gliwice repair works, now controlled by Newag. Photo from my collection.
<![if !vml]>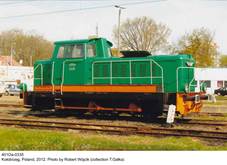 <![endif]>
Three pictures by Robert Wójcik (from my collection): 401Da-0335, Kołobrzeg, 2012…
<![if !vml]>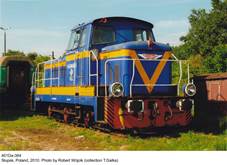 <![endif]>
…401Da-384, Słupsk, 2010…
<![if !vml]>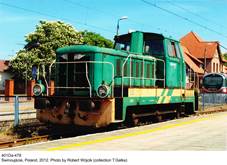 <![endif]>
…and 401Da-478, Świnoujście, 2012.
<![if !vml]>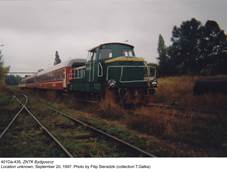 <![endif]>
401Da-435, operated by ZNTK Bydgoszcz rolling stock repair establishment (now PESA). Location unknown, September 20, 1997. Photo by Filip Sieradzki (from my collection).
<![if !vml]>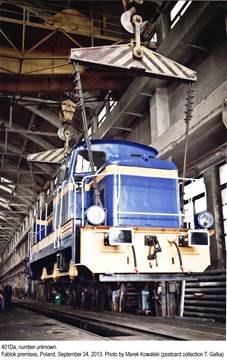 <![endif]>
Three postcards from my collection (photos by Marek Kowalski, taken at the Fablok premises on September 24, 2013): an unknown 401Da during overhaul…
<![if !vml]>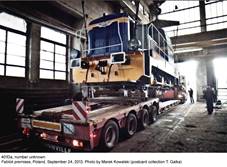 <![endif]>
… another picture of this locomotive (most probably the last one overhauled by Fablok)…
<![if !vml]>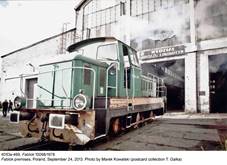 <![endif]>
… and 401Da-499 (Fablok 10098/1978), which is the manufacturer's property.
<![if !vml]>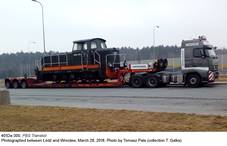 <![endif]>
401Da-300, operated by PBS Transkol, on a low-loading semi-trailer, photographed between Łódź and Wrocław on March 28, 2018. Photo by Tomasz Pala (from my collection).
<![if !vml]>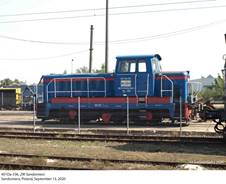 <![endif]>
401Da-336, operated by ZIK private operator. Photographed at the company's premises in Sandomierz on September 13, 2020.
<![if !vml]>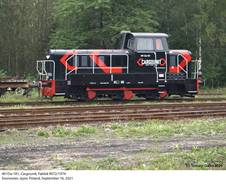 <![endif]>
Originally built for Baildon steelworks of Katowice and numbered 4, this 401Da-181 (Fablok 9072/1974) is now owned by Cargounit locomotive rental company. Sosnowiec Jęzor, Poland, September 16, 2021.
First Polish diesel switcher with electric transmission, SM30 (initially designated LWe55, factory type 1D) from Fablok appeared in 1956. Until 1970, over 900 examples were built, for both PKP and numerous industrial operators; many still remain in use. SM30 had been conceived as a simple and undemanding locomotive that could be rapidly put into production; therefore, off-the-shelf components were used wherever possible. Diesel engine was derived from a power unit used in military vehicles and light vessels, 600 V DC generator was developed from a stationary unit and traction engines were of the type used in streetcars. Despite several modifications, this design had little potential for further development and its intended successor, SM25 (factory type 9D), appeared as early as in 1960. This locomotive was fitted with hydraulic transmission, but, as torque converters were not manufactured in Poland, it was never put into production. Electric transmission had to be retained and this led to the next prototype, Fablok type 401D, which appeared in 1966.
Type 401D owed much to both SM25 (general three-axle layout, but was longer by almost 1.4 m and heavier by three tonnes) and SM30 (3DVS diesel engine). Prototype was completed in 1966 and underwent tests with PKP, but results were not entirely satisfactory. Main objections concerned obsolete prime mover, production of which was to be terminated soon. Moreover, running qualities at higher speed left much to be desired. 3DVS diesel was thus replaced by the license-built Henschel 12V1416A of the same rating. This variant, which also featured several minor improvements, was designated 401Da and appeared in 1968. Production began in 1971 (after phasing out SM30) and lasted until 1979. Most sources give that 500 examples were built, excluding the sole 401D.
Although externally 401Da (sometimes designated also Ls350) resembles earlier switchers from Fablok, it can be easily distinguished by outer frame and three axles coupled by connecting rods. This allows for negotiating curves with the radius of 80 meters. First and third axles are driven by nose-suspended electric engines. Although this locomotive can be in principle used for light freight trains, just as the SM30, it is used almost exclusively for switching: maximum speed of 60 km/h, axle load of 13.5 tonnes and tractive effort of 11.3 tonnes at startup (less than SM25, but by about 40% more than SM30) are sufficient for such jobs. 401Da is sometimes confused with SM25 – of the latter class, only three examples were built and their service was rather short.
401Da was never ordered by PKP (who obviously seemed satisfied with obsolescent SM30s) and was built for industrial operators only. Individual examples were typically identified by factory designation plus consecutive numbers, not serials. They went to numerous industrial establishments and can be encountered on factory tracks and sidings throughout the country. In early 1970s there were plans to build this locomotive also for PKP; designation SM31 is even quoted – in fact SM31, or factory type 411D, appeared in 1976 and was a completely different design. These plans never saw fruition. The 401D prototype was in fact briefly tested by PKP as SM31-001 in 1966, but found unsuitable due to uneasy running above 30 km/h. Most probably it was later sold to industry. In late 2006, however, second-hand 401Da-254 was purchased by the LHS broad-gauge line, a PKP subsidiary, and hence was given new PKP-style designation SM32-001. This has caused some confusion, as this 'new' locomotive has nothing to do with SP32; its new designation is thus formally not consistent with the PKP system (SM33 would have been more appropriate). SM32-001 has not been converted to the 1524 mm gauge (with outer frame this could cause some problems) and is used for switching at the Sędziszów Północny transfer station. According to some Internet sources, a few locomotives of this type are used for auxiliary duties at PKP service and maintenance facilities, but all have 'industrial' designations; details are lacking.
Two further developments of type 401Da never saw fruition. Type 406D was to be fitted with supercharged Wola H12 diesel engine, rated at 530 hp, and three electric engines; it was intended to commence its production between 1976 and 1980. Type 401Db of 1977, later re-designated 415D, featured improved suspension. Both these types remained on the drawing board.
Main technical data
| | | | |
| --- | --- | --- | --- |
| No. | Parameter | Unit | Value |
| 1. | Years of manufacture | - | 19682) – 1978 |
| 2. | Total built / used in Poland | - | 501 / 5013) |
| 3. | Axle arrangement | - | C |
| 4. | Transmission type | - | electric |
| 5. | Design maximum speed | km/h | 60 |
| 6. | Prime mover type | - | 12V1416A1) |
| 7. | Engine rating | kW/hp | 257 / 350 |
| 8. | Bore x stroke | mm x mm | |
| 9. | Number of cylinders | - | 12 |
| 10. | Number of electric engines | - | 2 x LSa-430 |
| 11. | Rated output of electric engines | kW | |
| 12. | Main reduction gear ratio | - | 75:17 |
| 13. | Diameter of drivers | mm | 1100 |
| 14. | Total weight | kg | 40 500 |
| 15. | Axle load | T | 13.5 |
| 16. | Axle base | mm | 4 400 |
| 17. | Overall length | mm | 10 140 |
| 18. | Maximum width | mm | 3 190 |
| 19. | Train heating | - | - |
| 20. | Brake type | - | Knorr |
<![if !supportLists]>1) <![endif]>Also 16H12A, in later and/or modernized examples.
<![if !supportLists]>2) <![endif]>In series since 1971; prototype 401D with Wola 3DVS diesel built in 1966.
<![if !supportLists]>3) <![endif]>Including the 401D prototype.
References and acknowledgments
<![if !supportLists]>- <![endif]>LSPP, AL;
<![if !supportLists]>- <![endif]>Tomasz Ciemnoczułowski (private communication – thanks for the photo!).