<![if !vml]>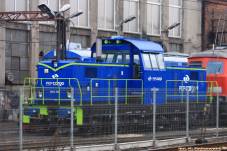 <![endif]>
SM42-1601, photographed at the PESA premises in Bydgoszcz on March 20, 2010. Photo by Marek Dąbrowski (thanks for permission!).
<![if !vml]>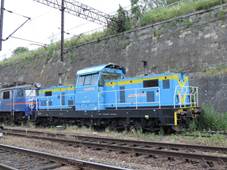 <![endif]>
SM42-2135, operated by Majkoltrans; Kłodzko Główne station, May 16, 2014. Photo by Chris West (thanks for permission!).
SM42, delivered by Fablok from 1964 onwards (factory type 6D), is the most numerous medium switcher and light freight diesel locomotive, both with PKP and industrial operators. Total production exceeded 2000 examples, including class SP42 for light passenger traffic. Since about mid-1990s several modernization packages have been proposed, their main aim being replacing the obsolete a8C22 diesel engine with a modern prime mover, more economical and compliant with current emission standards. Until now, the most successful has been type 6Dg, developed by Newag, with almost fifty conversions completed (late 2011). The latest proposition, this time from Bydgoszcz-based PESA company, is type 6Dk, which first appeared at the TRAKO fair in Gdańsk in October 2009.
6Dk is also the most radical modernization of the basic design. As in type 6Dg, only frame and trucks have been retained, together with traction engines. Power is supplied by two Caterpillar C15 six-cylinder in-line diesels, each rated at 550 hp. Each drives a Siemens 1FC2 401 alternator, which feeds two traction engines via a rectifier (it is possible to feed all traction engines from one alternator, with the other diesel engine switched off). Microprocessor control system has been installed, as well as new air compressor, fire extinguishing system and headlights. The body has been thoroughly redesigned, with lowered engine cowlings that facilitate much improved view forward. Due to the two-engine layout the silhouette is almost symmetrical and hardly resembles old SM42. According to PESA specifications, specific fuel consumption has been reduced by a few percent, but oil consumption is almost ten times lower (!). New diesel engines are compliant with IIIA European emission standards.
Until now (early 2013) six conversions have been completed. The first one was former SM42-1078 (Fablok 10412/1986), which became SM42-1601 and began service tests with PKP Cargo in April 2010. Based in Rybnik and Tarnowskie Góry, this locomotive was subject to service tests. Further four examples (SM42-1602 through 1605), with several minor improvements, followed in January and February 2012. In November 2012 first 6Dk was accepted by a private operator, Wrocław-based Majkoltrans; its service number SM42-2135 has not been changed. Future conversions are expected to follow in near future.
Main technical data
No.

Parameter

Unit

Value

1.

Years of manufacture

-

from 20091)

2.

Total built / used in Poland

-

62)

3.

Axle arrangement

-

Bo'Bo'

4.

Transmission type

-

electric

5.

Design maximum speed

km/h

90

6.

Prime mover type

-

2 X C15

7.

Engine rating

kW/hp

2 X 403 /

2 X 550

8.

Bore X stroke

mmXmm

9.

Number of cylinders

-

6

10.

Number of electric engines

-

4 X LSf-430

11.

Rated output of electric engines

kW

4 X 173

12.

Main reduction gear ratio

-

13.

Diameter of drivers

mm

1100

14.

Total weight

kg

70 000

15.

Axle load

T

17.5

16.

Axle base

mm

10 100

17.

Overall length

mm

14 240

18.

Maximum width

mm

2 990

19.

Train heating

-

-

20.

Brake type

-

Oerlikon
<![if !supportLists]>1) <![endif]>SM42 conversion.
<![if !supportLists]>2) <![endif]>Until late 2012.
References and acknowledgments
<![if !supportLists]>- <![endif]>www.kolejowaklatka.org (website by Marek Dąbrowski);
<![if !supportLists]>- <![endif]>www.pesa.pl;
<![if !supportLists]>- <![endif]>Article by Paweł Terczyński (SK vol. 2/2012);
<![if !supportLists]>- <![endif]>SK, various issues.