<![if !vml]>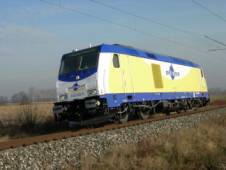 <![endif]>
246 002-0, in Metronom livery, during factory tests. Date and location unknown. Photo from www.bombardier.com.
<![if !vml]>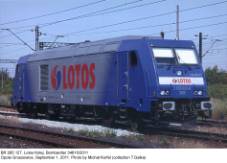 <![endif]>
BR285 127, Lotos Kolej, photographed in Opole Groszowice on September 1, 2011. Photo by Michał Korfel (from my collection).
<![if !vml]>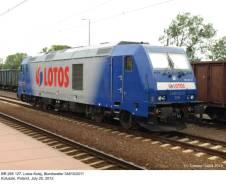 <![endif]>
Another picture of this locomotive: Koluszki station, July 25, 2012.
<![if !vml]>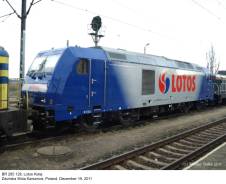 <![endif]>
BR285 129, photographed in Zduńska Wola Karsznice on December 19, 2011.
<![if !vml]>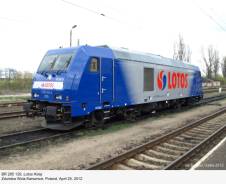 <![endif]>
The same locomotive and location, slightly better picture: April 25, 2012.
<![if !vml]>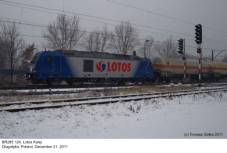 <![endif]>
December 21, 2011, and the first snow: BR285 124, Długołęka.
<![if !vml]>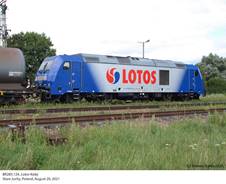 <![endif]>
This time with a draft of cement cars: BR285 125, Turoszów station, April 26, 2012.
<![if !vml]>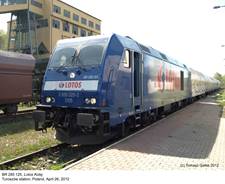 <![endif]>
BR285 122, photographed in Zduńska Wola Karsznice on December 11, 2012.
<![if !vml]>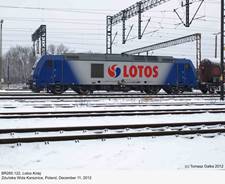 <![endif]>
The same location: BR285 130, Lotos Kolej, August 19, 2013.
Almost in parallel with the basic design of TRAXX electric locomotives, ordered by a number of operators, Bombardier Transportation developed their diesel-electric version. Two principal variants are P160DE and F140DE; P and F stand for 'passenger' and 'freight', respectively,

 

and numerals indicate maximum speed. First order for eleven P160DEs was placed by Landesnahverkehrsgesellschaft Niedersachsen

 

in September 2005, for the non-electrified line Hamburg-Cuxhaven. These locomotives, classed 246, are operated by Metronom Eisenbahngesellschaft and the entire order was completed in November 2007. In 2011 three 246s were declared surplus; two were sold to Havelländische Eisenbahn AG and one to Inbetriebnahmegesellschaft Transporttechnik. Freight version was ordered by Luxembourg-based CBrail leasing company and by SNCF Fret. Order for ten examples for CBrail (classed 285) was placed in February 2006 and completed in 2008. First locomotive, 285 001, was fitted with car heating and lighting sockets; these were deleted in later examples (numbered from 285 100 onwards), as they are intended for freight traffic, but can be easily fitted if necessary. 285 110 was used by Bombardier as a test vehicle for the French variant, later to be renumbered 076 101 and sent to the Netherlands for homologation. In order to make up for its loss, additional example 285 111 was delivered in 2010. All 285s owned by CBrail have been leased to various German operators; 285 107 saw some service in Slovakia and Czech Republic. French locomotives (class BB 76000) are fitted with up-rated 2 400 hp diesel engine. Some of them – probably fifteen – shall be formally owned by Akiem, a SNCF subsidiary, and made available for leasing to other operators. In all, 45 examples were ordered, plus an option for further 35. Until now (September 2012) four examples have been delivered.
In October 2009 Lotos Kolej ordered six 2 400-hp F140DEs, increasing their number to ten in May 2010. First of them arrived in April 2011 and deliveries were completed until September. These locomotives have 'double' service designations, being numbered 3 650 016 through 025 and BR285 121 through 130; usually they are referred to as class BR285. In accordance with the operator's profile (Lotos Kolej is a subsidiary of a large petrochemical company), they are most frequently encountered with drafts of tank cars for oil products.
In 2012 Bombardier revealed next diesel-powered TRAXX variant, designated P160DE ME, with last two letters standing for 'multi-engine'. Externally similar to the earlier version, this locomotive is to be powered by four 540 hp diesels of unspecified type, probably delivered from truck power units. Such layout is expected to offer superior economy and flexibility, as individual engines may be switched off when less power is demanded. First firm order for twenty examples for DB Regio (class 245) has already been placed and deliveries are expected to begin in mid-2013. Framework order from DB covers 200 examples in all. As with all other TRAXX locomotives, bodies are built in Poland, at the former Pafawag works.
.
Main technical data
No.

Parameter

Unit

Value

1.

Years of manufacture

-

from 2007

2.

Total built / used in Poland

-

361) / 10

3.

Axle arrangement

-

Bo'Bo'

4.

Transmission type

-

electric

5.

Design maximum speed

km/h

160 / 1402)

6.

Prime mover type

-

MTU 16V4000

R41L / R43L3)

7.

Engine rating

kW/hp

1 618 / 2 200

1 765 / 2 4003)

8.

Bore X stroke

mmXmm

9.

Number of cylinders

-

16

10.

Number of electric engines

-

11.

Rated output of electric engines

kW

12.

Main reduction gear ratio

-

13.

Diameter of drivers

mm

1250

14.

Total weight

kg

80 000 / 82 0003)

15.

Axle load

T

20.0 / 20.53)

16.

Axle base

mm

17.

Overall length

mm

18 900

18.

Maximum width

mm

19.

Train heating

-

-

20.

Brake type

-
<![if !supportLists]>1) <![endif]>Until September 2012.
<![if !supportLists]>2) <![endif]>P160DE/F140DE; with modified traction engines suspension, up to 200 km/h.
<![if !supportLists]>3) <![endif]>Depending on variant (see main text).
References and acknowledgments
<![if !supportLists]>- <![endif]>www.railcolor.net, www.kolejowaklatka.org, www.railwayfaneurope.net;
<![if !supportLists]>- <![endif]>SK (various issues).