<![if !vml]>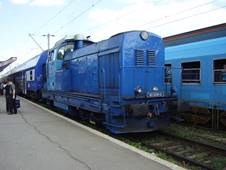 <![endif]>
Version with hydraulic transmission: CFR 80-0015-0, photographed in Braşov on August 3, 2007, by someone who wishes to be known as Dr2005 (source: www.commons.wikimedia.org).
<![if !vml]>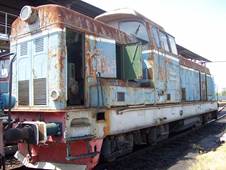 <![endif]>
Derelict Romanian LDE125-007, probably from some industrial operator; location unknown,June 12, 2008. Photo by Stefan Puscasu (www.commons.wikimedia.org).
<![if !vml]>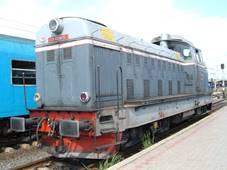 <![endif]>
The same author and source: CFR 73-0001-5, location unknown, May 8, 2007.
<![if !vml]>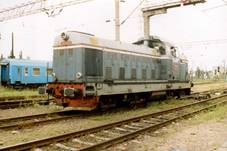 <![endif]>
CFR 69-0003-9, location and date unknown. Photo by David Hills (www.derbysulzer.com – thanks for permission!).
Romanian Uzinele 23 August (pre-war Uzinele Malaxa, now FAUR) of Bucharest were a major manufacturer of diesel locomotives, with both hydraulic and electric transmissions. Their production range was very broad, from light switchers to heavy line freighters. Polish state railways purchased considerable numbers of LDE130 passenger locomotives (PKP class SP32) and L30H and L45H narrow-gauge locomotives (PKP classes Lyd1 and Lxd2). Several other types were imported in small numbers for industry.
In 1966 a design was completed of type LDH125 four-axle (Bo'Bo') universal locomotive, powered by the license-built Sulzer 6LDA28B six-cylinder in-line diesel engine, rated at 1250 hp, and fitted with Voith hydraulic transmission. This type remained in production between 1967 and 1992 and 1453 examples were built. The majority went to Romanian state railways CFR (633 examples – classes 80/81 with/without steam car heating) and industry (473). 263 examples went to Bulgarian state railways BDZh (class 55), 42 were sold to Czechoslovakia (only to industry, in 1995 classed 748.5) and 32 were exported to Mozambique. Three locomotives were sold to Iraq. Single examples were sent to the USA and USSR (further orders failed to materialize). Locomotives built for individual customers differed in details, including external appearance. Several Romanian locomotives of this type were later re-engined with Caterpillar or MTU diesels; some were fitted with electric car heating systems.
In 1977 a version was built with electric transmission, powered by Sulzer 6LDSR28B diesel engine of the same rating. It remained in production until 1987 and 152 examples were built. Again, most remained in Romania – 28 with CFR (classes 69 and 73, the latter with two air compressors) and 111 with industry. Ten examples were sold to Iraq. Poland purchased only three locomotives of this type. Two of them, LDE125-001 (22375/1977) and LDE125-002 (22376/1977) went to the Ożarów cement works, the third (LDE125-003, 22377/1977) going to the Kościuszko foundry. Little is known on their service and all have already been withdrawn and scrapped. Most Romanian locomotives of this type have also already been withdrawn, but ten class 73 examples are still operated on the Oravita-Anina mountain line, where – due to comparatively short axle base – they perform well on tight curves.
Main technical data
No.

Parameter

Unit

Value

1.

Years of manufacture

-

1977 – 1987

2.

Total built / used in Poland

-

152 / 3

3.

Axle arrangement

-

Bo'Bo'

4.

Transmission type

-

electric

5.

Design maximum speed

km/h

100

6.

Prime mover type

-

Sulzer

6LDSR28B

7.

Engine rating

kW/hp

920 / 1 250

8.

Bore x stroke

mm x mm

9.

Number of cylinders

-

6

10.

Number of electric engines

-

4

11.

Rated output of electric engines

kW

12.

Main reduction gear ratio

-

13.

Diameter of drivers

mm

14.

Total weight

kg

72 000

15.

Axle load

T

18.0

16.

Axle base

mm

9 700

17.

Overall length

mm

13 700

18.

Maximum width

mm

19.

Train heating

-

-

20.

Brake type

-
References and acknowledgments
<![if !supportLists]>- <![endif]>www.derbysulzer.com (website by David Hills – data on production and deliveries);
<![if !supportLists]>- <![endif]>www.enkol.pl;
<![if !supportLists]>- <![endif]>MAL, AV;
<![if !supportLists]>- <![endif]>www.railwayfaneurope.net.