<![if !vml]>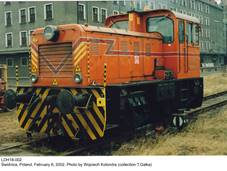 <![endif]>
LDH18-002 (23 August 25440/1988), photographed in Świdnica on February 6, 2002. Photo by Wojciech Kolondra (from my collection).
<![if !vml]>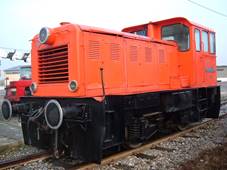 <![endif]>
Romanian LDH18-012, operated by an unidentified industrial enterprise; Videle, December 22, 2006. Photo by Stefan Puscasu (www.cfr.stfp.net).
<![if !vml]>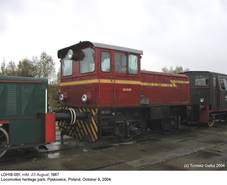 <![endif]>
LDH180-001 (23 August 25290/1987) is currently owned by TOZKiOS railway fan society; Pyskowice, October 9, 2004.
In the 1960s Romanian locomotive and machinery manufacturer Uzinele 23 August (formerly Uzinele Malaxa) of Bucharest began development of a family of diesel locomotives with hydraulic transmission, with power rating ranging from 180 hp to 2400 hp. The smallest of them was a light switcher LDH18 (for the entire family, numerical designation indicated rated power divided by ten), of which 147 examples were built. These two-axle locomotives with the axle load of just ten tonnes were intended mainly for minor industrial establishments which had their own sidings. Some of them, however, were also built for state railways Căile Ferate Române (CFR). Initially they were classed 18, then 96 and finally 88. It seems that there is some confusion with more powerful type LDH25 and with narrow-gauge type L18H, which featured the same power plant, but was a three-axle locomotive. Several examples were exported. According to MAL and AV, one locomotive of this type was included in Czech class 706.4 (together with Polish types Ls150 and 409Da) and numbered 706.423. It was purchased in 1984 for Textilka Primona, Česká Třebová, which was closed in 2004. This locomotive has been preserved and is currently owned by KPKV railway fan society of Brno. It is unclear if other Czech and/or Slovak industrial enterprises had any LDH18s.
As with other locomotives of this family, LDH18s were imported to Poland in moderate number and only for industry. According to www.enkol.pl, four examples were purchased; this not confirmed by other sources known to me. LDH18-001 (23 August 25290/1987) was used by Magazyny Państwowe (state warehouses) in Opole from 1987 to 1998. Later, despite considerably young age and good condition, it was transferred to the locomotive heritage park in Pyskowice, owned by TOZKiOS railway fan society. Most probably this locomotive is still operational. On the other three examples I have no information, apart from factory numbers 25440, 25441 and 25442 (service numbers LDH18-002, -003 and -004, respectively). All were delivered in 1988.
Main technical data
No.

Parameter

Unit

Value

1.

Years of manufacture

-

1981 – 1994

2.

Total built / used in Poland

-

147 / 41)

3.

Axle arrangement

-

B

4.

Transmission type

-

hydraulic

5.

Design maximum speed

km/h

40

6.

Prime mover type

-

Raba-MAN

D2156-HMN8

7.

Engine rating

kW/hp

132 / 180

8.

Bore X stroke

mm x mm

9.

Number of cylinders

-

6

10.

Number of electric engines

-

-

11.

Rated output of electric engines

kW

-

12.

Main reduction gear ratio

-

13.

Diameter of drivers

mm

920

14.

Total weight

kg

20 000

15.

Axle load

T

10.0

16.

Axle base

mm

17.

Overall length

mm

7 040

18.

Maximum width

mm

2 800

19.

Train heating

-

-

20.

Brake type

-
<![if !supportLists]>1) <![endif]>Number unconfirmed.
References and acknowledgments
<![if !supportLists]>- <![endif]>www.trainspo.com;
<![if !supportLists]>- <![endif]>www.enkol.pl;
<![if !supportLists]>- <![endif]>MAL, AV.