<![if !vml]>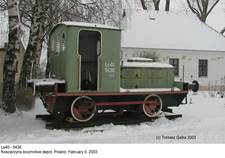 <![endif]>
Ls40-5438 (Fablok  5438/1959) at Kościerzyna locomotive heritage park, February 5, 2003.
<![if !vml]>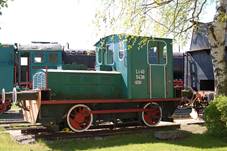 <![endif]>
Another picture of this locomotive: May 3, 2007. Photo by someone who wishes to be known as CCMichalZ (source: www.commons.wikimedia.org).
<![if !vml]>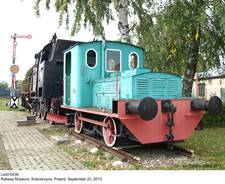 <![endif]>
Yet another picture of this locomotive, taken on September 23, 2013.
<![if !vml]>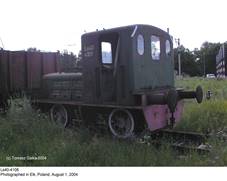 <![endif]>
This slightly derelict Ls40 is ex-PKP Lo107 or Ls40-105 (Fablok 4108/1954); photo taken in Ełk on August 1, 2004.
<![if !vml]>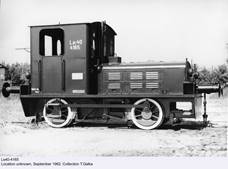 <![endif]>
Ls40-4165, photographed somewhere in Poland in September 1962. Photo from my collection.
<![if !vml]>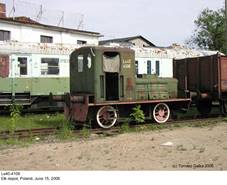 <![endif]>
Another picture of the Ls40 from Ełk, taken on June 15, 2006. Connecting rods are missing.
<![if !vml]>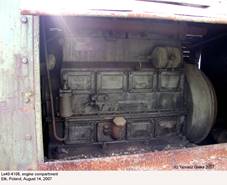 <![endif]>
Yet another photo of this locomotive, this time showing the engine compartment; Ełk, August 14, 2007.
<![if !vml]>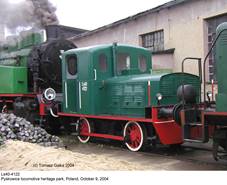 <![endif]>
This nice Ls40-4122 (Fablok 4122/1954) can be seen at Pyskowice heritage park; the machine in the background is TKp-4422. Photo taken on October 9, 2004
<![if !vml]>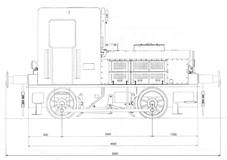 <![endif]>
Side drawing of early variant with low engine cowling; drawing by Maciej Kucharski from SS vol.103
<![if !vml]>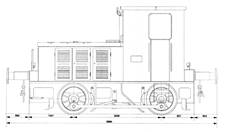 <![endif]>
Side drawing of final variant with S324HL engine and higher cowling; drawing by Jacek Wardęcki from SS vol.103
<![if !vml]>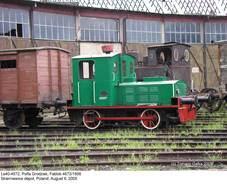 <![endif]>
Ls40-4572, owned and operated by PSMK. Photo taken at the Skierniewice depot on August 6, 2005
<![if !vml]>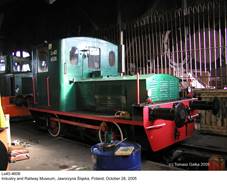 <![endif]>
Ls40-4606 in the shed at the Industry and Railway Museum, Jaworzyna Śląska; this machine is kept operational. Photo taken on October 28, 2005.
<![if !vml]>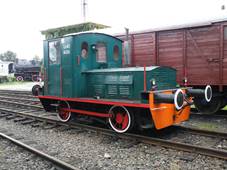 <![endif]>
Another picture of the Ls40-4606, taken on August 15, 2014, by someone who wishes to be known as Fliz1 (source: www.commons.wikimedia.org).
<![if !vml]>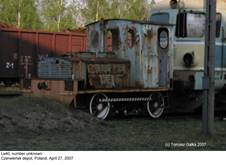 <![endif]>
This abandoned Ls40 (number unknown) was photographed at the Czerwieńsk depot on April 27, 2007.
<![if !vml]>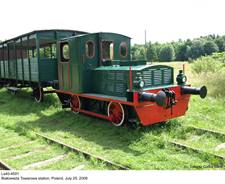 <![endif]>
Ls40-4591, photographed at the former Białowieża Towarowa station on July 25, 2009. Note kerosene headlights!
<![if !vml]>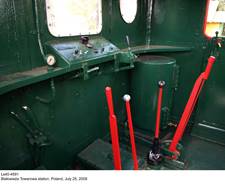 <![endif]>
Photo of the interior: controls are quite rudimentary indeed!
<![if !vml]>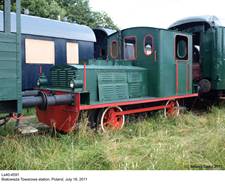 <![endif]>
Another picture of the Ls40-4591: July 16, 2011.
<![if !vml]>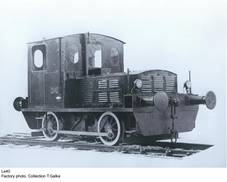 <![endif]>
Ls 40 factory photo (from my collection).
<![if !vml]>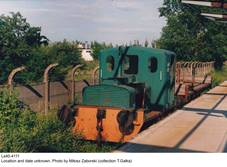 <![endif]>
Ls40-4111, location and date unknown. Photo by Miłosz Zaborski (from my collection).
<![if !vml]>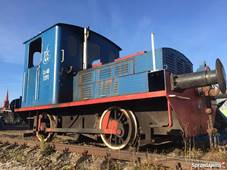 <![endif]>
Ls40-5191, owned by Nysa-based Franz Kaminski Waggonbau Polska, offered for sale, on display in Żarów, Lower Silesia. According to available sources, this offer is still valid. Source: www.sprzedajemy.pl.
<![if !vml]>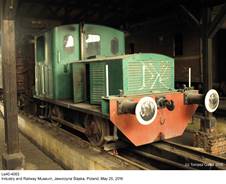 <![endif]>
Ls40-4063, preserved at the Industry and Railway Museum in Jaworzyna Śląska; May 25, 2016.
Pierwsza Fabryka Lokomotyw w Polsce (First Locomotive Factory in Poland) of Chrzanów, known as Fablok, founded in 1919, began building diesel locomotives in 1932; before WWII, 73 examples were built (compared to almost 600 standard-gauge steam locomotives) for commercial railways, collieries and industrial operators. They belonged to various types, mostly of German origin, and most of them were fitted with imported Deutz engines with rated power up to 250 hp.
After the war the need for small and simple diesel switchers had to be satisfied by a handful of pre-war machines, together with several ex-German ones. Due to almost complete lack of spares, this motley collection was very difficult to maintain. As many reconstructed and newly built industrial establishments had their own sidings, this need was rapidly growing, as diesels proved to be most suitable for smaller plants which had problems with maintaining steam engines. Drawing on pre-war experience, Fablok design bureau began studies on a small diesel switcher as early as in mid-1940s. It was decided to base the new design on a German pre-war Deutz OMZ 122 locomotive, originally fitted with a 40 hp diesel engine. License production of this locomotive at Fablok had been planned as type 8DL, but only one example was built before the war. At least one locomotive of this type (possibly more) was used in Poland after 1945, but solely in industry. Preliminary studies were completed in 1947, but no diesel engine was available; as import was out of question, new locomotive had to wait for the indigenous S64L engine from the first family of Polish diesels (S61 to S64) designed after the war in late 1940s. The same prime mover was used in the narrow-gauge WLs40 and these two types had in fact much more in common.
Detailed design was accepted in 1952 and first prototype (Ls40-1, s/n 2738/1952) followed suit. Production began immediately and 581 examples were built until 1961 (serial numbers in the range from 2738 to 5455), when Ls40 was phased out in favor of more powerful Ls60. Available sources list five distinct variants, differing mainly in the shape of driver's cab and engine cowling. Final version was fitted with new S324HL engine of higher rated power (75 hp) under an enlarged and higher cowling; it also had enlarged driver's cab and was slightly wider. Many earlier examples were retroactively fitted with the S324HL engine and enlarged cowling.
Ls40, the first diesel locomotive designed and built in Poland after WWII, sacrificed everything for simplicity and certainly was not entirely satisfactory. Even minor details were adopted from various earlier types, in order to facilitate rapid production. Most serious shortcoming was low rated power, so that maximum speed barely exceeded 11 km/h. Mechanical transmission was primitive and gearbox noisy and prone to failure. There were also complaints of tight and uncomfortable driver's cab; as it was of the open type, comfort must have been low indeed, especially during winter. Version with more powerful engine was only marginally better, as gearbox heated excessively, was even noisier and less reliable. Shifting gears, with two separate levers, demanded some skills.
Most locomotives of this type went directly to various industrial establishments, such as mines, paper mills, sugar and chemical plants etc. Their service was useful, if not particularly conspicuous. One machine (s/n 5107/1957) was built for the 1524 mm track and fitted with a 150 hp engine; designated SLs150-388 (capital S for 'szerokotorowa' – broad-gauge), it was used for switching tank cars at one of the freight handling stations at the Polish-Soviet border. It is possible that several other machines were rebuilt for wide track, but no details are available. Another example was built (probably in 1958) for the 1676 mm track, for switching class WP steam locomotives built for Indian Railways; this machine was later converted for 1435 mm track and sold to industry. In 1954, nine examples were built for PKP. As there was no consistent system for electric and diesel locomotives designations in use at that time, they were simply assigned service numbers Lo100 to Lo108; those that survived in the PKP service after 1958 were re-designated class SM02. Their service was limited to auxiliary duties, mainly at depots, as they were too weak and slow even for light trains; they were quickly supplanted by more powerful and reliable SM03s. 36 examples were used by military railways (both army and navy), designated as military class WP-01 from around 1975; apart from them, various military establishments had at least twelve more Ls40s with 'civil' service numbers. Last of them were written off in early 1990s.
It is of interest to note that all Ls40s were designated by serial numbers, usually painted on cabs – a common practice with industrial operators in Poland. All of them, however, were also given numbers from 1 to 581, corresponding to acceptance certificate numbers. This means that, for some machines, three numbers were used in parallel: for example PKP's Lo105 was also Ls40-100 and had serial 4103. The same was the case with examples owned by military railways. It is quite probable that some industrial operators had their own designation systems, as with other types, but of them I have no information.
It is very difficult, if not impossible, to determine how many Ls40s are still in use – apart from the fact that most of them have been withdrawn. These diminutive and weak switchers have been supplanted by more powerful ones, but for some small operators their performance is certainly still satisfactory. Several examples have been preserved; I have information on eight. Ls40-257 (s/n 4572/1956, later fitted with the S324HL engine), formerly used by a pharmaceutical company in Grodzisk Mazowiecki, was transferred to Skierniewice in July 1995 and is owned by PSMK railway fan society. This machine is operational and in fact remains in use. Ls40-495 (s/n 5438/1959), from the same company, is now at the rolling stock heritage park in Kościerzyna. Ls40-112 (4115/1955)  is plinthed in Małaszewicze. Ls40-105, initially purchased by PKP and used as Lo107 (s/n 4108/1954), is now in Ełk, in poor condition; I don't know if this example was ever assigned SM02 class designation. Ls40-4122 (s/n 4122/1954) has been preserved by TOZKiOS railway fan society in Pyskowice. Ls40-4606 is at the Industry and Railway Museum in Jaworzyna Śląska; this machine is operational. Ls40-5434 was transferred to a railway fan society in Wrocław and brought back to the operational status in 2009. Finally, one example (number unknown) has recently been transferred to the former Białowieża Towarowa station, which in fact had been converted into a restaurant (a very good one!). There are plans to use this locomotive with local tourist trains. It is highly probable that some more examples are rusting at forgotten factory sidings.

Main technical data
| | | | |
| --- | --- | --- | --- |
| No. | Parameter | Unit | Value |
| 1. | Years of manufacture | - | 1952 – 1961 |
| 2. | Total built / used in Poland | - | 581 / 5811) |
| 3. | Axle arrangement | - | B |
| 4. | Transmission type | - | mechanical |
| 5. | Design maximum speed | km/h | 11.35 |
| 6. | Prime mover type | - | S-64L3) |
| 7. | Engine rating | kW/hp | 32 / 44 |
| 8. | Bore X stroke | mm´mm | 110 X 160 |
| 9. | Number of cylinders | - | 4 |
| 10. | Number of electric engines | - | - |
| 11. | Rated output of electric engines | kW | - |
| 12. | Main reduction gear ratio | - | - |
| 13. | Diameter of drivers | mm | 850 |
| 14. | Total weight | kg | 16 000 |
| 15. | Axle load | T | 8.0 |
| 16. | Axle base | mm | 2 500 |
| 17. | Overall length | mm | 5 984 |
| 18. | Maximum width | mm | 2 400 – 2 5502) |
| 19. | Train heating | - | - |
| 20. | Brake type | - | mechanical |
<![if !supportLists]>1) <![endif]>Only 9 examples in PKP use, some designated SM02 after 1958.
<![if !supportLists]>2) <![endif]>Depending on variant.
<![if !supportLists]>3) <![endif]>In many examples replaced by 75 hp S324HL (some sources also mention 50 hp S312HL), in one example – Wola 150 hp, probably 2DSR.
References and acknowledgments
<![if !supportLists]>- <![endif]>Monographic article by Zbigniew Tucholski (SS vol. 3/1999),
<![if !supportLists]>- <![endif]>LSPP,
<![if !supportLists]>- <![endif]>PSMK website (www.psmk.org.pl).