<![if !vml]>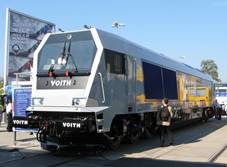 <![endif]>
Prototype 40 CC on display at the InnoTrans 2006, Berlin, September 2006. Photo by Tobias B. Köhler (source: www.commons.wikimedia.org).
<![if !vml]>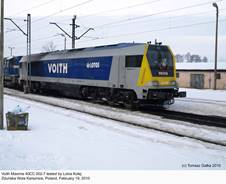 <![endif]>
Second 40 CC prototype, tested by Lotos Kolej; Zduńska Wola Karsznice, February 19, 2010.
<![if !vml]>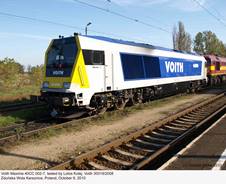 <![endif]>
The same locomotive and location: October 6, 2010.
<![if !vml]>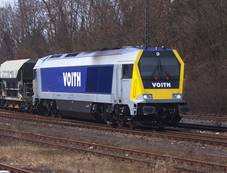 <![endif]>
An unknown 30 CC, photographed near Hersbruck, Germany, March 17, 2010. Photo by mef.ellingen (source: www.commons.wikimedia.org).
<![if !vml]>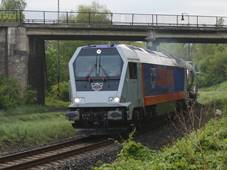 <![endif]>
Third production 30 CC as Legios 'General', photographed near Louny, Czech Republic, on May 1, 2011, by Zdeněk Plachý (source: as above).
German Voith Turbo GmbH & Co. KG, a division of Voith GmbH corporation, is perhaps best known as a manufacturer of hydraulic couplings and torque converters, widely used in locomotive industry. In 2005 the company decided to transform from a component supplier to full vehicle manufacturer and entered the market with two locomotive families, known under commercial names of 'Gravita' and 'Maxima'. The first member of the latter was Maxima 40 CC, a six-axle heavy freight locomotive. Prototype (factory number L06-30017) was outshopped in 2006 and exhibited at the InnoTrans international fair in Berlin. 40 CC is fitted with the ABC (Anglo-Belgian Corporation) 16 DZC sixteen-cylinder diesel engine; with nominal rating of 3 600 kW, or 4 900 hp, it is the most powerful single-engined diesel locomotive ever built. Weight in working order is 135 tonnes. In 2008 it was joined by lighter Maxima 30 CC, which was fitted with 12 DZC diesel rated at 2 750 kW. Axle load was reduced from 22.5 to 21 tonnes. Both these types have the same overall dimension and externally are very similar. Third type, four-axle Maxima 20 BB, was substantially lighter and shorter; proposed in 2008, it remained on the drawing board. Similarly, up-rated versions of 20 BB (20 LBB) and 30 CC (30 LCC) were not proceeded with.
Commercial success of 'Maxima' has been rather moderate. Production of both 40 CC and 30 CC was halted in 2010 and totaled just thirteen and six examples, respectively. They were tested by several railway companies, but further orders failed to materialize. Third production 30 CC (factory number L06-30003) was assembled in co-operation with Czech company Legios, previously known as Lostr, a manufacturer of freight cars. Legios purchased a manufacturing license from Voith and intended to market the locomotive as Legios 'General'. In 2013, however, the company ran into serious financial problems and no production has been so far undertaken.
Between 2009 and 2011 second production 40 CC (L06-30018/2008), numbered 264 002,  was tested by Lotos Kolej; at that time the locomotive remained the manufacturer's property. Results were satisfactory, but no orders followed. It was returned in 2011 and sold to Südleasing GmbH of Stuttgart in August 2013. Two years later it was sold again, this time to Erfurt-based Raildox GmbH & Co. Like other locomotives of this type, it was leased to several private operators and was encountered in Poland sporting the liveries of NBE Rail GmbH and its Polish subsidiary, NBE Rail Polska. Another example, 264 007 (L06-40007/2009), operated by German A.D.E. Eisenbahnverkehrsunternehmen GmbH, was tested by Kolej Bałtycka in 2011.
Main technical data
No.

Parameter

Unit

Value

1.

Years of manufacture

-

2006 – 2010

2.

Total built / used in Poland

-

13 / 21)

3.

Axle arrangement

-

C'C'

4.

Transmission type

-

hydraulic

5.

Design maximum speed

km/h

120

6.

Prime mover type

-

ABC

16 DZC

7.

Engine rating

kW/hp

3 600 / 4 900

8.

Bore x stroke

mm x mm

256 x 310

9.

Number of cylinders

-

16

10.

Number of electric engines

-

-

11.

Rated output of electric engines

kW

‑

12.

Main reduction gear ratio

-

13.

Diameter of drivers

mm

1 150

14.

Total weight

kg

135 000

15.

Axle load

T

22.5

16.

Axle base

mm

17.

Overall length

mm

23 200

18.

Maximum width

mm

2 900

19.

Train heating

-

-

20.

Brake type

-
<![if !supportLists]>1) <![endif]>Tests only.
References and acknowledgments
<![if !supportLists]>- <![endif]>www.loks-aus-kiel.de;
<![if !supportLists]>- <![endif]>www.voith.com;
<![if !supportLists]>- <![endif]>www.abcdiesel.be.