<![if !vml]>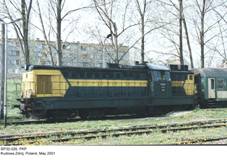 <![endif]>
This SP32-026 was photographed near the Kudowa Zdrój station in May 2001. It was withdrawn in July 2004 and scrapped in March 2009.
<![if !vml]>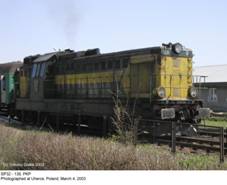 <![endif]>
SP32-138 with a passenger train shortly after departure from Uherce; photo taken on March 4, 2003. Written off in July 2004.
<![if !vml]>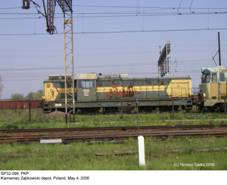 <![endif]>
Withdrawn SP32-098, photographed at the Kamieniec Ząbkowicki depot on May 4, 2006 (scrapped in March 2010)...
<![if !vml]>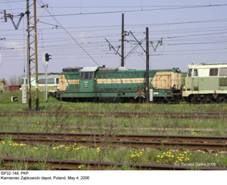 <![endif]>
…while this re-engined SP32-148, photographed on the same occasion, remained in service until early 2010s. In 2009 it was transferred to Lublin regional management and is intended for preservation.
<![if !vml]>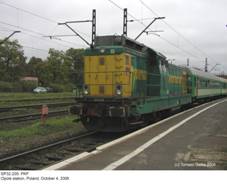 <![endif]>
Modernized SP32-209 (ex SP32-110), photographed at the Opole station on October 4, 2006.
<![if !vml]>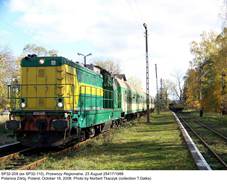 <![endif]>
Another picture of the SP32-209, taken in Polanica Zdrój on October 18, 2008. Photo by Norbert Tkaczyk (from my collection).
<![if !vml]>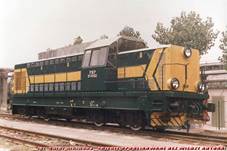 <![endif]>
This photo of the SP49-002 has been taken from www.kolejowaklatka.org, but can be found at various other Internet sites; no author has yet appeared to claim the distinction!
<![if !vml]>

<![endif]>
SP32 side drawing by M.Ćwikła from SK 5/99.
<![if !vml]>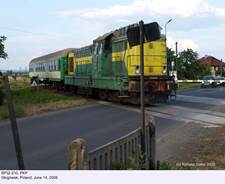 <![endif]>
Modernized SP32-210 (ex SP32-128) at a railway crossing near Głogówek (the signpost was obviously in a wrong place!); June 14, 2008.
<![if !vml]>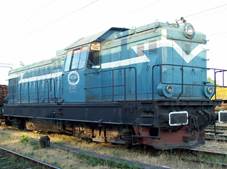 <![endif]>
Romanian LDE130-019, operated by Transcombi, photographed in Braila on June 8, 2007; photo by Stefan Puscasu…
<![if !vml]>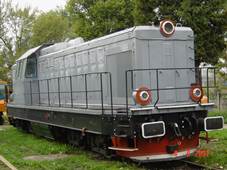 <![endif]>
… and LDE130-024 from Tehnorail Brasov, photographed in Brasov on September 4, 2007 by Adrian Leancu. Both pictures are from http://cfr.stfp.net  (many thanks for permission!). Polish origin of these locos can be traced from headlights, which had been obviously intended to comply with Polish standards and were later modified.
<![if !vml]>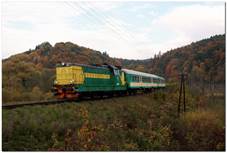 <![endif]>
Nostalgic picture of the SP32-073 between Załuż and Lesko, taken by Ryszard Rusak on October 10, 2009 (thanks a lot for permission!). Nostalgia is fully justified – this was the last service of a SP32 in the Bieszczady mountains, where they had been in use for a long time.
<![if !vml]>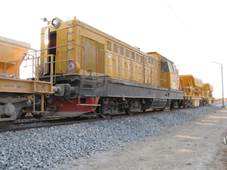 <![endif]>
Surprise! A modernized, but recognizable LDE130 sold to South Africa and photographed near Johannesburg in autumn 2010 (photo by Jean Dulez via Chris West – many thanks!). Possibly this is an unrealized SP32: any information is most welcome.
<![if !vml]>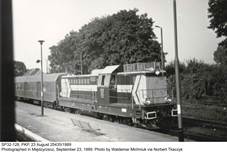 <![endif]>
Back from Africa: SP32-128 (s/n 25435/1989), Międzyrzecz, September 23, 1989. Photo by Waldemar Michniuk via Norbert Tkaczyk (used by permission). This locomotive was re-engined in 2003 and became SP32-210.
<![if !vml]>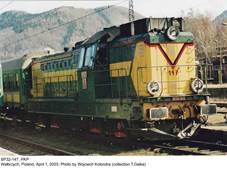 <![endif]>
SP32-147, photographed in Wałbrzych on April 1, 2003. Photo by Wojciech Kolondra (from my collection).
<![if !vml]>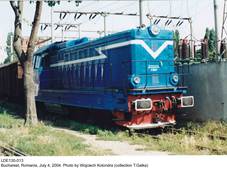 <![endif]>
Romanian LDE130-013, Bucharest, July 4, 2004. Photo by Wojciech Kolondra (from my collection).
<![if !vml]>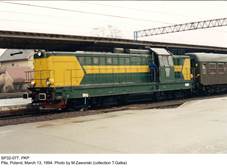 <![endif]>
SP32-077, Piła station, March 13, 1994. Photo by M. Zaworski (from my collection). Withdrawn in 1998.
<![if !vml]>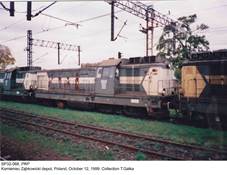 <![endif]>
Another photo from my collection: SP32-068, Kamieniec Ząbkowicki depot, October 12, 1999.
<![if !vml]>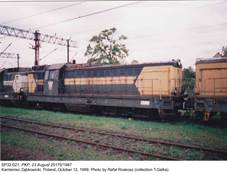 <![endif]>
The same location: SP32-021, October 12, 1999. Photo by Rafał Roskosz (from my collection).
<![if !vml]>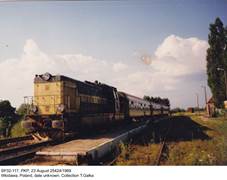 <![endif]>
SP32-117, photographed in Włodawa, date unknown. Photo from my collection.
<![if !vml]>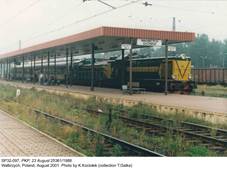 <![endif]>
SP32-097 ready to depart from Wałbrzych, assisted by a SM42 (just in case?), August 2001. Photo by K. Kociołek (from my collection).
<![if !vml]>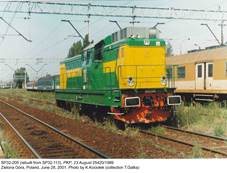 <![endif]>
Modernized SP32-205, photographed by the same author in Zielona Góra on June 28, 2001. Photo from my collection.
<![if !vml]>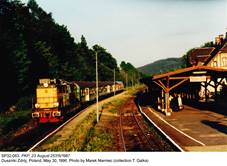 <![endif]>
SP32-063, photographed in Duszniki Zdrój on May 30, 1996. Photo by Marek Niemiec (from my collection). This locomotive was withdrawn in July 2004.
<![if !vml]>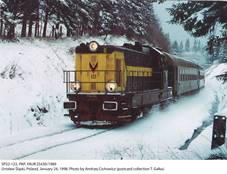 <![endif]>
SP32-123, Unisław Śląski, January 24, 1998. This locomotive was withdrawn in July 2004, after only fifteen years' service. Photo by Andrzej Cichowicz (postcard from my collection).
<![if !vml]>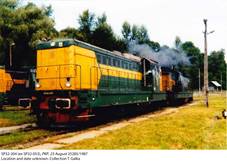 <![endif]>
SP32-204 (rebuilt SP32-053), location and date unknown. This locomotive still remains in the rosters of Polregio (formerly Przewozy Regionalne). Photo from my collection.
<![if !vml]>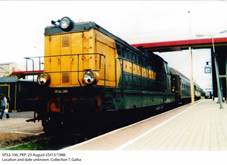 <![endif]>
SP32-106, location an date unknown. Written off in July 2004 and scrapped. Photo from my collection.
Steam locomotives remained in scheduled service with local passenger trains in Poland until 1990s, longer than in any other European country. A need for some replacement was, however, recognized much earlier. Indigenous classes SP45 (later SU45) and SU46 were successful machines, but their production was halted in 1977 and, despite some efforts, could not be re-commenced in the 1980s, due to economic crisis; moreover, these locomotives were too heavy and powerful for many potential services. It was therefore decided to order a new diesel locomotive from the 23 August works of Bucharest (former Malaxa, then FAUR). Romanian manufacturers had already supplied successful standard-gauge and narrow-gauge diesels for PKP (ST43 and Lxd2, respectively), so their capabilities seemed unquestioned. A contract was thus placed for 200 examples.
Contrary to the above-mentioned earlier classes, new locomotive, with factory designation LDE130, was of a completely new design, developed specially for PKP, and had some novel and modern features, like AC generator, electrodynamic braking and adjustable control desk. Certain elements and sub-assemblies were, however, adapted from earlier locomotives (e.g. traction engines, wheelsets and suspension were the same as in type 060DA, or PKP class ST43). Initially it was intended to provide multiple control capacity, hence new machine was designated SP49. First two examples, SP49-001 and SP49-002 (serial numbers 24995 and 24996) were delivered in 1985, but soon it was decided to proceed with the single-control variant only, so class designation was changed to SP32 and in 1987 both prototypes were re-classed, to be written off in 1992. Two SP49s saw little service, so few photos are known, but some – of unknown authorship – can be found at various Internet sites.
Initial service experience with SP32 was far from satisfactory. New locomotives quickly proved very unreliable and manufacturing quality turned out to be poor. Engine, generator and compressor failures were commonplace. Despite many detailed improvements, introduced in later batches, this situation never substantially improved and SP32 immediately earned itself a contemptuous nickname of 'Ceausescu's revenge'. At times one-third of the entire fleet was immobilized due to serious failures and it was not uncommon for a SP32 to be accompanied by a ST43, 'just in case'. Moreover, these locomotives proved too weak for many tasks, especially in mountainous areas and during winter, when car heating was on (and demanded some 250 kW with a six-coach draft). No wonder, thus, that only 152 examples were delivered and orders for the remaining 48 were cancelled. Last two locomotives arrived in 1991 (serials 25570 and 25571), but went directly to railway stock repair works in Piła (now Interlok) and later were given service numbers SP32-001 and SP32-002, replacing two prototypes withdrawn earlier that year. For a comparatively 'young' class, withdrawals started early. On January 1, 1999, PKP had (according to rosters quoted in SK) only 102 examples, not all of them serviceable. It was intended to retain 100 machines in service and have them re-engined and modernized until 2005, but due to financial problems only a handful finally underwent such conversions. Six examples (SP32-073, -086, -096, -147, -148 and -149) were fitted with new MTU 12V396TC12 diesels (license-built in Romania) of the same rating as the original ones. Between 2000 and 2003, further ten – of initially planned 96 – underwent more thorough modernizations; apart from numerous minor improvements, they were fitted with MTU 12V396TC14 diesels rated at 1380 hp and state-of-the-art control and diagnostic systems. All locomotives from the second batch were renumbered. First of them, SP32-130, became SP32-201 and returned to service in November 2000. Nine more followed: SP32-046 (renumbered to SP32-202), -044 (203), -053 (204), -113 (205), -043 (206), -062 (207), -076 (208), -110 (209) and -128 (210).
Initially SP32s operated mainly on non-electrified secondary and local lines in south-eastern Poland and Lower Silesia. Their proprietary status was somehow complicated. All modernized locomotives remained the PKP Cargo property, while all other examples were formally taken over by Konsorcjum Taborowe (Railway Stock Consortium) company, founded in 2001. Its life was, however, short, as it closed down in June 2002, with all locomotives sold to Kolmex. They saw no further service. Many withdrawn SP32s were stored at the railway stock repair works (ZNTK) of Poznań, awaiting a decision on their future. One of them (SP32-120, 23 August 25427/1989) has been overhauled and adapted for switching at the company premises in 2004, but four years later it was transferred to STK company of Wrocław and withdrawn in 2009, to be scrapped two years later. 87 examples were formally written off on June 1, 2004; most of them, if not all, have already been scrapped. Between 2009 and 2010, Technical University of Kraków submitted a project of extensive modernization, designated 312D and including re-engining (Caterpillar CAT 3512 diesel), thoroughly re-designed cab and new electric, cooling and exhaust systems. Twenty examples were transferred to Interlok of Piła and work on first of them commenced in March 2009, but was never completed and the entire project was finally abandoned. All locomotives stored at Interlok were later scrapped.
Of sixteen modernized locomotives owned by PKP Cargo, SP32-086 was written off in 2004. SP32-148 and -149 followed in early 2010s. The remaining thirteen operational SP32s were transferred to PKP Przewozy Regionalne in 2008 and later concentrated in Krzyż and Chojnice; this modest fleet was used mainly on non-electrified lines in western and northern Poland. They gradually dwindled in number. In January 2015 only SP32-202, -204 and -206 were serviceable. They were used mainly as a replacement of railbuses in cases of their defects. Last scheduled service of this type was SP32-206 hauling a local train from Piła to Krzyż on December 29, 2017. In 2013 a group of railway fans submitted a project to preserve SP32-148, withdrawn from PKP Cargo in 2012, as a heritage locomotive that would run with special trains. However, in July 2016 it was announced that this locomotive shall be preserved on static display. In February 2018 it was transferred to Nowy Sącz.
Although LDH130 never served with Romanian state railways CFR, apart from CFR Infrastructura, a number of these locomotives (most probably from those ordered by PKP and not accepted) went to several private and industrial operators. According to Tamas Haller (thanks a lot!), they numbered about 30 to 35, but only three or four survived in regular use until mid-2010s. These locomotives retained their factory type designation LDE130, with consecutive service numbers.
SP32 was the last class, ordered in quantity for PKP, until the appearance of EU43 in 2008. Most of these locomotives were outlived in service by their elder predecessors and only a handful remained in use for more than twenty years.
Main technical data
No.

Parameter

Unit

Value

1.

Years of manufacture

-

1985 – 1991

2.

Total built / used in Poland

-

152 / 1521)

3.

Axle arrangement

-

Bo'Bo'

4.

Transmission type

-

electric

5.

Design maximum speed

km/h

100

6.

Prime mover type

-

M820SR2)

7.

Engine rating

kW/hp

957 / 1300

1015 / 13804)

8.

Bore x stroke

mm x mm

9.

Number of cylinders

-

12

10.

Number of electric motors

-

4 X MCT 542

11.

Rated output of electric motors

kW

4 X 200

12.

Main reduction gear ratio

-

13.

Diameter of drivers

mm

1100

14.

Total weight

kg

74 4003)

15.

Axle load

T

18.6

16.

Axle base

mm

10 500

17.

Overall length

mm

16 000

18.

Maximum width

mm

3 100

19.

Train heating

-

electric 3 kV

20.

Brake type

-

Oerlikon + electrodynamic
<![if !supportLists]>1) <![endif]>Including two SP49s, later re-designated SP32.
<![if !supportLists]>2) <![endif]>MTU 12V396TC12 (license-built in Romania – rating unchanged) in five examples; modernized locomotives (service numbers above 200) fitted with MTU 12V396TC14 diesels.
<![if !supportLists]>3) <![endif]>74 500 kg in modernized locomotives.
<![if !supportLists]>4) <![endif]>With 12V396TC14 engine.
References and acknowledgments
<![if !supportLists]>- <![endif]>AL;
<![if !supportLists]>- <![endif]>www.kolejowaklatka.org (website by Marek Dąbrowski);
<![if !supportLists]>- <![endif]>SK, various issues;
<![if !supportLists]>- <![endif]>article by Wojciech Kamiński (SS vol. 3/2016);
<![if !supportLists]>- <![endif]>www.transportszynowy.pl;
<![if !supportLists]>- <![endif]>Tamas Heller, Stefan Puscasu and Chris West (private communication).
<![if !supportLists]>- <![endif]>