<![if !vml]>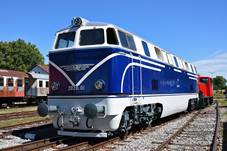 <![endif]>
Prototype SU45-001, location and date unknown. Despite the PKP logo, this locomotive was never accepted by state railways and remained the manufacturer's property. Photo from my collection.
<![if !vml]>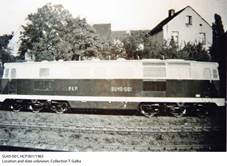 <![endif]>
Second example of the 12C22W engine on display at the Railway Museum in Warsaw, May 5, 2005.
<![if !vml]>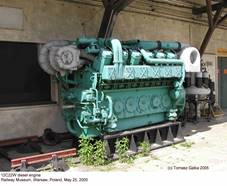 <![endif]>
Snow-covered SP45-139 ( HCP 141/1974) at Kościerzyna depot, February 5, 2003.
<![if !vml]>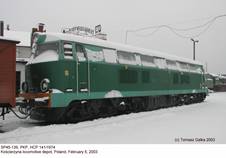 <![endif]>
Another picture of the SP45-139, taken on September 23, 2013.
<![if !vml]>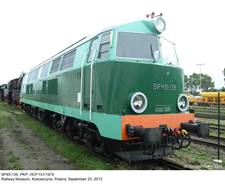 <![endif]>
SU45-208 ( HCP 210/1975) photographed near Toruń on June 18, 2003.
<![if !vml]>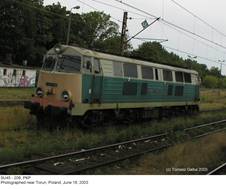 <![endif]>
SU45-082 (HCP 084/1973) at Toruń Kluczyki depot, August 8, 2003.
<![if !vml]>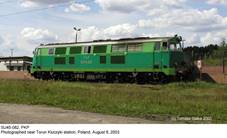 <![endif]>
SU45-092 (HCP 094/1973) at Głogów station, November 10, 2003.
<![if !vml]>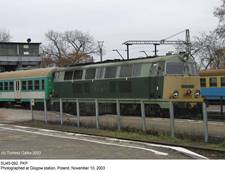 <![endif]>
Not only steamers can be seen in Wolsztyn: SU45-048 (HCP 050/1972) was photographed there on April 30, 2005...
<![if !vml]>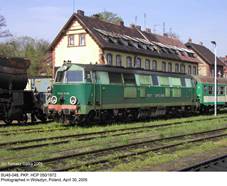 <![endif]>
... this SU45-195 (HCP 197/1975) almost one year later, on April 29, 2006...
<![if !vml]>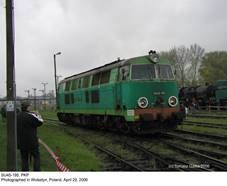 <![endif]>
...and SU45-202 (HCP 204/1975) on April 28, 2007.
<![if !vml]>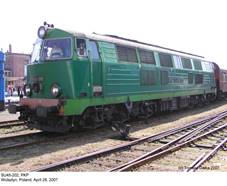 <![endif]>
Another picture of SU45-048, taken at the Leszno depot on July 26, 2006...
<![if !vml]>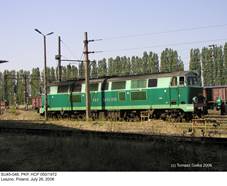 <![endif]>
...and of SU45-202: Rzepin depot, May 15, 2009.
<![if !vml]>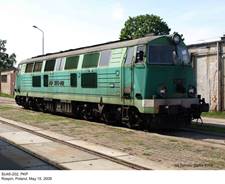 <![endif]>
SU45-097 (HCP 099/1973) in Krotoszyn, November 26, 2003.
<![if !vml]>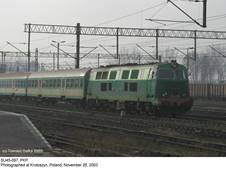 <![endif]>
SU45-111 (HCP 113/1974) near Sierpc, April 4, 2004.
<![if !vml]>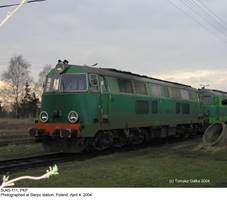 <![endif]>
SP45 side drawings: prototype….
<![if !vml]>

<![endif]>
… and late production variant (both drawings by M.Ćwikła from the monograph quoted in references).
<![if !vml]>

<![endif]>
Two SU45s inside the engine shed in Ełk: SU45-137...
<![if !vml]>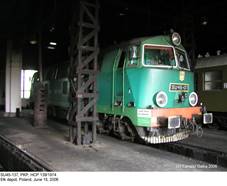 <![endif]>
... and SU45-244 (on the right – ST44-967); both photos taken on June 15, 2006.
<![if !vml]>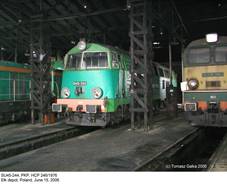 <![endif]>
Two more photos from Ełk: SU45-045...
<![if !vml]>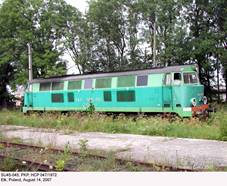 <![endif]>
...and SU45-078; August 14, 2007.
<![if !vml]>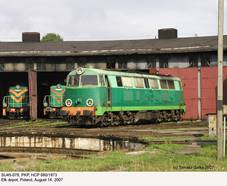 <![endif]>
SU45-209, photographed in Hajnówka on June 30, 2006.
Many SP45s and SU45s withdrawn from use can be seen at various depots in Poland – you can see some of them here.
<![if !vml]>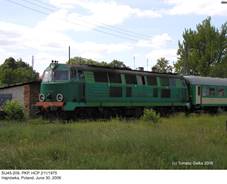 <![endif]>
SU45-250 emits a cloud of black smoke as her diesel engine is started; Korsze, September 9, 2008.
<![if !vml]>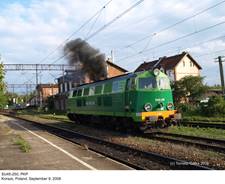 <![endif]>
Two more SU45s photographed in Korsze on the same occasion: SU45-078…
<![if !vml]>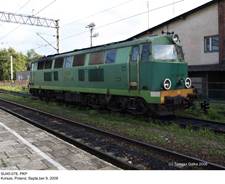 <![endif]>
…and SU45-070. Here diesel locomotives take over eastbound passenger trains.
<![if !vml]>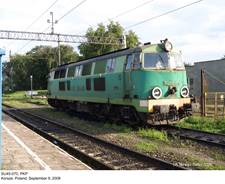 <![endif]>
Two SU45s, photographed in Dęblin on January 24, 2009: SU45-159…
<![if !vml]>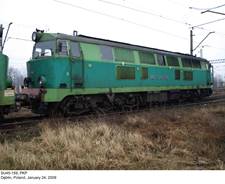 <![endif]>
…and SU45-245.
<![if !vml]>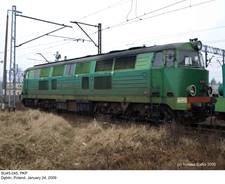 <![endif]>
Korsze again: SU45-183, August 15, 2009.
<![if !vml]>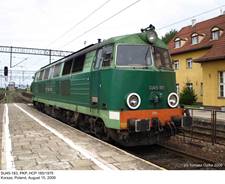 <![endif]>
SU45-241, Poznań Główny station, September 28, 2010…
<![if !vml]>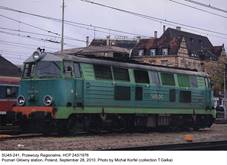 <![endif]>
…and ST45-04 (rebuilt from SU45-240), June 11, 2011, location unknown; the locomotive behind is EU07-172. Both photos by Michał Korfel (from my collection).
<![if !vml]>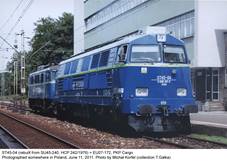 <![endif]>
SU45-071, photographed near Serock with a local train on April 26, 2004. Photo by Rafał Roskosz (from my collection).
<![if !vml]>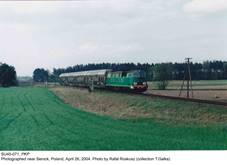 <![endif]>
Two more photos from my collection by the same author: SU45-079, photographed near Wierzchucin on the next day…
<![if !vml]>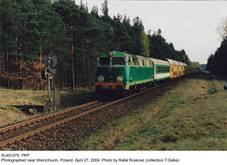 <![endif]>
…and SU45-123, Bydgoszcz, September 2001.
<![if !vml]>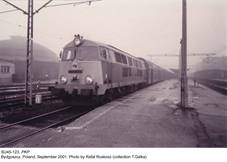 <![endif]>
More pictures from my collection. SP45-252 with a passenger train, Olsztyn, August 1992 (photo by M. Plewka).
<![if !vml]>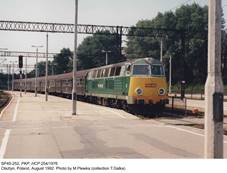 <![endif]>
SU45-233, Chełmża, August 1994, the same author…
<![if !vml]>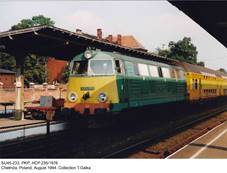 <![endif]>
…SP45-193…
<![if !vml]>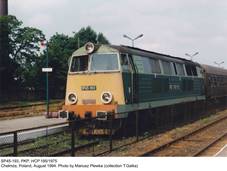 <![endif]>
…and SU45-167, both photographed probably on the same occasion.
<![if !vml]>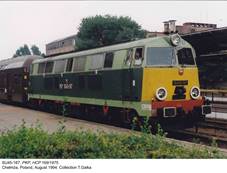 <![endif]>
SU45-118, Chojnice, August 26, 1998 (photo by Rafał Roskosz).
<![if !vml]>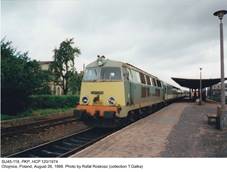 <![endif]>
SU45-167, location and date unknown.
<![if !vml]>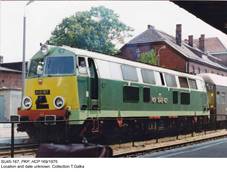 <![endif]>
More photos by this author: SU45-219, Leszno, August 22, 1998…
<![if !vml]>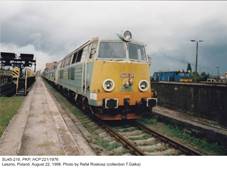 <![endif]>
…SU45-133, Szczecinek, June 23, 1998…
<![if !vml]>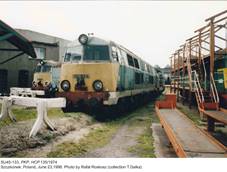 <![endif]>
…and SU45-188, photographed on the same occasion.
<![if !vml]>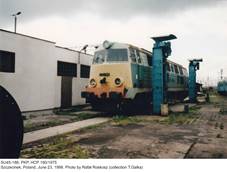 <![endif]>
SP45-142, Kamieniec Ząbkowicki depot, May 3, 1997.
<![if !vml]>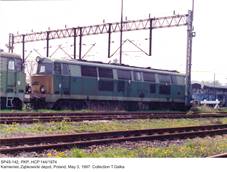 <![endif]>
SU45-225, Zbąszynek, August 21, 1998 (photo by Rafał Roskosz).
<![if !vml]>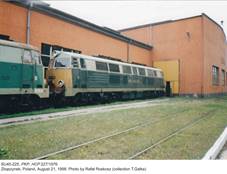 <![endif]>
SU45-214, Kędzierzyn-Koźle, April 1998 (photo by M. Plewka).
<![if !vml]>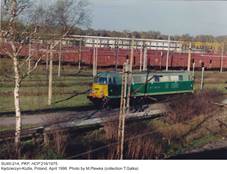 <![endif]>
Two more pictures by the same author: SU45-023, Czeremcha depot, May 10, 2000…
<![if !vml]>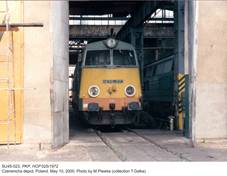 <![endif]>
…and SU45-028, Małdyty, August 1994.
<![if !vml]>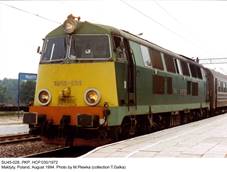 <![endif]>
SU45-006, location unknown, August 1994.
<![if !vml]>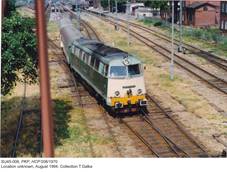 <![endif]>
SU45-210, Grudziądz depot, November 19, 2009. Photo by Sławomir Fedorowicz (from my collection).
<![if !vml]>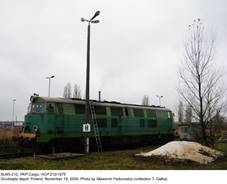 <![endif]>
The same author, location and date: ST45-02 (rebuilt SU45-238), operated by PKP Cargo.
<![if !vml]>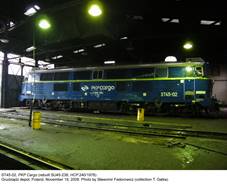 <![endif]>
SU45-052, Jaworzyna Śląska, July 8, 1998. Photo by Marek Niemiec (from my collection). This locomotive still remains in the PKP Cargo rosters.
<![if !vml]>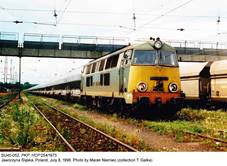 <![endif]>
SU45-064 (HCP 066/1973), photographed in Kędzierzyn Koźle on May 3, 1997. Photo by Mariusz Plewka (used by permission). This locomotive still remains in use with Przewozy Regionalne.
<![if !vml]>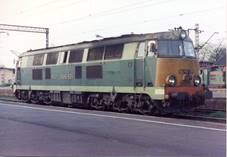 <![endif]>
SP45-012, photographed in Poznań in June 1984. This locomotive (HCP 014/1971) was not rebuilt to the SU45 standard and has already been scrapped. Photo from my collection.
<![if !vml]>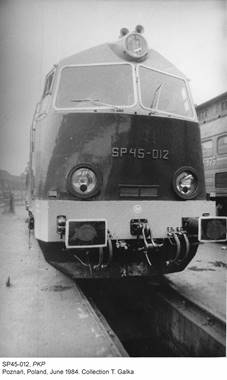 <![endif]>
SP45-045, PKP (HCP 047/1972), Toruń, July or August 1991…
<![if !vml]>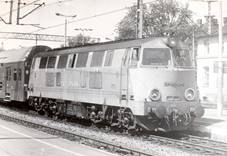 <![endif]>
…and SU45-138, PKP (HCP 140/1974), Elbląg, August 1994. Both pictures by Mariusz Plewka (used by permission). SP45-045, rebuilt into SU45-045, was scrapped in Warsaw in December 2011; SU45-138 has also been withdrawn – date unknown.
<![if !vml]>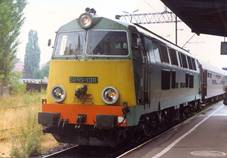 <![endif]>
SU45-054, photographed near Chruściel on August 9, 2003. Photo by Martin Stertz (from my collection). This locomotive is still in use with Przewozy Regionalne (October 2017).
<![if !vml]>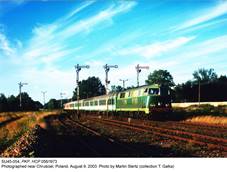 <![endif]>
SU45-263 (HCP 265/1976), location and date unknown. In August 2011 this locomotive was rebuilt and re-numbered ST45-05; it still remains in use with PKP Cargo. Photo by Henryk Magoń (postcard from my collection).
<![if !vml]>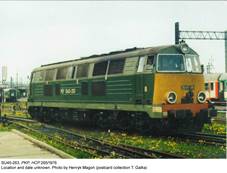 <![endif]>
One more picture by Mariusz Plewka: SU45-070 (HCP 072/1973) and SU45-162 (HCP 164/1975), Chełmża, August 1994. Both these locomotives have already been withdrawn. Used by permission.
Orders for steam locomotives in Poland were halted in 1957 (although last steam engines were purchased six years later, but that's a different story). Soon it became obvious that, despite considerable progress in electrification, large numbers of diesel locomotives would be needed. Fablok works of Chrzanów, the sole manufacturer of such machines in Poland, had managed to supply only light and medium switchers, not suitable for line service. Development of new and much more powerful engines was obviously necessary. In 1961, Austrian SGP (Simmering-Graz-Pauker) 2020.01 prototype with two 1100 hp diesels was briefly tested by PKP, but license production of this machine, fitted with hydraulic transmission, was out of question. It was thus decided to develop an indigenous design and in 1965 this task was entrusted to Cegielski works of Poznań (HCP), who had no experience with heavy diesel locomotives, although a number of railway and marine diesel engines had been built there. New locomotive was intended for both passenger and freight trains, although the former would obviously take priority (contracts for first ST43 freighters from Romanian Electroputere works were signed in June 1964).
The engine was developed by the CBKSS (Central Design Bureau for Internal Combustion Engines) on the basis of successful 8C22 eight-cylinder 800 hp unit, designed for SM42 switcher. By adding four cylinders and with higher supercharging the new powerplant, designated 12C22W, was intended to develop 1700 hp at 1100 rpm. In order to maintain moderate axle load, Co'Co' arrangement was chosen for the new locomotive, initially designated SU44 (factory designation 301D).
Bench running of the 12C22W started in April 1966 and was plagued by crankshaft and bearings failures (although some earlier sources claim that he engine performed very well!). Soon rated power was reduced to 1520 hp at 1020 rpm, some modifications were introduced and in this version the engine was fitted to the prototype locomotive. Development problems, however, delayed the whole program and tests began only in August 1967 (due to this delay, the new loco became SU45, first ST44s having been put into service in 1965). SU45-001 was never accepted by PKP, remained the HCP property and was used for tests only, to be finally scrapped in mid-1970s. Despite reduced engine output, performance was found basically adequate, but the 12C22W proved very unreliable and its development was finally cancelled. As alternative CT19 family of medium-speed diesels had been abandoned at an early stage, foreign license seemed the only way to save the project. In fact, as early as in November 1966 an agreement had been signed with FIAT Grandi Motori of Turin to produce at HCP the 2112SSF engine (1700 hp at 1500 rpm), then still under development. 2112SSF was smaller than its predecessor, having the capacity of 95.5 litres (123.1 litres in 12C22W) and was lighter by about 900 kg. Specific fuel consumption was, however, almost the same (assuming initial rating of the Polish engine).
In the meantime, it was decided that the new locomotive should be produced in two variants: passenger SP45 with steam car-heating device and freight ST45 (which materialized, in the form of a SP45 conversion, only in 2009). Second prototype, designated SP45-002 (type 301Da), with imported FIAT engine, was completed in June 1968. After prolonged tests it was accepted by PKP in 1971 and later re-designated SP45-500 to avoid confusion with the standard production variant. FIAT-engined SP45 was finally ordered by PKP after several modifications, concerning mainly electric equipment and many minor details (type 301Db). First production example, SP45-001 (HCP 003/1971), was rolled out in July 1971 and, until September 1976, 265 locomotives were delivered to PKP. Three more followed in 1977 for Lebanese railways CEL (type 301Dc, HCP 301/1977 through 303/1977, CEL service numbers 1201 through 1203), with modified cooling systems and many other minor changes. 301Dc was by some 8 tonnes lighter than the original version. All three examples remained operational until 1997. After almost twenty years of oblivion they were discovered in a military base in Beirut. CEL plans to purchase further ten examples failed to materialize.
SP45 soon became the principal passenger diesel locomotive in the PKP service. Prior to its introduction, passenger trains on main unelectrified trunk lines were often hauled by ST43 or ST44 freighters, which called for additional heating cars during winter. Double-heading SN61 diesel railcars (often supplemented by a third unit!) were too weak and their mechanical transmission was prone to failure. Quite often steam locomotives had to be employed, much to the concern of certain officials, who considered them a symbol of backwardness. SP45s were therefore badly needed and soon could be encountered on most principal unelectrified lines; last SN61s were withdrawn from long-range service in 1974.
During its production period, SP45 underwent numerous modifications, aimed both at replacing imported elements and sub-assemblies with their indigenous or license-built variants and at improving reliability and safety. Basic characteristics and external appearance were not affected. In mid-1980s, however, problems with imported Vapor OK-4616 boilers for car heating became acute. Purchase of spares was costly and steam-heated passenger cars rapidly dwindled in number. It was thus decided to introduce 3000 V DC electric heating, with the Dolmel LCPb-400 generator driven directly by the diesel engine, the same as in SU46 and SP47. Modernization of the first example, SP45-074, was completed in January 1988, and 190 more followed, terminating with SP45-061 in September 1997. In 1992 designation was changed to SU45, but service numbers were retained (SP45-090, -095 and -099 retained their original designations despite being fitted with electric heating devices). On January 1, 1999, PKP had only four machines with Vapor boilers (SP45-086, -139, -158 and -252) and all of them were written off during that year. Electric heating reduced available tractive effort and it was not uncommon to switch it off on long steep slopes, in order to maintain scheduled speed.
An interesting episode in the SU45 history was the service of these locomotives with passenger trains from Gdynia to Kaliningrad in Russia, started in early 1990s (1435 mm track extends to the Kaliningrad passenger station). In 2004, however, this service was taken over by Russian M62s and Polish locomotives now run only to the border station of Mamonovo.
Of 266 examples supplied to PKP, 161 still remained on the company's rosters in 2004, although not all of them were serviceable. According to detailed lists quoted in KMD vol. 1/2010, in late 2009 three companies that had emerged from PKP had in all 120 SU45s (PKP Cargo – 50, Przewozy Regionalne – 51 and PKP InterCity – 19), of which only 36 were in use (fourteen, seventeen and five, respectively). For a long time they had been, together with their more powerful development, SU46, the only heavy diesel locomotives in regular passenger traffic. Later, with introduction of more economical railcars, they became surplus and many were withdrawn from use, although not written off. Until April 2012 the number of operational SU45s with all three operators dwindled to a mere twelve examples and in mid-2015 only five were still in use. The last one of them, SU45-079 (HCP 081/1973), owned by Przewozy Regionalne, suffered engine failure in January 2017 and was sold in December 2018 to ALS company of Stary Sącz, together with SU45-089. This company is owned by two railway enthusiasts who decided to restore SU45-079 in service as a heritage locomotive; the other example was cannibalized for spares. First test runs took place in February 2022. Original green livery has been restored.
In 2012 two withdrawn locomotives of this type (SU45-141 and SU45-165) were purchased by Unikol Railway Workshop, a private-owned company based in Kostrzyn, for overhaul and further resale. SU45-141, re-designated 301Db-141, was sold to WAM – a small private operator based in Kamieniec Ząbkowicki. Later it was returned to Unikol and in 2015 leased to Euronaft Trzebinia (re-numbered 301Db-143, in accordance with its factory number). SU45-165 still remains a Unikol property and has served as a source of spare parts for 301Db-143. In September 2014 nine surplus SU45s were offered for sale by PKP InterCity. All were eventually sold in January 2016 to Karpiel Sp. z o. o. forwarding company. Only one of them, SU45-192 (incorrectly re-numbered SU45-194) has been overhauled and restored in service with its new owner. The rest are stored in Brzesko, in rather poor condition. SU45-115 (HCP 117/1974) was sold to SKPL company, but saw very little service. Reportedly it is currently is awaiting a replacement diesel engine.
Contrary to previously prevailing practice in Poland, someone must have thought of the future demise of this class and SP45-139 (HCP 141/1974), written off in July 1999, was transferred to the rolling stock heritage park at Kościerzyna locomotive depot in October 2001. Currently it remains there on a static display and is the only surviving example of the original version with the Vapor boiler for car heating. Derelict examples can still be found at several depots throughout Poland.
In late 1990s a modification program for principal line passenger diesel locomotives (SU45 and SU46) was contemplated. Initially it was intended to keep sixty SU45s in operation, but with obsolete FIAT diesel engines replaced by new, modern units of unspecified type. This operation was to have been completed until 2010, but the project saw fruition only in 2009, in the form of the ST45-01. This is a conversion of SU45-112 (HCP 114/1974), which has been fitted with the MTU 12V4000R43 diesel engine, de-rated to 1770 hp in order to match electric traction engines, and state-of-the-art control systems. Crew compartment has been completely redesigned and car heating equipment removed, as ST45 is intended solely for freight traffic. The conversion was made by PESA company of Bydgoszcz and 'new' locomotive (factory type 301Dd) was accepted by PKP Cargo in June 2009. Externally – apart from navy blue livery – it can be easily distinguished by rectangular headlights. Modernization program was intended to be completed in two years and include twenty SU45s. Three more examples followed until March 2010: ST45-02 (ex SU45-238), ST45-03 (SU45-254) and ST45-04 (SU45-240). Deliveries were resumed in September 2011, but totaled only nineteen locomotives, the last one (ST45-19, ex SU45-156, HCP 158/1975) being delivered in October 2012. ST45s are based in Katowice, Lublin and Gdynia depots. Despite initial success, ST45 was finally judged too weak for many tasks, especially compared to re-engined SM48 and ST44 from Newag and Pesa, respectively. Four oldest examples were withdrawn from use until October 2017; further withdrawals followed suit. The last one, ST45-19, was withdrawn in October 2020. All nineteen locomotives of this type still remain in the company's rosters, but their future is unclear.
Main technical data
| | | | |
| --- | --- | --- | --- |
| No. | Parameter | Unit | Value |
| 1. | Years of manufacture | - | 19673)– 1976 |
| 2. | Total built / used in Poland | - | 270 / 267 |
| 3. | Axle arrangement | - | Co'Co' |
| 4. | Transmission type | - | electric 700 V |
| 5. | Design maximum speed | km/h | 120 |
| 6. | Prime mover type | - | 2112SSF2) |
| 7. | Engine rating | kW/hp | 1250 / 1700 |
| 8. | Bore x stroke | mm x mm | 210 x 230 |
| 9. | Number of cylinders | - | 12 |
| 10. | Number of electric motors | - | 6 |
| 11. | Rated output of electric motors | kW | 1150 |
| 12. | Main reduction gear ratio | - | 19:64 |
| 13. | Diameter of drivers | mm | 1100 |
| 14. | Total weight | kg | 102 0004) |
| 15. | Axle load | T | 17.05) |
| 16. | Axle base | mm | 14 050 |
| 17. | Overall length | mm | 18 990 |
| 18. | Maximum width | mm | 3 034 |
| 19. | Train heating | - | steam1) |
| 20. | Brake type | - | Oerlikon |
<![if !supportLists]>1) <![endif]>Supplanted by 3000 V electric heating in the 1980s (designation changed to SU45).
<![if !supportLists]>2) <![endif]>12C22W of the same rating in the prototype, MTU 12V4000 R43 1770 hp (1300 kW) in ST45.
<![if !supportLists]>3) <![endif]>301D prototype.
<![if !supportLists]>4) <![endif]>Type 301D, 108 000 kg ; 301Dc, 96 000 kg; 301Dd, 97 000 kg.
<![if !supportLists]>5) <![endif]>Type 301D, 18.0 T; 301Dc, 16.0 T; 301 Dd, 16.3 T.
References and acknowledgments
<![if !supportLists]>- <![endif]>HCP Diesel Locomotives, Classes SP45, SU46, SP47 by Marek Ćwikła and Paweł Terczyński (Kolpress, 2004, in Polish);
<![if !supportLists]>- <![endif]>Article on the ST45 conversion by Paweł Terczyński (SK vol. 10/2009);
<![if !supportLists]>- <![endif]>Article by Paweł Czech (KMD vol. 1/2010);
<![if !supportLists]>- <![endif]>AL, SK, SS (various issues);
<![if !supportLists]>- <![endif]>Article by Wojciech Kamiński (SS vol. 2/2012);
<![if !supportLists]>- <![endif]>www.kolejowaklatka.org (website by Marek Dąbrowski).