<![if !vml]>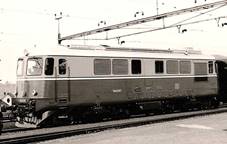 <![endif]>
First 060DA for CFR during tests in Switzerland. Photo taken on May 14, 1959, and supplied by someone who wishes to be known as Flodur44 (source: www.commons.wikimedia.org).
<![if !vml]>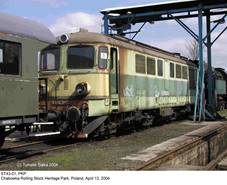 <![endif]>
Slightly derelict, but saved from being scrapped: ST43-01 at the Chabówka Rolling Stock Heritage Park, April 13, 2004...
<![if !vml]>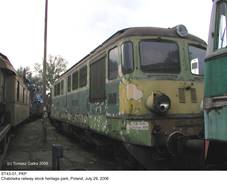 <![endif]>
...and second photo, taken on July 29, 2006: restoration hasn't progressed very far...
<![if !vml]>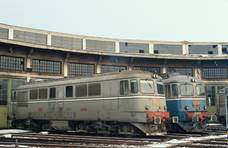 <![endif]>
CFR 60-1238-9 and 060-DA-1004 (both designations are still in use!). Photo: Mircea Dorobantu
<![if !vml]>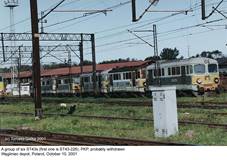 <![endif]>
Six ST43s, PKP (first one is ST43-226),  photographed at the Węgliniec depot on October 10, 2001…
<![if !vml]>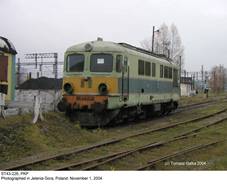 <![endif]>
…and derelict  ST43-226 at Jelenia Góra loco depot three years later (November 1, 2004).
<![if !vml]>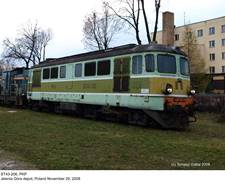 <![endif]>
Another picture from the Jelenia Góra depot: ST43-206 (most probably withdrawn), November 29, 2008.
<![if !vml]>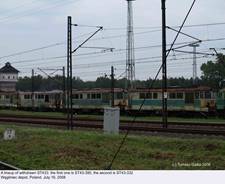 <![endif]>
In 2008, there were still many withdrawn ST43s at the Węgliniec depot: the first one is ST43-390, followed by ST43-332. Photo taken on July 16.
<![if !vml]>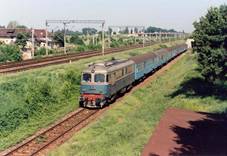 <![endif]>
CFR class 62 with a passenger train. Photo: Mircea Dorobantu…
<![if !vml]>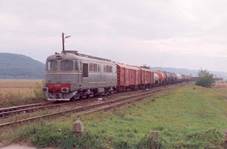 <![endif]>
… and class 60 with a heavy freight train. Photo: Mircea Dorobantu
<![if !vml]>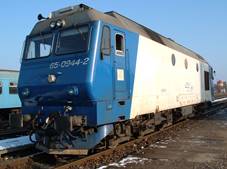 <![endif]>
Modernized 65-0944-2, operated by CFR Calatori, photographed in Pitesti on February 12, 2008. Photo by Stefan Puscacu (thanks for permission!).
<![if !vml]>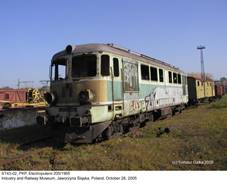 <![endif]>
Derelict ST43-02 (Electroputere 205/1965) at  the Industry and Railway Museum in Jaworzyna Śląska; there are chances of restoration, anyway (October 28, 2005).
<![if !vml]>

<![endif]>
Side drawing of Bulgarian class 06 from LBDZ; apart from slightly different life guards and decorative stripes, this machine is identical to ST43.
<![if !vml]>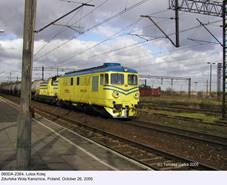 <![endif]>
060DA-2384, Lotos Kolej, double-heading with a SM42; photo taken in Zduńska Wola Karsznice on October 26, 2005.
<![if !vml]>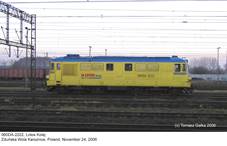 <![endif]>
060DA is the principal heavy diesel in the Lotos Kolej fleet; this 060DA-2222 was photographed on November 24, 2006, at the same location...
<![if !vml]>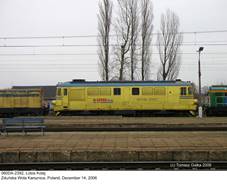 <![endif]>
...060DA-2392 followed on December 14, 2006...
<![if !vml]>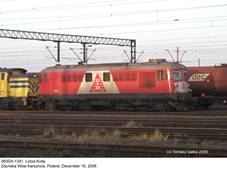 <![endif]>
... and 060DA-1341 two days later; this example still carries the livery of the leasing company...
<![if !vml]>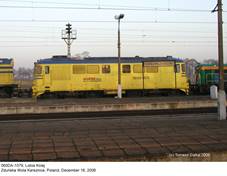 <![endif]>
...while 060DA-1079, photographed on the same occasion, has already been repainted.
<![if !vml]>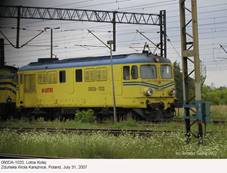 <![endif]>
Again in Karsznice: 060DA-1020, July 31, 2007…
<![if !vml]>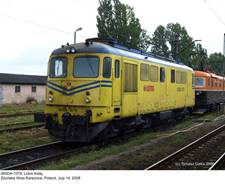 <![endif]>
…and 060DA-1079, July 16, 2008.
<![if !vml]>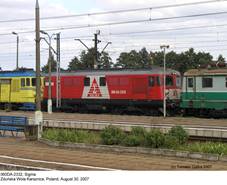 <![endif]>
Another 060DA leased by Lotos Kolej: 060DA-2332, photographed at the same location on August 30, 2007…
<![if !vml]>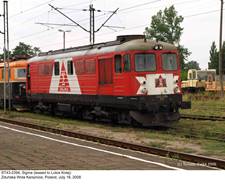 <![endif]>
…and yet another: ST43-2394, photographed on July 16, 2008. Note different designation systems.
<![if !vml]>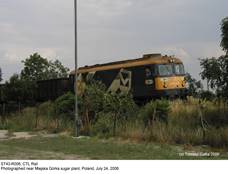 <![endif]>
ST43-R006, CTL Rail, photographed near the Miejska Górka sugar plant on July 24, 2006.
For several years, following the drastic reduction of the ST44 fleet, ST43 was the most numerous heavy diesel in the PKP service. Some pictures can be found here.
<![if !vml]>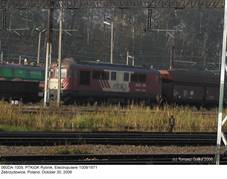 <![endif]>
060DA-1009 (Electroputere 1009/1971), operated by PTKiGK Rybnik. Photo taken in Zebrzydowice on October 20, 2006.
<![if !vml]>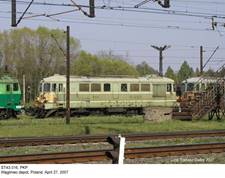 <![endif]>
Withdrawn ST43-316, photographed at the Węgliniec depot on April 27, 2007.
<![if !vml]>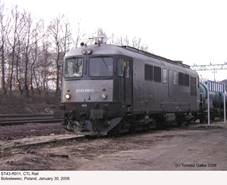 <![endif]>
This ST43-R011 probably belongs to CTL Rail, but has no logo or operator name and is painted in gloomy black/grey – hope this is some interim livery? Bolesławiec, January 30, 2008.
<![if !vml]>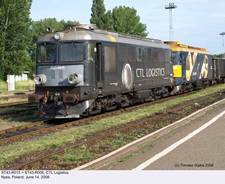 <![endif]>
New and old CTL Rail (now CTL Logistics) liveries are displayed by double-heading ST43-R015 and ST43-R006, respectively; Nysa station, June 14, 2008.
<![if !vml]>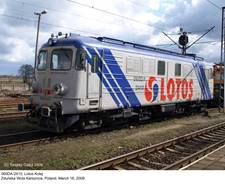 <![endif]>
060DA-2410 displays new Lotos Kolej livery – I like it. Zduńska Wola Karsznice, March 18, 2009.
<![if !vml]>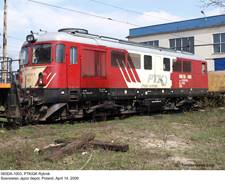 <![endif]>
060DA-1003, PTKiGK Rybnik, photographed at the Sosnowiec Jęzor depot on April 14, 2009.
<![if !vml]>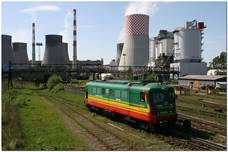 <![endif]>
A very beautiful picture of the 060DA-2306, PTK, with the Łagisza power station in the background; May 7, 2009. Double designation on the front wall is noteworthy. Photo by Ryszard Rusak (thanks for permission!).
<![if !vml]>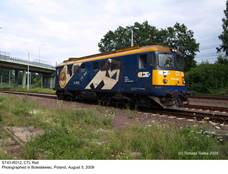 <![endif]>
ST43-R012 from the CTL Rail fleet; Bolesławiec, August 5, 2009.
<![if !vml]>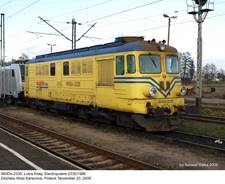 <![endif]>
Zduńska Wola Karsznice again: 060DA-2335 from the Lotos Kolej fleet, November 23, 2009…
<![if !vml]>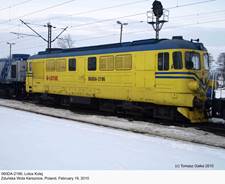 <![endif]>
…and 060DA-2186 from the same company: February 19, 2010. Last 060DAs operated by Lotos Kolej were withdrawn in late 2012.
<![if !vml]>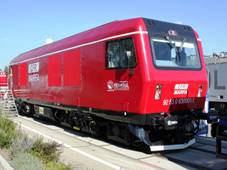 <![endif]>
Hardly resembling the 'old' 060DA, the Carpathia 2300 DE-M is seen here at the Innotrans 2010 fair in Belin. Photo taken by Chris West on September 22, 2010 – many thanks!
<![if !vml]>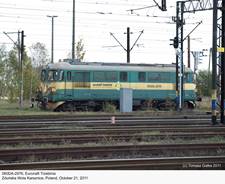 <![endif]>
060DA-2976 operated by Euronaft Trzebinia, photographed in Zduńska Wola Karsznice on October 21, 2011.
<![if !vml]>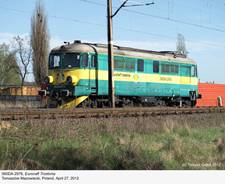 <![endif]>
The same locomotive photographed in Tomaszów Mazowiecki on April 27, 2012.
<![if !vml]>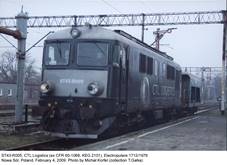 <![endif]>
ST43-R005, operated by CTL Logistics, photographed in Nowa Sól on February 4, 2009. Photo by Michał Korfel (from my collection).
<![if !vml]>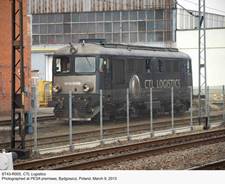 <![endif]>
The same locomotive, photographed at the PESA premises in Bydgoszcz on March 9, 2013.
<![if !vml]>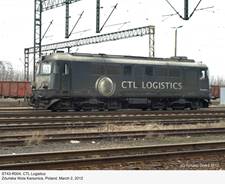 <![endif]>
Another locomotive from the CTL Logistics fleet: ST43-R004, photographed in Zduńska Wola Karsznice on March 2, 2012.
<![if !vml]>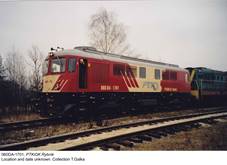 <![endif]>
060DA-1701, PTKiGK Rybnik (ex KEG 2126), location and date unknown (photo from my collection). This locomotive was purchased in 2006 and transferred to DB Schenker Rail Bulgaria in December 2010.
<![if !vml]>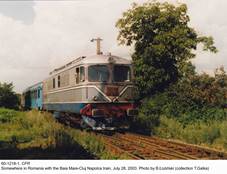 <![endif]>
Several photos by Bartek Łoziński (from my collection) of Romanian 60s: 60-1218-1, July 28, 2003…
<![if !vml]>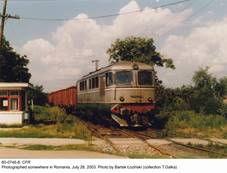 <![endif]>
…60-0746-8, the same date…
<![if !vml]>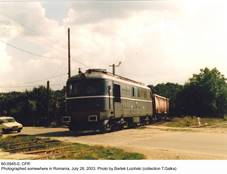 <![endif]>
…60-0945-0, the same date…
<![if !vml]>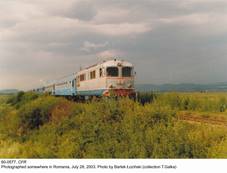 <![endif]>
…60-0577, the same date (must have been a very busy day!)…
<![if !vml]>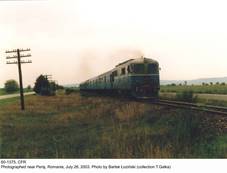 <![endif]>
…60-1375, photographed near Periş two days earlier…
<![if !vml]>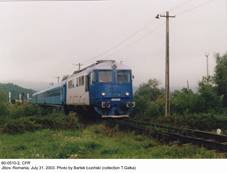 <![endif]>
…and 60-0510-2, Jibov, July 31, 2003.
<![if !vml]>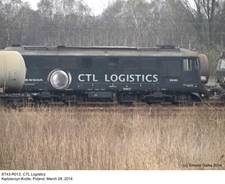 <![endif]>
ST43-R013, operated by CTL Logistics; Kędzierzyn-Koźle, March 28, 2014.
<![if !vml]>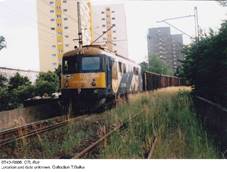 <![endif]>
ST43-R006 from the CTL Rail fleet, location and date unknown. Photo from my collection.
<![if !vml]>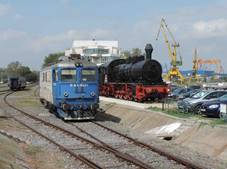 <![endif]>
Back To Romania: 60-1376, CFR Călători (with 50 506 in the background), Tulcea, September 12, 2017…
<![if !vml]>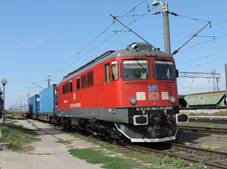 <![endif]>
… and 60 1682, DB Cargo Romania, photographed in Fetești on the next day. Both photos by Chris West (thanks for permission!).
<![if !vml]>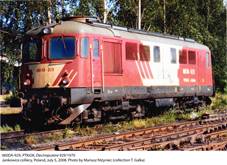 <![endif]>
Three locomotives from the PTKiGK Rybnik fleet, photographed by Mariusz Niżyniec at the Jankowice colliery (from my collection): 060DA-929, July 5, 2008…
<![if !vml]>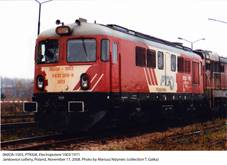 <![endif]>
… 060DA-1003, November 17, 2008…
<![if !vml]>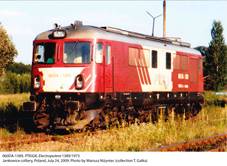 <![endif]>
… and 060DA-1389, July 24, 2009. All are ex-CFR locomotives and were transferred to DB Schenker Rail România in early 2010s.
<![if !vml]>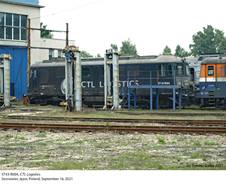 <![endif]>
ST43-R004, CTL Logistics, photographed in Sosnowiec Jęzor on September 16, 2021. This locomotive is ex-CFR 60-1373, sold to Karsdorfer Eisenbahngesellschaft in 2002 and then to CTL in 2004.
In early 60s, steam locomotives were being withdrawn from the PKP service in large numbers, more in order to keep in line with current trends than due to economic factors (coal was readily available and relatively cheap). However, electrification did not progress as rapidly as previously envisaged and this created an urgent need for heavy diesel freight locomotives. Polish industry had never built such machines; in fact, only small and rather primitive switchers were then manufactured in quantity. Design work obviously had to take some time, so purchase from a foreign manufacturer remained the only solution. Political factors certainly limited the number of possible suppliers and the choice fell on the Romanian 060DA heavy line diesel locomotive.
Romania was a 'black sheep' among the CMEA (Council for Mutual Economical Aid) countries, often demonstrating a certain degree of independence. This was sometimes manifested in purchasing licenses from Western countries, and diesel locomotives provided an example. In 1959 Romanian state railways CFR purchased six – some older sources give ten, which is incorrect – 060DA machines in Switzerland. They were manufactured against a Romanian order by Schweizerische Lokomotiv- und Maschinenfabrik (SLM) of Winterthur, with serial numbers 4246 through 4251. Their prime mover was developed by Sulzer from a pre-war design of rather uncommon layout. Twelve-cylinder diesel engine comprised two separate vertical six-cylinder blocks, each with an individual crankshaft, and a common gearbox. Diesels of this type have also been built for France and UK; they were considered reliable and trouble-free units. In order to spped up design and production, the body was based on (and externally similar to) that of SBB Ae 6/6 electric locomotive. License production started in 1960 at the Electroputere works of Craiova, first ten locomotives being assembled from Swiss-made components. This factory had been founded in 1949 to produce machinery and equipment for power industry and transport; in 1990 it was split into seven companies, to become SC Electroputere SA holding four years later. Manufacture of electrical (Brown-Boveri license) and mechanical (SLM license) components, as well as the final assembly, were located there, diesel engines being manufactured at Reşita works. Initial agreement stipulated a batch of forty Romanian-built locomotives; their number would eventually exceed 2400, to make them the most numerous European diesel locomotive (excluding those built in the USSR).
Class 060DA, in the 1970s re-classed 60, soon became the principal heavy line freight diesel with CFR. Initially production rate was not impressive, only eight examples being built in 1961, but later soared up to the maximum of 146 in 1974. Class 60 soon earned a reputation of strong, robust and reliable, if not particularly advanced, locomotive, giving good performance in mountain regions. Further development included passenger version with car heating equipment, different gear ratio and maximum speed increased to 120 km/h (060DA1, from 1966 onwards class 62) and 1524 mm track version (class 67, from 1972 – for domestic use at border stations). According to data supplied by Adrian Raduta (many thanks!), production of these locomotives at Electroputere lasted until 1993, totaled 2492 examples and included 1407 machines for CFR between 1960 and 1981, 130 for Bulgarian railways BDŽ (class 06, between 1966 and 1975) and 373 machines supplied to China between 1971 and 1990 (class ND2 – other sources give 285 and hence a grand total of 2404). Besides, 160 locomotives of this type were supplied to various industrial operators, who in 1993 received the last two 060s built. These locomotives still remain in use. It should be kept in mind that in the old designation system (in fact based on that used by French SNCF) '060' referred to axle arrangement and did not distinguish any particular type; for example, 060DD and 060DF were completely different locomotives. From 1999 onwards, a few dozen examples have been modernized (new GM 8-710G3 power-pack, new body and heating equipment). They have been given new CFR service designations, class 63 (first three examples) or class 65 (subsequent machines, with modified body); service numbers have been retained. Ten second-hand 060s from CFR were sold to Iran, where they are operated by national railways RAI under their original designation. In fact, a version designated 060DB for Iran appeared as early as in 1971, but only two prototypes were built, which eventually remained in Romania and went to industry. They were fitted with up-rated engines and had only one cab. In 2010, the Romanian company REMAUL revealed a thoroughly modernized variant Carpathia 2300 DE-M with Caterpillar 3512C diesel engine, ac generator and completely redesigned body.
Decision to purchase the 060DA for PKP was taken in June 1964 and the first batch comprised thirty machines, put into service from March 1965 onwards and designated ST43. This class was intended to replace heavy freight steam locomotives Ty246 and Ty51, primarily on routes between Silesia and western Baltic Sea ports. Deliveries lasted until 1978. Between 1965 and 1974, 35 to 45 examples were delivered each year; last three batches of ten locomotives each were received in 1976, 1977 and 1978. In all, 422 examples were supplied. Machines from ST43-156 onwards were fitted with slightly modernized 12LDS28B engine of the same output. ST43-276 introduced new brakes and from ST43-278 length was increased by 400 mm (longer frame, due to the introduction of the automatic coupler), with a slight increase in overall weight. From ST43-313 onwards automatic fire-extinguishing system was fitted. ST43 was more powerful than its main competitor in the PKP service, the famous 'Gagarin' ST44 (Soviet M62), although the latter was larger and certainly looked (and sounded!) more impressive. Indigenous SU46, which finally appeared in 1974, was still more powerful, but supplied only in small numbers – its production was halted in 1977 due to factors other than economical.
Just like with CFR, these locomotives earned a good reputation in Poland, being considered strong and reliable; ease of maintenance was also praised and economy was considerably better in comparison with the ST44, which had an enormous appetite for fuel and oil. They were used mainly with heavy freight trains. During summer they also hauled passenger and even fast trains, but the lack of heating devices precluded their widespread use in this role. Withdrawal of the ST43s began in early 80s due to three reasons: advances in electrification of main lines, rapid increase of fuel prices and decreasing transportation needs. However, thanks to their better economy, they fared better than ST44s, at least initially. Most were withdrawn and kept in reserve (which did not necessarily imply good overall condition), but many were later restored in service. Plans from late 1990s envisaged a large-scale modernization of these locomotives: it was intended to fit them with new, modern diesel engines of unspecified type, apart from various minor modifications. Although these plans were to include as many as 250 examples, they ended up in nothing. After most 'Gagarins' have been sold for scrap or abroad, ST43 became the most numerous heavy line diesel locomotive in Poland. It was even planned to transfer some to north-eastern Poland, where they had never been used before, but, according to some sources, they were not found well suited to heavy winter conditions, quite common in this region, and these plans were later abandoned. Rosters compiled by Paweł Terczyński and given in AL list 174 machines in the PKP inventory in late 2006, certainly not all serviceable. According to the article by Paweł Czech (KMD vol. 1-2/2011), in late 2010 PKP Cargo had 134 examples, of which 106 were serviceable and 28 awaited repairs, at least in theory – many were in fact cannibalized for spares. Lists available at www.kolejowaklatka.org (website by Marek Dąbrowski) gave 133 examples with PKP in mid-2011. During next three years this number fell to 127, of which many were kept in reserve. Contrary to ST44 and SU46, no modernization program has ever been launched for class ST43. In mid-2014 PKP Cargo cleared 48 withdrawn examples for sale, but probably only two (according to the above-mentioned website) were sold to a small private operator Wiskol in September 2015. According to SK, in late 2017 PKP Cargo had just eight ST43s in service; during next few months, several were withdrawn due to serious failures or completed mileage between overhauls. In early 2019 PKP Cargo had only two examples (ST43-355 and ST43-366) in service. The former, based in Lower Silesia, ran for the last time with a freight train on March 14. ST43-366, based in Jasło, hauled its last freight train on April 25; three days later it was withdrawn from use, after a final run with a special passenger train for railway fans. Both these locomotives are intended for preservation.
Although ST43 were primarily purchased by PKP, several withdrawn examples were later purchased by various private operators – sometimes via scrap-disposal companies, when they awaited an inglorious end. According to rosters quoted in KMD, SK and various Internet sources, 53 examples were purchased by eight private railway companies. These included CTL Rail (later CTL Logistics, 15), Lotos Kolej (10), PTKiGK Rybnik (13), PTKiGK Zabrze (3), PCC Rail (5, all sold to Lotos Kolej) PRKiI (track maintenance company, 2), FER Polska (2) and EuroNaft (3). One more, ST43-20, was transferred to a quarry as early as in May 1985 – in fact it was the first locomotive of this type not operated by PKP. Most of these machines, depending on individual user, were designated ST43 or 060DA plus service number (often, but not always, corresponding to serial). Many of them – at least 26 – were ex-CFR machines, bought via German Karsdorfer Eisenbahngesellschaft (KEG). At least two came from Spanish Comsa Rail Transport – probably all were also ex-CFR locomotives. Some 060DAs from CFR can be distinguished by double top headlights – those purchased by PKP had single ones. According to www.kolejowaklatka.org, in mid-2011, after various transformations, exchanges and withdrawals, locomotives of this type were owned by CTL Logistics (13), DB Schenker Rail Polska (7), EuroNaft (6), PRKiI (2), FER Polska (2) and Lotos Kolej (1) – 31 examples in all. In particular, Lotos Kolej, following purchases of modern brand-new motive power, have got rid of all their ST43s. The fate of two locomotives owned by FER Polska, currently designated ST43-2416 (initially 60-2416) and ST43-1221, is not clear, as this company (a joint venture of Rail4Chem and Comsa Rail Transport) went into liquidation in late 2010. Most probably they have been sold. Most withdrawn ST43s were sold back to Romania, but their subsequent fate is not known. Three were transferred by DB Schenker Rail to Bulgaria. Four private-owned 060DAs were written off and scrapped between 2001 and 2011. Currently (June 2019) these locomotives are owned by only two private operators: CTL Logistics (ten) and Orlen KolTrans (six); not all of them are operational.
ST43-01 (first example in the PKP inventory) recently somehow managed to find its way to the Chabówka rolling stock heritage park; its condition is not very good, but at least it has been saved from scrapping. ST43-02 is preserved at the Industry and Railway Museum in Jaworzyna Śląska, unfortunately in bad condition; currently it is not on display there, but will probably be restored. According to SK and SS, ST43-80 is also intended for preservation. First 060DA supplied to CFR has also been preserved in Romania, at the Dej locomotive depot.
Main technical data
| | | | |
| --- | --- | --- | --- |
| No. | Parameter | Unit | Value |
| 1. | Years of manufacture | - | 1959 – 1993 |
| 2. | Total built / used in Poland | - | 24984) / 425 + 535) |
| 3. | Axle arrangement | - | Co'Co' |
| 4. | Transmission type | - | electric 930 V |
| 5. | Design maximum speed | km/h | 100 |
| 6. | Prime mover type | - | Sulzer 12LDS28B1) |
| 7. | Engine rating | kW/hp | 1545 / 2100 |
| 8. | Bore X stroke | mm X mm | 280 X 360 |
| 9. | Number of cylinders | - | 12 |
| 10. | Number of electric engines | - | 6 |
| 11. | Rated output of electric engines | kW | 6 X 200 |
| 12. | Main reduction gear ratio | - | |
| 13. | Diameter of drivers | mm | 1100 |
| 14. | Total weight | kg | 116 4002) |
| 15. | Axle load | T | 19.4 |
| 16. | Axle base | mm | 12 400 |
| 17. | Overall length | mm | 17 0002) |
| 18. | Maximum width | mm | 3 000 |
| 19. | Train heating | - | - |
| 20. | Brake type | - | Knorr + Oerlikon3) |
<![if !supportLists]>1) <![endif]>Up to ST43-155, 12LDA28
<![if !supportLists]>2) <![endif]>From ST43-278, overall length 17 400 mm, total weight 118 000 kg
<![if !supportLists]>3) <![endif]>From ST43-276, both Oerlikon brakes
<![if !supportLists]>4) <![endif]>Including six machines manufactured by SLM and assembled at Electroputere.
<![if !supportLists]>5) <![endif]>With private operators.
Figures on class 060 production (courtesy Adrian Raduta) can be found here.
References and acknowledgments
<![if !supportLists]>- <![endif]>Monographic article by Marek Ćwikła and Paweł Terczyński (SK vol. 4/1995);
<![if !supportLists]>- <![endif]>Statistics by Paweł Terczyński (SK vols. 2 to 5/2014);
<![if !supportLists]>- <![endif]>www.electroputere.ro (official website of the SC Electroputere SA);
<![if !supportLists]>- <![endif]>SK, SS and KMD, various issues;
<![if !supportLists]>- <![endif]>AL;
<![if !supportLists]>- <![endif]>Adrian Raduta, Mircea Dorobantu and Chris West (private communication – thanks for the photos!);
<![if !supportLists]>- <![endif]>www.cfr.ro (a text by Antonio Bianco).