<![if !vml]>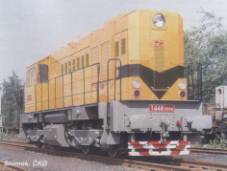 <![endif]>
T448-0896 (later rebuilt and re-designated 741-502), ČKD factory siding, June 1986. Photo by ČKD from AV vol.2.
<![if !vml]>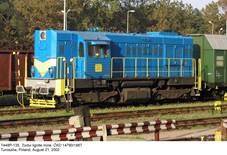 <![endif]>
T448P-135, Turów lignite mine, photographed at Turoszów station, Poland,  August 21, 2002.
Later offspring: 742.184-5, ČD, photographed at Jaromer station, Czech Republic, July 25, 2001…
<![if !vml]>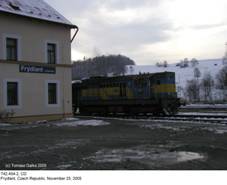 <![endif]>
…and 742.454-2, ČD, photographed in Frydlant, Czech Republic, on November 25, 2005.
<![if !vml]>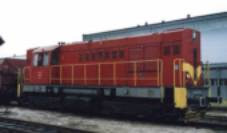 <![endif]>
T448P-?, owned by PTKiGK Rybnik. Photo by PTKiGK from www.ptkigk.com.pl.
<![if !vml]>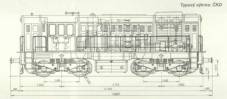 <![endif]>
T448 drawing by ČKD from AV vol.2.
<![if !vml]>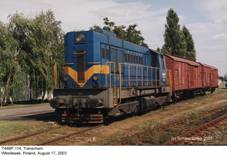 <![endif]>
T448P-114 operated by Transchem company, photographed in Włocławek, August 17, 2003.
<![if !vml]>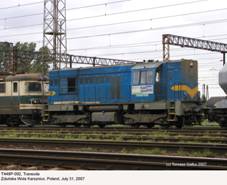 <![endif]>
T448P-092, Transoda, double-heading with ET23-001.23. Zduńska Wola Karsznice, July 31, 2007.
<![if !vml]>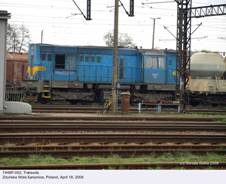 <![endif]>
Another picture from Karsznice: T44P-052, probably also from Transoda. April 18, 2008. The bicycle is not mine.
<![if !vml]>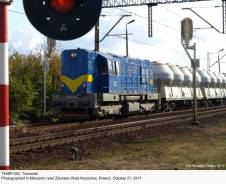 <![endif]>
Another picture of the T448P-052, taken at the level crossing in Marzenin near Zduńska Wola on October 21, 2011.
<![if !vml]>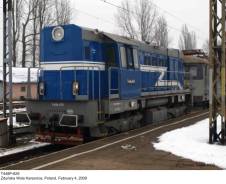 <![endif]>
Second-hand T448P-629, leased by Lotos Kolej; photo taken in Zduńska Wola Karsznice on February 4, 2009…
<![if !vml]>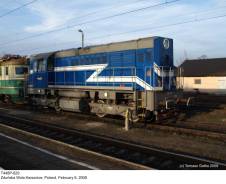 <![endif]>
…and second photo of this machine, taken two days later. It carries no operator's logo.
<![if !vml]>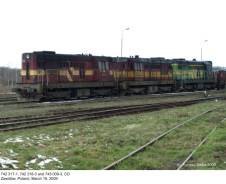 <![endif]>
Three ČD locos with a heavy draft in Zawidów: 742 317-1, 742 316-3 and 743 009-3. Photo taken on March 19, 2009.
<![if !vml]>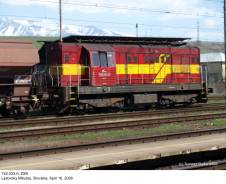 <![endif]>
Several more 'cousins', this time from ŽSR. 742 233-0, Liptovský Mikulaš, April 16, 2009…
<![if !vml]>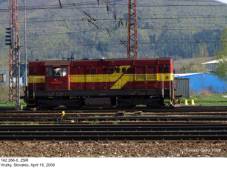 <![endif]>
…742 266-0, Vrutký, two days later…
<![if !vml]>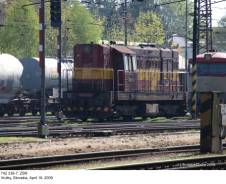 <![endif]>
…and 742 338-7, photographed on the same occasion.
<![if !vml]>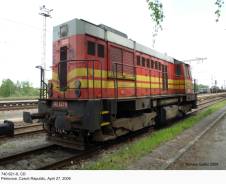 <![endif]>
ČD 740 621-8 – initial version, practically identical with T448P. Petrovice, April 27, 2009.
<![if !vml]>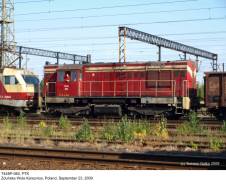 <![endif]>
T448P-060 from the PTK fleet, photographed at the Zduńska Wola Karsznice station on September 23, 2009.
<![if !vml]>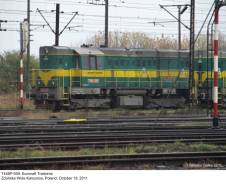 <![endif]>
Two locomotives operated by Euronaft Trzebinia, photographed at the same location on October 19, 2011: T448P-009…
<![if !vml]>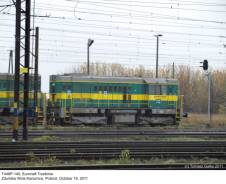 <![endif]>
…and T448P-140.
<![if !vml]>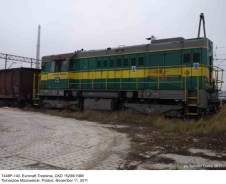 <![endif]>
Another picture of the T448P-140: Tomaszów Mazowiecki, November 11, 2011.
<![if !vml]>
<![endif]>
T448P-086, operated by Czechowice petroleum refinery, photographed in Brno, Czech Republic, on January 15, 2005. Photo by Radek Cupr (from my collection).
<![if !vml]>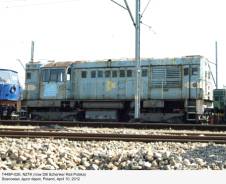 <![endif]>
Still displaying old NZTK livery, but now with DB Schenker Rail Polska: T448P-026, Sosnowiec Jęzor depot, April 10, 2012.
<![if !vml]>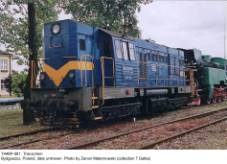 <![endif]>
T448P-081, operated by Transchem, photographed in Bydgoszcz, date unknown. Photo by Zenon Maternowski (from my collection).
<![if !vml]>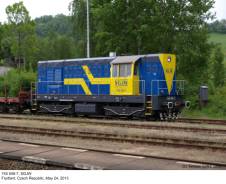 <![endif]>
Czech 740 508-7 from the SGJW fleet, photographed in Frydlant on May 24, 2013.
<![if !vml]>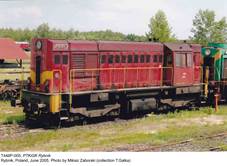 <![endif]>
T448P-005, operated by PTKiGK Rybnik, photographed at the company premises in June 2005. Photo by Miłosz Zaborski (from my collection). More pictures of T448Ps from this operator's fleet can be found here.
<![if !vml]>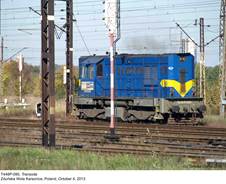 <![endif]>
T448P-090, Transoda, photographed in Zduńska Wola Karsznice on October 4, 2013.
<![if !vml]>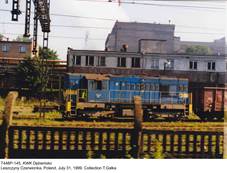 <![endif]>
T448P-145, operated by Dębieńsko colliery, photographed in Leszczyny Czerwionka on July 31, 1999. Photo from my collection.
<![if !vml]>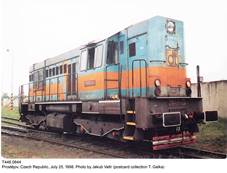 <![endif]>
Czech T448.0644, photographed in Prostějov on July 25, 1998. Photo by Jakub Valtr (postcard from my collection).
<![if !vml]>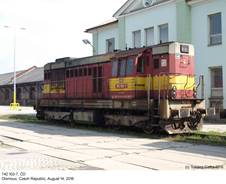 <![endif]>
Another locomotive from the ČD fleet: 742 102-7, photographed in Olomouc on August 14, 2016.
<![if !vml]>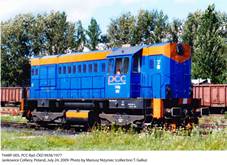 <![endif]>
T448P-005, PCC Rail, Jankowice colliery, July 24, 2009. This locomotive later went to DB Cargo Polska and was sold to Czech Republic in 2017. Photo by Mariusz Niżyniec (from my collection).
<![if !vml]>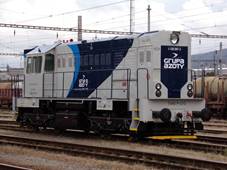 <![endif]>
Two photos of T448P-010 (ČKD 9941/1977), operated by Polish private operator Koltar. Both taken on October 5, 2020…
<![if !vml]>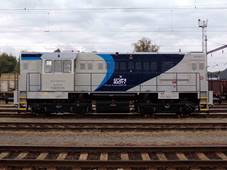 <![endif]>
… in Zvolen, Slovakia, possibly after overhaul at local railway repair works. Photos by Sebastián Langhoffer (thanks for permission!).
In 1970, ČKD works of Praha-Smichov built two prototype locomotives with factory designation T475.15. They were developed directly from earlier T475.0, but K12V170DR 12-cylinder diesel engine was replaced by six-cylinder in-line K6S230DR unit. These two prototypes differed in engine rating (846 kW and 920 kW) and suspension. T475.15 was, however, not favored by Czechoslovak state railways ČSD and despite successful tests both were finally sold to industrial operators (T475.1501 to Škoda automobile works at Mlada Boleslav and T475.1502 to the cement plant at Hranice, later sold to Loko Trans company); both are probably still in use, their class designation having been changed to 744.5.
T475.15 was promptly developed into a heavier locomotive (weight in working order increasing from 60 to 72 tonnes) with more tractive effort, designation being changed to T448.05. This machine was very similar in appearance (although slightly wider and higher) and had the same prime mover, this time rated at 883 kW. As ČSD still tended to prefer T466.0 with license-built Pielstick 12PA4V185 diesel, this type was intended mainly for industrial operators, as a more powerful replacement for obsolescent classes T435.0 and T458.1. However, some (probably eleven) were eventually also used by Czech railways ČD. Production started in 1973 and lasted until 1989; in all, 620 machines were built in thirteen batches. Most of them still remain in use with various companies; two were sold to Italy and one to Northern Korea. These locomotives, later re-designated class 740 and commonly nicknamed 'Kocour' (Tomcat), are very popular in Czech Republic and Slovakia and are considered successful and reliable machines.
Many machines of this class have been modernized to various extents. T448.0605 was fitted with two MTU 8V183TE12 engines (each rated at 327 kW) and electrodynamic brake; this locomotive, with factory designation T448.1, has higher driver's cab to improve forward visibility and its appearance is thus completely different. Several machines were fitted with Caterpillar 3412 or 3512 engines. In some cases, modernized machines were given new designations and service numbers, e.g. 724.701 through 703 (Caterpillar 3412E DI-TA engine, 627 kW, lowered engine cowling) or 744.701 through 704 (Caterpillar 3512 DI-TA engine, 990 kW). In order to increase speed, three machines (740.793, 740.896 and 740.809), operated by Viamont company, were fitted with new reduction gears (ratio 77:16 instead of standard 78:15); they were re-designated 741.501, 741.502 and 741.503, respectively.
As production of T466.0 was going nothing but smoothly and lagged behind schedules, a derivative of T448.0, designated T466.2, was finally accepted by ČSD and 494 machines were built in nine batches between 1977 and 1986, including 41 for track maintenance services and military railway units. This locomotive – now designated class 742 – is very similar in appearance, but lighter (axle load reduced to 16 tonnes, mainly due to redesigned frame) and faster, having the same reduction gear ratio as the class 741. Development of this type finally led to ČSD class 743 (ten examples built in 1988 and 1989, differing from 742 in equipment details) and factory type D12E for Vietnam (thirty built between 1986 and 1990).
Despite having an indigenous design in the same class in Poland (SM31), it was decided to import heavy switchers – both for PKP and industrial operators – from the Soviet Union (TEM2) and Czechoslovakia. Limited output of Fablok, sole manufacturer of medium and heavy diesel switchers in Poland, was probably the main reason. Between 1976 and 1989, 161 T448 machines were bought from ČKD; none of them was used by PKP, so – a common practice with industry-owned locomotives – factory designation was retained, with suffix P for 'Polsko'. First two examples went to the Gdańsk oil refinery (now Lotos company), but were later sold to sand railways. Compared with TEM2 (= SM48), T448Ps were much lighter and had lower axle load (despite TEM2 having the Co'Co' axle arrangement). They were purchased mainly for mines, sand railways and oil-processing industry, and most of them are operated in southern Poland. In 1994 one machine, T448P-138, was fitted with new MTU 12V396TC12 12-cylinder diesel engine, rated at 680 kW, and modernized electric equipment. Until 2008, six more examples followed. This modification was made by PTKiGK Rybnik company that also modernized other diesel switchers of Czechoslovak origin. T448P-098 from the same company was fitted with an entirely new power-pack (which includes the 12V396TC12 diesel engine, rated at 700 kW, supplied by Romanian FAUR, and new generator). Further modernizations may follow. Polish T448Ps are often sent for major overhauls to Czech repair works and return with many minor improvements, corresponding to those introduced in Czech machines. In August 2008 two of them (T448P-046 and -047, owned by Transchem) were fitted with multiple control installations, in order to facilitate their use with heavier drafts.
As with their counterparts in former Czechoslovakia, most locomotives of this type in Poland still remain in use. Largest fleets were owned by sand railways of Upper Silesia: PTKiGK Rybnik – 31 examples (2006), PTKiGK Zabrze (since January 2007, PTK Holding SA) – 17 examples (2004) and NZGTK Nowy Bieruń – 10 examples (2004). In January 2007, T448P were used by eleven private operators: CTL (4), Pol-Miedź Trans (2), PCC Rail (1), Lotos Kolej (2, leased), Orlen KolTrans (6), PTK Holding SA (35), PTKiGK Rybnik (32), STK (1), NZGTK Nowy Bieruń (9), Euronaft (4) and Transoda (4). These numbers have been taken mostly from rosters given in SK 3/2007 and www.przewoznicy.rail.pl. This list does not include several industrial operators which often operate single examples. Currently (November 2007), 131 T448Ps still remain in use. According to lists given in SK 3/2007, fifteen surplus locomotives of this type were sold to Czech Republic or Slovakia. Some were impressed into service with various private operators (at least three were re-classed 740: T448P-015 became 740.463-5, T448P-041 – 740.461 and T448P-141 – 740.460), in order to make up for withdrawn indigenous machines. Five (ex-T448P-061, -085, -123, -124 and –156) were resold to a South Korean operator in November 2004 and January 2005. On the other hand, at least one second-hand T448P made its way to Poland: probably in late 2008, T448P-629 (out-of-sequence number) was leased by Lotos Kolej and for some time used for switching in Zduńska Wola Karsznice. Euronaft Trzebinia leased Slovakian 740.642-4 in 2008 and 741.710-8, owned by CZ Loko, was leased by Transchem in 2016.
Main technical data
| | | | |
| --- | --- | --- | --- |
| No. | Parameter | Unit | Value |
| 1. | Years of manufacture | - | 1973 – 1989 |
| 2. | Total built / used in Poland | - | 620 / 1613) |
| 3. | Axle arrangement | - | Bo'Bo' |
| 4. | Transmission type | - | electric |
| 5. | Design maximum speed | km/h | 70 |
| 6. | Prime mover type | - | K6S230DR1) |
| 7. | Engine rating | kW/hp | 883 / 1200 |
| 8. | Bore X stroke | mmXmm | 230 X 260 |
| 9. | Number of cylinders | - | 6 |
| 10. | Number of electric engines | - | 4 X TE005E2) |
| 11. | Rated output of electric engines | kW | 4 X 195 |
| 12. | Main reduction gear ratio | - | 78:15 |
| 13. | Diameter of drivers | mm |  1000 |
| 14. | Total weight | kg | 72 000 |
| 15. | Axle load | T |  18 |
| 16. | Axle base | mm |  9 100 |
| 17. | Overall length | mm | 13 600 |
| 18. | Maximum width | mm | 3 130 |
| 19. | Train heating | - | - |
| 20. | Brake type | - |  Oerlikon (?) |
<![if !supportLists]>1) <![endif]>Replaced by MTU 12V396TC12 (680 kW / 925 hp) in T448P-138 in 1994 and in five more examples until 2006.
<![if !supportLists]>2) <![endif]>Replaced by more modern TE015 of the same output from batch IX onwards.
<![if !supportLists]>1) <![endif]>Plus at least one second-hand example.
References and acknowledgments
<![if !supportLists]>- <![endif]>AV vol. 2;
<![if !supportLists]>- <![endif]>http://spz.logout.cz;
<![if !supportLists]>- <![endif]>www.przewoznicy.rail.pl.