<![if !vml]>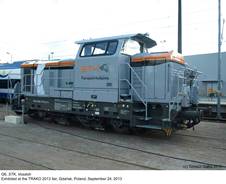 <![endif]>
650 109-8 in the STK livery, photographed at the TRAKO 2013 fair in Gdańsk on September 24, 2013.
<![if !vml]>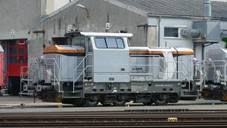 <![endif]>
In 2016 650 109-8 was returned to Vossloh; this picture was taken at the Brühl-Vochem depot on August 30, 2016, by Kai Mund (many thanks for permission!).
<![if !vml]>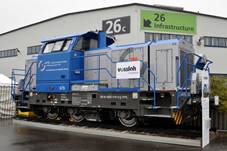 <![endif]>
650 076-9 in the VPS livery, photographed at the InnoTrans 2010 fair in Berlin on September 26, 2010, by someone who wishes to be known as MPW57 (source: www.commons.wikimedia.org).
<![if !vml]>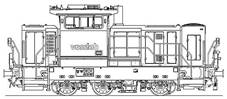 <![endif]>
G6 side drawing; source: www.loks-aus-kiel.de.
Maschinenbau Kiel GmbH, commonly known as MaK, was founded in 1948 as a successor of earlier Deutsche Werke AG. Three main divisions of this company produced military vehicles (sold to Rheinmetall in 1990), locomotives (sold to Siemens in 1994) and marine engines (sold to Caterpillar in 1997, MaK brand being retained). After six years, Siemens sold the locomotive division to Vossloh AG, who in 2004 decided to develop new rail vehicles under their own brand name.
In 2008 Vossloh introduced new family of diesel locomotives, referred to as the '5th Generation', which included three-axle G6 and four-axle G12/DE12 and G18/DE18; 'G' and 'DE' indicated hydraulic and electric transmissions, respectively. Four-axle line locomotives, fitted with MTU powerplants rated at 1200 hp or 1800 hp, have been built in rather moderate numbers. G6 switcher, on the other hand, attracted greater interest. Until now, number of delivered and ordered locomotives of this type has exceeded 130 examples. Two basic variants are fitted with 910 hp Cummins QSK23-L and 940 hp MTU 12V 1600 R50 diesels. The www.loks-aus-kiel.de website lists 76 and 40 examples of these sub-types, respectively. According to some sources, Caterpillar C27 rated at 885 hp was also tested, but it seems that locomotives with this powerplant have not been ordered in quantity. Major recipients of this type have included Verkehrsbetriebe Peine-Salzgitter GmbH (VPS) transport and logistic company (43 examples, all with Cummins engines) and BASF SE (16 examples, all with MTU engines, with orders for more).
At the time of writing, 37 G6s were owned by the manufacturer and used for development purposes or leased to various operators for tests. One of them, Cummins-powered 650 109-8 (650 is German class designation of this type) was exhibited at the InnoTrans 2012 international fair in Berlin in September 2012 and later tested by Wrocław-based STK (Specjalny Transport Kolejowy) company. In the STK livery it was again exhibited at the TRAKO 2013 fair in Gdańsk. Later it was transferred to Koleje Bałtyckie and finally returned to Vossloh in 2016. Until now, no firm orders from Polish operators have been placed. G6s are currently certified in Germany, Poland, France and Sweden, so chances to encounter one are not negligible.
Apart from 650 109-8, Vossloh presented at the InnoTrans 2012 yet another locomotive from the G6 family. Designated G6 ME (Multi-Engine), this variant is fitted with two truck diesel engines of unspecified type, each rated at 475 hp, and electric transmission. Other proposed variants included single-engine layout with electric transmission, G6 Hybrid with energy storage and G6 Akku with rechargeable battery and two energy-storage modules. In May 2020 Vossloh sold their Kiel-based locomotive business to Chinese CRRC Zhuzhou Locomotive Company.
Main technical data
No.

Parameter

Unit

Value

1.

Years of manufacture

-

2008 – 

2.

Total built / used in Poland

-

over 1301) / 12)

3.

Axle arrangement

-

C

4.

Transmission type

-

hydraulic

5.

Design maximum speed

km/h

80

6.

Prime mover type

-

Cummins QSK23-L

or MTU  12V 1600 R503)

7.

Engine rating

kW/hp

671 / 9104)

690 / 9405)

8.

Bore x stroke

mm x mm

169.9 x 169.94)

122 x 1505)

9.

Number of cylinders

-

 64) / 125)

10.

Number of electric engines

-

-

11.

Rated output of electric engines

kW

-

12.

Main reduction gear ratio

-

-

13.

Diameter of drivers

mm

 1000

14.

Total weight

kg

60 000 – 67 5006)

15.

Axle load

T

 20.0 – 22.56)

16.

Axle base

mm

17.

Overall length

mm

10 350 / 10 7906)

18.

Maximum width

mm

3 080

19.

Train heating

-

-

20.

Brake type

-

 Knorr
<![if !supportLists]>1) <![endif]>Data for mid-2017, including orders.
<![if !supportLists]>2) <![endif]>Tests only.
<![if !supportLists]>3) <![endif]>Tested also with Caterpillar C27.
<![if !supportLists]>4) <![endif]>With the Cummins engine.
<![if !supportLists]>5) <![endif]>With the MTU engine.
<![if !supportLists]>6) <![endif]>Depending on variant.
References and acknowledgments
<![if !supportLists]>- <![endif]>www.loks-aus-kiel.de;
<![if !supportLists]>- <![endif]>www.railjournal.com;
<![if !supportLists]>- <![endif]>SK, various issues.