<![if !vml]>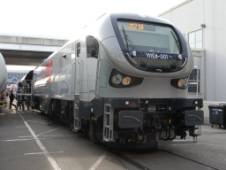 <![endif]>
111Ed-001, photographed at the InnoTrans fair in Berlin on  September 20, 2012. Photo by Chris West (thanks for permission!).
<![if !vml]>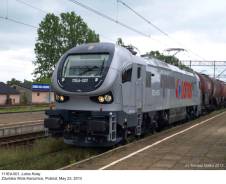 <![endif]>
The same locomotive during service tests with Lotos Kolej. Zduńska Wola Karsznice, May 23, 2013.
<![if !vml]>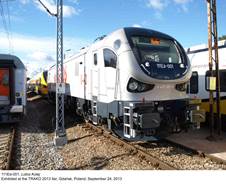 <![endif]>
The sole 111Ed (so far), exhibited at the TRAKO 2013 fair; Gdańsk, September 24, 2013.
<![if !vml]>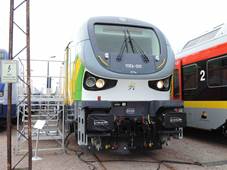 <![endif]>
Another picture from Chris West (used by permission): prototype 111Eb-001 on display at the TRAKO 2015 fair, Gdańsk, September 22, 2015, sporting the Koleje Mazowieckie livery.
<![if !vml]>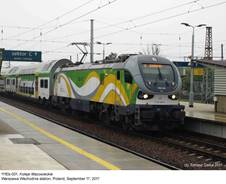 <![endif]>
Prototype 111Eb-001 with a Koleje Mazowieckie train, photographed at the Warszawa Wschodnia station on September 17, 2017.
Type 111Ed, designed and built by Bydgoszcz-based Pesa company, is an entirely new four-axle single-system universal electric locomotive, the first one in Poland fitted with an auxiliary generator driven by a diesel engine. It has been developed at the manufacturer's risk and is intended for both PKP and private operators as an replacement for old and obsolescent locomotives, of which many are still in use.
Type 111Ed was the first locomotive of the entire family, with commercial name 'Gama', to include both single-system (3 kV DC) and multi-system vehicles, the latter with maximum speed of 160 and 190 km/h, as well as a diesel-electric one, initially intended to be powered by an unspecified engine rated at about 2200 kW. The latter materialized in 2014 as type 111Db, with 2400 kW MTU power unit.
Prototype 111Ed, officially named 'Marathon' due to declared range with power supplied by the auxiliary generator, was shown at the InnoTrans international fair in Berlin in September 2012. Later it underwent tests in Bydgoszcz, Poznań and Żmigród. During these tests new locomotive attained 173 km/h and, except from few remarks concerning control panel layout, was found entirely satisfactory. In January the locomotive began service trials with Lotos Kolej. On March 1 tests with PKP InterCity were commenced, 111Ed hauling passenger and express trains between Warsaw and Kraków, later also Poznań, Gdynia and Wrocław. After minor modification at the Pesa works it returned to Lotos Kolej for further tests. First firm order was placed in April 2014 by Koleje Mazowieckie, for two locomotives in slightly modified variant designated 111Eb, which is not fitted with the auxiliary diesel engine. They were delivered in December and are operated solely in passenger traffic, with new push-pull type drafts also ordered from Pesa. 111Eb-001 was displayed at the TRAKO 2015 fair in Gdańsk in September 2015. In April 2015 prototype 111Ed-001 was purchased by Ecco Rail private operator, to be sold to PHU Lokomotiv a few months later. Until now (September 2017), four 111Ebs and five 111Eds have been delivered. Apart from the above-mentioned two examples purchased by Koleje Mazowieckie, they are owned by leasing companies: PHU Lokomotiv (two 111Ebs and one 111Ed) and Rail Capital Partners (four 111Eds). They are operated by Pol-Miedź Trans (two), PUK Kolprem (two), Orlen KolTrans, Lotos Kolej and Koleje Czeskie (single examples). During InnoTrans 2016 international fair in Berlin letters of intention were signed by Pesa and two Czech operators, EP Cargo and Loco Train, which intend to place their orders.
Main line electric locomotive with auxiliary generator is a comparatively new concept. Locomotives with such arrangement have been offered by Siemens (Vectron AC Last Mile) and Bombardier (TRAXX F140 AC – German class 187). It has to be noted, however, that due to low speed and short range (about 40 km) type 111Ed will probably be of little use with passenger trains in conditions other than exceptional. Type 111E is the second new electric locomotive of indigenous design, built in Poland since completion of the last EP09 at Pafawag in 1997, and the first one from Pesa. Currently Pesa, formerly a railway stock repair establishment (founded in 1851), is the largest manufacturer of rail vehicles in Poland, which has so far supplied over 100 EMUs for various operators and has large orders from Russia and Germany.
Main technical data – 111Ed
No.

Parameter

Unit

Value

1.

Years of manufacture

-

2012

2.

Total built / used in Poland

-

9 / 91)

3.

Axle arrangement

-

Bo'Bo'

4.

Control

-

multiplied

5.

Design maximum speed

km/h

160 / 402)

6.

Traction motors (number X type)

-

4 X

DKLBZ 4514-4A

7.

Voltage

V

3000

8.

One-hour rating

kW/hp

9.

Continuous rating

kW/hp

5600 / 7615

10.

Electric current at one-hour rating

A

11.

Electric current at continuous rating

A

12.

Rotational speed at one-hour rating

rpm

13.

Rotational speed at continuous rating

rpm

14.

Engine suspension

-

15.

Reduction gear ratio

-

16.

Diameter of drivers

mm

1250

17.

Total weight

kg

82 000

18.

Axle load

T

20.5

19.

Axle base

mm

20.

Overall length

mm

19 500

21.

Maximum width

mm

3 000

22.

Brake type

-

electrodynamic and pneumatic
Note: auxiliary generator driven by the Caterpillar C15 ACERT diesel engine rated at 403 kW.
<![if !supportLists]>1) <![endif]>All variants, until September 2017.
<![if !supportLists]>2) <![endif]>With power supplied by the diesel-driven generator.
References and acknowledgments
<![if !supportLists]>- <![endif]>Article by Dariusz Kalinowski (SK vol. 7/2013);
<![if !supportLists]>- <![endif]>www.kolejowaklatka.org (website by Marek Dąbrowski);
<![if !supportLists]>- <![endif]>www.pesa.pl;
<![if !supportLists]>- <![endif]>www.kurierkolejowy.eu.