<![if !vml]>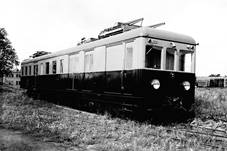 <![endif]>
Factory-fresh motor car of an E-91; location and date unknown. Source: National Digital Archives (used by permission).
<![if !vml]>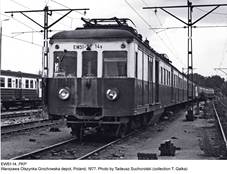 <![endif]>
EW51-14, PKP, photographed at the Warszawa Olszynka Grochowska depot by Tadeusz Suchorolski, 1977. Photo from my collection.
<![if !vml]>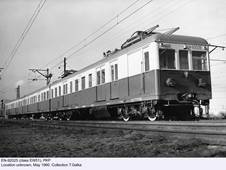 <![endif]>
This is an EW51, but service number EN-92025 is not correct neither compliant with PKP system. Location unknown, May 1960. Photo from my collection.
<![if !vml]>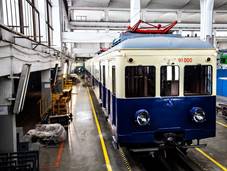 <![endif]>
Preserved EW51-36 undergoing restoration at the ZNTK in Mińsk Mazowiecki. Looks OK, but electric equipment is missing. Photographed on January 16, 2019, by someone who wishes to be known as Mrpitt. Source: www.commons.wikimedia.org.
In 1934 PKP issued a requirement for electric multiple units (EMUs) for the Warsaw railway hub, which was being electrified with 3000 V DC. Following preliminary studies, triple layout was chosen, with a four-axle motor car; trailer and driving cars were fitted with the Jacobs truck, so that axle arrangement of the entire unit was Bo'Bo'+2'2'2'. Motor cars (class ECmx) were manufactured by Warsaw-based Lilpop, Rau & Loewenstein company, while trailer and driving cars (EBCbdxx and EBCbdsxx, respectively) were ordered from H. Cegielski Sp. Akc. of Poznań and L. Zieleniewski, Fitzner & Gamper of Sanok. Electric equipment was to be supplied by English Electric Co. Ltd. and several sub-assemblies were imported from Germany, France and Switzerland. Classed E-91, new EMUs for the Warsaw hub were modern and reliable vehicles. Their main shortcoming were failures of traction motors in winter conditions as a result of moisture penetration, due to faulty design; this was later rectified by the manufacturer.
Initially sixty units were ordered and deliveries began in July 1936, to be completed in late 1937. Immediately afterwards additional sixteen motor cars were ordered, plus ten (according to some sources, also sixteen) trailer/driving car units. This order was completed in 1939. Six 'surplus' motor cars were intended for use as makeshift locomotives, for hauling transit trains along so-called Diameter Line through central Warsaw. In this role they supplemented four class EL.200 light electric locomotives from Lilpop, which featured the same traction motors and electric equipment. Classed E300 and numbered E301 through E306 (Lilpop 55558/1939 through 55563/1939), they were fitted with the second cab and standard PKP couplers; originally ECmx was coupled with a trailer car by means of the Scharfenberg coupler. Little is known about service of these 'locomotives' with PKP; it is even not sure if all six examples were completed before the outbreak of the war. In September 1939 fourteen EMUs were completely destroyed and the rest damaged and devastated. Following the decision of German authorities to restore electric trains in the Warsaw area, forty units were repaired. Along with them, five E300s were restored in service. The fate of E303 is unknown, probably it was destroyed or damaged beyond repair during hostilities. According to LP it ended up with DR in Eastern Germany; details are lacking. In September 1944, in view of the Red Army advance, five E300s were evacuated to Breslau (now Wrocław) and later to Czechoslovakia and Austria. Returned after the war, they were used together with surviving E-91s, for restoration of EMUs for the Warsaw hub (PKP class E91, from 1959 class EW51). None saw service in the 'locomotive' role. Class EW51 remained in use until 1979 and one example (EW51-36) has been preserved. Currently it is undergoing restoration at the ZNTK (Railway Stock Repair Works) of Mińsk Mazowiecki.
During the war, ten ECmx were used to construct five makeshift electric locomotives; they were coupled back-to-back and ballasted with additional six tonnes of concrete slabs and worn-out brake pads. These vehicles were necessary due to increasing freight traffic along the Diameter Line. They were impressed into Ostbahn and numbered 01 through 05. According to some sources, they were later re-numbered E606.301 through 305. Their final fate is unknown. No. 03 was reportedly badly damaged in mid-1944 during a collision and never repaired. It seems that in some sources (especially Internet ones) there is some confusion of class E300 and alleged class E606. I shall be grateful for any additional information.
Main technical data
| | | | |
| --- | --- | --- | --- |
| No. | Parameter | Unit | Value |
| 1. | Years of manufacture | - | 1939 |
| 2. | Total built / used in Poland | - | 6 / 61) |
| 3. | Axle arrangement | - | Bo'Bo' |
| 4. | Control | - | individual |
| 5. | Design maximum speed | km/h | 100 |
| 6. | Traction motors (number x type) | - | 4 x PK601 |
| 7. | Voltage | V | 3000 DC |
| 8. | One-hour rating | kW/hp | 588 / 800 |
| 9. | Continuous rating | kW/hp | 432 / 588 |
| 10. | Electric current at one-hour rating | A | |
| 11. | Electric current at continuous rating | A | |
| 12. | Rotational speed at one-hour rating | rpm | |
| 13. | Rotational speed at continuous rating | rpm | |
| 14. | Engine suspension | - | nose-suspended |
| 15. | Reduction gear ratio | - | 74:21 |
| 16. | Diameter of drivers | mm | 1000 |
| 17. | Total weight | kg | |
| 18. | Axle load | T | |
| 19. | Axle base | mm | |
| 20. | Overall length | mm | |
| 21. | Maximum width | mm | |
| 22. | Brake type | - | Westinghouse |
1) Operated by Ostbahn in occupied Poland.
References and acknowledgments
<![if !supportLists]>- <![endif]>www.pl.wikipedia.org;
<![if !supportLists]>- <![endif]>ALE, LP;
<![if !supportLists]>- <![endif]>Elektryfikacja PKP na przełomie wieków XX i XXI (Electrification of PKP at the turn of the 20th century) (Z.P. Poligrafia, Warsaw, 2006);
<![if !supportLists]>- <![endif]>Monographic article on class E-91 EMUs by Zbigniew Tucholski (SK vol. 1/2012).