<![if !vml]>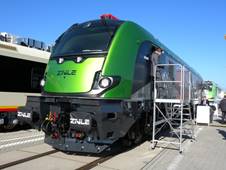 <![endif]>
Prototype E4MSU still displaying the ZNLE logo, exhibited at the InnoTrans Fair in Berlin; September 20, 2012. Photo by Chris West (thanks for permission!).
<![if !vml]>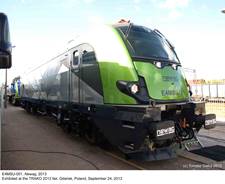 <![endif]>
The same locomotive at the TRAKO 2013 Fair in Gdańsk; September 24, 2013.
<![if !vml]>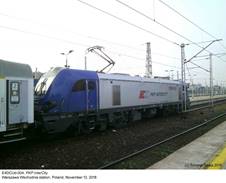 <![endif]>
E4DCUd-004, PKP InterCity, photographed at the Warszawa Wschodnia station on November 13, 2018.
<![if !vml]>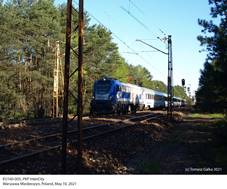 <![endif]>
EU160-009, PKP InterCity, hauls the IC 12101 express train to Lublin. Warszawa Miedzeszyn (a few hundred meters from where I live), May 10, 2021.
<![if !vml]>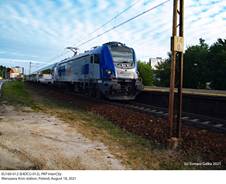 <![endif]>
EU160-012 (E4DCU-012), PKP InterCity, Warszawa Anin station, August 18, 2021.
<![if !vml]>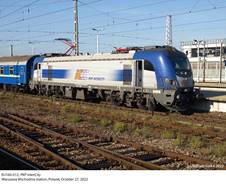 <![endif]>
EU160-016 approaches the Puławy Azoty station; May 3, 2022.
In 2009 Electric Locomotives Repair Works (Zakłady Naprawcze Lokomotyw Elektrycznych – ZNLE) of Gliwice completed the prototype of the first brand-new Polish electric locomotive of indigenous design in almost twenty years. Designated E6ACT and known under commercial name 'Dragon', it was ordered by several operators, 32 examples being completed until late 2019. Further orders have been placed. Six-axle 'Dragon', with its maximum speed of 120 km/h, is intended mainly for heavy freight traffic and offers a modern replacement for obsolescent classes ET41 and ET42. In 2010 ZNLE Gliwice began first studies concerning a four-axle locomotive of similar rating, to be built in both universal (drafts up to 3 200 tonnes, 160 km/h) and passenger (200 km/h) variants. It was intended to build DC (3 kV), AC (15 kV 16 2/3 Hz and 25 kV 50 Hz) and multi-system versions, so that entire family would include six types: single-system DC E4DCU/DCP (universal/passenger),  dual-system AC E4ACU/ACP and multi-system E4MSU/MSP. Commercial name 'Elephant' was changed to 'Griffin' in 2011. Later a diesel-powered variant, designated D4MSU, was also proposed, but still (May 2021) has not progressed beyond the project stage.
First E4MSU was outshopped in October 2011 and shown for the first time at the InnoTrans Fair in Berlin in September 2012. It was the first multi-system electric locomotive built in Poland. In 2013 it underwent extensive tests at experimental railway establishments in Żmigród and Velim (Czech Republic). It was also briefly tested by PKP Cargo. It was planned to complete the first E4MSP in 2013, but this did not see fruition. Prototype E4MSU-001 was also tested by several private operators (Ecco Rail, Pol-Miedź Trans, CTL Logistics and Kolprem). Second presentation took place at the TRAKO 2013 Fair in Gdańsk in September 2013: the locomotive was sporting Newag livery, as in the meantime ZNLE Gliwice became Newag subsidiary. It still remains the manufacturer's property and since mid-2013 has served for brief periods with various operators. In December 2015 Lotos Kolej announced that they would lease five E4DCUd locomotives, to be delivered until June 2017. Lower-case 'd' in the designation indicates that this type is fitted with auxiliary 515 hp diesel engine. It was initially planned to build these locomotives at the Gliwice plant, but later production was transferred to Nowy Sącz (Newag headquarters), which caused some delay. The order was completed in late 2017; E4DCUd-002 was shown at the Trako 2017 in Gdańsk. However, Lotos Kolej cancelled their order and Newag purchased all five locomotives back from the leasing company. Three were later leased to Orlen KolTrans and two (E4DCUd-004 and E4DCUd-005) in March 2018 to PKP InterCity and then in February 2019 finally to Lotos kolej. They have retained their original service numbers and remain the property of Newag. In September 2021 Lotos Kolej purchased one example, numbered E4DCU-031; further purchases may follow. The largest orders came from PKP InterCity. In February 2018 this operator announced that they would purchase twenty E4DCUs, with an option for further ten. They are designated EU160; this untypical designation indicates its maximum speed. The whole order, including the option, was completed in November 2020. Further orders are likely to follow.
In May 2014 an agreement was signed between Newag and Ɖuro Ɖaković Specijalna Vozila of Slavonski Brod, Croatia, concerning co-operation in design, production and marketing of electric locomotives. On its basis 'Griffin', in the multi-system version, is to be built in Croatia. However, until today (August 2021) production has not started.
Main technical data
No.

Parameter

Unit

Value

1.

Years of manufacture

-

2011 –

2.

Total built / used in Poland

-

37 / 371)

3.

Axle arrangement

-

Bo'Bo'

4.

Control

-

individual

5.

Design maximum speed

km/h

160

6.

Traction motors (number x type)

-

4 x VEM DKLBZ 4514-4

7.

Voltage

kV

3.0 DC, 15.0, 16.7 Hz,

25.0, 50 Hz

8.

One-hour rating

kW/hp

9.

Continuous rating

kW/hp

5600 / 7615

10.

Electric current at one-hour rating

A

11.

Electric current at continuous rating

A

12.

Rotational speed at one-hour rating

rpm

13.

Rotational speed at continuous rating

rpm

14.

Traction motors suspension

-

nose-suspended

15.

Reduction gear ratio

-

16.

Diameter of drivers

mm

1250

17.

Total weight

kg

88 000

18.

Axle load

T

22.0

19.

Axle base

mm

20.

Overall length

mm

19 900

21.

Maximum width

mm

22.

Brake type

-
<![if !supportLists]>1) <![endif]>Until May 2022.
References and acknowledgments
<![if !supportLists]>- <![endif]>Newag folders;
<![if !supportLists]>- <![endif]>SK, various issues;
<![if !supportLists]>- <![endif]>www.inforail.pl;
<![if !supportLists]>- <![endif]>www.forumkolejowe.pl.