<![if !vml]>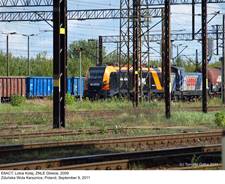 <![endif]>
My first encounter with the E6ACT prototype yielded a few photos – this is the best one… Zduńska Wola Karsznice, September 9, 2011.
<![if !vml]>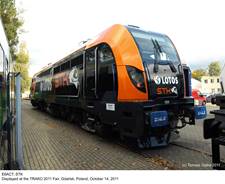 <![endif]>
Take two was more successful; TRAKO 2011 Fair in Gdańsk, October 14, 2011.
<![if !vml]>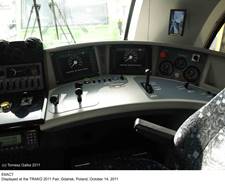 <![endif]>
Cab interior, photographed on the same occasion.
<![if !vml]>

<![endif]>
Side drawing published in a ZNLE folder.
<![if !vml]>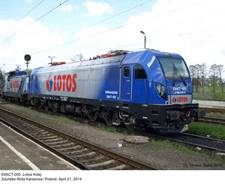 <![endif]>
E6ACT-005 operated by Lotos Kolej, photographed in Zduńska Wola Karsznice on April 21, 2014.
<![if !vml]>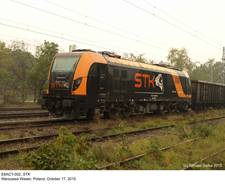 <![endif]>
E6ACT-002 operated by STK, photographed near the Warszawa Wawer station on October 17, 2015.
<![if !vml]>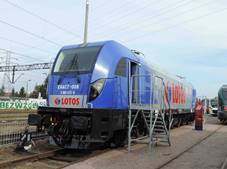 <![endif]>
E6ACT-008, Lotos Kolej, photographed at the TRAKO 2015 fair in Gdańsk, September 22, 2015. Photo by Chris West (thanks for permission!).
<![if !vml]>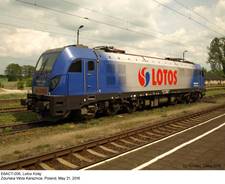 <![endif]>
E6ACT-006, Lotos Kolej, photographed in Zduńska Wola Karsznice on May 21, 2016.
<![if !vml]>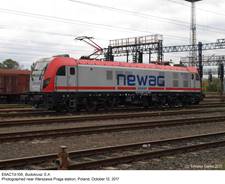 <![endif]>
E6ACTd-106 is operated by Budokrusz building materials company; photographed near Warszawa Praga station on October 12, 2017, still in the manufacturer's livery.
<![if !vml]>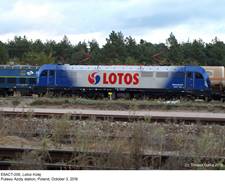 <![endif]>
Another photo of the E6ACT-006: Puławy Azoty station, October 3, 2018.
<![if !vml]>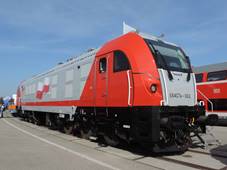 <![endif]>
E6ACTa-002 on display at the InnoTrans fair in Berlin, September 20, 2018; photo by Chris West (used by permission).
<![if !vml]>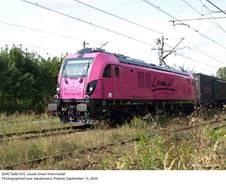 <![endif]>
E6ACTadb-035, operated by Laude Smart Intermodal, photographed near Jakubowice on September 13, 2020.
<![if !vml]>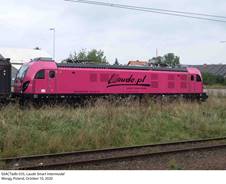 <![endif]>
The same locomotive photographed in Morąg on October 10, 2020.
<![if !vml]>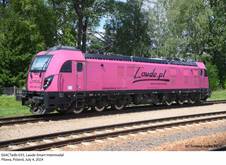 <![endif]>
E6ACTa-007 is owned by Newag; leased to CTL Logistics in January 2019 and to Rail STM two years later. Photo taken in Piwniczna on March 4, 2021.
<![if !vml]>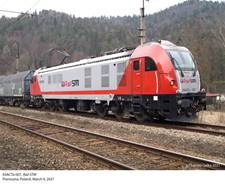 <![endif]>
E6ACTab-037 from the Lotos Kolej fleet, sporting an untypical livery. Puławy Azoty station, January 30, 2022.
<![if !vml]>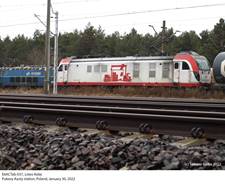 <![endif]>
The same location, June 12, 2022: ET26-002 from the PKP Cargo fleet.
After main Polish locomotive manufacturers either had been taken over by foreign companies or had withdrawn from the market, their place was to a certain extent taken by railway stock repair works of Bydgoszcz (PESA), Nowy Sącz (Newag) and Gliwice. While initially output of the former two included mainly diesel railcars, built in small numbers for local operators, and later EMUs for suburban traffic, Electric Locomotives Repair Works (Zakłady Naprawcze Lokomotyw Elektrycznych – ZNLE) of Gliwice, who were the last to enter the market, finally delivered the first brand-new Polish electric locomotive in over twenty years – in fact since the last EM10 from Pafawag was outshopped in 1990.
Based on experience gained with earlier modernizations of electric locomotives (including ET21, ET22 and EL2) and bearing factory designation E6ACT, this locomotive has been basically designed for Polish operators, although two-system variant is also offered. It is suited mainly for heavy freight traffic, being capable of hauling a 4000-tonne draft at 105 km/h or at 30 km/h at a 6‰ gradient. E6ACT is a thoroughly modern design and employs state-of the-art control and on-board diagnostic systems. Crew compartment equipment includes refrigerator and microwave oven. Due to the Co'Co' axle arrangement, axle load is moderate, only slightly exceeding 19 T.
First prototype, bearing the commercial name 'Dragon', was completed in 2009 and exhibited at the Trako 2009 Fair in Gdańsk, attracting much attention. During next two years it underwent service tests with STK (leased to Lotos Kolej), remaining the manufacturer's property. During the next Trako Fair in October 2011, a contract was signed for four examples, ordered by STK; it was completed in April 2014. In August 2016 these locomotives were sold to Industrial Division company, which leased them to various operators. Currently (September 2020) they are operated by ČD Cargo Poland, Polish subsidiary of Czech national operator. In September 2012 another order for five examples followed, this time from Lotos Kolej. First example was outshopped in February 2014 and the entire order was completed until next May. In January 2015 Freightliner PL placed an order for five examples. These locomotives are fitted with auxiliary 735 hp diesel engine and were initially designated E6DCF-DP ('DP' stood for 'dual power'). First example began tests at the railway experimental establishment in Żmigród in February 2016 and was delivered to Freightliner PL in June as E6ACTd-101. It was named 'Ernest Malinowski', in honor of a renowned Polish railway engineer, who was responsible for the design of Ferrocarril Central Andino in Peru. The entire order was completed until July 2016. A single example, E6ACTd-106, was ordered for Budokrusz (a large supplier of building materials) and delivered in March 2017; formally it is owned by Newag.
In all, fifteen examples of E6ACT and E6ACTd were delivered for various operators before production switched to E6ACTa and E6ACTad, known as 'Dragon 2' or 'Dragon II'. This version was displayed at the InnoTrans fair in Berlin in September 2018. Externally it differs from its predecessor mainly in headlights, but principal difference is its full compliance with Technical Specifications for Interoperability (TSI) of the European Railway Agency. In December 2018 three more examples were delivered to STK, followed by two for CTL Logistics in January 2019; further deliveries, usually of single examples, followed to several private operators. Most of these locomotives are formally owned by Newag. 'Dragon 2' is certainly well suited to replace obsolescent twin electric locomotives (classes ET40, ET41 and ET42) in the PKP Cargo fleet, offering even higher power and tractive effort. Information on the version for state railways was initially scarce and unofficial. First order, for three examples designated ET25, was completed in October 2018. Version with auxiliary diesel engine (E6ACTad) is designated ET26. In September 2019 PKP Cargo ordered 31 locomotives of this type, including seven fitted with an auxiliary diesel engine and 24 two-system ones, later designated ET43. They are to be delivered until 2022. A few days later Rail Capital Partners leasing company ordered five examples. Further orders are likely to follow. At the time of writing (June 2022) 44 locomotives of this type were in use. Portfolio of orders for various 'Dragon' versions numbered further 24 examples.
In September 2008 Newag became the principal shareholder of ZNLE Gliwice, the company finally changing its name to Newag Gliwice on February 20, 2013. Production of 'Dragons' was transferred to Nowy Sącz in 2016. Plans for future are quite ambitious. Current 'Dragon' offer, apart from the basic 3 kV DC variant, includes also AC (13 kV 16 2/3 Hz and 25 kV 50 Hz) and MS (multi-system) versions, as well as a diesel-powered derivative with and unspecified prime mover of about 3000 hp. The 'Dragon' family was later supplemented by lighter E4 'Griffin' family – completely new design of a universal Bo'Bo' multi-system locomotive for passenger (200 km/h) and freight traffic. Prototype was exhibited at the InnoTrans fair in Berlin in October 2012. This type is described under a separate entry.
Main technical data
| | | | |
| --- | --- | --- | --- |
| No. | Parameter | Unit | Value |
| 1. | Years of manufacture | - | 2009 |
| 2. | Total built / used in Poland | - | 59 / 591) |
| 3. | Axle arrangement | - | Co'Co' |
| 4. | Control | - | individual |
| 5. | Design maximum speed | km/h | 120 |
| 6. | Traction motors (number x type) | - | 6 x STX500-4A2) |
| 7. | Voltage | V | 3000 dc |
| 8. | One-hour rating | kW/hp | 5000 / 6530 |
| 9. | Continuous rating | kW/hp | |
| 10. | Electric current at one-hour rating | A | |
| 11. | Electric current at continuous rating | A | |
| 12. | Rotational speed at one-hour rating | rpm | |
| 13. | Rotational speed at continuous rating | rpm | |
| 14. | Engine suspension | - | nose-suspended |
| 15. | Reduction gear ratio | - | |
| 16. | Diameter of drivers | mm | 1250 |
| 17. | Total weight | kg | 116 0003) |
| 18. | Axle load | T | 19.35 |
| 19. | Axle base | mm | |
| 20. | Overall length | mm | 20 300 |
| 21. | Maximum width | mm | |
| 22. | Brake type | - | |
<![if !supportLists]>1. <![endif]>Until June 2022.
<![if !supportLists]>2. <![endif]>ABB AMXL450 traction motors in later production examples (one-hour rating increased by 64 kW).
<![if !supportLists]>3. <![endif]>119 000 kg for E6ACTd.
References and acknowledgments
<![if !supportLists]>- <![endif]>ZNLE Gliwice and Newag folders;
<![if !supportLists]>- <![endif]>SK, various issues;
<![if !supportLists]>- <![endif]>www.kolejowaklatka.org (website by Marek Dąbrowski);
<![if !supportLists]>- <![endif]>www.ilostan.forumkolejowe.pl.