<![if !vml]>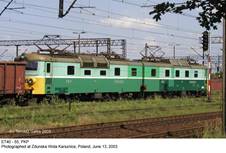 <![endif]>
ET40-55, photographed near Zduńska Wola Karsznice depot, June 13, 2003.
<![if !vml]>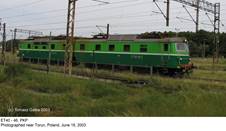 <![endif]>
This ET40-46 was photographed near Toruń on June 18, 2003.
<![if !vml]>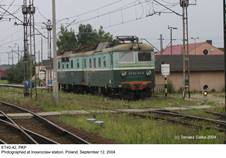 <![endif]>
ET40-42 in Inowrocław, September 12, 2004
<![if !vml]>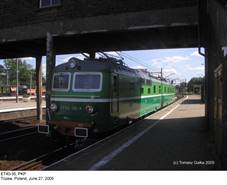 <![endif]>
ET40-35 in Tczew on a sunny day: June 27, 2005.
<![if !vml]>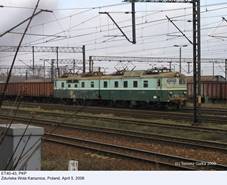 <![endif]>
ET40-43, photographed near Zduńska Wola Karsznice depot on April 5, 2006. Due perhaps to large dimensions, ET40s are favorite targets for graffiti 'artists'...
<![if !vml]>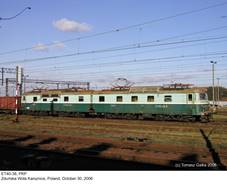 <![endif]>
...which is confirmed by the ET40-38, photographed at the same location on October 30, 2006.
<![if !vml]>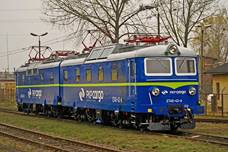 <![endif]>
ET40-43 was the sole locomotive of this type ever to run in the new PKP Cargo blue livery. This picture was taken at the Bydgoszcz Wschód station on November 7, 2008. ET40-43 was sold to PHU Lokomotiv in February 2016; currently it is owned by Industrial Division and leased to Lotos Kolej. Photo by Paweł Telega (source: www.commons.wikimedia.org). More photos of ET40s from my collection can be found here.
<![if !vml]>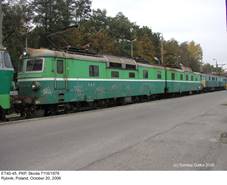 <![endif]>
ET40-45, photographed in Rybnik on October 20, 2006, also displays traces of graffiti activities.
<![if !vml]>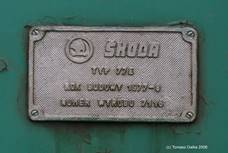 <![endif]>
Manufacturer's plate on the ET40-45.
<![if !vml]>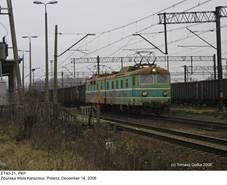 <![endif]>
Another graffiti victim: ET40-21, photographed in Zduńska Wola Karsznice on December 14, 2006.
<![if !vml]>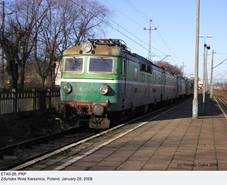 <![endif]>
ET40-26, photographed at the same location on January 28, 2008.
<![if !vml]>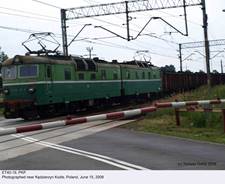 <![endif]>
This ET40-19 was photographed at a railway crossing near Kędzierzyn Koźle on June 15, 2008.
<![if !vml]>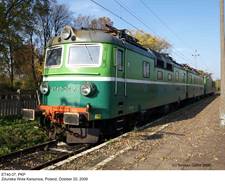 <![endif]>
ET40-37, photographed in Zduńska Wola Karsznice on October 20, 2008.
<![if !vml]>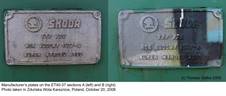 <![endif]>
Each ET40 section has its own serial number, which is documented by ET40-37.
<![if !vml]>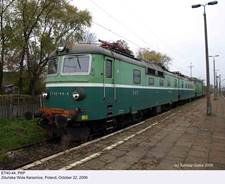 <![endif]>
ET40-44, photographed at the same location two days later.
<![if !vml]>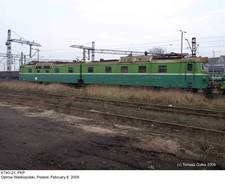 <![endif]>
Two ET40s, photographed at the Ostrów Wielkopolski depot on February 6, 2009: ET40-21…
<![if !vml]>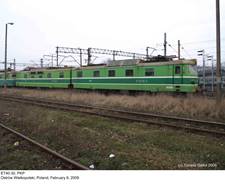 <![endif]>
…and ET40-30. Note different livery variants.
<![if !vml]>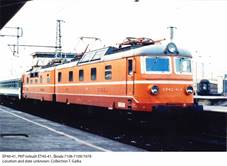 <![endif]>
The sole EP40-41 (rebuilt ET40-41, Škoda 7108-7109/1978); this conversion proved unsuccessful. Photo from my collection.
So-called Coal Trunk Line, built in the 1930s to connect Silesian coal mines with Gdynia, has always been a domain of heavy freight traffic – at least by European standards. The heaviest steam locomotives in the PKP service, American Ty246s and indigenous Ty51s, operated mainly there. Electrification of this line between 1964 and 1969 immediately brought about a demand for a heavy electric freighter, as the most powerful machine at hand, six-axle ET22, had the continuous rating of only 3000 kW and maximum tractive effort of about 42 tonnes. 1970s were the 'golden age' of coal production – and export – in Poland and very heavy drafts were common. It was thus decided to purchase a suitable twin-unit locomotive of about 4000 kW and orders were placed in Czechoslovakia and USSR. Czechoslovak machine was the first to enter service and hence was classed ET40.
ET40 was built by well-known Škoda works of Plzeň (factory designation 77E1) and, in principle, based on the successful and proved class E499.1 (later 141, factory designation 30E1), which also – in a slightly modified version – served with PKP as EU05. Apart from coupling two units, changes included different transmission and reduction ratio (84:27 instead of  84:37) and fitting additional cooling fans for startup resistors, necessary due to long and slow startups with heavy drafts. These fans are installed in a roof-mounted housing with louvers, very characteristic for this locomotive. With continuous rating of 4080 kW, ET40 could develop a tractive effort up to about 50 tonnes. Initially ET40, commonly nicknamed 'Bombowiec' (Bomber), proved unable to match EU05 as far as reliability was concerned; due to higher load, failures of traction engines and wheelsets were not uncommon. As each section could be operated independently and spares were sometimes in short supply, it was a typical practice to join two units originally belonging to different locomotives, without changing their service numbers.
Thirty ET40s were purchased between 1975 and 1976 and a second batch, numbering also thirty examples, followed in 1978 – these machines were distinguished by two current collectors at each section instead of one (factory designation 77E2). In addition to standard class designation and service numbers, individual units were identified by capital letters A or B (e.g. ET40-10-A and ET40-10-B); according to new standards, this letter is to be placed between class designation and service number, but few machines have been re-designated. All sixty locomotives were immediately put to service on the Coal Trunk Line and all were based at the Bydgoszcz Wschód depot. Between 2000 and 2002 six of them operated in the Lower Silesia (based at the Wałbrzych depot), but this was just a short episode in their service, as they proved inferior to ET21s and ET41s in mountain regions. In August 2008 five examples were transferred to Gliwic. Due to a dramatic decrease of freight traffic, all ET40s were withdrawn from active service in late 2000s (only few survived until 2009 in active use) and disappeared from the Coal Trunk Line completely. They were dumped at the Tarnowskie Góry depot. In 2012 a decision was taken to scrap all surviving 45 locomotives. First ET40 fell victims to the cutter's torch in late 2012 and until mid-2014 22 examples were scrapped. The remaining 23 examples were initially stored at the Miasteczko Śląskie depot, but later their scrapping was resumed; in October 2015 only ET40-07 and ET40-30 still remained in the PKP Cargo inventory. ET40-01 has been kept for preservation and transferred back to the Bydgoszcz Wschód depot in September 2015. Rather unexpectedly, in late 2015 twenty ET40s were offered for sale. Five of them (ET40-07, -31, -43, -52 and -55) were purchased by PHU Lokomotiv and in 2016 transferred to PHU Tom-Lok. After refurbishment and some minor modifications they were sold to Industrial Division leasing company in September 2017. ET40-52 (Škoda 7131/1978), withdrawn from PKP Cargo in March 2009, was the first to return to service, running in the Lotos Kolej livery in February 2017. Later it was joined by ET40-43 and ET40-55 with the same operator. Currently (April 2022) these three locomotives are operated by Katowice-based Alza Cargo, a private rail transport company. As for two remaining operational locomotives of this type, owned by Industrial Division, ET40-31 is still offered for lease while ET40-07 remains inoperative. The above-mentioned ET40-30 (Škoda 6904-6905/1976) still remains in the PKP Cargo  inventory, as the last example of this type.
Experience with these first twin-unit locomotives in PKP service prompted an order for a similar machine based on license-built EU07, which later materialized as ET41, of which 200 examples were eventually built for PKP. In 1990, a peculiar attempt was made to convert ET40 into a fast locomotive for express trains, running at 160 km/h. This was in part due to problems with EP09, and a twin variant of the very successful EU05 seemed a sound alternative. One example – ET40-41 – was modernized and appropriately re-designated EP40-41. Reduction gear with 77:44 ratio, as in EP05 (itself a modernization of EU05) was fitted, as well as new wheelsets, current collectors, speed-meters and many minor items of equipment. Similarly to other express locos in the PKP service (EP05 and EP08) this machine was painted orange and red, instead of typical green livery of freighters. EP40-01 was transferred to Warsaw and, until withdrawal in January 1992, logged over 150 000 km. Service experience was rather discouraging: many element and sub-assemblies suffered from excessive vibrations, which resulted in frequent malfunctions. Further development could probably save the project, but the idea was abandoned and EP40 was re-converted into its original version, becoming ET40-41 again.
Modernization of the ET40-04 was of different nature and consisted mainly in replacing several elements of electric and pneumatic systems and cabin equipment with new and modern ones, to improve safety, reliability and crew comfort. Overall characteristics and external appearance were not affected. Modernized ET40-04 was rolled out in February 2000, but no more examples have followed.
Although in Czechoslovakia class E499.1 was also developed into a freight version (E469.1 and subsequent modifications), the standard-gauge twin-unit 77E1 was not ordered by ČSD and was built for PKP only. However, a broad-gauge version for 1524 mm track was developed, classed E469.5 (later 125.8, factory designation 67E1). Twenty-two examples were delivered in 1976. According to the ČSD practice, individual units were numbered rather than entire locomotives, so service numbers ran up to 469.5044. These locomotives, re-classed 125.8, still remain in use with ŽSCS, a subsidiary of ŽSSK (apart from 469.5009 + 469.5010, withdrawn after a crash in 1984), hauling heavy trains transporting iron ore from Ukraine to steelworks at Hanisky pri Košiciach in eastern Slovakia. Due to drafts of even 4200 tonnes and gradients up to 17‰, double-heading is a normal practice and a third banking locomotive is not uncommon – this must be an impressive sight!
Main technical data
| | | | |
| --- | --- | --- | --- |
| No. | Parameter | Unit | Value |
| 1. | Years of manufacture | - | 1975 – 1978 |
| 2. | Total built / used in Poland | - | 602) / 60 |
| 3. | Axle arrangement | - | Bo'Bo' + Bo'Bo' |
| 4. | Control | - | individual1) |
| 5. | Design maximum speed | km/h | 100 |
| 6. | Traction motors (number x type) | - | 8 x 7AL4846ZT |
| 7. | Voltage | V | 3000 |
| 8. | One-hour rating | kW/hp | 4688 / 6376 |
| 9. | Continuous rating | kW/hp | 4080 / 5549 |
| 10. | Electric current at one-hour rating | A | 360 |
| 11. | Electric current at continuous rating | A | 350 |
| 12. | Rotational speed at one-hour rating | rpm | 900 |
| 13. | Rotational speed at continuous rating | rpm | 920 |
| 14. | Engine suspension | - | Sécheron |
| 15. | Reduction gear ratio | - | 84:29:27 |
| 16. | Diameter of drivers | mm | 1250 |
| 17. | Total weight | kg | 164 000 |
| 18. | Axle load | T | 20.5 |
| 19. | Axle base | mm | 28 710 |
| 20. | Overall length | mm | 34 420 |
| 21. | Maximum width | mm | 2 950 |
| 22. | Brake type | - | Oerlikon |
<![if !supportLists]>1) <![endif]>Multiplied in each section.
<![if !supportLists]>2) <![endif]>Additional 22 for 1524 mm track (ČSD class E469.5, later 125.8, factory type 67E1)
References and acknowledgments
<![if !supportLists]>- <![endif]>www.cmbydgoszcz.kolej.szczecin.pl (website maintained by Paweł Telega – currently inactive);
<![if !supportLists]>- <![endif]>AL, AV;
<![if !supportLists]>- <![endif]>www.spz.logout.cz/vozidla (in Czech);
<![if !supportLists]>- <![endif]>SK and SS, various issues;
<![if !supportLists]>- <![endif]>www.ilostan.forumkolejowe.pl.