<![if !vml]>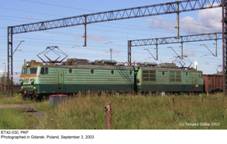 <![endif]>
ET42-30, photographed in Gdańsk on September 3, 2003...
<![if !vml]>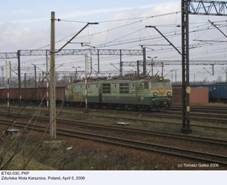 <![endif]>
...the same locomotive near the Zduńska Wola Karsznice depot; April 5, 2006…
<![if !vml]>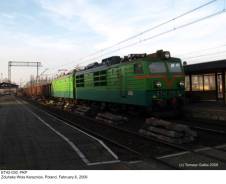 <![endif]>
…and passing through the Karsznice station with a heavy draft on February 6, 2009.
Several photos of ET42s from my collection can be found here.
<![if !vml]>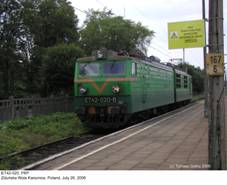 <![endif]>
ET42-020, photographed in Zduńska Wola Karsznice on July 26,2006.
<![if !vml]>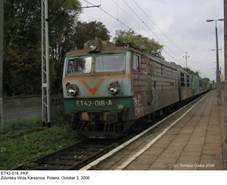 <![endif]>
ET42-018, photographed at exactly the same track on October 2, 2006. Like other twin locomotives, ET42s are favorite targets for graffiti 'artists'.
<![if !vml]>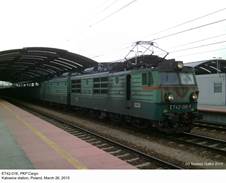 <![endif]>
Another picture of the ET42-018, restored in service after a few years' break: Katowice, March 26, 2015.
<![if !vml]>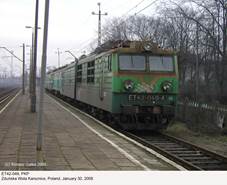 <![endif]>
ET42-049, photographed at the Zduńska Wola Karsznice staton on January 30, 2008.
<![if !vml]>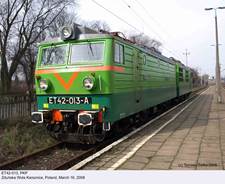 <![endif]>
Another photo taken at this location: ET42-013, probably shortly after an overhaul. March 16, 2008.
<![if !vml]>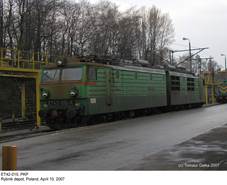 <![endif]>
ET42-015, photographed at the Rybnik depot on April 10, 2007.
<![if !vml]>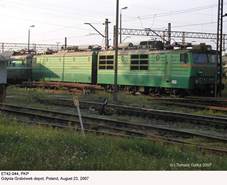 <![endif]>
ET42-044 (with an ET40 in the background), photographed at the Gdynia Grabówek depot on August 23, 2007.
<![if !vml]>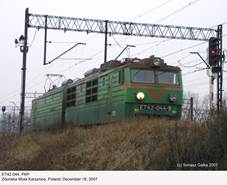 <![endif]>
The same locomotive, photographed near the Zduńska Wola Karsznice depot on December 18, 2007.
<![if !vml]>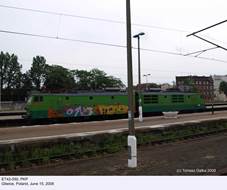 <![endif]>
ET42-10, photographed in Gliwice on June 15, 2008.
<![if !vml]>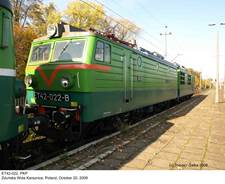 <![endif]>
More pictures from Karsznice: ET42-022, photographed on October 22, 2008…
<![if !vml]>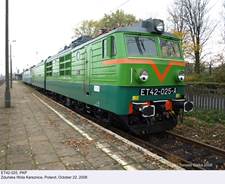 <![endif]>
…ET42-025, two days later…
<![if !vml]>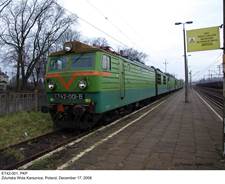 <![endif]>
…ET42-001…
<![if !vml]>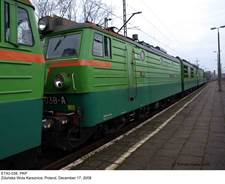 <![endif]>
…ET42-038…
<![if !vml]>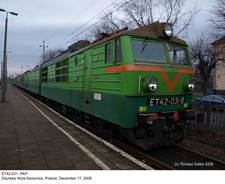 <![endif]>
…and ET42-031 (with ET42-038, ET42-018 and ET42-001 behind), all photographed on December 17, 2008.
<![if !vml]>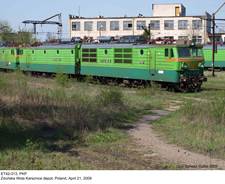 <![endif]>
Three pictures, taken at the Karsznice depot on April 21, 2009: ET42-013…
<![if !vml]>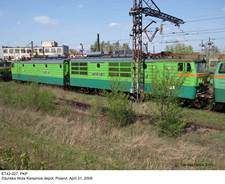 <![endif]>
…ET42-027…
<![if !vml]>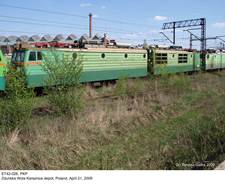 <![endif]>
…and ET42-026.
<![if !vml]>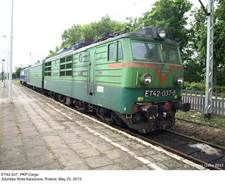 <![endif]>
Back in service: ET42-037, Zduńska Wola Karsznice, May 23, 2013.
<![if !vml]>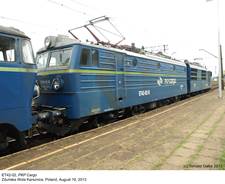 <![endif]>
ET42-02 in new PKP Cargo livery: the same location, August 19, 2013. Note two-digit service number.
<![if !vml]>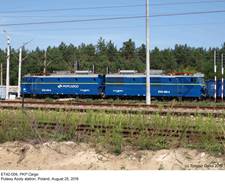 <![endif]>
ET42-009, PKP Cargo, photographed at the Puławy Azoty station on August 25, 2019.
<![if !vml]>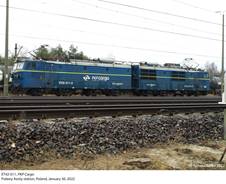 <![endif]>
The same location: ET42-011, PKP Cargo, January 30, 2022.
<![if !vml]>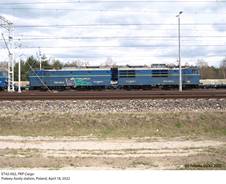 <![endif]>
Azoty again: ET42-002, PKP Cargo, April 18, 2022.
So-called Coal Trunk Line between Upper Silesia and Gdynia on the Baltic coast was built in the 1930s and electrified between 1964 and 1969. At that time, the most powerful electric locomotive in the PKP service was ET22, with the Co'Co' axle arrangement and maximum tractive effort of about 42 tonnes. Certainly much more powerful locomotives were needed for very heavy coal trains, typical for that line. Indigenous type 203E from HCP was still at the design stage, to appear as a prototype only in 1977. Thus, in early 1970s, an order was placed for sixty ET40s from the Škoda works of Plzeň, Czechoslovakia (factory designation 77E1). Basically this locomotive was a twin variant of ČSD class E499.1 (very similar to PKP class EU05), with different reduction gear ratio.
As it was anticipated that deliveries of 203Es from HCP might fall below demands, it was decided to purchase a further batch of heavy freighters abroad, but this time orders were placed with Soviet NEVZ (Novocherkasskyi Elektrovozostroitelnyi Zavod – Novocherkassk Electric Locomotive Works). This factory, founded in 1932, initially built steam locomotives, tracked vehicles and later guns. First electric locomotives – SŽD class VL22M – left the factory in 1947 and today NEVZ is one of the largest locomotive manufacturers in Russia. Preliminary talks concerning locomotives for Poland started in 1973 and fifty examples (factory type 112E) were ordered in 1974. They were to be based on existing Soviet designs. The starting point was SŽD class VL10 (ВЛ10 in Russian script), built in quantity since 1961 by TEVZ of Tbilisi, where this locomotive had been designed (893 examples) and NEVZ (1010 examples, including three prototypes of heavier variant VL10U). Production of VL10 was terminated in 1977, to give way to VL10U and further derivatives, VL11 and VL11M. It should be noted that, according to some sources, VL11 also influnced the design for PKP; this seems doubtful, however, as this locomotive in fact appeared later. Initially, adaptation of VL10 for Polish railways seemed a relatively straightforward task. It soon turned out, however, that due to different track gauge (1524 mm) and larger vehicle gauge the basic design had to be thorougly modified. Changes influenced virtually everything, not only trucks, but also body, undercarriage and traction motors. This took significantly longer than expected and first locomotives were delivered only in May 1978. They were designated class ET42, because type 203E – two-section derivative of the indigenous EU07 – from HCP had been the first to enter service as ET41. Last machines arrived in 1982.
Contrary to ET40 and ET41, which were both developed from earlier Bo'Bo' locomotives by coupling two units, ET42 was from the outset designed as a twin machine and sections cannot be operated individually. The 'side effect' is that ET42, with similar overall weight, is shorter than ET41 (by almost one metre) and ET40 (by over 3.5 metres). At 4480 kW (or 4880 kW with one-hour traction motors rating), it is the most powerful of the three, and also the only one to feature electrodynamic braking. Quite surprisingly, ET42s are fitted with electric car heating installations, but I have no information on them ever being used with passenger trains. ET42 is a relatively simple and robust locomotive, but, with nose-suspended motors and rather primitive suspension, running qualities are not its strong side; impact on track is considerable and crew comfort leaves something to be desired. On the other hand, ET42 has earned itself an excellent reputation for reliability, with both crews and maintenance personnel.
Initially all locomotives of this type – commonly nicknamed 'Rusek' (colloquially 'a Russian') or 'Chapayev' (after a popular Soviet Civil War hero) – were based at the Zduńska Wola Karsznice depot and operated almost exclusively on the Coal Trunk Line, with heavy coal trains up to 3600 tonnes or even 4000 tonnes with automatic couplers. Karsznice also used to be the best place to spot them – many pictures presented at this site have been taken there. Four ET42s were written off as a result of crashes: ET42-003 and ET42-045 in 1987, ET42-033 and ET42-043 in 1995.
In March 2009, following a dramatic decrease of freight traffic caused by world economic crisis, all ET42s were withdrawn to reserve and dumped at the Karsznice depot. Five were re-introduced into use in mid-2011 and further six more followed until the end of that year. These comparatively new locomotives were in generally good overall condition and most needed no major repairs, so within a few years all were restored in service, apart from above-mentioned four withdrawn examples. All were transferred to the Tarnowskie Góry depot in Upper Silesia. A modernization project was proposed by ZNTK (Railway Stock Repair Works) of Poznań, in co-operation with Georgian TEVZ company; designated ET42M, it features traction motors up-rated to 600 kW each at continuous rating (4800 kW in all), slightly modified suspension, trucks and cabins. Until now, however, this project remains a preliminary study only and has not been proceeded with; prospects are certainly not good, as ZNTK Poznań went bankrupt in 2012. No other plans for future have been revealed yet.
Main technical data
| | | | |
| --- | --- | --- | --- |
| No. | Parameter | Unit | Value |
| 1. | Years of manufacture | - | 1978 – 1982 |
| 2. | Total built / used in Poland | - | 50 / 50 |
| 3. | Axle arrangement | - | Bo'Bo' + Bo'Bo' |
| 4. | Control | - | individual1) |
| 5. | Design maximum speed | km/h | 100 |
| 6. | Traction motors (number x type) | - | 8 x NB508A |
| 7. | Voltage | V | 3000 |
| 8. | One-hour rating | kW/hp | 4840 / 6582 |
| 9. | Continuous rating | kW/hp | 4480 / 6093 |
| 10. | Electric current at one-hour rating | A | 605 |
| 11. | Electric current at continuous rating | A | 557 |
| 12. | Rotational speed at one-hour rating | rpm | 775 |
| 13. | Rotational speed at continuous rating | rpm | 800 |
| 14. | Traction motors suspension | - | nose-suspended |
| 15. | Reduction gear ratio | - | 86:25 |
| 16. | Diameter of drivers | mm | 1250 |
| 17. | Total weight | kg | 164 000 |
| 18. | Axle load | T | 20.5 |
| 19. | Axle base | mm | 25 200 |
| 20. | Overall length | mm | 30 880 |
| 21. | Maximum width | mm | 3 030 |
| 22. | Brake type | - | Oerlikon + electrodynamic |
<![if !supportLists]>1) <![endif]>Multiplied in each section.
References and acknowledgments
<![if !supportLists]>- <![endif]>AL, LOZD vol. 2;
<![if !supportLists]>- <![endif]>http://jastrzab.lhs.pl (website by Jacek Jastrzębski);
<![if !supportLists]>- <![endif]>SK, various issues.