<![if !vml]>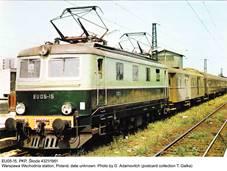 <![endif]>
EU05-15 (Škoda 4321/1961) in its original livery, photographed at the Warszawa Wschodnia station with a train to Berlin. Date unknown (prior to conversion into EP05, which took place in 1973). This locomotive was finally withdrawn in 1989. Photo by D. Adamovitch (postcard from my collection).
<![if !vml]>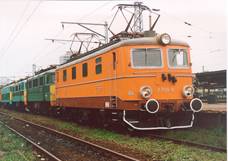 <![endif]>
EP05-16 (Škoda 4322/1961), probably in Warsaw; photo by Rafał Onysk (thanks for permission!).
<![if !vml]>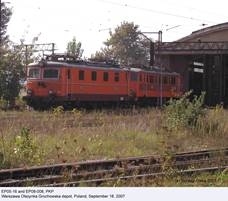 <![endif]>
The same locomotive, photographed at the Warszawa Olszynka Grochowska depot on September 18, 2007 (together with EP08-008).
<![if !vml]>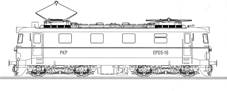 <![endif]>
Side drawing of EP05 by Z. Kołoda (KMD vol.1/2006).
<![if !vml]>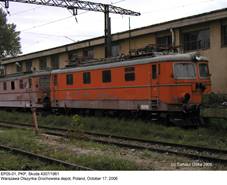 <![endif]>
Derelict EP05-01 (Škoda 4307/1961), photographed at the Warszawa Olszynka Grochowska depot on October 17, 2006...
<![if !vml]>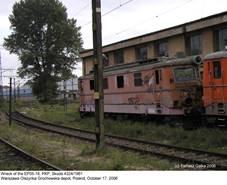 <![endif]>
...and wreck of the EP05-18 (Škoda 4324/1961), photographed on the same occasion.
<![if !vml]>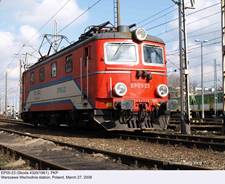 <![endif]>
EP05-23 in new (and controversial!) livery, photographed near the Warszawa Wschodnia station...
<![if !vml]>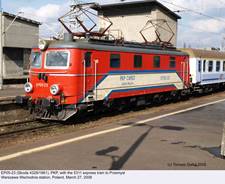 <![endif]>
 ... and the same machine ready to depart with the 5311 train to Przemyśl; both photos taken on March 27, 2008.
<![if !vml]>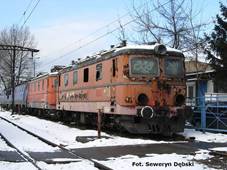 <![endif]>
Two pictures of EP05-01 and EP05-18 during their transportation to the new location…
<![if !vml]>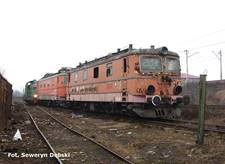 <![endif]>
…on March 3, 2009. Both photos by Seweryn Dębski (thanks for permission!). EP05-18, seen here in the foreground, was scrapped some four months later.
<![if !vml]>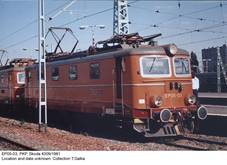 <![endif]>
EP05-03, location and date unknown (possibly Warszawa Wschodnia station); photo from my collection.
<![if !vml]>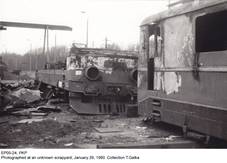 <![endif]>
Two pictures taken at some scrapyard on January 29, 1990: the remains of the EP05-24…
<![if !vml]>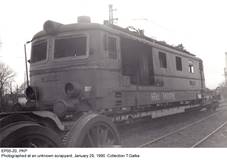 <![endif]>
…and the body of the EP05-20. Both photos from my collection.
<![if !vml]>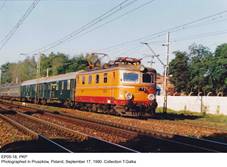 <![endif]>
EP05-18, photographed in Pruszków on September 17, 1990. Photo from my collection.
<![if !vml]>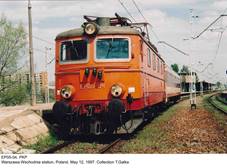 <![endif]>
EP05-04, Warszawa Wschodnia station, May 12, 1997. Photo from my collection.
<![if !vml]>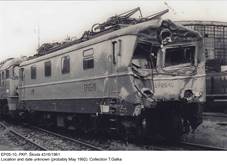 <![endif]>
Another photo from my collection: EP05-10, location and date unknown. Possibly this picture was taken after the collision that occurred in May 1992 and resulted in EP05-10 being written off.
<![if !vml]>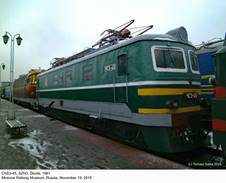 <![endif]>
Soviet ChS3-45, photographed at the Moscow railway museum on November 15, 2015.
In 1953, Czechoslovak state railways ČSD accepted the first E499.0 universal electric locomotive, which was a license-built variant of Swiss Ae 4/4, originally designed for the BLS railway. Until 1958, 100 examples were supplied by Škoda works of Plzeň (factory type 12E1), plus ten for Northern Korea (type 22E1) and two for the Soviet Union (class ChS1, or ЧС1 in Russian script – type 24E1). These locomotives, commonly nicknamed 'Bobina' (due to the Bo'Bo' arrangement), enjoyed long service life; some of them were later sold to Poland (they are described under a separate entry). They served as a basis for several other designs, including class E 499.1 (it should be kept in mind that, according to ČSD designation system then in use, this did not necessarily correspond to a particular design, but rather to a set of basic parameters). New machine retained the body of the E 499.0 (however, with rectangular side windows instead of original round ones and other minor changes) and electric motors, but trucks, transmission and suspension were modified. In particular, original Sécheron-type coupling of the earlier machine was supplanted with an indigenous design. Prototype (type 20E1 – still with round side windows) was built in 1957 and sixty production machines (types 30E1 and 30E2) for ČSD followed between 1959 and 1960. Most of them, later re-designated class 141, remained in use with ČD until early 21st century; Marco van Uden (http://mercurio.iet.unipi.it) gives 54 examples in the end of 2002, but according to AL in mid-2006 there were only eleven left, used mainly with local trains. Further 87 locomotives for 1524 mm track were supplied to the USSR in 1960 and 1961 as class ChS3 (ЧС3 – factory designation type 29E1).
In late 1950s there was a particular need for fast passenger electric locomotives in Poland. Electrification of main lines, despite certain difficulties, progressed quite rapidly, but suitable motive power was in short supply. Production of freight locomotives (class ET21) was given priority and started in 1957. Passenger machines were also planned (eventually these plans materialized in 1965 in the form of license-built EU07), but for the time being only a handful of obsolete EP02s and EP03s were at hand, plus several rather unreliable EP04s. It was thus decided to purchase a number of machines abroad, as an interim measure, and the choice fell on Czechoslovak 44E1, almost identical with E 499.1 and designated EU05 with PKP.
Contract for thirty EU05s was signed in June 1960 and all were supplied during March and April 1961 (factory numbers 4307/1961 through 4336/1961). Initially they were assigned to the Warszawa Odolany depot, supplanting EU04s. They soon gained the reputation of most modern, reliable and useful electric locomotives in the PKP service and were used almost exclusively with express passenger trains; starting from May 1988, they double-headed the fastest trains in Poland (160 km/h), from Warsaw to Katowice and to Cracow. Nicknamed simply 'Czechs', they were very popular with the crews, although some railway engineers complained on draughts. Most of them were based in Warsaw throughout their entire life. In 1968 EU05-29, experimentally fitted with new reduction gear – reduction ratio changed from 84:37 to 77:44 – attained 174 km/h during an experimental run – as far as I know, this national locomotive speed record was beaten only in 1999 by the EU43-001 prototype. The record-breaking machine was written off in 1991 and initially intended for preservation, but finally scrapped in January 1997. Between 1971 and 1977, further 26 machines (starting from EU05-26, s/n 4332/1961) were modified in this manner, in order to increase maximum speed from 125 to 160 km/h; they were intended for fast passenger trains. New gears and wheelsets were supplied from Czechoslovakia. This modification did not include EU05-09, EU05-12 and EU05-19, withdrawn in 1965, 1969 and 1962, respectively (written off after being damaged beyond repair in crashes – all were eventually scrapped). The latter, together with the EU05-11, participated in one of the most tragic train crashes in the PKP history, on October 9, 1962, near Batorówka, which took the lives of possibly over sixty passengers (official sources gave 34). EU05-19, which hit a derailed passenger car at almost full speed, was written off after only one year in service.
 In May 1973 designation was changed to EP05, service numbers being retained; green livery, typical for electric locomotives serving with PKP, was changed to orange and red (as with indigenous class EP08). Second modification of eleven machines (early 80s) included fitting pneumatic couplings and multiple control. In 1991, four locomotives were fitted with 7AL4846 engines, differing only in couplings. Apart from three above-mentioned machines, five EP05s were written off as a result of crashes.
It was intended to withdraw EP05s in 1992, but as a result of problems with new locomotives from Pafawag (EP09) they remained in service for much longer. In 2000, four (of five still in the PKP rosters) still remained in operation. Two, EP05-16 and EP05-23, were withdrawn in 2002, but they were once again overhauled and restored in service in January 2004. EP05-16 was finally withdrawn in July 2007, following a serious traction engine failure. EP05-23 (4329/1961), after a scheduled revision in 2007, was repainted and now carries new PKP Cargo red and white livery – needless to say, many railway fans grind their teeth, although by now this livery has already become historical! It hauled a scheduled train from Cracow to Warsaw for the last time on May 14, 2008. After ultimate withdrawal it was kept operational at the Warszawa Olszynka Grochowska depot. Refurbishment began in August 2016 and on February 7, 2017, EP05-23 was outshopped for official presentation in its original red and orange livery. There are plans to use this locomotive with special trains. EP05-22, in old green livery and with original EU05-22 service number, was plinthed in 2000 at the Prokocim depot in Cracow. In September 2019 it was transferred to a railway fan society in Wrocław and will possibly be restored to an operational condition. EP05-01 and EP05-18 (the latter in a very poor condition) after final withdrawal were stored at the Olszynka Grochowska depot in Warsaw, awaiting a decision on their ultimate fate. In March 2009 they were transferred to a new location in Warsaw, at the PKP premises (many thanks to Seweryn Dębski for information and photos!). EP05-18 was finally scrapped in July 2009. EP05-01 was initially intended for preservation (although no location was proposed), but fell victim to the cutter's torch in August 2015.
Main technical data
No.

Parameter

Unit

Value

1.

Years of manufacture

-

1957 - 1961

1971 - 19771)

2.

Total built / used in Poland

-

1782) / 30

3.

Axle arrangement

-

Bo'Bo'

4.

Control

-

individual3)

5.

Design maximum speed

km/h

125 (160)1)

6.

Traction motors (number x type)

-

4 x 3AL4846ZT5)

7.

Voltage

V

3000

8.

One-hour rating

kW/hp

2314 / 31474)

9.

Continuous rating

kW/hp

2032 / 2764

10.

Electric current at one-hour rating

A

360

11.

Electric current at continuous rating

A

350

12.

Rotational speed at one-hour rating

rpm

900

13.

Rotational speed at continuous rating

rpm

920

14.

Engine suspension

-

Sécheron

15.

Reduction gear ratio

-

84:37 (77:44)1)

16.

Diameter of drivers

mm

1250

17.

Total weight

kg

82 500

18.

Axle load

T

20.625

19.

Axle base

mm

11 500

20.

Overall length

mm

16 140

21.

Maximum width

mm

2 950

22.

Brake type

-

Oer
<![if !supportLists]>1) <![endif]>Reconstruction – designation changed to EP05 in 1973
<![if !supportLists]>2) <![endif]>Including 87 for SZD (1524 mm track – class ChS)
<![if !supportLists]>3) <![endif]>Multiple control in some machines
<![if !supportLists]>4) <![endif]>Some sources give 2344 kW
<![if !supportLists]>5) <![endif]>Replaced by 7AL4846 in four machines.
List of vehicles can be found here.
References and acknowledgments
<![if !supportLists]>- <![endif]>Monographic article by Bogdan Waga (KMD vol. 1 and 2/2006);
<![if !supportLists]>- <![endif]>MAL, AV vol. 1 (information on Czechoslovakian machines);
<![if !supportLists]>- <![endif]>Account of service with PKP by Paweł Terczyński (SK vol. 2/2000);
<![if !supportLists]>- <![endif]>http://rafikx.republika.pl (website by Rafał Onysk);
<![if !supportLists]>- <![endif]>SK, various issues;
<![if !supportLists]>- <![endif]>Rafał Onysk and Seweryn Dębski (private communication – thanks a lot!);
<![if !supportLists]>- <![endif]>SS vol. 130 – information on refurbishment.