<![if !vml]>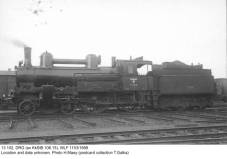 <![endif]>
DRG 13 102 was formerly kkStB 106.15 (WLF  1153/1898). Withdrawn from line service in 1941, this engine ended up as a stationary boiler. Returned to Austria after the war, it remained in this role until October 1957. Photo by H. Maey (postcard from my collection).
<![if !vml]>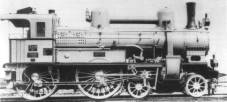 <![endif]>
KkStB 10621 (Wiener Neustadt 4176/1899), location and date unknown, but before 1905 (otherwise would have been 106.21). This locomotive served with BBÖ and after Anschluss became 13 103. Returned after the war, it was withdrawn in April 1949. Source: www.pl.wikipedia.org.
<![if !vml]>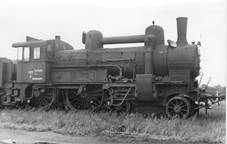 <![endif]>
Pd13-6, ex kkStB 106.75 (WLF 1435/1901) in the Ostbahn service, but still with Polish number plates. Location and date unknown. Later re-numbered 13 101, it was transferred to Austria; returned in 1948, it saw no service with PKP. Photo by Franz Kraus (source: www.pospichal.net/lokstatistik).
<![if !vml]>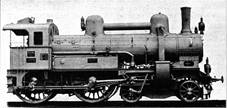 <![endif]>
KkStB 10621 (later 106.21, WLF 1156/1898), location and date unknown. Taken over by ČSD, it became 264.113, but was withdrawn very soon, in April 1925. Source: Die Lokomotive July 1904.
<![if !vml]>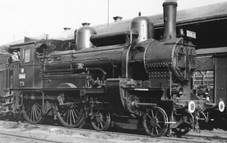 <![endif]>
ČSD 264.141 (ex kkStB 10696, later 106.96, Wiener Neustadt 4467/1902), Rakovnik, Czechoslovakia, January 14, 1939. Withdrawn in August 1949. Photo by Karel Koubek (source: www.commons.wikimedia.org).
Austro-Hungarian (KkStB) class 6 express locomotives, designed by renowned Karl Gölsdorf and built in series between 1894 and 1898 by StEG, WLF and Wiener Neustadt, were replaced on production lines by an improved version, also running on saturated steam and featuring compound engine. Compared to the original variant, it had a modified and lighter frame, which improved weight distribution, so that lead truck could be fitted with brakes. Maximum axle load remained almost unchanged, below 14.5 tonnes. Boiler had slightly enlarged grate and firebox and low-pressure cylinder was increased in diameter from 740 to 760 mm. New locomotive was shorter by a few centimeters, but overall silhouette was almost unchanged, with two steam domes connected by a large horizontal tube, typical for many Austrian engines.
Production was started at StEG, WLF and Wiener Neustadt; until 1902, these manufacturers built 19, 24 and 56 examples, respectively – 99 in all. Initially numbered 10601 through 10699, in 1905 they were classed 106 and re-numbered 106.01 through 99. Between 1898 and 1903 further 27 examples were delivered to Südbahn by StEG (nineteen), WLF (three) and Budapest (five). Engines built by individual manufacturers differed only in minor details. Typically they ran with class 56 tenders, just like their predecessors. Class 106 was considered a successful light express locomotive, especially suitable for weak tracks. It was supplanted by class 206, which retained its frame, wheelsets and running gear, but featured new boiler – albeit it also ran on saturated steam and had a compound engine, which was already becoming obsolete.
After WWI, the majority of KkStB 106s went to Czechoslovakia – 45 examples in all, of which 43 were later classed 264.1 by ČSD (two were written off before new designation system was introduced). 25 of them survived in service until the Munich treaty and were divided between the Protectorate and Slovakia; the last of them was withdrawn in 1950. Austrian state railways BBÖ retained 42 examples, of which only seventeen remained in use until Anschluss, to be taken over by DRG and numbered 13 001 through 017. Two engines (106.62 and 106.88) perished in Russia in 1914, 106.86 went to Yugoslavia (later JDŽ 104-001) and 106.87 to Italy (FS 554.001, withdrawn and scrapped in 1923). Südbahn engines were divided between Hungary (MÁV class 224, last withdrawn in 1953) and JDŽ (class 104, withdrawn in the 1930s).
Polish state railways received eight 106s, which initially retained their original service numbers. In 1925 they were classed Pd13 and numbered consecutively. Their first assignments were regional railway managements in Kraków and Stanisławów; like most ex-Austrian locomotives, they remained in southern and south-eastern Poland throughout their entire service with PKP. They typically ran with light passenger trains. Pd13-1 through Pd13-5 were withdrawn before 1939 and the remaining three fell into Soviet hands. NKPS was not particularly eager to re-gauge them and evacuate eastwards, so all became German booty in 1941. Once again re-numbered, this time 13 101 through 103 (all numbers being assigned for the second time), they were impressed into Ostbahn and assigned to the Lwów (Lemberg) regional management. Later all were transferred to Austria and returned to Poland in 1948. Two (former Pd13-6 and Pd13-8) were erroneously included into class Pd4 – of German origin! – and numbered Pd4-13 and Pd4-12, respectively; they were withdrawn in early 1950s. Pre-war Pd13-7 became Pd13-1, but was not restored in service. No locomotive of this type has survived until today.
Main technical data
No.

Parameter

Unit

Value

1.

Years of manufacture

-

1898 – 1902 

2.

Total built / used in Poland

-

126 / 8

3.

Tender class

-

17C11

4.

Axle arrangement

-

2-2-0

5.

Design maximum speed

km/h

90

6.

Cylinder bore

mm

500 / 760

7.

Piston stroke

mm

680

8.

Engine rating

kW/hp

690 / 940

9.

Tractive effort

kG

10.

Boiler pressure

MPa

1.33

11.

Grate dimensions

m x m

3.00 m2

12.

Firebox heating surface

m2

11.51)2) – 11.63)

13.

Distance between tube plates

mm

4400

14.

Number of flue tubes

-

205

15.

Heating surface of flue tubes

m2

144.51)2) – 144.43)

16.

Number of smoke tubes

-

-

17.

Heating surface of smoke tubes

m2

-

18.

Evaporating surface, total

m2

156.0

19.

Superheater heating surface

m2

-

20.

Diameter of drivers

mm

2100

21.

Diameter of idlers front/rear

mm

995 / -

22.

Total weight, empty

kg

50 2001)

50 4702)

53 0003)

23.

Total weight, working order

kg

56 2001)

55 8602)

56 6003)

24.

Weight on drivers, working order

kg

28 6001)

28 7002)

28 8503)

25.

Weight with tender, empty

kg

68 5004)

26.

Weight with tender, working order

kg

95 8004)

27.

Maximum axle load

T

14.31)

14.352)

14.453)

28.

Axle base (with tender)

mm

13 1521)

13 1622)3)

29.

Overall length (with tender)

mm

16 5591)

16 5872)3)

30.

Brake type

-

Hardy
<![if !supportLists]>1) <![endif]>StEG-built engines.
<![if !supportLists]>2) <![endif]>WLF-built engines.
<![if !supportLists]>3) <![endif]>Wiener Neustadt-built engines.
<![if !supportLists]>4) <![endif]>Wiener Neustadt-built engines with the earliest variant of class 56 tenders.
List of vehicles can be found here.
References and acknowledgments
<![if !supportLists]>- <![endif]>www.lokomotive.de/lokomotivgeschichte/datenbank (Ingo Hütter's database);
<![if !supportLists]>- <![endif]>TK vol. 1, EZ vol. 1, ISRSL.