<![if !vml]>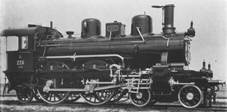 <![endif]>
KFNB 226 (WrN 3801/1895), location and date unknown – probably a factory photo. This engine later became KkStB 308.02 and then ČSD 275.002; it was withdrawn in July 1926. Source: www.pl.wikipedia.org.
<![if !vml]>

<![endif]>
Side drawing of class 308; source: Triebfahrzeuge österreichischer Eisenbahnen: Dampflokomotiven BBÖ und ÖBB (see References).
First steam locomotives with the 2-2-1 axle arrangement, known as 'Atlantics', were built in 1887 in the USA for fast passenger trains, but were soon found too weak, especially after heavier steel cars had become commonplace, and replaced by engines with three or more driven axles. In Europe the first railway to order Atlantics was Kaiser-Ferdinands-Nordbahn (KFNB) in Austro-Hungary, which, between 1895 and 1908, took delivery of 45 class IId engines from Wiener Neustadt, numbered 225 through 269. They featured 1960 mm drivers, single-expansion steam engines and run on saturated steam. After KFNB had been incorporated into state railways KkStB, these locomotives were re-classed 308. Individual batches differed in minor details. Further eighteen examples were built between 1898 and 1900 for Russian VVZhD (Warsaw-Vienna Railway) and numbered 214 through 231. Finally, in 1908, twelve more engines were built for KFNB; they differed from their predecessors in being fitted with the Clench-type steam dryer, which, however, was found to be of little use and later removed. Initially numbered 270 through 281, they were classed 308.5 with KkStB. Between 1913 and 1916 three locomotives (308.12, 308.36 and 308.38) were extensively rebuilt and converted into the 2-3-0 axle arrangement with drivers reduced to 1614 mm in diameter; they were re-classed 227, their service numbers being retained.
After WWI all these engines were divided between Austria, Czechoslovakia and Poland. BBÖ took all 308.5s and 227s, as well as eighteen 308s. All retained their original service numbers. Only two remained in service for long enough to be taken over by DRG, namely 308.29 and 308.44, which became 14 001 and 14 002, respectively; in 1941 both were converted into stationary boilers. ČSD acquired fifteen examples, classed 274.0. Their withdrawals started as early as in 1926 and the last one, 274.007, survived in service until May 1939.
Polish state railways PKP took over ten engines from VVZhD and nine from KkStB, all being classed Pf12. The remaining eight locomotives from VVZhD most probably remained in Russia (evacuated with retreating Russians during the 1915 German offensive), but nothing is known of their subsequent fate. Although not very old, these engines with two driven axles, running on saturated steam, quickly became obsolete. Sixteen were withdrawn between 1927 and 1936. In September 1939 two (Pf12-2 and Pf12-19) were captured by the Soviets; the latter fell into German hands after Fall Barbarossa and was numbered 14 003, but most probably not restored in service. Pf12-12, which became German booty, was soon withdrawn without being given new service number. No locomotive of this type has been preserved.
Main technical data
No.

Parameter

Unit

Value

1.

Years of manufacture

-

1895 – 1908

2.

Total built / used in Poland

-

75 / 19

3.

Tender class

-

15C11

4.

Axle arrangement

-

2-2-1

5.

Design maximum speed

km/h

100

6.

Cylinder bore

mm

2 X 470

7.

Piston stroke

mm

600

8.

Engine rating

kW/hp

685 / 930

9.

Tractive effort

kG

10.

Boiler pressure

MPa

1.33

11.

Grate dimensions

m X m

2.90 m2

12.

Firebox heating surface

m2

12.20 /12.01)

13.

Distance between tube plates

mm

4100

14.

Number of flue tubes

-

230 / 2291)

15.

Heating surface of flue tubes

m2

156.50 / 156.401)

16.

Number of smoke tubes

-

-

17.

Heating surface of smoke tubes

m2

-

18.

Evaporating surface, total

m2

168.70 / 168.402)

19.

Superheater heating surface

m2

-

20.

Diameter of drivers

mm

1960

21.

Diameter of idlers front/rear

mm

970 / 970

22.

Total weight, empty

kg

54 000 / 54 7002)

/ 55 0003)

23.

Total weight, working order

kg

67 800 / 68 3002)

24.

Weight on drivers, working order

kg

28 000

25.

Weight with tender, empty

kg

26.

Weight with tender, working order

kg

27.

Maximum axle load

T

14.0

28.

Axle base (with tender)

mm

13 896

29.

Overall length (with tender)

mm

16 998

30.

Brake type

-

Hardy
<![if !supportLists]>- <![endif]>308.13 through 45.
<![if !supportLists]>- <![endif]>308.13 through 27.
<![if !supportLists]>- <![endif]>308.28 through 45.
References and acknowledgments
<![if !supportLists]>- <![endif]>LP, KT, EZ vol. 1;
<![if !supportLists]>- <![endif]>www.pl.wikipedia.org;
<![if !supportLists]>- <![endif]>Triebfahrzeuge österreichischer Eisenbahnen: Dampflokomotiven BBÖ und ÖBB by Heribert Schröpfer (Alba, 2002).