<![if !vml]>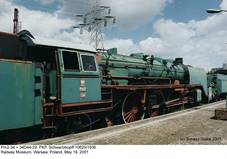 <![endif]>
Pm2-34, the only surviving example in Poland, displayed in the Railway Museum in Warsaw, May 19, 2001.
<![if !vml]>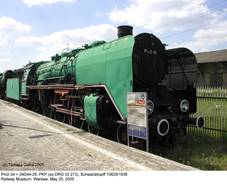 <![endif]>
Another picture of Pm2-34, taken on May 25, 2005...
<![if !vml]>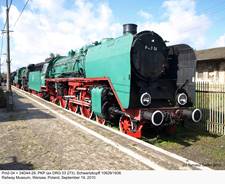 <![endif]>
...and yet another, taken on September 19, 2010.
<![if !vml]>

<![endif]>
Side drawing of Pm2 – early version (group 1) with German boiler accessories, class T32 tender (PKP class 32D2). Drawing by Krzysztof Wiśniewski, from KMD vol.2/2000…
<![if !vml]>

<![endif]>
 … and later variant (group 3) with self-acting parking brake, modified lighting and boiler accessories, class T34 tender (PKP class 34D44). Source: as above.
<![if !vml]>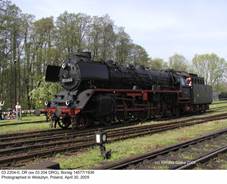 <![endif]>
On April 30, 2005, 03 2204-0 from Cottbus took part in the 'Steam Locomotive Parade' at Wolsztyn depot….
<![if !vml]>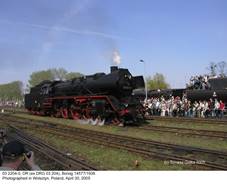 <![endif]>
…arising much interest. This machine has the modified boiler with feedwater heater.
<![if !vml]>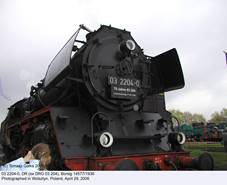 <![endif]>
03 2204-0 visited Wolsztyn again on April 29, 2006 – this time sporting a plate commemorating her 70th birthday!
<![if !vml]>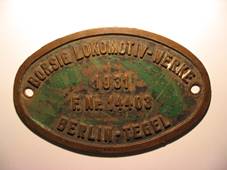 <![endif]>
Original manufacturer's plate from Pm2-3 (DRG 03 022, Borsig 14403/1931). Photo courtesy Derek Russell-Hill – thanks a lot!
<![if !vml]>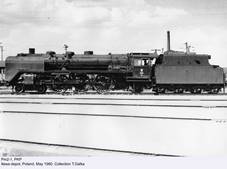 <![endif]>
Pm2-1 at the Iława depot, May 1960. Photo from my collection.
<![if !vml]>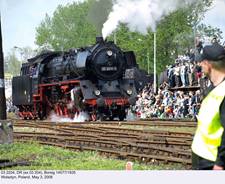 <![endif]>
Due to fire hazard, 03 2204-0 could not participate in the 2007 Show, but appeared the next year; photo taken on May 3.
<![if !vml]>

<![endif]>
Early experiments with streamlining: 03 154 (Borsig 14474/1934). Photo from my collection.
<![if !vml]>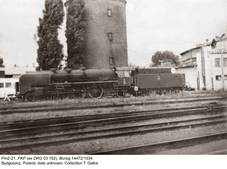 <![endif]>
This photo (unfortunately of poor quality) certainly shows a Pm2 – most probably Pm2-21, photographed in 1979 in Bydgoszcz. Photo from my collection.
<![if !vml]>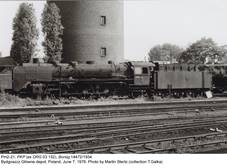 <![endif]>
Most probably this is the same engine: Pm2-21, photographed at the Bydgoszcz Główna depot on June 7, 1979. This locomotive, ex-03 152, was withdrawn in November 1978. Photo by Martin Stertz (from my collection).
<![if !vml]>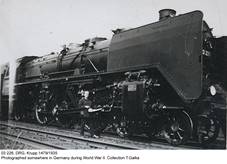 <![endif]>
A German railwayman poses by the 03 226 (Krupp 1479/1935), probably somewhere in Germany during WWII. This engine later went to DB and was withdrawn in December 1961. Photo from my collection.
<![if !vml]>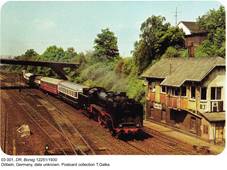 <![endif]>
Another locomotive from the DR fleet: 03 001 (Borsig 12251/1930), Döbeln, date unknown. This locomotive has been preserved in Dresden. Postcard from my collection. More pictures of Class 03 engines in the DR service can be found here.
<![if !vml]>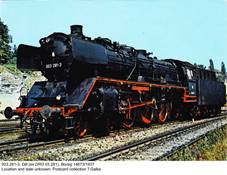 <![endif]>
003 281-3, DB (formerly 03 281), Borsig 14673/1937, withdrawn in December 1971. Postcard from my collection.
<![if !vml]>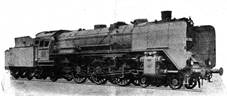 <![endif]>
03 002 (Borsig 12252/1930), location and date unknown. This engine remained with DR and was later re-numbered 03 2002-8; after a few years spent in the role of a stationary boiler, it was transferred to Prora in 2001 and is currently fitted with a streamlined fairing. Source: Die Lokomotive August 1931.
<![if !vml]>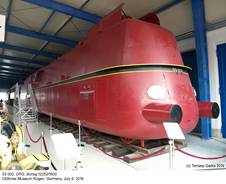 <![endif]>
03 002 with streamlined fairing, photographed in Prora on July 6, 2019.
<![if !vml]>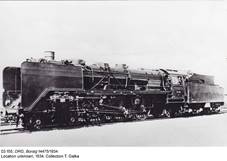 <![endif]>
DRG 03 155 (Borsig 14475/1934), location unknown, 1934. This engine was withdrawn from DR in November 1984 and sold to Eisenbahnmuseum Dieringhausen. Photo from my collection.
After merging all railways of former German Lands into Deutsche Reichsbahn Gesellschaft (DRG) in 1920, the obvious problem of rolling stock standardization emerged immediately. Of course, many old machines had to be kept in use, but it was decided that new ones should be built according to common standards. Determination of these standards was not an easy task, however: there were even discrepancies concerning some basic features, like maximum axle load. In order to eliminate such problems, Unification Bureau (Vereinheitlichungsbüro) was set up in 1922, which was destined to have a marked influence on German locomotive design.
Development was rapid and as early as in May 1922 it was decided to increase maximum axle load to 20 tonnes, in accordance with current projects of overall track quality improvement. Thus, first two normalized types were heavy express locomotives: class 01 with two-cylinder single-expansion engine, designed by Borsig, and class 02 with four-cylinder compound engine by Henschel. Apart from steam engines, they had very much in common. Both appeared in 1925 and underwent extensive service trials afterwards.
However, planned track upgrading had to be dramatically slowed down during the Great Crisis and this meant that new machines would be too heavy for many important lines. This brought about a need for a lighter and more universal express locomotive with axle load of about 17.5 tonnes. Design of such machine was based on previous heavier Pacifics and, due to normalization measures introduced earlier, progressed quite fast: decision was taken in March 1929 and prototype, based on the 01 and built also by Borsig, appeared after just sixteen months. New locomotive proved entirely successful and production started soon afterwards, to last until 1937, when 298 examples had been built by Borsig (116), Henschel (66), Krupp (52) and BMAG, former Schwartzkopff (64). Due to modifications introduced in series production, three groups can be distinguished:
<![if !supportLists]>- <![endif]>first group (03 001 through 03 122), corresponding to the prototype (from 03 004 onwards, cylinder diameter was reduced from 600 to 570 mm);
<![if !supportLists]>- <![endif]>second group (03 123 through 03 162) – different front idlers, brakes on rear idlers (maximum speed increased from 120 to 130 km/h), steel firebox, some items of equipment repositioned;
<![if !supportLists]>- <![endif]>third group (03 163 through 03 298) – improved brakes, front idlers of increased diameter, modified coupling between locomotive and tender.
Some of these improvements were retroactively introduced on earlier machines during overhauls. Modifications introduced in groups two and three resulted in a slight increase of axle load, to exceed 18 tonnes. Some sources state that from 03 123 onwards rated power was increased from 1750 to 1950 hp. There were also some experiments, intended to test new concepts. 03 175 had Lentz valve gear (successful, but troublesome in maintenance), 03 194 featured modified smokestack, 03 154 and 03 193 were streamlined. Experiments with streamlining eventually led to class 0310 (in post-war PKP service, Pm3), of which sixty examples were built; this locomotive is described under a separate entry.
03s dominated express trains in Germany and later also in occupied territories. They proved reliable and fast machines, able to maintain high speed with drafts up to about 400 tonnes (in fact, 130 km/h was often exceeded in everyday service). After WWII, DB railways were left with 145 examples, which remained in use until 1972; many of them, if not all, had large Wagner smoke lifters replaced by smaller, Witte-type ones. DR railways had 78 examples; 52 of them were from 1969 fitted with modified boilers with feedwater heaters. Last were withdrawn from active service in 1982. Several 03s were in 1945 captured by the Soviets; of these, 29 were rebuilt for the 1524 mm track and impressed into SZD service as class TS (TC in Russian script; this class designation applied also to ex-DRG 0310s). Of their subsequent fate I have no detailed information. Most of them served in Lithuania and last were withdrawn in 1957. Most probably none has survived until today.
After WWII, Poland took over 36 machines of this class. All but two were given class designation Pm2 in 1946; of these, Pm2-1 through Pm2-18 belonged to the first group, Pm2-19 through Pm2-21 to the second and the rest to the third. One machine (Krupp 1572/1936, ex 03 253), despite having been designated Pm2-35, was never restored in service and finally written off in January 1948. According to Polish sources, another one (Henschel 22014/1931, ex 03 040) was never rebuilt and was written off in 1946; however, according www.lokomotive.de, this particular example went to the USSR and served there until 1952. Pm2-35 designation was used again in 1951, this time for the Pm1-1. This engine had been previously identified as belonging to DRG class 01 (hence designation), but in fact it was DRG 03 027 (Borsig 14408/1931). As no more 01s were taken over by PKP, there was in fact no class Pm1 as such. In PKP service some modifications were introduced. Knorr feedwater pumps and heaters were supplanted by Metcalfe-Friedmann exhaust steam injectors, idlers brakes were removed and fireboxes were modified to improve water circulation. Self-acting parking brakes were fitted from 1960 onwards; electric installation and lighting were also modified. These modern and comparatively new machines gave good service, sometimes hauling drafts much heavier than originally planned and maintaining high speed. They survived for quite long time. Only three – excluding those mentioned above – were written off before 1970. However, all remaining disappeared from PKP roster before the end of 1978.
Pm2-34 (BMAG 10629/1936, ex 03 273) has been preserved in Bydgoszcz, where it served for a long time. It was later transferred to the Railway Museum in Warsaw and still can be seen there. According to various Internet sources, nine machines have been preserved in Germany, namely:
<![if !supportLists]>- <![endif]>03 001, Borsig 12251/1930 (Dresden), in working order,
<![if !supportLists]>- <![endif]>03 002, Borsig 12252/1930 (Prora),
<![if !supportLists]>- <![endif]>03 098, Borsig 14449/1933 (Speyer),
<![if !supportLists]>- <![endif]>03 131, Henschel 22211/1933 (Deutsche Dampflokmuseum, Neuenmarkt),
<![if !supportLists]>- <![endif]>03 155, Borsig 14475/1934 (Dieringhausen),
<![if !supportLists]>- <![endif]>03 188, BMAG 10329/1935 (Kirchheim/Teck, plinthed),
<![if !supportLists]>- <![endif]>03 204, Borsig 14577/1936, post-war DR modified variant re-numbered 03 2204-0 and withdrawn in 1979 (initially plinthed in Cottbus, in 1993 transferred to Lausitzer Dampflokclub and restored to working order),
<![if !supportLists]>- <![endif]>03 243, Borsig 14622/1936 (Meiningen, probably private property),
<![if !supportLists]>- <![endif]>03 295, Borsig 14692/1937, post-war DR modified variant re-numbered 02 2295-8 (Bayerisches Eisenbahnmuseum, Nördlingen); this engine, based in Munich, is in working order.
Main technical data
No.

Parameter

Unit

Value

1.

Years of manufacture

-

1931 – 1938

2.

Total built / used in Poland

-

298 / 363)

3.

Tender class

-

32D3, 34D44

4.

Axle arrangement

-

2-3-1

5.

Design maximum speed

km/h

120 (1302))

6.

Cylinder bore

mm

2 X 5705)

7.

Piston stroke

mm

660

8.

Engine rating

kW/hp

1287 / 1750

1434 / 19502)

9.

Tractive effort

kG

11 100

10.

Boiler pressure

MPa

1.63

11.

Grate dimensions

m X m

2.60 X 1.56

12.

Firebox heating surface

m2

16.1

13.

Distance between tube plates

mm

6 800

14.

Number of flue tubes

-

84

15.

Heating surface of flue tubes

m2

113.0

16.

Number of smoke tubes

-

20

17.

Heating surface of smoke tubes

m2

69.62

18.

Evaporating surface, total

m2

198.72

19.

Superheater heating surface

m2

71.5

20.

Diameter of drivers

mm

2000

21.

Diameter of idlers front/rear

mm

8501) / 1250

22.

Total weight, empty

kg

90 400 

(91 0002))

23.

Total weight, working order

kg

99 600

(100 300)

24.

Weight on drivers, working order

kg

53 000

25.

Weight with tender, empty

kg

123 900,

124 5002)

120 9004)

26.

Weight with tender, working order

kg

175 100

175 8002)

174 5004)

27.

Maximum axle load

T

17.7

28.

Axle base (with tender)

mm

20 225

29.

Overall length (with tender)

mm

23 905

30.

Brake type

-

Knorr
<![if !supportLists]>1) <![endif]>From 03 163 (Pm2-22 with PKP) – 1000 mm.
<![if !supportLists]>2) <![endif]>From 03 123 (Pm2-19 with PKP).
<![if !supportLists]>3) <![endif]>Including two never impressed into service (one without PKP service number).
<![if !supportLists]>4) <![endif]>From 03 163 (Pm2-22 with PKP).
<![if !supportLists]>5) <![endif]>Initially 600 mm in first three machines.
Note: some sources give slightly different heating surfaces, i.e. total heating surface of 202.22 m2 (203.65 m2 from 03 163), superheater surface 70.0 / 72.2 m2, respectively. This may refer to various manufacturers.
References and acknowledgments
<![if !supportLists]>- <![endif]>Monographic article by Roman Witkowski (SK vol. 1/2001);
<![if !supportLists]>- <![endif]>TB vol.1;
<![if !supportLists]>- <![endif]>KMD vol. 2/2000.
<![if !supportLists]>- <![endif]>www.lokomotive.de (Ingo Hütter's locomotive database).