<![if !vml]>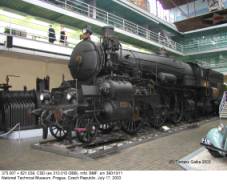 <![endif]>
Czechoslovak 375.007 in National Technical Museum, Praha, Czech Republic. July 17, 2003.
<![if !vml]>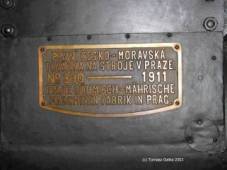 <![endif]>
Manufacturer's plate of the 375.007.
<![if !vml]>

<![endif]>
Class 310 drawing from EZ vol.2
<![if !vml]>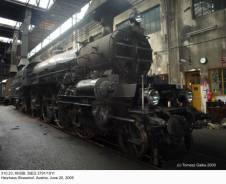 <![endif]>
I hope that these two pictures, taken on June 20, 2009, at the Heizhaus Strasshof, explain why 310 is perhaps the most beautiful steam locomotive ever built.
<![if !vml]>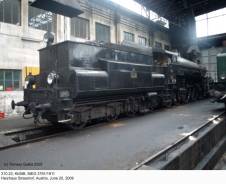 <![endif]>
310.23 (StEG 3791/1911) is operational, but rides only on special occasions. I hope I'll be there in the right time!
<![if !vml]>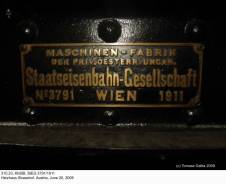 <![endif]>
Manufacturer's plate of the 310.23.
<![if !vml]>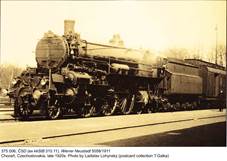 <![endif]>
Czechoslovakian 375.006 (former kkStB 310.11, Wiener Neustadt 5058/1911), photographed in Choceň in late 1920s. This engine was withdrawn in March 1949. Photo by Ladislav Lochynský (postcard from my collection).
<![if !vml]>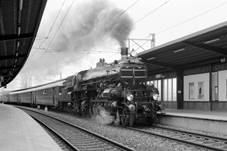 <![endif]>
310.23 with a special Christmas train, photographed at the Wien Traissengasse station on December 24, 1995. Photo by Herbert Ortner, source: www.commons.wikimedia.org. Great view!
Development of steam locomotives in Austro-Hungary was influenced by two important factors: poor quality of many tracks and low calorific value of domestic hard coal. The former implied that axle load should not exceed 14.5 tonne; the latter called for large fireboxes, in order to achieve sufficient steam flow and parameters. These factors influenced the so-called Austrian school of locomotive design. Many achievements of this school are connected with the name of Karl Gölsdorf (1861-1916).
During the last decade of the XIXth century there was a considerable tendency to increase speed and quality of passenger trains, which resulted in many new designs. Austro-Hungarian state railways (Kaiserlich-königliche österreichische Staatsbahnen – KkStB) were no exception, although the above-mentioned factors resulted in rather specific features. These were clearly seen in the first standard express locomotive used by this service, designated class 6. Designed by Gölsdorf, it went into production at three factories in 1894 and during next four years 68 examples were built. This machine had elevated boiler and large drivers (2140 mm in diameter), which provided space for a huge firebox. Despite quite good performance, class 6, with two driven axles, soon became obsolete. It was developed further, into classes 106 (126 examples), 206 (89 examples) and 306 (only five); while retaining the same axle arrangement (2-2-0), 2140 mm drivers and general layout, they differed considerably, but soon it became evident that more powerful machines were necessary. It was not possible to maintain low axle load while substantially increasing boiler size and capacity with the 2-2-0 arrangement, so new designs concepts were tried: class 9 (2-3-0), class 108 (2-2-1), class 110 (1-3-1) and class 280 (1-5-0).
In 1906, Gölsdorf began to design a new express locomotive, intended to haul trains of overall weight 400 tonnes on a 10‰ gradient track at 60 km/h. He decided to place the firebox behind the drivers, in order to match the 'wagon-top' boiler of peculiar shape and large firebox with 2140 mm drivers. For that purpose, he reverted the 2-3-1 axle arrangement (then widely used in the USA and known there as Pacific).  Rear truck, with two small idle axes, could absorb the weight of the large firebox without excessive axle load. This arrangement, later named Adriatic, was never used again in a tender locomotive (it was featured in five tank engines, rebuilt in Czechoslovakia from class 354.0, ex KkStB class 229, in 1936 and re-classed 353.1, and in two DB class 66 tank engines of 1950).  Experiments with two rear idle axes, however, continued in some countries for quite a long time. Very characteristic boiler shape, large drivers and unique axle arrangement combined to give a peculiar silhouette. Even today, many fans (including myself) consider this machine one of the most beautiful steam locomotives ever built – an almost perfect blend of grace and power – while other (few!) describe it as simply awkward. De gustibus non est disputandum...
New locomotive, in line with Gölsdorf's preference to compounds, was fitted with a four-cylinder compund steam engine. It went into production for KkStB as class 210 in 1908. Gölsdorf did not decide to introduce steam reheat, as he was afraid that high-grade oil, necessary for lubrication with high steam temperature, would be in short supply in Austria-Hungary. Steam dryer of the Gölsdorf-Clench type was installed in the smoke box, but this layout did not prove satisfactory. In the end, advantages of reheat prevailed. Only eleven class 210 machines had been built (six by Floridsdorf and five by BMF – the latter factory is also known as PČM, this abbreviation being derived from its Czech name) before production switched to class 310 with steam reheat in 1911. The latter machine could be easily distinguished by longer smoke box, but otherwise was very similar. Ninety machines were built between 1911 and 1916 (Floridsdorf – 22, BMF – 14, Wiener Neustadt – 19, StEG – 32, Breitfeld Danĕk – 3). They were followed in 1918 by ten engines from Floridsdorf with Brotan-type boilers (in order to save copper, then in short supply); the latter were, however, never impressed into service, as during wartime there was little need for them. Production ended with the disintegration of Austro-Hungary in 1918. It should be said that, despite beautiful appearance, these locomotives were not entirely satisfactory. Fuel consumption was higher than expected and design speed and tractive effort values were not met. Increased boiler pressure (from 310.29 onwards) gave little improvement. These shortcomings were in part due to both high-pressure and low-pressure cylinders on each side being served by a single piston valve, which reduced weight and simplified the design, but deteriorated performance at high speed.
During WWI, two class 210 machines briefly served in Ukraine and later were captured by the Russians, but their final fate is unknown; they are not listed in Rakov's monograph on Russian and Soviet locomotives (LOZD), although some sources report they were used for some time and perhaps even given Russian designations. The rest survived until 1918 and, after prolonged negotiations, were divided between Austria, Czechoslovakia and Poland. Austrian state railways ÖBB kept 43 class 310 engines; only three were withdrawn before the Anschluss. Czechoslovak railways took over 35 class 310 machines, designating them class 375; one was lost in an accident in 1928. Their modernizations included fitting Friedmann-type injectors and modified, flat smoke box doors. Furthermore, seven locomotives with Brotan-type boiler were sold directly to Prussian railways, to become class S11. In one source I found information that several 310s were taken over by Hungary and Yugoslavia, to become classes 328.5 and 08, respectively; this is not true, as these were different 2-3-0 machines built after WWI.
Poland took over all nine remaining class 210s (designating them Pn11) and twelve class 310s, which became class Pn12. Furthermore, three machines with Brotan-type boilers were purchased directly from the manufacturer in 1919. In 1922, all Prussian S11s were also handed over to Poland (in accordance with international agreements on Upper Silesia); older sources give that they were purchased in Germany. Total number of ex-class 310s in Poland was thus 22. Ex-Austrian locomotives impressed into the PKP service after 1922, when final agreements had been signed, were usually in bad condition and many classes were represented by single examples. Among such motley collection, Pn11s and Pn12s were considered relatively modern and valuable. They were used mainly in southern and later eastern Poland, at first with express trains. With mounting supplies of Os24s and later Pt31s they were shifted to less prominent routes, but hauled light express trains until 1939 (except for Pn12-3, crashed and written off in 1931). Pn11s were later modified and fitted with steam superheaters, but it is not clear if this was completed before WWII. Although they became similar to Pn12s, their designation remained unchanged.
In 1939, Germans took over three Pn11s and four Pn12s; the rest fell into Soviet hands, but they were not rebuilt for the 1524 mm track and were captured by Germans in 1941 with the exception of Pn11-1 and Pn11-4 (their fate remains unknown). Together with ex-Austrian class 310s, they received DRG designation class 16. Quite logically, they were used mainly in Austria; it is reported they performed quite well, but were difficult to maintain (due to four-cylinder compound steam engines) and rather uneconomical.
After 1945, Czechoslovak railways kept their class 375s in use until 1954. In Austria, only five machines were restored into service for a short time, the last one being withdrawn in 1952. Sixteen machines returned to Poland (six Pn11s and ten Pn12s), but their condition was very bad. Despite being allocated new serial numbers, none of them was restored in service and all were subsequently written off until 1950. Unfortunately, all Polish machines were scrapped, so there are now only two surviving examples of Gölsdorf's most famous design: 375.007 (formerly 310.15, BMF 390/1911) in the Technical Museum in Prague and 310.23 (StEG 3791/1911) in Heizhaus Strasshof – the latter in working order and sometimes still used with special trains.
Locomotives with two rear idle axes never enjoyed much favor in Europe and – apart from these unique Austrian machines – this layout was used mainly in experimental designs, like Bavarian record-breaking S2/6 of 1906 (2-2-2). On the contrary, it found quite widespread use in North America, both in heavy freight machines (1-4-2 or Berkshire – 611 examples and 1-5-2 or Texas – 429 examples) and in lighter ones of more universal type (2-2-2 or Jubilee­ – 30 examples, 2-3-2 or Hudson – 487 examples and 2-4-2 or Northern – 1115 examples; these figures have been taken from Guide to North American Steam Locomotives by George H.Drury). The reason was the same as with the Adriatics – sufficient steam generation with not necessarily high-grade coal.
Main technical data
No.

Parameter

Unit

Value

1.

Years of manufacture

-

1911 – 1918

2.

Total built / used in Poland

-

90 / 22 – 101)

3.

Tender class

-

21D11 (27D112))

4.

Axle arrangement

-

1-3-2

5.

Design maximum speed

km/h

100

6.

Cylinder bore

mm

2 X 390 /

2 X 6604)

7.

Piston stroke

mm

720

8.

Engine rating

kW/hp

1324 / 1800

9.

Tractive force

kG

9 400

10.

Boiler pressure

MPa

1.53 (1.63)3)

11.

Grate dimensions

m X m

4.62 m2

12.

Firebox heating surface

m2

15.1 (16.39)2)

13.

Distance between tube plates

mm

5 150

14.

Number of flue tubes

-

170

15.

Heating surface of flue tubes

m2

197.8

16.

Number of smoke tubes

-

24

17.

Heating surface of smoke tubes

m2

18.

Evaporating surface, total

m2

212.9 (200.9)5)

19.

Superheater heating surface

m2

43.4

20.

Diameter of drivers

mm

21006)

21.

Diameter of idlers front/rear

mm

995 / 995

22.

Total weight, empty

kg

79 200 (77 300)2)

23.

Total weight, working order

kg

86 000 (84 820)2)

24.

Weight on drivers, working order

kg

44 100 (44 560)2)

25.

Weight with tender, empty

kg

102 100

(100 200)2)

26.

Weight with tender, working order

kg

138 600

(129 900)2)

27.

Maximum axle load

T

14.7 (14.9)2)

28.

Axle base (with tender)

mm

18 236

29.

Overall length (with tender)

mm

21 386

30.

Brake type

-

Hardy / Westinghouse
<![if !supportLists]>1)

<![endif]>
Three erroneously designated as Pn11s.
<![if !supportLists]>2) <![endif]>Data in brackets for machines with Brotan-type boilers. Weight data quoted after KT vol. 1; data given in various references differ at least by a few percent.
<![if !supportLists]>3) <![endif]>From 310.29 onwards (from Pn12–6 before WWII).
<![if !supportLists]>4) <![endif]>Some sources give 650 mm, which is probably an error.
<![if !supportLists]>5) <![endif]>Less reliable sources give 195.1 m2
<![if !supportLists]>6) <![endif]>Some sources give 2140 mm, due to different standards used by KkStB.
References and acknowledgments
<![if !supportLists]>- <![endif]>Monographic article by Paweł Terczyński (SK vol. 1/2003);
<![if !supportLists]>- <![endif]>KT vol. 1, LP, EZ vol. 2;
<![if !supportLists]>- <![endif]>Dieter Zoubek (www.dampflok.at, also private communication – thanks a lot!);
<![if !supportLists]>- <![endif]>www.pospichal.net/lokstatistik (website by Josef Pospichal).