<![if !vml]>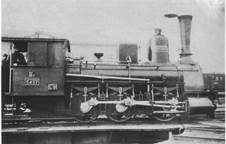 <![endif]>
KkStB 5437, ex MGB 332, Wiener Neustadt 2987/1885. Location unknown, probably before 1900. Source: www.commons.wikimedia.org. This engine later went to PKP, but its service number is unknown.
<![if !vml]>

<![endif]>
Side drawing of the ČSD class 313.1 with class 309.0 tender. Source: EZ vol. 1.
<![if !vml]>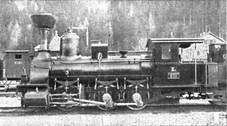 <![endif]>
KkStB 5111 (WLF 265/1879), location and date unknown. Originally built for K.k. Staatsbahn Tarvis-Pontafel and numbered 200, this engine was later re-numbered  5441 and then 54.41. After the war taken over by PKP, service number unknown (withdrawn before 1931). Source: Die Lokomotive March 1930.
<![if !vml]>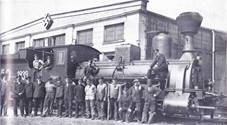 <![endif]>
ČSD 324.362 (ex Buschtěhrader Eisenbahn 243, Wiener Neustadt 4196/1899) already taken over by DRG, but still with ČSD number. Re-numbered 53 7532, it was returned after the war and went to industry in Septeember 1952. Photo taken in Obernitz, probably in 1939. A single locomotive of this type became Th17-1 for a short time after WWII. Source: Eisenbahnen im Sudetenland (see References).
After WWI Polish state railways PKP received considerable number of Austrian light freight locomotives with the 0-3-0 axle arrangements, many of them previously operated by various private railways. These mostly elderly and weak engines were suitable only for secondary lines and quickly disappeared from the company's rosters. Initially they retained their original service numbers. In accordance with the new system, which came into use in 1926, they were assigned class designations in the range from Th11 to Th24. In several cases assignment of individual designations to locomotive types is not known, as they were represented by few examples and soon withdrawn due to obsolescence. One of the most numerous was the Kaiserlich-königliche österreichische Staatsbahnen (KkStB) class 54, which became PKP class Th17.
In fact class 54 comprised locomotives initially built for as many as five operators. Its design was based on that of the Kaiser Ferdinands-Nordbahn class Vd (later KkStB class 51). The first customer was Mährisch-Schlesische Centralbahn (MSCB), which commenced operation in 1872. This company received fourteen examples, built by WLF (Floridsdorf) in 1872 and 1873 and numbered 1 through 14. In 1895 MSCB was nationalized and these engines became KkStB 5450 through 5463, later 54.50 through 54.63. In 1873 Kronprinz Rudolfs-Bahn (KRB) received six locomotives, also from WLF, plus one more in 1877. They were numbered 130 through 142 (only even numbers) and after nationalization in 1884 became KkStB 5104 through 5110, later 5441 through 5447 and finally 54.41 through 54.47. Next two numbers were assigned to engines operated by K.k. Staatsbahn Tarvis-Pontafe, built by WLF in 1879 and initially numbered 200 and 202. In 1884 Galizische Transversalbahn took delivery of 36 locomotives, numbered 1111 through 1144, 1147 and 1148, built by WLF (20), Wiener Neustadt (six) and Borsig (ten). Later they were re-numbered 5401 through 5436, then 54.01 through 54.36. Finally in 1885 Wiener Neustadt built two more engines for this operator (1151 and 1152, then 5439 and 5440, finally 54.39 and 54.40) and two for Mährische Grenzbahn (MGB), nationalized in 1895 (332 and 333, then 5437 and 5438, finally 54.37 and 54.38). This gives the total of 63 examples. Locomotives built for various operators differed in certain details; basically three variants can be distinguished. All were given individual names. They were coupled with a variety of two- or three-axle tenders.
PKP took over most of these already obsolete locomotives: all but one from Galizische Transversalbahn (which ran within new Polish borders), all but two from MSBC, four from KRB, both from MGB and one from K.k. Staatsbahn Tarvis-Pontafe, which makes 55 examples. Czechoslovakian railways ČSD received five, classed 313.1; of these, 313.102 (WLF 126/1873), former KRB 138 'Steg', then 54.45, survived until 1948 as the last engine of this type in use. BBÖ kept only 54.51, former MSCB 2 (WLF 59/1872), withdrawn in 1925. Single examples went to Romanian CFR (withdrawn before 1934) and Italian FS (217.001, withdrawn in 1923). According to KT, all Polish engines were written off before 1924. However, official list of locomotive types, issued by the Ministry of Transport in 1927, gives 22 examples still in service. They were withdrawn before 1931 and assignment of PKP service numbers to individual examples is unknown. No locomotive of this type has been preserved.
After WWII designation Th17-1 was assigned to ex-DRG 53 7405. This engine was originally built for Buschtěhrader Eisenbahn by Wiener Neustadt (s/n 3393/1890) and later became ČSD 324.316. It was impressed into DRG in 1939 and withdrawn in 1943. It is doubtful if it ever saw any use with PKP.
Main technical data
No.

Parameter

Unit

Value

1.

Years of manufacture

-

1872 – 1885

2.

Total built / used in Poland

-

63 / 55

3.

Tender class

-

9C13

4.

Axle arrangement

-

0-3-0

5.

Design maximum speed

km/h

45

6.

Cylinder bore

mm

445

7.

Piston stroke

mm

632

8.

Engine rating

kW/hp

9.

Tractive effort

kG

8 300

10.

Boiler pressure

MPa

1.02

11.

Grate dimensions

m x m

1.85 m2 1)2)

1.8 m2 3)

12.

Firebox heating surface

m2

8.81)

8.62)

11.03

13.

Distance between tube plates

mm

4 128

14.

Number of flue tubes

-

2001)

1862)

2013)

15.

Heating surface of flue tubes

m2

132.21)

124.52)

133.03)

16.

Number of smoke tubes

-

-

17.

Heating surface of smoke tubes

m2

-

18.

Evaporating surface, total

m2

141.01)

133.12)

144.03)

19.

Superheater heating surface

m2

-

20.

Diameter of drivers

mm

1075

21.

Diameter of idlers front/rear

mm

- / -

22.

Total weight, empty

kg

35 100

23.

Total weight, working order

kg

39 000

24.

Weight on drivers, working order

kg

39 000

25.

Weight with tender, empty

kg

47 1004)

26.

Weight with tender, working order

kg

64 0004)

27.

Maximum axle load

T

13.2

28.

Axle base (with tender)

mm

10 3854)

29.

Overall length (with tender)

mm

14 5654)

30.

Brake type

-

Hand / Hardy
<![if !supportLists]>1) <![endif]>KkStB 54.01 through 40 and 54.60.
<![if !supportLists]>2) <![endif]>KkStB 54.41 through 49.
<![if !supportLists]>3) <![endif]>KkStB 54.50 through 59 and 54.61 through 63.
<![if !supportLists]>4) <![endif]>Weights and dimensions with the class 9C13 (KkStB class 12) tender.
References and acknowledgments
<![if !supportLists]>- <![endif]>www.pospichal.net/lokstatistik (website by Josef Pospichal);
<![if !supportLists]>- <![endif]>www.lokomotive.de/lokomotivgeschichte/datenbank (Ingo Hütter's database);
<![if !supportLists]>- <![endif]>TK vol. 2, LP, EZ vol. 1, ITFR;
<![if !supportLists]>- <![endif]>Eisenbahnen im Sudetenland by Siegfried Bufe and Heribert Schröpfer (Eisenbahn-Kurier e. V., 1975).