<![if !vml]>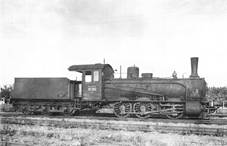 <![endif]>
DRG 53 7002 (Henschel 4678/1897), previously KPEV Magdeburg 3873. Sold to Braunschweigische Landes-Eisenbahn in 1922, it was acquired by DRG in 1938 and withdrawn before 1941. Source: Lokomotiven der alten deutschen Staats- und Privatbahnen by Hermann Maey and Erhard Born (Transpress, 1983).
<![if !vml]>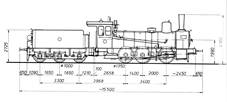 <![endif]>
Side drawing of the G42; source: Lokomotiv-Archiv Preußen Band 2 (see References).
<![if !vml]>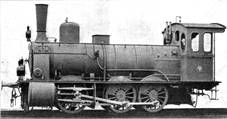 <![endif]>
KPEV Bromberg 1038 (Hanomag 1987/1888). This locomotive remained in Germany and was written off before 1925. Source: Die Lokomotive April 1910 via www.de.wikipedia.org.
From 1877 onwards various Prussian railway companies, both private and state-owned, took delivery of three-axle freight locomotives, later classed G3 and G41. Later they were also ordered by newly-formed state railways Königlich Preußische Eisenbahnverwaltung (KPEV), remaining in production until 1901. They ran on saturated steam and were fitted with single-expansion steam engines. In 1882 Henschel built two prototypes (s/n 1410 and 1411) of a compound version. Accepted by KPEV as Hannover 544 and 545, these locomotives underwent service tests and proved superior to their predecessors in terms of economy and tractive effort. Ordered in quantity with slightly modified boilers, they were built by nine manufacturers: Borsig, BMAG, Grafenstaden, Hanomag, Henschel, Hohenzollern, Schichau, Union and Vulcan. Despite better performance, this type never supplanted the single-expansion variant and actually enjoyed a shorter production run, last examples being built in 1899. In 1903 they were classed G42. KPEV took delivery of 774 examples; five were ordered by Werrabahn, four by Ostpreußische Südbahn (both later absorbed by KPEV) and one by Königlich Preußische Militär-Eisenbahn. Between 1901 and 1905 Großherzogliche Mecklenburgische Friedrich-Franz-Eisenbahn took delivery of five G42s. Similar engines were built for Reichseisenbahnen in Elsaß-Lothringen (93, in several versions), Großherzogliche Oldenburgische Staatseisenbahnen (27) and  Lübeck-Büchener Eisenbahn (two).
Initially Prussian G41s had steam domes located on the second boiler shell ring. Later it was relocated to the first ring; this was accompanied by boiler modification (larger smokebox) and extended cab roof. Third and final production variant had its steam dome further relocated, this time to the third boiler shell ring. All G42s were coupled with three-axle 3T10,5 or larger 3T12 tenders.
Appearance of more powerful classes G5 and G7 and later introduction of steam superheating rendered these locomotives obsolete. Some were sold to various private railways. Although in 1923 newly-formed state railways DRG envisaged re-numbering of as many as 296 examples, only 25 were actually classed 530; this number includes a single example from Reichseisenbahnen in Elsaß-Lothringen, which became 53 025. Class 530 included also three similar locomotives from Oldenburg, which became 53 1001 through 1003. All were withdrawn until 1930. With the absorption of Braunschweigische Landes-Eisenbahn by DRG in 1938, four 'new' G42s entered the company's rosters as 53 7001 through 7004. One of them, 53 7001, even managed to survive WWII and was written off in September 1946.
Polish state railways received considerable number of G42s. According to LP, some sources give 109 examples, while other (including the report of so-called Tanaka Commission, which supervised reparations) give 119. The latter seems more probable: in 1926 these locomotives were classed Th3 and numbers up to Th3-103 plus Th3-1Dz through 8Dz are known (Dz stood for 'Danzig', or Gdańsk). Assignment of service numbers to individual examples remains unknown. Most engines of this type were still in use in 1927, but disappeared from company's rosters before 1936. 24 were written off between 1936 and 1939. Seven fell into German hands in September 1939; five were impressed into DRG as 53 7701 through 7705, one was written off in February 1940 and one was erroneously designated 53 7005 (taken for a Th1). Two were taken over by NKPS and later also became German war booty: Th3-85 was re-designated 53 7706 and Th3-39 remained with Ostbahn, retaining its original number. After the war the former was returned and re-numbered Th3-1, but it saw little service, if any, and was written off in September 1948. Th3-102 (53 7705) was returned by DR in December 1955 and scrapped. No locomotive of this type has been preserved.
Main technical data
No.

Parameter

Unit

Value

1.

Years of manufacture

-

1882 – 1905 

2.

Total built / used in Poland

-

7831) / 119

3.

Tender class

-

11C1

4.

Axle arrangement

-

0-3-0

5.

Design maximum speed

km/h

55

6.

Cylinder bore

mm

460 / 650

7.

Piston stroke

mm

630

8.

Engine rating

kW/hp

9.

Tractive effort

kG

10.

Boiler pressure

MPa

1.22

11.

Grate dimensions

m X m

1.53 m2

12.

Firebox heating surface

m2

7.8

13.

Distance between tube plates

mm

4 450

14.

Number of flue tubes

-

1812) / 1623)

15.

Heating surface of flue tubes

m2

113.82) 108.23)

16.

Number of smoke tubes

-

-

17.

Heating surface of smoke tubes

m2

-

18.

Evaporating surface, total

m2

121.52) 116.03)

19.

Superheater heating surface

m2

-

20.

Diameter of drivers

mm

13302) / 13403)

21.

Diameter of idlers front/rear

mm

- / -

22.

Total weight, empty

kg

35 6002) /

35 0003)

23.

Total weight, working order

kg

41 0002) /

40 4003)

24.

Weight on drivers, working order

kg

41 0002) /

40 4003)

25.

Weight with tender, empty

kg

49 6002) /

49 0003)

26.

Weight with tender, working order

kg

69 5002) /

68 9003)

27.

Maximum axle load

T

13.72) / 13.53)

28.

Axle base (with tender)

mm

10 668

29.

Overall length (with tender)

mm

15 1314) /

15 5005)

30.

Brake type

-

hand / Knorr / Westinghouse
<![if !supportLists]>1)

<![endif]>
KPEV
only
.
<![if !supportLists]>2) <![endif]>Prototypes.
<![if !supportLists]>3) <![endif]>Production examples.
<![if !supportLists]>4) <![endif]>First production version.
<![if !supportLists]>5) <![endif]>Second and third production versions.
References and acknowledgments
<![if !supportLists]>- <![endif]>www.lokomotive.de/lokomotivgeschichte/datenbank (Ingo Hütter's database);
<![if !supportLists]>- <![endif]>LP, TB vol. 2;
<![if !supportLists]>- <![endif]>www.de.wikipedia.org;
<![if !supportLists]>- <![endif]>Lokomotiv-Archiv Preußen Band 2 by Andreas Wagner (Bechtermünz Verlag, 1996).