<![if !vml]>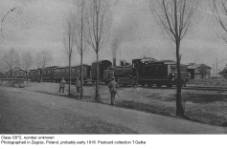 <![endif]>
An old postcard, depicting an unknown G52, photographed in Zegrze near Warsaw (at that time a military establishment), probably in early 1918. From my collection.
<![if !vml]>

<![endif]>
Side drawing of the G52, © Lokomotiv-Revue (source: TB vol. 1).
<![if !vml]>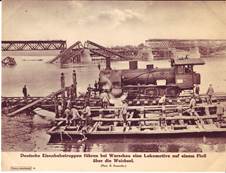 <![endif]>
This locomotive is probably a G52 used by German army, photographed in Warsaw in 1915. Photo by R. Seennecke (source: www.commons.wikimedia.org).
<![if !vml]>

<![endif]>
KPEV Halle 1222 (Borsig 4861/1900); I have no information on the ultimate gate of this engine. Source: Die Lokomotive April 1910 via www.de.wikipedia.org.
<![if !vml]>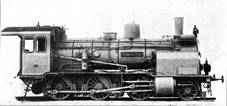 <![endif]>
No. 905 'Kautenbach' (class C32) of Reichseisenbahn Elsaß-Lothringen (Schwartzkopff 3251/1903), probably a factory photo. This locomotive was later re-numbered 1456, then 4056; transferred to KPEV after the war, it became Stettin 4056 and, finally, with DRG, 54 369. Withdrawal date is unknown. Source: Die Lokomotive April 1910.
First Prussian (and European) freight locomotive with the 1-3-0 axle arrangement, later classed G51, fitted with the single-expansion steam engine, was built in 268 examples between 1892 and 1902. Despite the appearance of the first freighter with four coupled axles – later classed G71 – as early as in 1893, development of freight Moguls for KPEV continued. In 1895 Hanomag proposed a compound version, which was accepted and soon ordered in quantity. Boiler remained almost unchanged, but steam pressure was increased from 10 to 12 bar. New engine, externally almost identical with its predecessor, was slightly longer and heavier.
Between 1895 and 1901 Prussian state railways KPEV received 499 examples, classed G52, from BMAG, Borsig, Grafenstaden, Hanomag, Henschel and Schichau. Further 215 examples were built until 1908 for Reichseisenbahn Elsaß-Lothringen of then-German Alsace and Lorraine; of these five were taken over by Mecklemburgische Staatsbahn in 1920. Typically all G52s were coupled with three-axle 3T12 tenders. During WWI these rather elderly engines proved unexpectedly necessary for service in the East, where their moderate axle load was a great advantage, and many were transferred eastwards. After the war, 187 Prussian G52s were taken over by foreign railway managements, the largest numbers going to Poland (76) and France (57 – excluding those previously used by the railways of Alsace and Lorraine). German railways were left with 317 examples, of which only 186 were given new service numbers (DRG class 542-3) in 1925. Most were withdrawn in early 1930s. Ex-Polish engines, captured during WWII, were numbered 54 701 through 723.
In Poland these locomotives were classed Ti2; the highest known service number is Ti2-74, so most probably two had been withdrawn before new designation system was introduced. Withdrawals started in mid-1930s and until the outbreak of WWII 31 examples had been written off. As these locomotives were assigned mainly to regional managements in Eastern Poland, in September 1939 as many as 38 fell into Soviet hands (plus three withdrawn in February 1939). Later 27 of them were captured by Germans and impressed into DRG or Ostbahn; some other were handed over to railway construction enterprises, as they were too weak for line service. Immediately after the war fifteen ex-PKP Ti2s were returned, but only seven were given new service numbers; they remained in use until early 1950s, the last one (Schichau 992/1899, ex KPEV Kattowitz 4190) being withdrawn in July 1954. Eight saw no service and were formally written off in February 1946. Further seven examples, returned by DR in late 1955, all in a very poor condition, were scrapped. As far as I know, not a single G52 has survived until today.
Main technical data
| | | | |
| --- | --- | --- | --- |
| No. | Parameter | Unit | Value |
| 1. | Years of manufacture | - | 1895 –1908  |
| 2. | Total built / used in Poland | - | 714 / 74 |
| 3. | Tender class | - | 12C1 |
| 4. | Axle arrangement | - | 1-3-0 |
| 5. | Design maximum speed | km/h | 65 |
| 6. | Cylinder bore | mm | 480 / 680 |
| 7. | Piston stroke | mm | 630 |
| 8. | Engine rating | kW/hp | |
| 9. | Tractive effort | kG | 8 100 |
| 10. | Boiler pressure | MPa | 1.22 |
| 11. | Grate dimensions | m X m | 2.25 m2 |
| 12. | Firebox heating surface | m2 | |
| 13. | Distance between tube plates | mm | |
| 14. | Number of flue tubes | - | |
| 15. | Heating surface of flue tubes | m2 | |
| 16. | Number of smoke tubes | - | - |
| 17. | Heating surface of smoke tubes | m2 | - |
| 18. | Evaporating surface, total | m2 | 137.0 |
| 19. | Superheater heating surface | m2 | - |
| 20. | Diameter of drivers | mm | 1350 |
| 21. | Diameter of idlers front/rear | mm | 1000 / - |
| 22. | Total weight, empty | kg | |
| 23. | Total weight, working order | kg | 50 000 |
| 24. | Weight on drivers, working order | kg | 40 600 |
| 25. | Weight with tender, empty | kg | |
| 26. | Weight with tender, working order | kg | 85 800 |
| 27. | Maximum axle load | T | 13.5 |
| 28. | Axle base (with tender) | mm | 12 750 |
| 29. | Overall length (with tender) | mm | 16 170 |
| 30. | Brake type | - | hand / steam |
References and acknowledgments
<![if !supportLists]>- <![endif]>www.lokomotive.de/lokomotivgeschichte/datenbank (Ingo Hütter's database);
<![if !supportLists]>- <![endif]>LP, TB vol. 1;