<![if !vml]>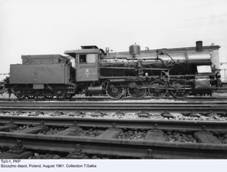 <![endif]>
Tp3-1, photographed at the Szczytno depot in August 1961. Photo from my collection.
<![if !vml]>

<![endif]>
Side drawing of the KPEV G8 in its final variant, by M.Kratochvil (source: TB vol.1).
<![if !vml]>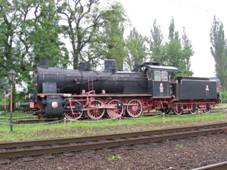 <![endif]>
Tp3-36, Zbąszynek, summer 2007. Photo by John Bryant (thanks for permission!).
<![if !vml]>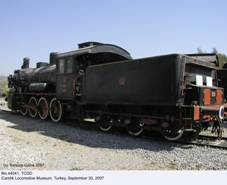 <![endif]>
TCDD 44041, preserved at the Çamlık Buharlı Lokomotif Müzesi, Turkey; serial number of this engine, delivered during WWI, is unknown. Photo taken on September 30, 2007.
<![if !vml]>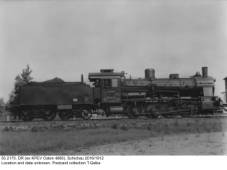 <![endif]>
55 2170, DR (formerly KPEV Osten 4860), photographed somewhere in Germany, date unknown. Postcard from my collection.
<![if !vml]>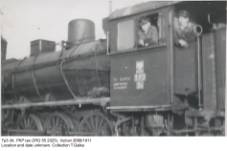 <![endif]>
Tp3-34 (Vulcan 2688/1911), formerly KPEV 'Posen 4830', then DRG 55 2025. This engine was one of the last Tp3s in service, finally written off in March 1970. Photo from my collection.
<![if !vml]>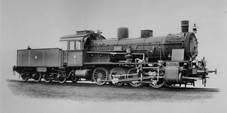 <![endif]>
Despite sporting a '5000' plate, this locomotive is in fact Orenstein & Koppel 5911/1913, Bromberg 4823. Later it became Tp3-75, then 55 1669 and finally Tp3-33, to be withdrawn in September 1950. Factory photo, source: www.commons.wikimedia.org.
<![if !vml]>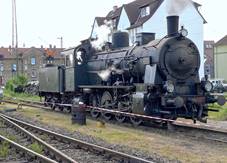 <![endif]>
This locomotive (Hanomag 6721/1913) was originally delivered to KPEV as Münster 4981. Sold to Turkey in 1916, it became TCDD 44079. Purchased by Eisenbahnmuseum Darmstadt-Kranichstein in 1987, it was re-numbered Mainz 4981 and is kept in working order. Photo taken at the museum by Hans-Peter Scholz on May 8, 2005; source: as above.
Between 1893 and 1917, Prussian state railways (KPEV) received over 2800 four-axle freight engines, running on saturated steam, classed G71 and G72. Although their basic concept was later developed into more powerful class G9, of which 200 examples were built between 1908 and 1911, advantages of steam superheating became evident much earlier. First experimental locomotive running on superheated steam – a rebuilt class S3 express engine – was rolled out in April 1898 and test results were very encouraging. Due to increasing weight of freight trains and demands for much higher tractive effort, a freight engine running on superheated steam was a logical consequence. Such machine, designed by Robert Garbe, was built by Vulcan in 1902 and classed G8.
New freighter was based on G71 and G72. Diameter of drivers was increased from 1250 to 1350 mm, but axle base remained unchanged. Of course, main differences concerned the boiler. First 153 G8s had a chamber-type superheater in the smokebox, which was extended to 1800 mm in length (later further to 2000 mm). This variant had certain shortcomings, concerning mainly reliability, so later engines had boilers fitted with three rows of smoke tubes (21 in all) and typical superheater, measuring 40.4 sq.m in surface. This layout allowed for shorter smokebox (1500 mm) and longer drum (distance between tube plates increased from 4100 to 4500 mm, as in G71), better weight distribution and improved performance. First engines had smaller grate (2200 mm in length) and smaller cylinders (550 mm in diameter, later increased to 575 mm, 590 mm and finally 600 mm). In its ultimate version, G8 emerged as a good and reliable machine, considerably more powerful than its predecessors. However, despite excessive efforts, it proved impossible to keep axle load below 14 tonnes, as previously demanded. First variant weighted about 55 500 kg in working order, later modifications (including strengthening of some elements and air brakes) added about three tonnes.
G8 was ordered in quantity and deliveries continued until 1913, totaling 1055 examples for KPEV from Grafenstaden (35), Hanomag (296), Henschel (74), Orenstein & Koppel (6), Schichau (296) and Vulcan (348). These engines were typically coupled with three-axle 3T12 or larger 3T15 tenders, sometimes also 3T16,5s or four-axle 2'2'T16s. During the production run, several modifications were introduced, including fitting Knorr or Westinghouse brakes instead of steam ones, modified smokestack and raised footplates. Twelve machines were fitted with Lentz-type poppet-valve gear, ten – with Stumpf-type steam engine. Late production examples had feedwater heaters. Early G8s with chamber-type superheaters were rebuilt to the standard configuration during major overhauls in the 1920s. G8 was supplanted in production by its improved version G81, differing mainly in boiler pressure, which was increased from 12 to 14 bar. G81 was destined to become one of the most widely used steam locomotives in Europe, built in over 5000 examples.
During the war, 46 machines from KPEV were transferred to Turkish CFOA (Chemins de Fer Ottomans d'Anatolie); later they were taken over by TCDD and designated 44001 through 44046. In all, TCDD obtained 83 G8s (possibly a few more); apart those mentioned above, they included ten brand-new engines, built by Linke-Hofmann in 1924 (s/n 2943 through 2952, TCDD 44047 through 44056). Origin of remaining 37 examples is less clear. At least five (44057 through 44061), possibly more, were ex-French surplus engines, sold to Damas Hama et Prolongement railway, then under French control, by SNCF in late 1930s (in all, 48 were sold). Other might be from a batch of thirteen engines, sold by Alsace-Lorraine railways to Smyrne Cassada et Prolongements in 1934. Finally, several more ex-KPEV engines were supplied during the extension of CFOA towards Baghdad in 1917. Even competent Turkish sources (www.trainsofturkey.com) admit that origin of many individual engines is far from clear. After WWI, Prussian G8s went to several European countries as war reparations. France received 71 examples. They were assigned to Compagnie des Chemins de Fer de L'Est and Compagnie des Chemins de Fer du Nord (58, later passing to SNCF), the remaining 13 went to the Alsace-Lorraine railways (AL). As already mentioned, all but ten engines from SNCF and all from AL were finally sold to Turkey. G8s served also in Belgium (SNCB class 80), Austria (ÖBB class 755) and Hungary (MÁV class 410). Czechoslovakian railways ČSD received thirteen G8s, classed 425.0 (in fact, this class included also two G81s); in 1938 they were taken by MÁV and classed 410.5. After WWII only one was returned, but ČSD took over further 96 engines, including ten ex-Polish ones. They were not as attractive booty as thirty years earlier, so only 29 were restored in service and classed 424.0, to remain in use until late 1950s; most of remaining 68 examples were handed over to PKP (six, all pre-war Tp3s), DR or SŽD (a least one), the rest were scrapped in 1950. After WWI, newly-formed DRG were left with 656 locomotives of this type, classed 5516-22; in 1935 twelve more were absorbed from Saarbahnen. Many were withdrawn in early 1930s, few went to various private railways, but some soldiered on to serve with DB or DR after the war. DB had about 200 and last of them survived in service until 1955. DR were left with about fifty; last two (55 2014 and 55 2071) were withdrawn in 1969.
Polish railways took over 84 ex-Prussian G8s, which were classed Tp3 and given service numbers from 1 to 83; one example – Schichau 2007/1912, KPEV Danzig 4812 – was used in Gdańsk and designated Tp3-1Dz. Initially these engines were used mainly in northern Poland. A few were converted to oil firing and used on the Hel peninsula, where fire hazard excluded coal firing. In late 1920s and early 1930s many were transferred to southern and south-eastern regions, to supplement and later supplant ageing and comparatively weak Austrian locomotives, mainly class Tp15 (ex-KkStB class 73). Due to their low axle load they were well suited for service in areas where weak tracks dominated. Only one (Tp3-4) was written off before 1939. After the September campaign, 35 Tp3s were captured by Germans and given DRG service numbers between 55 1604 and 55 1676 (all assigned for the second time, after those withdrawn before the war). 39 went to the Soviet Union and some were certainly converted to the 1524 mm track; no distinct class designation was assigned and the engines retained their Polish service numbers. Fifteen fell into German hands after Fall Barbarossa and at least eleven were given DRG service numbers; those in the Ostbahn service retained their original PKP numbers. Tp3-26 (Schichau 1885/1910, KPEV Posen 4825) was evacuated to Hungary in 1939 and later served with MÁV as 410.614, then went to industry. According to LP, Tp3-41 (Hanomag 6360/1911, KPEV Hannover 4823) was in 1939 taken over by Lithuanian state railways LG and included into class P8 (ex-KPEV G81) with the service number 331, to fall into Soviet hands in 1940. This seems quite possible, as a number of Tp3s were transferred to Wilno in late 1930s. According to some sources, Tp3-41 was evacuated to Slovakia (no details concerning its ultimate fate) and LG 331 was in fact Tp3-68. The fate of seven Tp3s remains unknown.
At least three G8s (most probably captured Prussian engines) were armored in 1921 and used in two makeshift armored trains 'Zygmunt Powstaniec' and 'Testar' (later 'Nowak') during the 3rd Silesian Uprising. Details can be found at www.derela.republika.pl (in English). These engines returned to 'civil' configuration between 1922 and 1923, but I have no information if they were impressed into PKP service.
After 1945, only eleven pre-war Tp3s returned to Poland, some of them after a brief period with ČSD as class 424.0. One of them (Tp3-10) was scrapped in 1946 without being assigned a new service number. Tp3-36 from DR followed in 1955 and was also immediately scrapped. However, PKP acquired 41 ex-DRG engines, of which 35 were renumbered and impressed into PKP service; the rest were written off in 1946. Post-war class Tp3 thus numbered 45. Most of these old and obsolescent engines were used for secondary duties, but in early 1950s Tp3s hauled even light passenger trains. Most were withdrawn from service in late 1950s. Several went to various industrial operators; in 1954 four were withdrawn form PKP and transferred to a track maintenance establishment. Two followed in 1969 to a power station. Last two in the PKP inventory (Tp3-7 and Tp3-36) were written off in October 1970. The latter (Hanomag 6712/1913, KPEV Bromberg 4832 and later Osten 4804, DRG 55 2199) saw last service in August 1968 and later, for a short time, was used as a stationary boiler. It was externally refurbished in 1988 and is currently plinthed in Zbąszynek; some foreign sources claim that it has been handed over to the PSMK railway fan company, which is not true. In November 2018 it was transferred to Poznań.
Apart from Tp3-36, a number of former G8s have survived until today. TCDD 44079 (Hanomag 6721/1913, KPEV Münster 4981) was purchased for the railway museum at Darmstadt-Kranichstein, Germany, in 1987; in 1993 this engine was overhauled in Poland by Interlok and is kept in working order. Seven more Turkish engines still exist: one (44041) is on display at the Çamlik Buharli Lokomotif Muzesi (Çamlik steam locomotive museum), three more are plinthed at various locations. Finally, there are two at the Museo Ferroviario Piemontese in Savigliano, Italy: FS 422.009 'Lucia' (Hanomag 6382/1912, KPEV Halle 4813) is in working order and sometimes runs with special trains, while 422.022 is awaiting restoration.
Main technical data
| | | | |
| --- | --- | --- | --- |
| No. | Parameter | Unit | Value |
| 1. | Years of manufacture | - | 1902 – 19135) |
| 2. | Total built / used in Poland | - | 1065 / 84 – 452) |
| 3. | Tender class | - | 12C1, 15C13) |
| 4. | Axle arrangement | - | 0-4-0 |
| 5. | Design maximum speed | km/h | 55 |
| 6. | Cylinder bore | mm | 2 x 600 |
| 7. | Piston stroke | mm | 660 |
| 8. | Engine rating | kW/hp | 810 / 1100 |
| 9. | Tractive effort | kG | 12 200 |
| 10. | Boiler pressure | MPa | 1.22 |
| 11. | Grate dimensions | m x m | 2.55 x 0.95 |
| 12. | Firebox heating surface | m2 | 12.58 |
| 13. | Distance between tube plates | mm | 4 500 |
| 14. | Number of flue tubes | - | 152 |
| 15. | Heating surface of flue tubes | m2 | 85.0 |
| 16. | Number of smoke tubes | - | 21 |
| 17. | Heating surface of smoke tubes | m2 | 36.85 |
| 18. | Evaporating surface, total | m2 | 134.431) |
| 19. | Superheater heating surface | m2 | 40.4 |
| 20. | Diameter of drivers | mm | 1350 |
| 21. | Diameter of idlers front/rear | mm | - / - |
| 22. | Total weight, empty | kg | 52 830 |
| 23. | Total weight, working order | kg | 58 500 |
| 24. | Weight on drivers, working order | kg | 58 500 |
| 25. | Weight with tender, empty | kg | 69 7304) |
| 26. | Weight with tender, working order | kg | 94 4004) |
| 27. | Maximum axle load | T | 16.4 |
| 28. | Axle base (with tender) | mm | 11 8684) |
| 29. | Overall length (with tender) | mm | 16 9084) |
| 30. | Brake type | - | steam, Knorr, Westinghouse |
Note: data refer to the final production variant.
1) Some sources give 137.5 m2.
2) After WWII – seven more engines written off with no PKP service numbers assigned.
3) Some engines had 16D1 or 16D2 tenders, few had 17C1 tenders.
4) With the 12C1 tender.
5) Ten built for Turkey in 1924.        
References and acknowledgments
<![if !supportLists]>- <![endif]>Monographic article by Paweł Terczyński (SK vol. 4/2006);
<![if !supportLists]>- <![endif]>Ingo Hütter's website www.lokomotive.de/lokomotivgeschichte/datenbank;
<![if !supportLists]>- <![endif]>TB vol.1, EZ, LP.