<![if !vml]>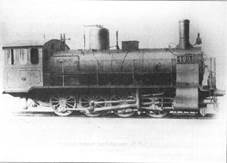 <![endif]>
VVZhD No. 409 (Hanomag 2728/1895), location and date unknown. Source: 150 years of the Warsaw-Vienna Railway (see References).
<![if !vml]>

<![endif]>
Side drawing of class ChVKh by Bogdan Pokropiński from his monograph (see References).
<![if !vml]>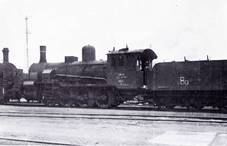 <![endif]>
DRG 55 6118 (ex VVZhD 468, then Tp108-9, Kharkov 1618/1908), photographed at the Borisov depot (Belarus) in 1943. After the war this locomotive remained with DB and was written off in December 1951. Source: Lokomotiven ziehen in den Krieg by Hansjürgen Wenzel (Verlag Slezak, 1977).
The Warsaw-Vienna Railway (Varshavo-Vyenskaya Zheleznaya Doroga, VVZhD or BBЖД in Russian script), was the first railway to commence operation in the part of Poland taken by Russia. First train from Warsaw to Pruszków ran on November 28, 1844, and construction of the entire line from Warsaw to Granica (border crossing between Russia and Austria, today within the limits of Sosnowiec) was completed until April 1, 1848. The line was built to the standard European gauge of 1435 mm. First locomotives were ordered from Cockerill of Seraing, Belgium; later orders were placed with various Austrian and German manufacturers.
In 1895 VVZhD purchased its first four-axle freight locomotives, built in Germany by Hanomag (factory numbers 2716 through 2737). They ran on saturated steam; eighteen were supplied with single-expansion engines and four were compounds. In 1899 further nineteen followed (factory numbers 3229 through 3247), including fifteen singles and four compounds. These 41 engines were numbered 401 through 441 and there was no distinction between two types. New 0-4-0s were found very useful and robust. Dubbed 'Hanowerki' (which translates as 'The Hannover Girls'), they were very popular with footplate crews. As Russian government insisted on ordering locomotives from domestic manufacturers by both state-owned and private railways, Russian Locomotive and Machinery Factory of Kharkov purchased the documentation of the compound version and supplied further 36 examples between 1905 and 1909, numbered 442 through 477. They differed from their German kinsmen only in minor details. In 1912, with the unification of locomotive designations in Russia, engines of German origin were classed ChVG (ЧBГ in Russian script), wherein 'Ch' stood for 'chetiyrekhosnyi', (four-axle), 'V' indicated the railway and 'G' the country of origin; according to some sources, the latter stood for the manufacturer's name, which in Russian is pronounced as 'Ganomag'. Again, there was no distinction between singles and compounds. Engines from Kharkov were classed ChVKh (ЧBX); the lower subscript indicated the manufacturer. It has to be noted that all these locomotives, apart from axle arrangement, had nothing in common with Russian 'standard' class Ch (Ч).
In 1915, as German troops advanced towards Warsaw, all VVZhD locomotives were evacuated eastwards and later re-gauged to 1524 mm. Post-war agreements stipulated that they should all be returned to Polish authorities, but this was never done. Most Polish sources give that six German singles, three German compounds and thirteen Russian compounds were finally taken over by PKP, in 1926 classed Tp6, Tp7 and Tp108, respectively. Tp7 and Tp108 were in fact almost identical, but the former was identified as the engine of Prussian origin, like Tp6, while the latter was considered as being of origin other than Prussian or Austrian. The above numbers were probably taken from the 1927 locomotive types list, issued by the Ministry of Transport. LP lists eight Tp6s, three Tp7s and fourteen Tp108s. Discrepancies probably result from the fact that Tp108-5 was written off before 1927, while two Tp6s might have not been re-gauged at that time, but the latter is only a conjecture. All Tp7s and all but one Tp6s were withdrawn until 1938. The sole surviving Tp6-8 (Hanomag 3241/1899) was taken over by DRG and re-numbered 55 6101, to be finally withdrawn in June 1942. Russians took over Tp6-5 and Tp7-2, both withdrawn in 1938. Later they fell into German hands and served with Ostbahn; Tp6-5 was returned in 1945, but saw no post-war service. All thirteen Tp108s that were still in use in September 1939 became German war booty, which indicates that they had been most probably based in western Poland. Tp108-13 was written off in 1940 or 1941 and the remaining engines were given DRG service numbers 55 6111 through 6122. Tp108-10 (Kharkov 1619/1908) was returned in 1945 and probably became the sole example to see some post-war service as Tp108-1, being written off in November 1950. Pre-war Tp108-1 was taken over by ČSD in 1945 and returned in 1949; despite being re-numbered Tp108-2, it probably saw no service. Both these locomotives were assigned to the Katowice regional management. Tp108-11 and Tp108-12, returned by DR in January 1956, were scrapped without being assigned new service numbers. Five examples were formally written off by DB on December 31, 1951. According to some sources (monograph by Bogdan Pokropiński – see References), four Tp108s were in 1945 abandoned at the Warszawa Praga station. They were erroneously labelled 'Tp105' and identified as ex-Soviet engines. All were scrapped, probably in 1952. The above-mentioned source and LP differ slightly in the ultimate fate of some examples.
The basic design of ChVKh was later developed into a single-expansion engine with steam superheating. VVZhD obtained seventeen locomotives of this type, built at Kolomna and Kharkov, numbered 478 through 494. Of these, six later served with PKP as class Tp109. This type is described under a separate entry.
Main technical data
No.

Parameter

Unit

Value

1.

Years of manufacture

-

1895 – 1909

2.

Total built / used in Poland

-

33 / 81)

8 / 32)

36 / 143)

3.

Tender class

-

15C1

4.

Axle arrangement

-

0-4-0

5.

Design maximum speed

km/h

45

6.

Cylinder bore

mm

2 X 4901)

520 / 7702)3)

7.

Piston stroke

mm

650

8.

Engine rating

kW/hp

9.

Tractive effort

kG

11 4001)

11 0002)3)

10.

Boiler pressure

MPa

1.22

11.

Grate dimensions

m X m

2.1 m2

12.

Firebox heating surface

m2

13.

Distance between tube plates

mm

14.

Number of flue tubes

-

15.

Heating surface of flue tubes

m2

16.

Number of smoke tubes

-

-

17.

Heating surface of smoke tubes

m2

-

18.

Evaporating surface, total

m2

151.32

19.

Superheater heating surface

m2

-

20.

Diameter of drivers

mm

1 300

21.

Diameter of idlers front/rear

mm

- / -

22.

Total weight, empty

kg

23.

Total weight, working order

kg

53 7001)

53 5002)3)

24.

Weight on drivers, working order

kg

53 7001)

53 5002)3)

25.

Weight with tender, empty

kg

26.

Weight with tender, working order

kg

92 7001)

92 5002)3)

27.

Maximum axle load

T

14.7

28.

Axle base (with tender)

mm

11 365

29.

Overall length (with tender)

mm

15 840

30.

Brake type

-

steam
<![if !supportLists]>1) <![endif]>Tp6.
<![if !supportLists]>2) <![endif]>Tp7.
<![if !supportLists]>3) <![endif]>Tp108.
References and acknowledgments
<![if !supportLists]>- <![endif]>LP;
<![if !supportLists]>- <![endif]>Charakterystyka parowozów (Steam Locomotive Characteristics) by A. Czeczott (Ministry of Transport, 1927);
<![if !supportLists]>- <![endif]>150 lat Drogi Żelaznej Warszawsko-Wiedeńskiej (150 years of the Warsaw-Vienna Railway) by A. Paszke, M. Jerczyński and S.M. Koziarski (CDOKP, Warszawa, 1995);
<![if !supportLists]>- <![endif]>Tabor Drogi Żelaznej Warszawsko-Wiedeńskiej (Railway Stock of the Warsaw-Vienna Railway) by Bogdan Pokropiński (Kolpress, 2015);
<![if !supportLists]>- <![endif]>www.beitraege.lokomotive.de/datenbank (website by Ingo Hütter).