<![if !vml]>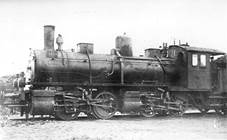 <![endif]>
An unknown G9. Source: Lokomotiven der alten deutschen Staats- und Privatbahnen by Hermann Maey and Erhard Born (Transpress, 1983).
<![if !vml]>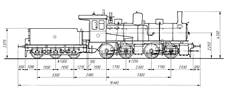 <![endif]>
Side drawing of the G9; source: Lokomotiv-Archiv Preußen Band 2 (see References).
Articulated locomotives were never particularly favored by Prussian state railways KPEV. In 1893, however, an order was placed with Elsässische Maschinenbau Gesellschaft SACM Grafenstaden for a four-cylinder freight compound of the Mallet type, running on saturated steam and featuring the 0-2-2-0 axle arrangement. This engine was intended to run on particularly demanding lines, with steep gradients and comparatively tight curves, working heavy freight trains. Prototype (4538/1893) underwent service tests assigned to the Cöln linksrheinisch regional management, on the Koblenz-Carthaus-Diedenhofen line. The type was ordered in quantity in 1895, but output was modest, only 26 examples being delivered until 1898. All were coupled with 3T12 three-axle tenders. Initially they were assigned to the Breslau, Cöln, Kattowitz and Saarbrücken regional managements, later some were transferred to Cassel and Essen. In 1905 they were classed G9. Operational experience with these Prussian Mallets was far from satisfactory. They were found costly and difficult to maintain and running qualities left much to be desired, despite maximum speed of only 45 km/h. Furthermore they turned out to have harmful impact on tracks. Appearance of more powerful engines running on superheated steam with five coupled axles rendered them obsolete and unnecessary. First was withdrawn as early as in 1912 and the last survived only until 1923. DRG had no intention to keep these locomotives in service, so no new designation was ever assigned. Later another engine, the last KPEV mainline freighter running on saturated steam, was also classed G9.
In 1912 two G9s were transferred from Essen to Bromberg (Bydgoszcz) regional management and were given service numbers 5001 and 5002. They were assigned to the Thorn-Mocker depot. In 1918 they were left in Poland and taken over by PKP. Just like with KPEV, they were found troublesome and of little use, so both were withdrawn before 1927. According to some sources class designation Tp8 was envisaged for them, but most probably it was never formally assigned, due to early withdrawal. Not a single example of this unusual, albeit unsuccessful engine has been preserved.
Main technical data
No.

Parameter

Unit

Value

1.

Years of manufacture

-

1893 –1898 

2.

Total built / used in Poland

-

27 / 2

3.

Tender class

-

12C1

4.

Axle arrangement

-

0-2-2-0

5.

Design maximum speed

km/h

45

6.

Cylinder bore

mm

2 X 4001) /

 2 X 630

7.

Piston stroke

mm

600

8.

Engine rating

kW/hp

9.

Tractive effort

kG

10.

Boiler pressure

MPa

1.22

11.

Grate dimensions

m X m

1.94 m2

12.

Firebox heating surface

m2

10.0

13.

Distance between tube plates

mm

4 300

14.

Number of flue tubes

-

218

15.

Heating surface of flue tubes

m2

132.6

16.

Number of smoke tubes

-

-

17.

Heating surface of smoke tubes

m2

-

18.

Evaporating surface, total

m2

142.6

19.

Superheater heating surface

m2

-

20.

Diameter of drivers

mm

1270

21.

Diameter of idlers front/rear

mm

- / -

22.

Total weight, empty

kg

23.

Total weight, working order

kg

56 000

24.

Weight on drivers, working order

kg

56 000

25.

Weight with tender, empty

kg

26.

Weight with tender, working order

kg

27.

Maximum axle load

T

14.0

28.

Axle base (with tender)

mm

12 060

29.

Overall length (with tender)

mm

16 480

30.

Brake type

-

hand
1) High-pressure cylinder bore later increased to 420 mm.
References and acknowledgments
<![if !supportLists]>- <![endif]>www.malletlok.de (website by O. Haensch);
<![if !supportLists]>- <![endif]>Lokomotiv-Archiv Preußen Band 2 by Andreas Wagner (Bechtermünz Verlag, 1996).