<![if !vml]>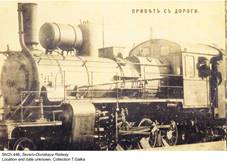 <![endif]>
A postcard from early 20th century shows Shch.446 from the Severo-Donskaya railway (the inscription in old Russian reads 'Greetings from the road'). From my collection.
<![if !vml]>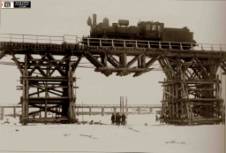 <![endif]>
These two pictures of class Shch engines have been taken from the 'Steam Engine IS Russian Railway Portal' (www.parowoz.com). An unidentified Shch on a temporary wooden bridge over Dniepr in 1914, possibly during load tests. According to some statements, this is in fact a class Sh engine.
<![if !vml]>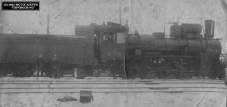 <![endif]>
Poor, but very interesting photo of the Shch.714 at the Malaya Vishera station near Novgorod, taken on January 10, 1932.
<![if !vml]>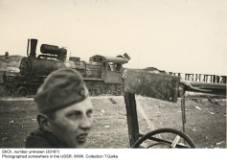 <![endif]>
An unknown ShCh (possibly 3018), derailed and slightly damaged, photographed somewhere in the USSR during the war. Photo from my collection.
<![if !vml]>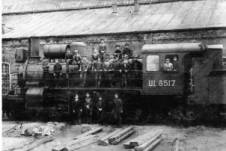 <![endif]>
ShCh 6517, photographed somewhere in the USSR, possibly at a depot or repair works, probably in the 1920s. Photo from www.en.wikipedia.org.
<![if !vml]>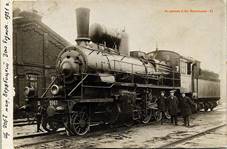 <![endif]>
ShCh 2067, photographed at the Podmoskovnaya depot in 1931. Source: www.commons.wikimedia.org.
After Poland regained independence in 1918, transport was just one of numerous problems that had to be solved – and solved as quickly as possible. In principle, all three countries that had ruled Polish territory before 1918 were supposed to hand over locomotives and railway cars in numbers specified by special commissions. Russian reparations proved particularly troublesome and of little value. In theory, Russians – or rather Soviets – were obliged to hand over locomotives assigned to railway lines in the territory that became a part of Poland. The Riga treaty, signed in March 1921, which ended the war between Poland and Bolsheviks, stipulated that Polish railways should receive 300 steam engines, 260 passenger cars and 8100 freight cars. This condition was never fulfilled. In particular, Poland received only 124 steam engines, all in very poor condition. After prolonged negotiations, in 1925 Polish authorities accepted a modest compensation of 35 million rubles for what had not been handed over and the case was closed.
Many ex-Russian locomotives actually accepted by PKP were old and obsolete types, often represented by just a few examples. These disappeared from the rosters fairly quickly. Among those comparatively useful and modern was class Shch (or Щ in Russian script), which survived in service with PKP until 1939. The origin of this class can be traced back to 1905, when Russian railway authorities contemplated a need for a freight engine more powerful than class O, built in many variants since 1890 (axle arrangement 0-4-0), to say nothing of older engines with two or three coupled axles, of which many were still in use. Professor N.L.Shchukin, then the most prominent specialist with the Ministry of Transport, was a keen advocate of the 1-4-0 axle arrangement. He argued that 0-5-0s, then entering production in several European countries, would not perform well on Russian lines with many tight curves. It was thus decided to design a modified and more powerful variant of class Sh (Ш), which had been built for two private railways since 1901. Detailed design was entrusted to the Kharkov locomotive works and the prototype, known as 'standardized 1905 type', appeared in 1906. Initially these engines were given various designations, depending on the railway line to which they were assigned – then a normal practice in Russia. After 1912 they were designated class Shch (Щ), in honor of Prof. Shchukin.
Shch ran on saturated steam and was fitted with a compound engine. In comparison with class Sh, steam pressure was increased from 13 to 14 bar, but, quite oddly, slide valves replaced piston ones previously used. This was probably forced by problems with valve seals. Belpaire-type firebox was retained. Due to general strengthening, class Shch turned out much heavier than intended and axle load reached 17 tonnes. This was considered unacceptable, as 15 tonnes had been agreed as a maximum value. After various modifications (including reduction of flue tubes number from 272 to 262 or 260, which brought little improvement), axle load was reduced to 16.2 tonnes and this was finally accepted. Economy was another problem. Shch performed satisfactorily with light drafts at high speed, but its principal duty was just the opposite – heavy and slow freight trains, which barely exceeded 35 km/h. In such conditions, economy was poor and fuel consumption high. For this reason, private railways were rather reluctant to order these engines: despite encouragement from the Ministry of Transport, of ten private railways that existed in 1910 only two purchased them.
Class Shch in its basic version remained in production until 1918 and total output was 1910 examples from eight factories: Kharkovskiy (437), Nevskiy (362), Putilovskiy (341), Brianskiy (270), Luganskiy (247), Sormovskiy (182), Kolomenskiy (25) and Nikolayevskiy (10). Of these, 110 went to the Russian army as a part of the strategic reserve – many of them served in the Polish territory during the initial stages of WWI. Attempts were made to improve economy, much due to the persistence of Shchukin, eager to save his brainchild. In 1909 a variant running on superheated steam, with a single-expansion engine, was proposed; four examples were built by Kharkovskiy and four by Sormovskiy (the latter with Notkin-type superheater), but due to modest superheater area steam temperature was low and improvement only marginal. In 1912 these engines were classed ShChP (ЩП – capital upper letter). Between 1912 and 1915, Brianskiy built 95 similar locomotives, but with drivers reduced in diameter from 1300 to 1230 mm; they were classed Shchp (Щп – small upper letter). Shchch (Щч) of 1914 was in turn a version with a compound engine (high-pressure cylinder diameter increased to 540 mm) and steam superheating. Fifteen were ordered from Putilovskiy in 1915, but due to war restrictions production started only in 1918; total output was just fifteen examples and last of them were completed in 1924. This ended the production of this class, at 2028 engines in all. Performance of the Shchch was substantially better than its predecessors, but the machine was not entirely successful, mainly due to problems with valve seals. Nevertheless, between 1927 and 1934 about 300 engines running on saturated steam were brought up to this standard during overhauls. More radical reconstructions, proposed in the USSR even after WWII, were only experimental. Last engine of this type, Shch.2022, was withdrawn in the USSR in 1961. Most probably some served for a few more years as stationary boilers.
The exact number of these engines taken over by Polish railways after WWI is not known. All were in a poor condition and their repairs – including, of course, conversion to the 1435 mm track – extended well into 1930s, which indicates that they were by no means badly needed. In 1926 they were classed Tr103. The highest service number known is Tr103-28, but it is almost sure that at no time there were twenty-eight Tr103s in service! This class included a single Shchp; some sources give that it was designated Tr103p – a particular blend of two designation systems – but most probably this was unofficial. Five were withdrawn before 1936, at least one going to industry. All engines of this type in the PKP service were assigned to the Wilno regional management, so in 1939 they fell into Soviet hands. They retained their Polish service numbers, written in Russian script. Eight were captured by Germans in 1941 and impressed into the Ostbahn service. One of them was withdrawn in 1943 and one fell into Soviet hands in 1944. The remaining six were re-numbered 56 4151 through 4156 in late 1944, some only formally. After the war, three went to DR, one to DB and one to Yugoslavia. Only Tr103-17 (DRG 56 4155) returned directly to PKP, but saw no service and was written off in 1946. Tr103-21 (DRG 56 4156) returned from Yugoslavia in 1949 and similarly saw no service. Finally, wrecks of Tr103-20 (DRG 56 4152) and Tr103-11 (DRG 56 4153) were returned by DR in January 1957 and immediately scrapped. All remaining ex-Polish Tr103s were kept by the Soviets, who considered them their property. There exists a photo of the Tr103-26 (pre-war service number, original Russian number and manufacturer unknown) taken at the Fablok premises in July 1946. This photo was published in KMD vol. 2-3/2008 and again in SS vol. 145. The engine is in quite good overall condition, but cylinders and motion gear are missing. As it had been written off before 1936, it most probably had gone to some industrial establishment and survived the war there. According to Tadeusz Suchorolski, after withdrawal from service with PKP it was used as a stationary boiler at the Fablok premises. Be it as it was, it was not restored in service after WWII. To make the record complete, two Soviet engines of this type were taken over by Latvian railways LVD after WWI and designated Sn-501 and Sn-502 (this class included various freight locomotives with four driven axles). Their subsequent fate is unknown.
Needless to say, not a single Tr103 has been preserved in Poland. And not a single example has survived from a vast fleet of Soviet Shchs. According to some Internet sources, a boiler and a tender have been found in Piter in Russia and there are even rumors of possible restoration, or rather reconstruction. It may be mentioned that Russian railway fans hold this type (nicknamed 'Shchuka', or pike, after class designation) in high esteem, as far as silhouette and general appearance are concerned.
Main technical data
No.

Parameter

Unit

Value

1.

Years of manufacture

-

1906 – 19188)

2.

Total built / used in Poland

-

20281) / 282)

3.

Tender class

-

23D1013)

4.

Axle arrangement

-

1-4-0

5.

Design maximum speed

km/h

65

6.

Cylinder bore

mm

510 / 7654), 2 x 5905)

2 x 5806), 540 / 7657)

7.

Piston stroke

mm

700

8.

Engine rating

kW/hp

9.

Tractive effort

kG

12 9004), 13 7005)

10.

Boiler pressure

MPa

1.434),7), 1.225),6)

11.

Grate dimensions

m x m

2.8 m2

12.

Firebox heating surface

m2

13.

Distance between tube plates

mm

14.

Number of flue tubes

-

2724), 1605),6)

15.

Heating surface of flue tubes

m2

16.

Number of smoke tubes

-

- 4), 245),6)

17.

Heating surface of smoke tubes

m2

18.

Evaporating surface, total

m2

206.14), 168.95),6), 176.77)

19.

Superheater heating surface

m2

- 4), 35.15), 40.86), 59.07)

20.

Diameter of drivers

mm

13004),5), 12306)

21.

Diameter of idlers front/rear

mm

930 / -

22.

Total weight, empty

kg

23.

Total weight, working order

kg

77 2004)

77 3005),6)

24.

Weight on drivers, working order

kg

64 2004)

64 3005)

64 5006)

25.

Weight with tender, empty

kg

26.

Weight with tender, working order

kg

128 8004)

131 8005)

27.

Maximum axle load

T

16.04), 16.25)

28.

Axle base (with tender)

mm

17 7274), 17 6945)

29.

Overall length (with tender)

mm

20 7184), 20 6925)

30.

Brake type

-

Westinghouse
<![if !supportLists]>1) <![endif]>Including Shch (1910), ShchP (8), Shchp (95) and Shchch (15); six Shch converted into ShchP.
<![if !supportLists]>2) <![endif]>Including one Tr103P = ShchP (redesignated probably only formally).
<![if !supportLists]>3) <![endif]>Three types of tenders (including three-axle 14C102).
<![if !supportLists]>4) <![endif]>Shch with the 23D101 tender.
<![if !supportLists]>5) <![endif]>ShchP
<![if !supportLists]>6) <![endif]>Shchp
<![if !supportLists]>7) <![endif]>Shchch
<![if !supportLists]>8) <![endif]>Production of Shchch lasted until 1924.
Note: Polish sources give total evaporating surface at 187,0 m2 and 154,0 m2 in Shch and ShchP, respectively.
References and acknowledgments
<![if !supportLists]>- <![endif]>LOZD vol.1;
<![if !supportLists]>- <![endif]>Monographic article by Ryszard Stankiewicz (KMD vol. 2-3/2008);
<![if !supportLists]>- <![endif]>Dmitry Zinoviev (private communication – many thanks for the permission to use old photos from www.parovoz.com;
<![if !supportLists]>- <![endif]>Article by Tadeusz Suchorolski (SS vol. 145).