<![if !vml]>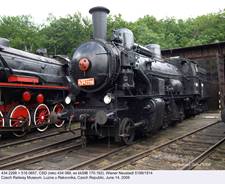 <![endif]>
ČSD 434.2298 is the 'reko' variant, previously kkStB 170.162 (Wiener Neustadt 5199/1914). This engine is on static display at the Czech Railway Museum in Lužna u Rakovnika. Photo taken on June 14, 2008.
<![if !vml]>
<![endif]>
Another 'reko' engine: derelict 434.2218 (kkStB 170.98, StEG 3921/1913), recently transferred to Lužna. Photo taken on the same occasion. 
<![if !vml]>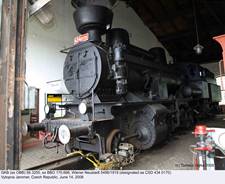 <![endif]>
Although bearing the ČD designation 434.0170, this engine is in fact ex-GKB 56.3255, which began life as kkStB 170.666 (Wiener Neustadt 5496/1919). Photo taken at the Jaromeř depot on the same day (not a bad one, indeed!). This is the original variant running on saturated steam, obtained in exchange for another heritage locomotive.
<![if !vml]>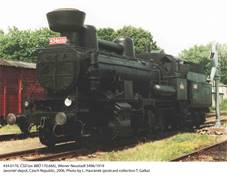 <![endif]>
JŽ
24-036 is the former
KkStB
170.264 (
Wiener Neustadt
5315/1916). This engine is kept at the railway museum in

Lublana

and awaits reconstruction. Photo taken on June 18, 2009.
<![if !vml]>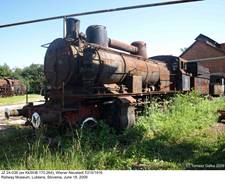 <![endif]>
Polish railwaymen with rifles and bellicose faces pose on a 170 (original service numbers have probably been painted over). According to available data, this picture was taken in 1918. Source: National Digital Archives (www.nac.gov.pl). Used by permission.
<![if !vml]>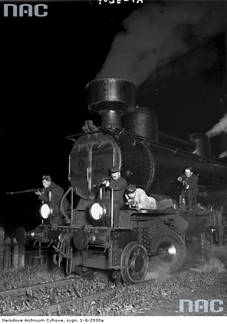 <![endif]>
KkStB 170.177 (BMMF 499/1914) with the 156.477 tender. This engine later served with ČSD as 434.081, to be rebuilt and re-numbered 434.2247. It remained in service until July 1970. Postcard from my collection.
<![if !vml]>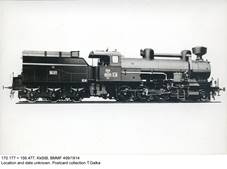 <![endif]>
Another 'Reko' engine from the ČSD fleet: 434.2191 (former 434.0308), PČM 724/1919, rebuilt in 1936. Location and date unknown (postcard from my collection).
<![if !vml]>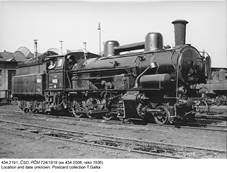 <![endif]>
Czech 434.2186 with a special train, photographed near Černošice, Czech Republic, on June 15.2002. Postcard from my collection.
<![if !vml]>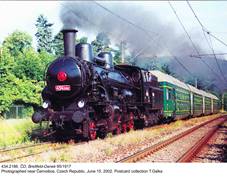 <![endif]>
Three pictures of Südbahn engines from my collection: No. 3024 (Wiener Neustadt 4345/1900)…
<![if !vml]>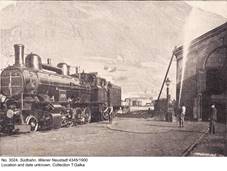 <![endif]>
…the same engine during water replenishment…
<![if !vml]>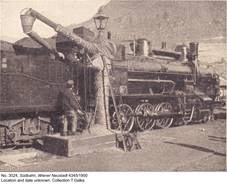 <![endif]>
…and No. 3023 (Wiener Neustadt 4344/1900) on a turntable. Details of location and date are lacking.
<![if !vml]>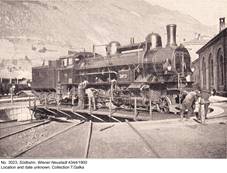 <![endif]>
ČSD 434.0358 (PČM 890/1921, initially numbered 170.844), location unknown, late 1920s. Photo by Ladislav Lochynský (postcard from my collection). In 1939 this engine was rebuilt and re-numbered 434.2282, to be finally withdrawn in February 1969.
<![if !vml]>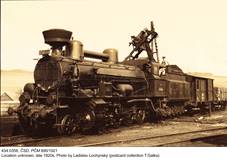 <![endif]>
Südbahn No. 3002 (Wiener Neustadt  4070/1898), probably factory photo. This engine later became FS 729.054 and finally ended up in Yugoslavia as JDŽ 24.067. Source: J.R. Howden, The Boys' Book of Locomotives', E. Grant Richards, 1907 via www.commons.wikimedia.org.
<![if !vml]>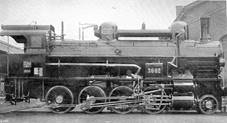 <![endif]>
An unknown Tr11 stuck in a snow-drift; location and date (before 1939) unknown. Source: National Digital Archives (www.nac.gov.pl). Used by permission.
<![if !vml]>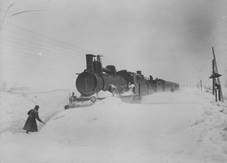 <![endif]>
Sächsische Staatsbahn No. 1281, Krauss Linz 7340/1919. In 1922 this engine was sold to Austria and re-numbered 170.750; later it became DRG 55 3305 and in 1940 was transferred to Hungarian MÁV. Returned to ÖBB in 1950, it was written off in April 1951. Location and date unknown (postcard from my collection).
<![if !vml]>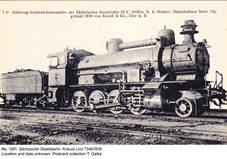 <![endif]>
KkStB 17002 (later 170.02, Wiener Neustadt 3951/1897), location and date unknown. After the war this locomotive went to Italy and became FS 729.001. Source: Die Lokomotive June 1904.
In mid-1890s trains running through the Arlberg pass in Austria were hauled mainly by kkStB class 73 four-axle engines. In view of rapidly increasing traffic, these locomotives soon were found too weak and slow for this demanding line. In order to provide a suitable successor, Karl Gölsdorf designed an entirely new locomotive, which apperared in 1897 and was designated class 170. While retaining some features typical to earlier Gölsdorf's designs, including compound steam engine, twin steam domes connected with a large horizontal tube and Hardy vacuum brakes, new engine was in some respects exceptional. Due to large boiler, with total heating surface of almost 250 sq.m, it was one of the best steamers in Europe; at the same time axle load barely exceeded 14 tonnes, which was essential for comparatively weak tracks common in Austro-Hungary. Initial trials were very successful: prototype (Wiener Neustadt 3950/1897) attained 84 km/h and proved capable of hauling a 220-tonne draft on a 26‰ gradient at 25 km/h, a very good result for that time.
Despite this success, production was slow in gaining momentum. Only one more engine for kkStB was built in 1897, six in 1898 and one in 1901. All these locomotives, which were given service numbers 17001 through 17009, later 170.01 through 170.09, had 3.36 sq.m grates and brakes on two axles only. Next six examples, 170.10 through 170.15, delivered in 1905, featured enlarged grates (3.91 sq.m) and brakes on three axles. In the meantime, class 170 was ordered by Südbahn, which received 54 examples between 1898 and 1908 (service numbers 3001 through 3054).  All these engines were built by Wiener Neustadt. Production for state railways started in the earnest, with various minor modifications, in 1913 and lasted until 1919. In all, 783 examples were built against kkStB orders by WLF (Floridsdorf, 234), Wiener Neustadt (227), BMMF (PČM, 149), StEG (113), Breitfeld & Danĕk (52) and Krauss Linz (8). Of these, fifty engines from Wiener Neustadt (170.646 through 170.695) and two from Krauss Linz (170.748 and 170.749) were completed after the collapse of the Austro-Hungarian empire and delivered to newly-formed Austrian state railways, which later became Bundesbahnen Österreichs (BBÖ). Two more (Krauss Linz 7340/1919 and 7341/1919) were sold to Saxon railways and included into class IX V, despite considerable differences. They were numbered 1281 and 1282. In 1922 these untypical engines were sold to BBÖ and became 170.750 and 170.751, respectively; they remained in use until early 1950s. Finally, between 1919 and 1921, three Czechoslovakian factories built further 71 engines for state railways ČSD, initially with consecutive kkStB service numbers 170.784 through 170.854 (PČM – 39, Breitfeld & Danĕk – 22 and Škoda – 10). This gives the grand total of 908 examples, which makes class 170 the most numerous Austro-Hungarian locomotive type ever.
Class 170 had initially been conceived as a powerful locomotive for passenger trains on difficult mountain lines, but finally emerged as a universal heavy freighter – no wonder with 1260 mm drivers and tractive effort exceeding 11 tonnes. When ordered in quantity for kkStB in 1913, this engine – a compound running on saturated steam, with slide valves – was already obsolescent, as steam superheating had been widely accepted. This may perhaps be attributed to the influence of Gölsdorf's school, which favored compounds. In fact, a development version running on superheated steam was soon ordered, but it was not completed before Gölsdorf's death in 1916. This engine was put into production in 1917 as class 270, but only a handful were delivered to kkStB. Last 170s left production lines in 1921, almost 25 years after the prototype, when their design concept had already become anachronistic.
After WWI, BBÖ were left with 237 examples (including those built after the Armistice and those taken over from Südbahn). The rest were divided between four countries. The largest number went to Czechoslovakia: ČSD took over 305 examples, excluding those built after the war, classed 434.0. Italian state railways acquired 80 engines from kkStB and 35 from Südbahn (FS class 729). Railways of the Kingdom of Serbs, Croatians and Slovenians (SHS – later Yugoslavia) were allocated 22 engines from kkStB and 12 from Südbahn; in 1933, all were taken over by JDŽ (Jugoslovenske Državne Železnice) as class 24. Despite obsolescence, most of these locomotives remained in service until WWII. In Czechoslovakia, where 434.0s were among the most numerous and important engines in service, a major reconstruction program was launched, aimed at improving economy and featuring conversion to superheated steam and single-expansion steam engines with piston valves. First rebuilt locomotive, 170.11 (WrN 4581/1905) was delivered by Škoda in 1924, three years after the acceptance of the last brand-new 170. Until 1925, further eight examples were rebuilt; all were re-classed 434.2 and given new service numbers. It should be noted that, despite having a large number of class 434.1 engines, which corresponded to kkStB class 270, ČSD decided to develop an indigenous conversion design rather than copying the Austrian pattern. Reconstruction program was re-commenced in 1930 and continued until June 1951 (!), finally including 345 engines – last of them was 434.0318 (PČM 866/1920). This conversion was considered very successful and 434.2s remained in service for a long time, last three examples being withdrawn in 1980.
Poland acquired 146 engines of this type. Several (probably six) had been captured by Russian troops during the 1915 offensive and saw some service in Ukraine, converted to the 1524 mm track. They were re-converted to standard gauge by WSABP in Warsaw, but one (WLF 2479/1917, ex kkStB 170.617) was probably never restored in service and written off before 1924. With the introduction of new designation system in 1923, all remaining 145 examples were classed Tr11. As with most locomotives of Austrian origin, Tr11s served mainly in southern and south-eastern Poland, assigned to regional PKP managements in Kraków and Lwów. Apart from fitting Westinghouse air brakes instead of Hardy-type vacuum ones, which was completed in 1936, modifications were few and included mainly standard Friedmann-type injectors and fittings. Several Tr11s were oil-fired: this conversion had been introduced by kkStB even before the war. Typically coal-fired engines ran with three-axle Austrian tenders (PKP class 16C11), but smaller 14C11s were also used. The main shortcoming of Tr11 was its open cab, which was a nuisance for crews, especially in winter and during reverse running; various makeshift improvements did little to alleviate this problem.
In September 1939 the majority of Tr11s – 107 examples – fell into Soviet hands. They retained their original PKP designations, written in Russian script. Some (according to LOZD, about forty) were converted to the 1524 mm track and sent eastwards or transferred to industry. 38 examples were captured by Germans. Apart from Tr11-71 and Tr11-80, which were badly damaged and formally written off in 1943, they were included into DRG class 5631-34 (together with their Austrian, Czechoslovakian and Yugoslavian kinsmen) and numbered 56 3336 through 56 3371. Later Germans captured further eighteen Soviet engines, of which two were used by Wehrmacht, one by Ostbahn and fifteen were impressed into DRG as 56 3391 through 56 3400 and 56 4251 through 56 4255. After the capture of Odessa, five Tr11s were taken over by Romanian forces. Four were impressed into the CFR service as 140.901, 140.903, 140.921 and 140.922 (in 1947 they were returned to the Soviets), the fifth one, ex Tr11-122, was badly damaged and written off in 1946. Only 33 ex-PKP Tr11s were returned after the war and eight of them were not restored in service, due to poor condition. In fact, four of them were handed over by DR only in 1956, when this class had already disappeared from the PKP inventory. Apart from them, however, Polish railways acquired sixty engines of this type from the DRG inventory that had not been evacuated from the Polish territory by retreating German forces; most of them were former ÖBB locomotives, but some came from Czechoslovakia, Italy or Yugoslavia. Of these, two ex-ČSD engines (ex 434.270 and 434.295 – both class 434.2) were returned in 1947 and eleven were not restored in service, so post-war class Tr11 finally numbered 72 examples. Given their obsolescence, it is not surprising that their post-war service was not long. Sixty were withdrawn until 1952 and last two, Tr11-48 (ex 170.738, StEG 4271/1918) and Tr11-54 (ex 170.184, BMMF 506/1914) survived until mid-1955. Several examples were transferred to industry or used as stationary boilers and possibly survived a few years more, but detailed information is lacking.
No Tr11 has been preserved in Poland, but as many as eight locomotives of this type still exist in Czech Republic (five), Austria, Slovakia and Slovenia; five of them, however, are ČSD class 434.2 'reko' engines. Currently only one of them is operational, namely 434.2186 (ex 434.1048, kkStB 170.323, Breitfeld & Danĕk 95/1916), based in Prague. GKB 56.3115 (ex kkStB/BBÖ 170.233, WLF 2180/1914) from Graz, Austria, saw last service in 2002 and, after a boiler failure, probably has not yet been repaired. This engine represents the original variant running on saturated steam. Ex-ČSD 434.2338 (ex 434.0226, kkStB 170.560, BMMF 646/1917), based in Vrutký, Slovakia, was transferred to Košice with the intention to bring it back to the operational status; this has not yet been realized and the engine is now dismantled. This is the only preserved engine of this type fitted with Giesl exhaust nozzle.
Main technical data
| | | | |
| --- | --- | --- | --- |
| No. | Parameter | Unit | Value |
| 1. | Years of manufacture | - | 1897 – 1921 |
| 2. | Total built / used in Poland | - | 9083) / 145 – 722) |
| 3. | Tender class | - | 16C11 |
| 4. | Axle arrangement | - | 1-4-0 |
| 5. | Design maximum speed | km/h | 60 |
| 6. | Cylinder bore | mm | 540 / 800 |
| 7. | Piston stroke | mm | 632 |
| 8. | Engine rating | kW/hp | 970 / 1320 |
| 9. | Tractive effort | kG | 11 600 |
| 10. | Boiler pressure | MPa | 1.224) / 1.33 |
| 11. | Grate dimensions | m x m | 3.364) / 3.91 m2 |
| 12. | Firebox heating surface | m2 | 14.04) / 14.3 |
| 13. | Distance between tube plates | mm | 5 000 |
| 14. | Number of flue tubes | - | 287 |
| 15. | Heating surface of flue tubes | m2 | 226.7 |
| 16. | Number of smoke tubes | - | - |
| 17. | Heating surface of smoke tubes | m2 | - |
| 18. | Evaporating surface, total | m2 | 226.7 |
| 19. | Superheater heating surface | m2 | - |
| 20. | Diameter of drivers | mm | 12601) |
| 21. | Diameter of idlers front/rear | mm | 970 / - |
| 22. | Total weight, empty | kg | 61 8005) |
| 23. | Total weight, working order | kg | 69 5005) |
| 24. | Adhesive weight, working order | kg | 58 0005) |
| 25. | Weight with tender, empty | kg | 78 8005) |
| 26. | Weight with tender, working order | kg | 108 5005) |
| 27. | Maximum axle load | T | 14.2 |
| 28. | Axle base (with tender) | mm | 13 696 |
| 29. | Overall length (with tender) | mm | 17 430 |
| 30. | Brake type | - | Hardy6) |
<![if !supportLists]>1) <![endif]>Increased to 1300 mm in the PKP service.
<![if !supportLists]>2) <![endif]>After WWII.
<![if !supportLists]>3) <![endif]>Including post-war production in Czechoslovakia (71 examples).
<![if !supportLists]>4) <![endif]>Early production engines.
<![if !supportLists]>5) <![endif]>Ultimate production variant.
<![if !supportLists]>6) <![endif]>Later Westinghouse.
List of vehicles can be found here.
References and acknowledgments
<![if !supportLists]>- <![endif]>Monographic article by Bogdan Pokropiński (KMD vol. 2/2006);
<![if !supportLists]>- <![endif]>PNPP, EZ, EDÖ;
<![if !supportLists]>- <![endif]>www.pospichal.net/lokstatistik (website by Josef Pospichal);
<![if !supportLists]>- <![endif]>www.beitraege.lokomotive.de.