<![if !vml]>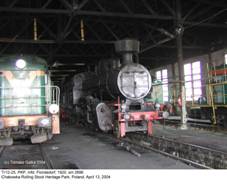 <![endif]>
Tr12-25, photographed at the Chabówka loco depot on April 13, 2004…
<![if !vml]>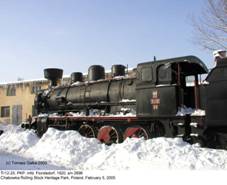 <![endif]>
…and at the same location almost a year later, on February 5, 2005.
<![if !vml]>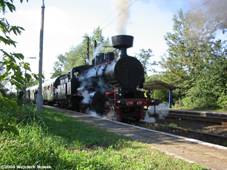 <![endif]>
This photo of Tr12-25 was taken by Wojtek 'Mundek' Nowak  in Kraków on August 15, 2004…
<![if !vml]>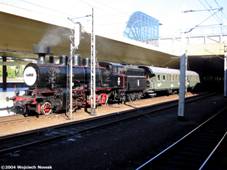 <![endif]>
…and this one by the same author at Kraków railway station on September 11, 2004 (thanks for permission!).
<![if !vml]>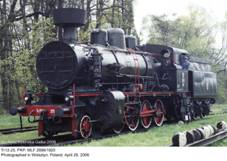 <![endif]>
On April 29, 2006, Tr12-25 participated in the XIIIth Steam Locomotives Parade in Wolsztyn and my wife Anna took this photo – more can be seen here.
Exactly three months later, on July 29, a similar locomotive gala was organized by the Chabówka railway stock heritage park – some photos are here.
April 28, 2007 – next parade at the Wolsztyn depot. Some pictures are here.
<![if !vml]>

<![endif]>
Tr12, original version from WLF; side drawing by Z.Kołoda (source: KMD vol.1/2007).
<![if !vml]>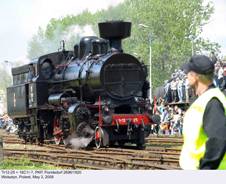 <![endif]>
Tr12-25 at the 15th Steam Locomotive Show, Wolsztyn, May 3, 2008.
<![if !vml]>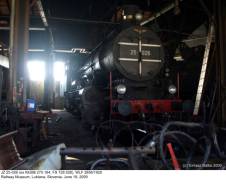 <![endif]>
JŽ 25-026 (WLF 2656/1920) began its service life as 270.164 and later served with FS as 728.028. This engine can be seen at the railway museum in Lublana; photo taken on June 18, 2009.
<![if !vml]>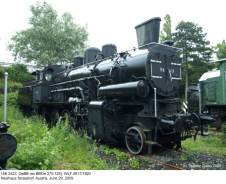 <![endif]>
ÖBB 156.3423 (ex BBÖ 270.125, WLF 2617/1920) is a Reko version with Giesl-type steam exhaust. This engine can be seen at the Heizhaus Strasshof; photo taken on June 20, 2009.
<![if !vml]>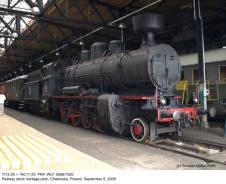 <![endif]>
Tr12-25 inside the shed: Chabówka, September 6, 2009.
<![if !vml]>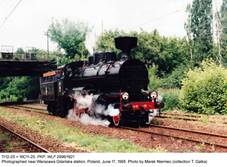 <![endif]>
Tr12-25 photographed during its visit to Warsaw on June 17, 1995. Photo by Marek Niemiec (from my collection).
<![if !vml]>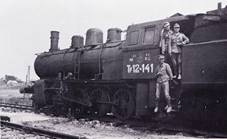 <![endif]>
German soldiers pose on the captured Tr12-141 (WSABP 57/1927), location and date unknown. This locomotive was taken over by NKPS in 1939 and – as indicated on the cab – assigned to the Lvov railway. Later it became DRG 56 3541; in 1945, following short period with ÖBB and then MÁV, it was returned and re-numbered Tr12-37, to be written off in August 1954. Location and date unknown. Source: Lokomotiven ziehen in den Krieg by Hansjürgen Wenzel (Verlag Slezak, 1977).
<![if !vml]>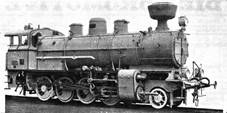 <![endif]>
KkStB 270.02 (BMMF 651/1917), probably a factory photo. After the war this engine was impressed into ČSD as 434.102. During WWII it was taken over by MÁV and re-numbered 403,601; withdrawn in October 1963. Source: Die Lokomotive May 1918.
<![if !vml]>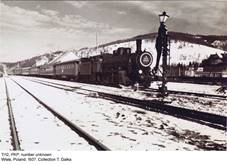 <![endif]>
An unidentified Tr12 with a special train, photographed in Wisła in 1937. Photo from my collection.
<![if !vml]>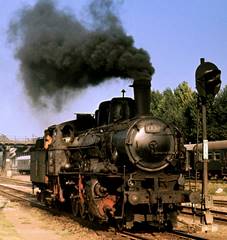 <![endif]>
An unidentified Romanian class 140 locomotive, photographed in Cluj Napolca in August 1972 by someone who wishes to be known as 8474tim (source: www.commons.wikimedia.org).
Between 1897 and 1919 Austrian manufacturers (Wiener Neustadt, WLF, StEG, BMMF, Breitfeld Daněk and Krauss Linz) supplied 837 class 170 locomotives, intended mainly for heavy freight traffic (tractive effort of 11.6 tonnes). This type had been designed by Karl Gölsdorf, who favored saturated steam and compound engines. 170s were good steamers (heating surface of 250 sq.m) and powerful engines, achieving 920 kW during tests. After WWI their production was resumed in Czechoslovakia, further 71 examples being delivered until 1922. They remained in service until 1970s. Considerable number of these locomotives, classed Tr11, served with PKP (they are described under a separate entry).
Despite good overall performance of class 170, heavy freighters running on saturated steam were already becoming an anachronism. Gölsdorf thus decided to reconstruct this locomotive, introducing steam superheating and single-expansion steam engine. After his death in 1916 this reconstruction was completed by his successor, Johann Rihosek. Distance between tube plates was reduced by 500 mm and twin steam domes connected with a horizontal tube, typical for many Austrian engines, were replaced by a single one. Frame and motion gear remained virtually unchanged. This modernization improved economy and slightly increased tractive effort.
Further history of this locomotive turns out to be quite complicated. New engine was accepted by KkStB in 1917 and classed 270. First orders were placed with BMMF (or PČM, after its Czech name) of Prague, but this factory supplied only seven examples – starting with 650/1917 – before the collapse of the Austro-Hungarian empire. Eighth machine, 270.8, rolled out on November 28, 1918, was the very first brand new locomotive built for newly-formed Czechoslovakian state railways ČSD (original service numbers were initially retained). Austrian factories, Wiener Neustadt and WLF (aka Floridsdorf), undertook production of these locomotives only in 1919, both for new Austrian state railways BBÖ (100 examples) and for export, although initially there were no foreign orders and engines were built at manufacturers' risk (all of them were given consecutive KkStB service numbers!). They were eventually purchased by Czechoslovakia (eight), Italy (35, FS class 728), Poland (84), Romania (five) and Kingdom of Serbs, Croatians and Slovenians (SHS, later Yugoslavia – nine, from 1929 JDŽ class 25)
Class 270 had higher tractive effort than its predecessor and consumption of coal and water was reduced; steam generation was, however, somehow insufficient and there were problems with boiler priming. These deficiencies were not ignored, particularly in Czechoslovakia, where several attempts to optimize boiler design were made. After building 91 machines and purchasing further seven from WLF (ČSD service numbers 270.01 to 96, 270.98 and 270.99 – later re-designated 434.101 to 198), it was decided to reduce the number of flues from 173 to 162, with corresponding heating surface reduction. First modernized example was supplied by WLF (s/n 2784/22, 270.288, later 434.199), but I don't know whether these changes were also incorporated in engines built in Austria for other customers; it was followed by 32 examples built in Czechoslovakia (270.300 to 331, later 434.1100 through 1131). In order to improve steaming capacity and eliminate boiler priming, twin steam domes with horizontal connecting tube – as in former KkStB class 170 – were re-introduced from 270.320 onwards. 14 engines built by Breitfeld-Danĕk between 1925 and 1926 (434.1132 through 1145) had completely redesigned boilers with 27 flues and 110 smoke tubes, evaporating surface being reduced to 137.7 m2 and superheater surface increased to 60.1 m2. Finally, in 1930, ČKD (successor to Breitfeld-Danĕk) delivered 20 machines (434.1146 through 1165) with Metcalfe injectors, electric lighting and modified cabs. In all, ČSD had 157 machines built by Czech factories and eight from WLF. Last two were withdrawn in 1974.
Romania, having purchased five examples from WLF, ordered further 27 from French factory Schneider & Cie and 100 from Škoda (the latter, and possibly all, corresponded to the modernized variant with 162 flues, but single steam dome – all machines with twin domes were built by Breitfeld-Danĕk and ČKD). All 132 locomotives were delivered between 1920 and 1922 and classed 140.220. They served mainly in northern Moldova and often ran with passenger trains. From early 1960s onwards they were replaced by class 060DA diesels and survived in service until 1978; last example was scrapped in 1998. Eight were built between 1928 and 1930 by Magyar Királyi államvasutak gépgyára of Budapest for DSA (Duna-Szava-Adria) railway and classed 140. In 1932, DSA was absorbed by state railways MÁV and these engines were re-classed 403. During WWII, MÁV acquired further 19 examples from Czechoslovakia and one from Poland (ex Tr12-91, which arrived with an evacuation train); most of them were returned shortly after the war. Several (four?) examples, taken over by MÁV after the war, went to Albania in 1948 (according to some sources, they were handed over by JDŽ). Italian state railways FS handed over some of their 728s (probably eighteen) to JDŽ after WWII; last Italian engines of this type survived in service until early 1960s.
In all, production of this type can be summed up as follows:
- Austria: 241;
- Czechoslovakia: PČM – 78, Škoda – 120, Breitfeld-Danĕk – 39, ČKD – 20; 257 in all;
- Hungary: Magyar Királyi államvasutak gépgyára – 8;
- France: Schneider – 27;
- Poland: WSABP – 58.
This gives the grand total of 591 examples.
Class 270, with comparatively high tractive effort and moderate axle load of only 14.5 tonnes, was well suited to Polish conditions immediately after WWI, especially in southern and south-eastern areas. Austrian factories had considerable numbers of these locomotives at hand and could supply them in a short time on favorable terms, so contracts were soon agreed with WLF for 82 examples, classed Tr12. Further two were supplied by Wiener Neustadt. It was also decided to produce these locomotives in Poland at WSABP (aka Parowóz) of Warsaw, although most sub-assemblies were in fact initially imported from Austria. First machine assembled in Warsaw (Tr12-66) was rolled out in December 1923 and the first one built without imported components was Tr12-93 (s/n 9/1925). Production lasted until 1927, totaling 58 examples. Polish-built engines differed in several details. They had slightly larger superheaters, extended smokestacks without Rihosek-type spark arresters, Westinghouse air brakes and other minor equipment items modifications. Running tender first during winter turned out to be very uncomfortable for crews, as there was no protection against snow and cold wind. Initially makeshift rear cab walls were fitted, made of wooden planks; later production examples had modified cabs based on these of Tr21, then in production at Fablok. As heavy freight traffic was soon taken over by more powerful Tr20s and later Ty23s, these engines were used mainly in southern Poland, where their advantages could be used to the full. In 1931 all 142 examples were based there. About 20 Tr12s, based in Lwów, were converted to oil firing.
In 1939 most Tr12s (most probably 106) were captured by the Soviets and converted to 1524 mm track; according to LOZD, 92 examples were converted until July 10, 1940. Ex-PKP engines retained their original numbers, but these were painted on cabs in Russian script. Soviets acquired further locomotives of this type, this time from CFR, after annexation of Bukovina in June 1940. Germans captured 35 examples and, together with former Austrian and Czechoslovakian ones, classed them 5634-35. Ex-PKP engines were re-numbered 56 3501 through 3533; two examples that served with Ostbahn retained their original numbers. In 1941, some Soviet engines fell into German hands; nine were given DRG service numbers (56 3538 through 56 3546), some more probably served with Ostbahn with original numbers. After WWII Polish railways initially regained 22 machines, of which only ten served with PKP before 1939. Some more pre-war Polish Tr12s returned later. Two (Tr12-22 and Tr12-126), impressed into ČSD service, were returned in 1949 and 1950; five more remained in Czechoslovakia and there is no trace of their subsequent service with ČSD, although they were allocated service numbers. On the other hand, four ex-ČSD machines, which served with MÁV during the war and somehow made their way to Poland, were not assigned PKP service numbers and returned to Czechoslovakia in March 1948. Eleven were returned by ÖBB between 1947 and 1948, one by JDŽ in 1949 and one by MÁV in 1953. Finally, in 1955, twenty engines were returned by DR, but all were in very poor condition and only two were repaired; the rest ended up as scrap. In all, 39 engines of that type were impressed into PKP service and given new service numbers. Initially Tr12s were based in Warsaw, Gdańsk and Kraków and used mainly with light freight trains. Post-war modifications were typical and included steel fireboxes, normalized injectors and compressors and slightly modified cabs. Some engines were fitted with electric lighting. Later, most Tr12s were shifted to secondary duties and switching. Last examples, Tr12-1 (ex 270.225) and Tr12-5, were withdrawn in 1969. Few were subsequently used as stationary boilers, surviving in this role until 1973.
Tr12-25 (pre-war Tr12-58), withdrawn in 1966, spent some years in Przemyśl and Tarnowskie Góry before being transferred to the Railway Museum in Warsaw. After 20 years there, it was overhauled in 1993 and restored in service. Based in Chabówka, it is still sometimes used with tourist trains. According to many older Polish sources this engine was built by WLF for stock in 1921 (s/n 2742) and initially designated 270.246. In fact this is WLF 2696/1920, initially 270.203. 'Real' 2742/1921 served with BBÖ as 270.246, then with DRG as 56 3475 and after WWII was taken over by JDŽ, to become 25-015. According to the monographic article by Bogdan Pokropiński (KMD vol.1/2007), this mismatch has resulted from the fact that, during the war, Tr12-58 served in Austria and was fitted with the boiler from 2742/1921 during an overhaul. This source, however, gives that Tr12-58 was WLF 2965/1921, initially 270.209. Be it as it was, Tr12-25, in perfect condition and fitted with beautiful Rihosek spark arrester, is one of the most precious steam locomotives preserved in Poland and for some time the only operational engine of Austrian origin (later joined by Ol12-7).
Apart from the Tr12-25, ten examples have survived until today, most of them (six) in Slovenia, the rest in Austria, Slovakia, Czech Republic and Albania. One of Slovenian engines is owned by the Trieste railway museum. Czech machine is particularly worth mentioning, as this is the very first locomotive built by Škoda, s/n 1/1920 (ČSD 270.300, later 434.1100). This historical loco, based at Lužna u Rakovníka and formally owned by the National Technical Museum, is in working order and often hauls special trains. All ten preserved locomotives of this type represent the original variant with single steam dome.
Main technical data
| | | | |
| --- | --- | --- | --- |
| No. | Parameter | Unit | Value |
| 1. | Years of manufacture | - | 1917 – 19303) |
| 2. | Total built / used in Poland | - | 591 (?) / 1421) |
| 3. | Tender class | - | 16C11 |
| 4. | Axle arrangement | - | 1-4-0 |
| 5. | Design maximum speed | km/h | 60 |
| 6. | Cylinder bore | mm | 2 ´ 570 |
| 7. | Piston stroke | mm | 632 |
| 8. | Engine rating | kW/hp | 670 / 910 |
| 9. | Tractive effort | kG | 12 300 |
| 10. | Boiler pressure | MPa | 1.33 |
| 11. | Grate dimensions | m X m | 2.71 X 1.43 |
| 12. | Firebox heating surface | m2 | 13.9 |
| 13. | Distance between tube plates | mm | 4 500 |
| 14. | Number of flue tubes | - | 173 |
| 15. | Heating surface of flue tubes | m2 | 112.3 |
| 16. | Number of smoke tubes | - | 24 |
| 17. | Heating surface of smoke tubes | m2 | 42.5 |
| 18. | Evaporating surface, total | m2 | 168.7 (166.7)2) |
| 19. | Superheater heating surface | m2 | 43.0 (38.3)2) |
| 20. | Diameter of drivers | mm | 1300 |
| 21. | Diameter of idlers front/rear | mm | 970 / - |
| 22. | Total weight, empty | kg | 62 000 |
| 23. | Total weight, working order | kg | 68 000 |
| 24. | Adhesive weight, working order | kg | 57 300 |
| 25. | Weight with tender, empty | kg | 79 000 |
| 26. | Weight with tender, working order | kg | 107 000 |
| 27. | Maximum axle load | T | 14.5 |
| 28. | Axle base (with tender) | mm | 13 786 |
| 29. | Overall length (with tender) | mm | 17 535 |
| 30. | Brake type | - | vacuum, Westinghouse4) |
<![if !supportLists]>1) <![endif]>Including 58 machines assembled in Poland by WSABP.
<![if !supportLists]>2) <![endif]>Boiler characteristics refer to engines built by WSABP (data in brackets for original Austrian variant).
<![if !supportLists]>3) <![endif]>Modified variants built in Czechoslovakia and Hungary.
<![if !supportLists]>4) <![endif]>Some fitted with Knorr brakes after 1945.
References and acknowledgments
<![if !supportLists]>- <![endif]>Monographic article by Bogdan Pokropiński (KMD vol. 1/2007);
<![if !supportLists]>- <![endif]>www.parowozy.best.net (website maintained by 'Doctor');
<![if !supportLists]>- <![endif]>PNPP, KT, LP, EZ, ISRSL, ITFR and EDÖ.