<![if !vml]>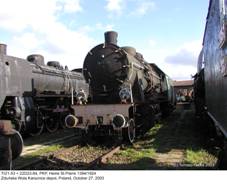 <![endif]>
Tr21-53 (pre-war Tr21-84, Haine St.Pierre 1394/1924), photographed at the Zduńska Wola Karsznice depot on October 27, 2003.
<![if !vml]>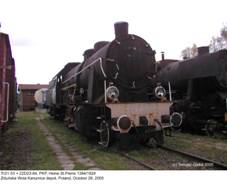 <![endif]>
Another picture of the sole surviving Tr21, taken on October 26, 2005 ...
<![if !vml]>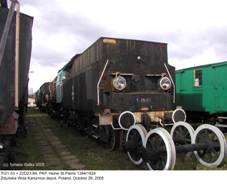 <![endif]>
... and yet another, taken on the same occasion.
<![if !vml]>

<![endif]>
Side view of the early variant from Fablok with three-axle 16C11 tender...
<![if !vml]>

<![endif]>
... and of the 'Belgian' variant with four-axle 22D23 tender; both drawings from PNP.
<![if !vml]>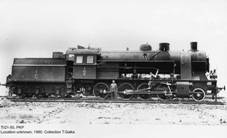 <![endif]>
Tr21-50, photographed somewhere in Poland in 1960. Photo from my collection.
<![if !vml]>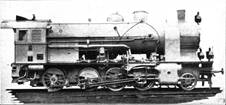 <![endif]>
Most probably this is the first Tr21 assembled by Fablok (StEG 4668/1922, Fablok 1/1922). Source: Die Lokomotive May 1925.
<![if !vml]>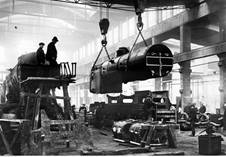 <![endif]>
Assembly of a Tr21 at the Fablok premises in Chrzanów, date unknown. Source: National Digital Archives (used by permission).
Polish State Railways PKP, founded shortly after Poland regained independence in November 1918, took over about 2,900 German and 1,300 Austrian locomotives. Many of them were old and obsolete engines, often in poor condition. Introduction of new, standardized types, designed within the framework of a consistent procurement program, was necessary. It was agreed that these engines should be built in Poland, but there was no locomotive industry that could undertake their design and manufacture: factories were built virtually from scratch. One of them was Pierwsza Fabryka Lokomotyw w Polsce S.A. (First Locomotive Factory in Poland JSC) of Chrzanów, founded in May 1919 and later commonly known as Fablok.
Given the needs of economy reconstruction, it is hardly surprising that freight locomotives had been given priority. Most freighters inherited from German and Austrian railways were comparatively weak machines, running on saturated steam and suitable only for light traffic. As an interim measure, in December 1919 Polish government ordered 150 Consolidation engines from Baldwin, later classed Tr20 (followed by further 25 in 1920). Next standardized type, which retained the Consolidation axle arrangement (1-4-0) and hence was classed Tr21, was ordered from Fablok, to be designed in close co-operation with Austrian Maschinenfabrik der priv. österreichisch-ungarischen Staatseisenbahnen-Gesellschaft (StEG). Contrary to later Os24, which was developed from kkStB class 570, it was an entirely new machine, of course following Austrian design practice.
As Fablok works were still under construction, first 36 machines were built by StEG and assembled in Chrzanów. They were delivered in two batches, each numbering eighteen examples, and had double serial numbers (StEG 4668/1922 through 4685/1922 and 4711/1923 through 4728/1923, Fablok 1 through 36). These locomotives were coupled with Austrian three-axle tenders (kkStB class 156, PKP class 16C11). First Tr21 built entirely by Fablok, Tr21-37, was rolled out on February 18, 1924, as the very first steam locomotive built in independent Poland. It was followed by further seventeen examples; most of them also had 16C11 tenders, but some were coupled with slightly larger 17C11s. In order to speed up deliveries, further orders were placed with Belgian factories Les Ateliers Métallurgiques Bruxelles, Ateliers de Tubize (Tr21-55 through 74, 1939/1924 through 1958/1924) and Usines et Foundries de Haine St. Pierre (Tr21-75 through 94, 1385/1924 through 1404/1924). Belgian engines differed in many details from their predecessors. Driver's cab was similar to that of heavier Ty23, then entering production, steam throttle drive was modified and double smoke-box door, typical for Austrian engines, was replaced by more common, slightly convex round door with central lock. These locomotives were coupled with larger four-axle 22D23 tenders, also designed for the Ty23. Engines from Tr21-95 onwards were built by Fablok and basically corresponded to the Belgian variant, although during the production run some modifications were introduced. This type remained in production until December 1925, when 148 machines had been supplied by four manufacturers.
Tr21s were initially assigned to PKP regional managements in Warsaw and Katowice. During service tests, performed in February 1924, Tr21 proved capable of hauling a 1500-tonne draft at 40 km/h, which was found satisfactory. With increasing weight of freight trains and mounting supplies of heavy Ty23s they were relegated to secondary lines and switching. In-service modifications included gas lighting instead of kerosene lamps and fitting Metcalfe-Friedmann exhaust-steam injectors in older examples (from Tr21-55 onwards they were fitted as standard). In 1939, all 148 Tr21s were in service; the majority of them (121) fell into German hands and were impressed into DRG as class 5639-40 (service numbers 56 3901 through 56 4018, three were not re-numbered). Fourteen engines, mostly those sent eastwards with evacuation trains, were taken over by the Soviets. Further two ended up in Lithuania; they were impressed into LG service as class P9.2 and numbered 251 (Tr21-46) and 252 (Tr21-76) and fell into Soviet hands after annexation of Lithuania in 1940. Information on eleven examples is lacking. In the Soviet service, Tr21s retained their original designations (TP21 in Russian script) and service numbers. According to PNPP, eighteen were converted to the 1524 mm gauge and sent to Kazakhstan after German assault in June 1941, never to return. If this information is correct, at least some of eleven examples for which no information is available must have been impressed into service with NKPS. Nine Soviet Tr21s were later captured by Germans and eight were impressed into service as 56 4019 through 56 4026 (the ninth one, Tr21-76, was not repaired). Six DRG engines were later captured by the Soviets.
 After WWII most Tr21s from DRG returned to Poland, but not always directly. Twelve were initially taken over by Czechoslovak railways ČSD, but only three were actually impressed into service: Tr21-66 (DRG 56 3954, Tubize 1950/1924) as 437.1501, Tr21-102 (DRG 56 3979, Fablok 62/1925) as 437.1502 and 437.1500, for which neither Polish nor German number is known. From DRG statistics available at www.lokomotive.de it seems that it might be either Tr21-49 (DRG 56 3941, Fablok 49/1924) or Tr21-122 (DRG 56 3993, Fablok 82/1925) – but this is only a conjecture. All twelve ČSD examples were returned to PKP in 1947 and 1949. DR railways in Eastern Germany took over 24 engines; all were later returned to PKP, many as late as in 1955, generally in a very poor condition (seven were immediately scrapped). On the contrary, all eighteen machines that remained with DB were written off in 1951 and 1952 and scrapped. Austrian railways ÖBB took over sixteen Tr21s, but most were passed over to MPS (Ministierstvo Putyei Soobshcheniya, Soviet ministry of transport) in 1947 and 1948; all later returned to Poland, but one (Tr21-110) was not restored in service and was scrapped in 1947. Engines taken by MPS directly from DRG were not returned, as were not those captured in 1939. Of their subsequent fate very little is known; according to PNPP, they remained in use until 1962, some going to industry in late 1940s. Finally, two Tr21s ended up in Yugoslavia: Tr21-45 (DRG 56 3938, Fablok 45/1924) as JDŽ 143-001 and Tr21-79 (DRG 56 3965, Haine St.Pierre 1389/1924) as JDŽ 143-002; both were returned in 1949.
In all, 104 locomotives of this type returned to Poland after the war and 95 were impressed into PKP service, the last of them being pre-war Tr21-72 (DRG 56 3959, Tubize 1956/1924), taken over from DR in September 1955. Withdrawal of these engines started in earnest in late 1960s and last of them survived in service until 1974. Only one has been preserved. Tr21-84 (Haine St.Pierre 1394/1924) was captured in September 1939 by the Soviets and later fell into German hands; impressed into DRG as 56 4025, it was taken over by ÖBB in 1945 and passed over to MPS in May 1947, to be returned to PKP almost immediately. Re-numbered Tr21-53, it can be now seen at the Zduńska Wola Karsznice depot. Unfortunately Tr21-37, the very first locomotive built in Poland, was never returned; also captured by the Soviets and later impressed into DRG as 56 4021, it was kept by DB, written off in March 1951 and scrapped.
Main technical data
No.

Parameter

Unit

Value

1.

Years of manufacture

-

1922 – 1925

2.

Total built / used in Poland

-

1481) / 148

3.

Tender class

-

22D23, 16C11 or 17C11

4.

Axle arrangement

-

1-4-0

5.

Design maximum speed

km/h

60

6.

Cylinder bore

mm

2 x 615

7.

Piston stroke

mm

660

8.

Engine rating

kW/hp

495 / 670

9.

Tractive effort

kG

14 4002)

10.

Boiler pressure

MPa

1.33

11.

Grate dimensions

m X m

2.528 X 1.63

12.

Firebox heating surface

m2

15.7

13.

Distance between tube plates

mm

4 915

14.

Number of flue tubes

-

176

15.

Heating surface of flue tubes

m2

124.5

16.

Number of smoke tubes

-

27

17.

Heating surface of smoke tubes

m2

52.1

18.

Evaporating surface, total

m2

192.3

19.

Superheater heating surface

m2

51.0

20.

Diameter of drivers

mm

1350

21.

Diameter of idlers front/rear

mm

1000 / -

22.

Total weight, empty

kg

73 600

23.

Total weight, working order

kg

80 200

24.

Weight on drivers, working order

kg

68 000

25.

Weight with tender, empty

kg

96 200 / 90 6003)

26.

Weight with tender, working order

kg

134 300 /

119 2003)

27.

Maximum axle load

T

17.0

28.

Axle base (with tender)

mm

15 795 / 14 3483)

29.

Overall length (with tender)

mm

19 305 / 18 1873)

30.

Brake type

-

Westinghouse
<![if !supportLists]>1) <![endif]>36 from StEG with 16C11 tenders, 40 from Tubize and Haine St.Pierre, 72 from Fablok (some with 16C11 or 17C11 tenders).
<![if !supportLists]>2) <![endif]>Some sources give 18 000 kG.
<![if !supportLists]>3) <![endif]>With 16C11 tenders.
References and acknowledgments
<![if !supportLists]>- <![endif]>PNP, PNPP, AL, LP;
<![if !supportLists]>- <![endif]>www.lokomotive.de (website by Ingo Hütter);