<![if !vml]>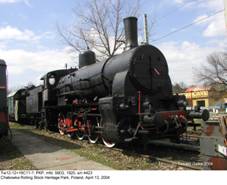 <![endif]>
Tw12-12 + 16C11-? (StEG 4423/1920), preserved at Chabówka railway stock heritage park; photo taken on April 13, 2004.
<![if !vml]>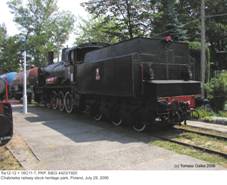 <![endif]>
Another picture of the Tw12-12, taken on July 29, 2006. Three-axle riveted 16C11 tender is particularly noteworthy.
<![if !vml]>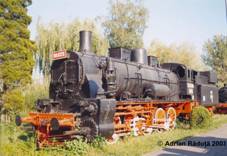 <![endif]>
CFR 50.025 (StEG 4482/1921) at the Muzeum locomotivelor cu abur in aer liber, Resita, Romania, August 2003; photo by Adrian Raduta (thanks a lot!).
<![if !vml]>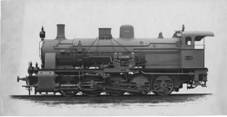 <![endif]>
Beautiful photo of the OSE Kb 818 (StEG 4608/1924); photo courtesy Josef Pospichal – many thanks!
<![if !vml]>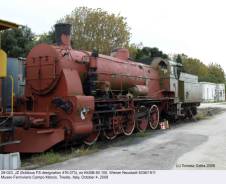 <![endif]>
JŽ 28-023 (Wiener Neustadt 5036/1911) with fictitious FS number, under restoration at the Museo Ferroviario Campo Marzio, Trieste. Photo taken on October 4, 2008.
<![if !vml]>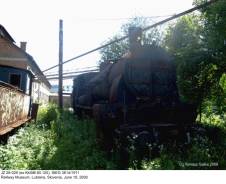 <![endif]>
It is not easy to take a good photo of this engine! JŽ 28-029 (ex KkStB 80.120, StEG 3814/1911) awaiting restoration at the premises of the railway museum in Lublana. Photo taken on June 18, 2009.
<![if !vml]>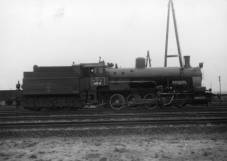 <![endif]>
Tw12-47 (StEG 4416/1920) in the Soviet service, date and location unknown: note number written in Russian script and traces of removed Polish emblems. Source: National Digital Archives (www.nac.gov.pl). Used by permission.
<![if !vml]>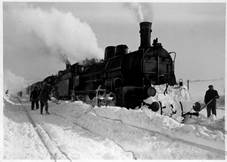 <![endif]>
An unknown Tw12 (possibly in Ostbahn service), February 1940, location unknown. Source: as above.
<![if !vml]>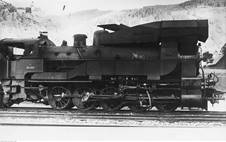 <![endif]>
BBÖ 80.4911 (WrN 5698/1921), fitted with experimental heating device. Of rather ugly appearance, it was promptly dubbed 'Lautsprecher' (loudspeaker) or 'Bauernschreck' (farmers' nightmare – the origin of this nickname is unclear to me). Experiments probably were not successful. Photo taken in 1935, location unknown. Source: as above.
<![if !vml]>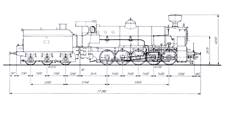 <![endif]>
Two side drawings: class 80.100…
<![if !vml]>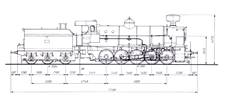 <![endif]>
… and 80.900 with Lentz poppet valve gear. Source: Triebfahrzeuge österreichischer Eisenbahnen: Dampflokomotiven BBÖ und ÖBB (see References).
<![if !vml]>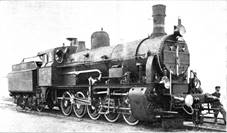 <![endif]>
This engine is most probably Südbahn 80.36 (Wiener Neustadt 5175/1913); location and date unknown. After the war it was taken over by Italian FS and re-numbered 476.041. Source: Die Lokomotive September 1914.
In 1900, Wiener-Locomotiv-Fabriks-AG (commonly known as WLF or Floridsdorf) built the first class 180 freight locomotive. These machines, heavy and powerful for that time, ran on saturated steam and had compound steam engines. They may be considered a good example of Austro-Hungarian design practice in combining comparatively high tractive effort (13.3 tonnes) with low axle load of only 13.5 tonnes. This demanded five coupled axles. In order to negotiate tight curves, class 180 featured so-called Gölsdorf layout, wherein 1st and 5th axles had side-play of 26 mm and 3rd axle – of 20 mm. Second and fourth axles were fixed; main rod was connected to the latter and, in order to keep it short, piston rod was lengthened and crosshead had double-side guides. However, due to short axle base, at least for a 0-5-0, running at higher speed was somehow uneasy. Most Austro-Hungarian locomotives were designed to burn local low-grade coal and class 180 was no exception: grate area of 3.42 sq.m was much larger than in machines of comparable tractive effort built in other countries.
Class 180, of which 239 were eventually built, was a successful design, but advantages of steam superheating were already becoming more and more evident. Karl Gölsdorf preferred compounds, due to better economy, and decided to develop a  variant of the 180 with Schmidt-type superheater of moderate heating surface. Prototype of this engine appeared in 1909 and was immediately accepted as class 80. Slightly heavier than 180, it offered marginally higher tractive effort and similar running qualities combined with better economy. Orders were placed for 561 examples to be built by WLF, Wiener Neustadt, StEG, BMF and Breitfeld-Daněk, but these were not completed before the collapse of Austro-Hungarian monarchy in 1918. Manufacture of this type continued, however, until 1929, and its career was an eventful one.
Production of the initial variant for Austro-Hungarian state railways kkStB totaled just 36 examples (service numbers 80.01 through 80.36). These locomotives had compound engines with high-pressure piston valve and low-pressure slide valve. Next version, classed 80.100 (service numbers 80.100 through 80.203) had piston valves at both high- and low-pressure cylinders. In 1911, a single-expansion variant (class 80.900) appeared and it was destined to out-number the compounds; 208 were supplied to kkStB, which gives a total of 348 built for this service. Eight more were ordered by Südbahn: six from Wiener Neustadt in 1913 and two from StEG in 1915. There were several minor modifications and some later engines were fitted with large Rihosek-type drum spark arrester, characteristic for many Austro-Hungarian machines. After WWI, production continued; those previously ordered by kkStB were completed and offered for sale, there were also new orders:
<![if !supportLists]>- <![endif]>Austrian state railways BBÖ, apart from ninety 80s and ninety 80.900s inherited from kkStB, received 56 examples of the single-expansion variant, plus five 08.600s (80.600 through 80.604, built by Wiener Neustadt in 1920 and 1921) with Gölsdorf-Clench steam dryer instead of superheater and modified undercarriage. Ten compounds were sold to Iran in 1937. Some post-war locomotives of this type were fitted with Lentz-type poppet valve gear; other featured Giesl-type ejector. 80.4911 (Wiener Neustadt 5698/1921) was experimentally fitted with air heater fed from the stack; tests were performed between 1933 and 1937, but this rather ungainly device has not found further use.
<![if !supportLists]>- <![endif]>Romanian state railways CFR took over ten machines previously ordered by KkStB and then purchased 70 from Wiener Neustadt and StEG; all were designated class 50.
<![if !supportLists]>- <![endif]>Greek state railways SEK (Sidirodromoi Ellados Kratous) ordered ten machines from StEG in 1924 (4601 through 4610) and further forty in 1926 (4621 through 4655 and 4746 through 4750); they were classed Kb and numbered 811 through 860;
<![if !supportLists]>- <![endif]>In Czechoslovakia, ČSD took over 71 engines (all 80.900s, classed 524.0) plus thirteen ordered by kkStB from Breitfeld-Daněk, but not delivered before the Armistice. More were later ordered from PČM (former BMF, eight examples supplied in 1919) and Breitfeld-Daněk (52 examples, built in 1921 and 1922). Last 25 engines from the latter manufacturer were fitted with twin steam domes connected by a horizontal tube, typical for many Austrian locomotives;
<![if !supportLists]>- <![endif]>Railways of the Kingdom of Serbs, Croatians and Slovenians (SHS), in 1933 renamed JDŽ (Jugoslovenske Državne Železnice), apart from 25 ex-kkStB engines (some sources give 26), mostly 80s, ordered ten brand-new ones from Wiener Neustadt (5735/1923 through 5744/1923). Four more followed from StEG in 1929 (4840 through 4843) and these were the last locos of this type built. All were designated JDŽ class 28;
<![if !supportLists]>- <![endif]>Italian state railways FS took over 28 (some sources give 29) compounds and 72 singles, including all eight from Südbahn; they were classed 475 and 476, respectively. Last were withdrawn from use in the 1950s, seven compounds and five singles were transferred to Yugoslavia in 1947.
Thus, together with those built for PKP (see below), total production of all variants amounted to 766 examples.
Immediately after WWI, Poland took over only eight ex-kkStB locomotives of this type, all singles, which initially retained their original designations. Between 1919 and 1923, 132 more were purchased. Most had initially been ordered by Austro-Hungarian railways and these included 19 examples of class 80 (ordered as 80.38 through 80.56, Wiener Neustadt 5613/1921 through 5632/1921); all remaining engines, including those built against Polish orders in 1922 and 1923 by Wiener Neustadt and StEG, corresponded to class 80.900. These locomotives were initially given numerical designations from 2001 onwards; in 1923, with new designation system introduced, all were classed Tw12. They were typically coupled with 16C11 tenders, sometimes also 14C11 or 17C11 – all three-axle tenders of Austrian origin. Among 'Austrians', with many classes numbering only few obsolete and untypical engines, Tw12s made up a numerous group; furthermore, they were comparatively modern. As with most engines of Austro-Hungarian origin, they served mainly in southern Poland, where their advantages – considerable tractive effort at moderate axle load and ability to negotiate tight curves – could be used to the full extent. Maximum speed of only 50 km/h was not a great disadvantage for such duties.
As with most other Polish engines, in September 1939 Tw12s fell into German and Soviet hands. DRG had a considerable number of 80s; some of them were impressed after Anschluss, other came from PKP, JDŽ or Soviet Union as a war booty (ČSD 524.0s were impressed into ČMD – Českomoravské protektorátni dráhy). All were classed 571-4, many receiving their numbers after old Saxon or Wirttembergian locomotives withdrawn in the 1920s or early1930s. Polish Tw12 were numbered 57 323 through 57 377 (singles) and 57 474 through 57 485 (compounds) – 67 examples in all, plus one (Tw12-140) that was not impressed into service and was written off in February 1940. Three engines (Tw12-7, Tw12-108 and Tw12-119) arrived in Hungary with evacuation trains and were later impressed into the MÁV service as 520.501 through 503; all were returned to PKP after the war. Almost all remaining engines were taken by the Soviets (the fate of Tw12-38, Tw12-78 and Tw12-79 is not known). NKPS, Soviet ministry of transport before 1946, acquired also a number of Romanian class 50 machines, captured after the annexation of Bukovina in 1940. According to LOZD, many were converted to 1524 mm track, but it seems that most, if not all, remained in Moldavia and south-western Ukraine. Tw12s in the NKPS service retained their original numbers, written in Russian script. After 1941, several fell into German hands; ex-Polish Tw12s in this 'batch' were numbered 57 394 through 57 400 (singles) and 57 498 through 57 500 (compounds – the last of them, ex-Tw12-23, StEG 4321/1919, was in fact erroneously classified as a compound!). Six were not impressed into DRG service, but passed over to CFR – after the war all were returned to the Soviet Union. In late 1944 and early 1945, eight more captured engines were numbered 57 651 through 658, but most of these numbers were assigned only formally.
After 1945, 47 pre-war Tw12s returned to Poland, but five of them, which were in a very poor condition, were not given new numbers and saw no service. Besides, PKP took over twenty DRG machines, most of them ex-BBÖ ones – nine singles and eleven compounds; again, five of them were not impressed into service due to poor condition, so post-war class Tw12 numbered 57 examples. Most of them were withdrawn in late 1950s or 1960s; many (at least 26) went to various industrial establishments and enjoyed a few years' lease of life. At least one Tw12 (number unknown) was used with an armored train, organized by SOK (Służba Ochrony Kolei – Railway Protection Service) in October 1946 and designated 'No. 3'; later this train was named 'Huragan' (Hurricane). It participated in fighting against Ukrainian underground in south-eastern Poland until late 1948 and later was probably used for training. Few details of this interesting episode are known (armored trains in the SOK service lasted probably until 1950s).
Tw12-12 (StEG 4423/1920, pre-war Tw12-49, ordered for kkStB as 80.3968, DRG 57 344), withdrawn from PKP service as the last Tw12 in 1967, has been preserved at the Chabówka railway stock heritage park on static display. Eight more can be seen in Europe, namely:
<![if !supportLists]>- <![endif]>JDŽ 28-006 (ex 80.306, built against the SHS order), Wiener Neustadt 5740/1922 – plinthed in Divaca, Slovenia;
<![if !supportLists]>- <![endif]>JDŽ 28-029 (ex 80.120), StEG 3814/1911 – railway museum, Lublana, Slovenia;
<![if !supportLists]>- <![endif]>JDŽ 28-023 (ex 80.100), Wiener Neustadt 5036/1911 – Museo Ferroviario Campo Marzio, Trieste, Italy, with fictitious FS number 476.073;
<![if !supportLists]>- <![endif]>JDŽ 28-053 (ex 80.179), Breitfeld-Daněk 37/1914 – property of the Lublana railway museum, plinthed in Knittelfeld, Austria;
<![if !supportLists]>- <![endif]>ÖBB 57.223 (ex 80.988), Wiener Neustadt 5285/1916, Heizhaus Strasshof, Austria,
<![if !supportLists]>- <![endif]>CFR 50.025, StEG 4482/1921 - Muzeum locomotivelor cu abur in aer liber, Resita, Romania;
<![if !supportLists]>- <![endif]>CFR 50.065, StEG 4498/1921 – Oraviţa, Romania (for some time kept in working order);
<![if !supportLists]>- <![endif]>OSE Kb 817, StEG 4607/1924 – Thessaloniki, Greece.
Main technical data
| | | | |
| --- | --- | --- | --- |
| No. | Parameter | Unit | Value |
| 1. | Years of manufacture | - | 1909 – 1922 |
| 2. | Total built / used in Poland | - | 758 / 140 (571)) |
| 3. | Tender class | - | 16C112) |
| 4. | Axle arrangement | - | 0-5-0 |
| 5. | Design maximum speed | km/h | 50 |
| 6. | Cylinder bore | mm | 2 X 590 (560 / 850)3) |
| 7. | Piston stroke | mm | 632 |
| 8. | Engine rating | kW/hp | 844 / 1148 |
| 9. | Tractive effort | kG | 13 900 (13 300)3) |
| 10. | Boiler pressure | MPa | 1.43 |
| 11. | Grate dimensions | m X m | 2.39 X 1.43 |
| 12. | Firebox heating surface | m2 | 12.0 |
| 13. | Distance between tube plates | mm | 4 250 |
| 14. | Number of flue tubes | - | 148 |
| 15. | Heating surface of flue tubes | m2 | 90.8 |
| 16. | Number of smoke tubes | - | 22 |
| 17. | Heating surface of smoke tubes | m2 | 33.7 |
| 18. | Evaporating surface, total | m2 | 136.5 |
| 19. | Superheater heating surface | m2 | 31.0 |
| 20. | Diameter of drivers | mm | 1300 |
| 21. | Diameter of idlers front/rear | mm | - / - |
| 22. | Total weight, empty | kg | 63 500 |
| 23. | Total weight, working order | kg | 69 400 |
| 24. | Weight on drivers, working order | kg | 69 400 |
| 25. | Weight with tender, empty | kg | 80 500 |
| 26. | Weight with tender, working order | kg | 108 400 |
| 27. | Maximum axle load | T | 14.1 |
| 28. | Axle base (with tender) | mm | 12 550 |
| 29. | Overall length (with tender) | mm | 17 284 |
| 30. | Brake type | - | vacuum, Westinghouse |
<![if !supportLists]>- <![endif]>After WWII (excluding those not impressed into service).
<![if !supportLists]>- <![endif]>Typically; sometimes also 14C11 and 17C11 tenders.
<![if !supportLists]>- <![endif]>Data in brackets refer to the version with compound engine.
References and acknowledgments
<![if !supportLists]>- <![endif]>EZ, EDÖ, LP;
<![if !supportLists]>- <![endif]>http://www.beitraege.lokomotive.de/datenbank (Ingo Hütter's database);
<![if !supportLists]>- <![endif]>www.pospichal.net/lokstatistik (website by Josef Pospichal);
<![if !supportLists]>- <![endif]>Josef Pospichal (private communication – many thanks for detailed information on production and statistics!);
<![if !supportLists]>- <![endif]>Triebfahrzeuge österreichischer Eisenbahnen: Dampflokomotiven BBÖ und ÖBB by Heribert Schröpfer (Alba, 2002).