<![if !vml]>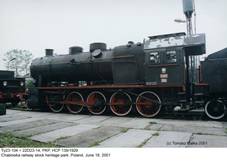 <![endif]>
Ty23-104 + 22D23-14 in Chabówka railway stock heritage park; photo taken on June 18, 2001…
<![if !vml]>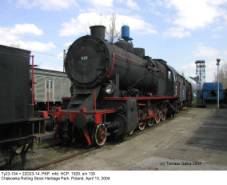 <![endif]>
… the same locomotive photographed on April 13, 2004...
<![if !vml]>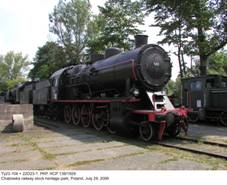 <![endif]>
...and once again on July 29, 2006.
<![if !vml]>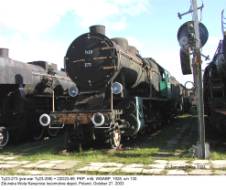 <![endif]>
This Ty23-273 + 22D23-89 can be seen at Zduńska Wola Karsznice loco depot. Photo taken on October 27, 2003.
<![if !vml]>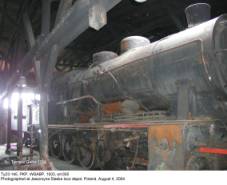 <![endif]>
Ty23-145 (WSABP 355/1931) during restoration at Jaworzyna Śląska locomotive heritage park; it was difficult to take a better photo, but Belpaire firebox can be easily seen (August 8, 2004).
<![if !vml]>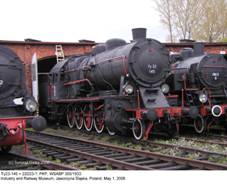 <![endif]>
The same machine after restoration; in the meantime, former depot became the Industry and Railway Museum. Photo taken on May 1, 2006.
<![if !vml]>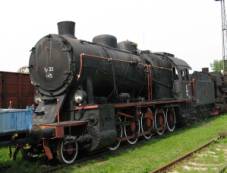 <![endif]>
Yet another (very nice) picture of the Ty23-145, taken in June 2008 by John Bryant – thanks for permission!
<![if !vml]>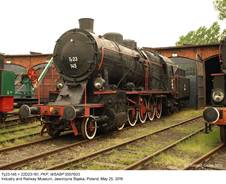 <![endif]>
Ty23-145 once more: May 25, 2016.
<![if !vml]>

<![endif]>
Side drawing of Ty23 + 22D23; early version from Polish factories; drawing by Krzysztof Wiśniewski from KMD vol.4/2001.
<![if !vml]>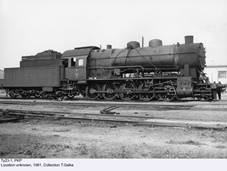 <![endif]>
Ty23-1, photographed somewhere in Poland in 1961. Photo from my collection.
<![if !vml]>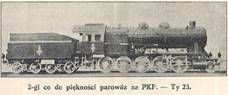 <![endif]>
In a 1929 steam engine beauty contest, readers of the Technika Parowozowa monthly voted Ty23 second only to Ok22. This photo was published in the December issue. Serial number is illegible.
<![if !vml]>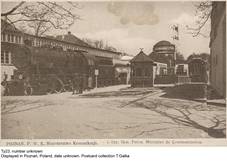 <![endif]>
Another unidentified Ty23 on display at the National Exhibition in Poznań, probably late 1920s. Postcard from my collection.
<![if !vml]>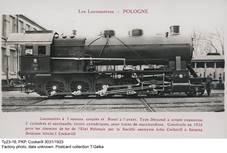 <![endif]>
Ty23-16 (Cockerill 3031/1923), factory photo. Postcard from my collection.
<![if !vml]>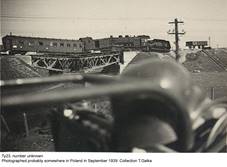 <![endif]>
An unidentified Ty23, derailed and slightly damaged; photo taken from a passing car, probably somewhere in Poland in September 1939. From my collection.
<![if !vml]>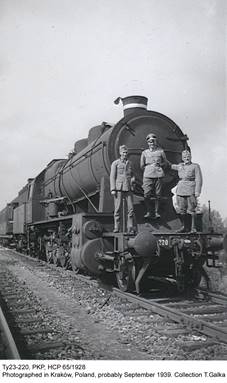 <![endif]>
Two photos of the captured Ty23-220, still with PKP plates, taken probably in Kraków in September 1939.
<![if !vml]>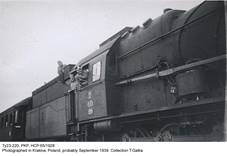 <![endif]>
This engine (HCP 65/1928) was later impressed into DRG as 58 2443. Captured by the Soviets in 1945, it was not returned and remained in service with MPS until February 1951. Photos from my collection.
<![if !vml]>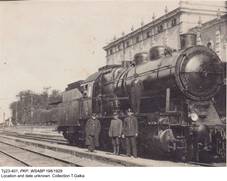 <![endif]>
Railwaymen pose by the Ty23-401 (WSABP 198/1929); details are lacking. Photo from my collection.
<![if !vml]>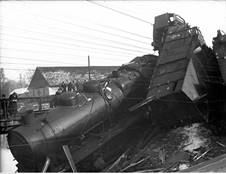 <![endif]>
A railway disaster in Krzeszowice on December 17, 1935: an unknown Ty23 failed to stop and fell into a nearby river, one person was killed. Source: National Digital Archives (NAC), used by permission.
<![if !vml]>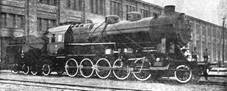 <![endif]>
Factory photo of the Ty23-86 + 22D23-180 (HCP 11/1926). This locomotive was impressed into DRG as 58 2364 and withdrawn from DB in December 1951. Source: Die Lokomotive January 1931.
<![if !vml]>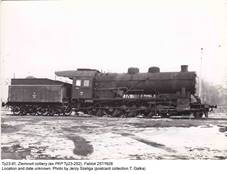 <![endif]>
Ty23-61 (Fablok 257/1928), operated by Ziemowit colliery; location and date unknown. This engine was originally delivered to PKP as Ty23-252; taken over by DRG and re-numbered 58 2463, it was returned and re-numbered again in 1945. Sold to industry in September 1967, it remained in service until 1982. Photo by Jerzy Szeliga (postcard from my collection).
<![if !vml]>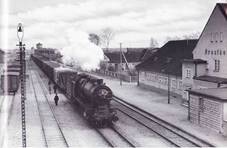 <![endif]>
An unidentified Ty23 in the Soviet service, photographed in November 1939 in Prostken (today Prostki) in Eastern Prussia, then a border station with the USSR. Source: Eisenbahnen in West- und Ostpreussen by Siegfried Bufe (Bufe-Fachbuch-Verlag, 1986).
<![if !vml]>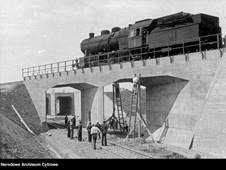 <![endif]>
Another unidentified Ty23, photographed in 1933 near Warszawa Zachodnia station during viaduct load tests. Source: National Digital Archives (used by permission).
Coal is still the most important commodity transported by rail in Poland. Its contribution exceeded 53% of the total mass of goods transported by PKP in early 2000s and decreased by just a few percent, to 45%, until 2010. In the 1920s it was much the same. Importance, or rather dominance, of coal meant heavy drafts and an obvious need for powerful freight locomotives. No wonder, thus, that shortly before WWII PKP had the largest fraction of heavy freighters among all European railway companies. Most of them were Ty23s.
After WWI, Poland took over about 375 German, Austrian and Russian freight locomotives with axle arrangements 1-4-0 and 1-5-0, comprising eight distinct classes. Most of them, however – over 90% – were comparatively light machines (mainly kkStB classes 170 and 270), designed for low axle loads, below 14.5 tonnes, rather than high tractive effort. Russian machines were few and mostly in very bad condition, so their service was usually short-lived. The need for new, powerful freight locomotives was vital and the 1-4-0 layout was initially chosen. 175 Tr20s, supplied by Baldwin in early 1920s, were quickly supplemented with 148 Tr21s, built by StEG, Cockerill and Fablok; the latter were the first locomotives ever built in Poland. These machines weighted 75 to 80 tonnes (in working order, without tenders) and had tractive effort of about 14 to 14.4 tonnes. Certainly still more powerful locomotives were needed.
For the new machine, the 1-5-0 axle arrangement was chosen; known as Decapod in the USA, where it had first been conceived, this arrangement was becoming quite widespread in Europe in the beginning of 20th century, especially with heavy freight locomotives. Preliminary design, based on Prussian class G12, but with a two-cylinder single-expansion engine instead of a three-cylinder one (an idea to develop also the three-cylinder version was rejected at an early stage) was completed in 1922. However, no Polish factory could undertake its development and production, so this task was entrusted to Schwartzkopff; an initial batch of fifteen machines, designated Ty23, was ordered there. In the meantime, Belgian factories, already involved in production of the Tr21, offered better terms and favorable prices, so further orders were placed with Cockerill (25), St.Leonard (20) and Franco-Belge, aka Croyere (15). German and Belgian machines were delivered between 1923 and 1925 and given service numbers Ty23-1 through Ty23-75. Later all three Polish steam locomotive manufacturers joined the program: HCP in 1926, Fablok and WSABP (Warszawska Spółka Akcyjna Budowy Parowozów, commonly known as Parowóz) in 1927, and all subsequent examples were built in Poland. Their output reached its peak in 1927 and 1928 (113 and 123 examples, respectively); last five machines from WSABP were built in 1934. In all, HCP delivered 164 Ty23s, Fablok 106 and WSABP 267; they were given service numbers Ty23-76 through Ty23-511 and Ty23-601 through Ty23-701. Together with foreign-built examples, this gives the grand total of 612, so Ty23 is, and will remain, the most numerous standard-gauge steam locomotive built in Poland for PKP. In fact it was surpassed only by class Er, built after WWII for the Soviet Union, of which 899 were supplied.  It is worth mentioning here that various earlier Polish sources give slightly lower figures of total number built, 601, 606 or even below 600. 106 Ty23s were owned or leased by French-Polish Railway Company (based in Paris, with Schneider-Creusot as the main shareholder), which operated the so-called Coal Trunk Line between Upper Silesia and Gdynia. Ty23 was held in high esteem by footplate crews; in particular, toughness was praised and, according to a popular saying, in a case of a crash the driver 'went to prison but not down to the grave'.
Ty23 was fitted with a large boiler of high capacity and Belpaire firebox; this latter feature proved troublesome in manufacture and repairs and was never used in a Polish engine again. Contrary to many earlier European 1-5-0s, which had three-cylinder single expansion engines or four-cylinder compounds, it was just a two-cylinder single. First machines had Adams front idle axe, later supplanted by Bissel pony truck, which eliminated jamming on curves. There were also several modifications of boiler fittings and equipment. In 1929 Ty23-364 and Ty23-365 (HCP 135/1929 and 137/1929) became the first Polish steam locomotives to be fitted with coal feeders, in Poland commonly known as 'stokers', imported from the USA. They were assigned to the Warsaw regional management and proved entirely successful, but coal feeders found widespread use in Poland only after WWII. Experiments with smoke-less combustion (Pyram and Langner-type devices) proved totally unsuccessful and these installations were later removed. Main modernization effort, however, was concentrated on the boiler. In its initial version, with 199 flues and 34 smoke tubes, it had comparatively low efficiency, hardly exceeding 60%; superheated steam temperature reached only 320°C and coal consumption was high. There were several attempts to eradicate this shortcoming, including exhaust steam injectors and special dampers in the smoke-box, but finally a major redesign was undertaken. Number of flues was reduced to 127 and number of smoke tubes increased to 40. Total evaporating surface was thus reduced by 16% and superheater heating surface increased by 17%. These changes, introduced in last 101 examples, gave good results: boiler efficiency was much improved, even to 75%, and steam temperature exceeded 400°C. Five examples were fitted with superheater of even larger surface, which gave further improvement. Due to financial reasons, these modifications were not introduced in earlier examples, but provided experience which was later used in Ty37. A new tender was developed for Ty23; designated 22D23, it was later used also with Ty37 and Ok22.
If there is some confusion concerning the total number of Ty23s built, there is much more when it comes to their history during WWII and afterwards. Most comprehensive source is provided by rosters compiled by Bogdan Pokropiński and published in KMD vol. 4/2001 and later in PNPP; they are, however, neither complete nor error-free. According to these sources, in 1939 Germans took over 438 Ty23s, which were in 1940 classed 5823-27 and allocated service numbers 58 2304 through 2741. Soviets captured 170 engines; most of them, perhaps all, were converted to the 1524 mm track (LOZD gives 160 examples converted until July 10, 1940). It should be noted that Ty23 design facilitated comparatively easy conversion to wide track; some claim that this feature was introduced in order to acquire export orders from the USSR, but – if so – this 'export' finally materialized in a tragic way. According to Romanian sources (info from Adrian Raduta – thanks a lot!), four Ty23s, evacuated to Romania with evacuation trains, were impressed into the CFR service as class 150.900 and given numbers 150.901 through 904. This at least nicely sums up to 612; earlier version of this entry gave slightly different numbers. It should be noted here that some Polish sources – including PNPP, issued in 2007 – give five examples in the CFR service, but data on hypothetical 150.905 seem doubtful.
During Fall Barbarossa, Germans captured a number of Soviet Ty23s and impressed 31 into DRG as 58 2742 through 2772; further 40 served with Ostbahn and these retained their old PKP numbers. Most probably some more (two?) were in such bad condition that their repair was not completed before German withdrawal from Poland. As the fortunes of war changed, Soviets recaptured 31 examples (which, of course, they considered their property) and further 25 ex-German ones, plus two from CFR. Two remaining Romanian Ty23s never returned to Poland and were scrapped in 1952. Again, these numbers differ slightly from those given in the earlier version of this entry and are not necessarily correct.
Right after the war, 26 machines were in Czechoslovakia. Nineteen saw no use with ČSD and were returned in 1946 (two of them as scrap). According to KMD and PNPP, seven were impressed into ČSD as class 537.1 and given service numbers 537.1500 to 537.1506. They were considered superior to class 536.0 (= Prussian G12), but in 1948 all were returned. Czech sources (EZ vol.3) give, however, eight examples in ČSD service, of which five were returned in 1947 and three were finally sold to the USSR. Three examples which somehow (from Südbahn?) made their way to Yugoslavia and briefly served with JDŽ as 146.001 to 146.003 were returned in 1948. Of 77 machines which remained in Western Germany none returned to Poland; there was no intention to keep them in use and all were written off in December 1951 and scrapped. Eastern Germany had 105 examples; 75 of them were returned, at least eight as scrap, the rest remained in use with DR and later some industrial establishments. Some sources give that ex-Ty23-244 (DRG 58 2743) was sent to China. Three examples (Ty23-348, Ty23-680 and Ty23-700) briefly served with ÖBB and returned to Poland between 1947 and 1948; they were given new service numbers, but two were scrapped as early as in 1949. It is interesting to note that only one Soviet machine (Ty23-234) was returned: strange manifestation of friendship, indeed, but it should be kept in mind that Soviet sources (e.g. LOZD) refer to all Polish locomotives captured in 1939 as to serving with 'railways of Western Ukraine and Western Byelorussia' (which, in fact, had never existed before) and thus they were considered Soviet property. Ty23s, which were considered modern and useful locomotives, remained in service in the USSR until 1960s. Some served with old Polish numbers, written in Russian script, while others were re-designated T58 (T stood for 'trofieynyi', or booty) and retained DRG numbers.
Be it as it was, most Polish sources agree that 312 machines were impressed into PKP service after WWII and given new numbers. Post-war modifications were few and rather typical: steel fireboxes, standardized boiler accessories and fittings, new headlights etc. Most machines were fitted with elongated cab roof, which improved crew comfort, but certainly spoiled the silhouette. Until wide-scale introduction of heavy diesels in 1960s they served – just as before the war – mainly on principal trunk routes, later were relegated to secondary ones and to switching. According to data from www.parowozy.best.net, as many as 77 examples were transferred to various industrial establishments. Several Ty23s converted to 1524 mm track served as switchers at stockyards along the Eastern border, where they were finally supplanted, in late 1970s, by Soviet TEM2 diesels (PKP class SM48). All these machines were withdrawn from PKP until 1979; their service with industrial operators was a few years longer. According to SS (see References), as many as eight Ty23 boilers were used to heat the iron ore defrosting hall, built in Żurawica in 1954; at this station the ore was reloaded from broad-gauge to standard-gauge cars. In 2006 three of them were still in use, originally taken from Ty23-13, Ty23-75 and Ty23-120 during overhauls. Last were withdrawn from use in 2008 and scrapped.
Of once numerous fleet of Ty23s, only three machines still exist. Ty23-273 (ex Ty23-298, WSABP 130/1929, later DRG 58 2505, then with DR) was initially kept at the locomotive depot in Zduńska Wola Karsznice , but in March 2012 moved to Skierniewice, where it is currently on display at the PSMK railway fan society premises. Ty23-145 (ex Ty23-689, WSABP 355/1931, later DRG 58 2729) is on display at the Industry and Railway Museum in Jaworzyna Śląska and Ty23-104 (ex Ty23-382, HCP 139/1929, later DRG 58 2563) in Chabówka. None of them, however, is operational.
Main technical data
| | | | |
| --- | --- | --- | --- |
| No. | Parameter | Unit | Value |
| 1. | Years of manufacture | - | 1923 – 1934 |
| 2. | Total built / used in Poland | - | 612 / 6122) |
| 3. | Tender class | - | 22D23 |
| 4. | Axle arrangement | - | 1-5-0 |
| 5. | Design maximum speed | km/h | 60 |
| 6. | Cylinder bore | mm | 2 x 650 |
| 7. | Piston stroke | mm | 720 |
| 8. | Engine rating | kW/hp | 970 / 1320 |
| 9. | Tractive effort | kG | 17 600 |
| 10. | Boiler pressure | MPa | 1.43 |
| 11. | Grate dimensions | m x m | 2.8 x 1.61 |
| 12. | Firebox heating surface | m2 | 16.5 |
| 13. | Distance between tube plates | mm | 5 000 |
| 14. | Number of flue tubes | - | 199 / 1271) |
| 15. | Heating surface of flue tubes | m2 | 143.9 / ?1) |
| 16. | Number of smoke tubes | - | 34 / 401) |
| 17. | Heating surface of smoke tubes | m2 | 66.76 / ?1) |
| 18. | Evaporating surface, total | m2 | 227.16 / 191.11) |
| 19. | Superheater heating surface | m2 | 73.5 / 85.951) / 97.03) |
| 20. | Diameter of drivers | mm | 1450 |
| 21. | Diameter of idlers front/rear | mm | 1000 / - |
| 22. | Total weight, empty | kg | 87 450 |
| 23. | Total weight, working order | kg | 94 950 |
| 24. | Adhesive weight, working order | kg | 84 200 |
| 25. | Weight with tender, empty | kg | 110 050 |
| 26. | Weight with tender, working order | kg | 149 0504) |
| 27. | Maximum axle load | T | 17.0 |
| 28. | Axle base (with tender) | mm | 17 015 |
| 29. | Overall length (with tender) | mm | 20 065 |
| 30. | Brake type | - | Westinghouse |
<![if !supportLists]>1) <![endif]>After boiler reconstruction
<![if !supportLists]>2) <![endif]>Some sources give 601 or 606 examples
<![if !supportLists]>3) <![endif]>Experimentally in five examples
<![if !supportLists]>4) <![endif]>Some sources give 149 300 kg – possibly this refers to boiler reconstruction.
References and acknowledgments
<![if !supportLists]>- <![endif]>Monographic articles by Bogdan Pokropiński and Paweł Mierosławski (KMD vols. 3, 4 and 5/2001),
<![if !supportLists]>- <![endif]>PNPP, PPN, LP;
<![if !supportLists]>- <![endif]>Adrian Raduta and Piotr Staszewski (private communication);
<![if !supportLists]>- <![endif]>SK, various issues;
<![if !supportLists]>- <![endif]>article by Grzegorz Radliński (SS vol. 1/2016).