<![if !vml]>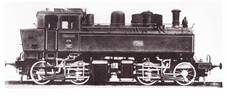 <![endif]>
The sole surviving 98 001, photographed somewhere in Easter Germany in August 1971. Photo by Werner Nagel (from my collection).
<![if !vml]>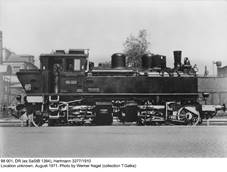 <![endif]>
Side drawing of Class 980; © Lokomotiv-Revue (source: TB vol. 2).
<![if !vml]>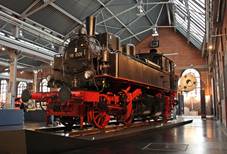 <![endif]>
Another picture of the 98 001, taken at the Industriemuseum Chemnitz on October 17, 2015, by Norbert Kaiser (source: http://commons.wikimedia.org).
Locomotives of German origin taken over by Polish state railways after WWI were mainly of Prussian origin. Those from other Länder were rather few and most of them were soon withdrawn, as they were considered untypical and their maintenance was difficult. One of such 'exotic' classes was I TV of Sächsische Staatsbahn, for which PKP designation TKbb101 was envisaged; however, as all engines of this type had been withdrawn before new designation system came into use, it was in fact never assigned. I TV was the only Meyer-type locomotive in the PKP service. As it comprised two distinct 0-2-0 units, somehow unorthodox, but otherwise logical, class designation was used, which might have suggested a fireless engine!
First two locomotives that featured this layout were built by Hartmann in 1890 and given SäStB service numbers 822 and 823 (classed H M I TV, later M I TV, individual names 'Raschau' and 'Crottendorf', respectively). In 1910 a thoroughly modified version appeared, with reversed cylinder array (low-pressure cylinders driving rear instead of front wheelsets), increased cylinder bore and piston stroke, enlarged boiler with higher steam pressure, Westinghouse brakes and many other improvements. Between 1910 and 1914 Hartmann built eighteen examples (class I TV, numbered 1381 through 1398), plus one more for Oberhohndorf-Reinsdorfer Kohlenbahn (in 1933 impressed into DRG). Individual machines differed in details, such as shape of water-boxes or number and location of sand domes.
After 1925, fifteen engines of this type were impressed into DRG as class 980. At least four were withdrawn before 1939 and last remained in use with DR until 1971. The remaining three were taken over by Polish state railways in Warsaw in 1918. Probably they had been brought there by German authorities after the city had been taken in 1915; if so, it is somehow surprising why these engines, built for mountain lines, finally ended up in Polish lowlands. Their post-war service was very short. One (Hartmann 3764/1914) was probably withdrawn as early as in 1920 and the remaining two (3381/1910 and 3414/1910) followed soon. Virtually nothing is known about their service with PKP, but it seems doubtful if they were used for purposes other than auxiliary.
One engine of this type has survived until today. SäStB 1394 (Hartmann 3377/1910, in fact the first example built), later DRG 98 001, withdrawn in 1971, was transferred to Verkehrsmuseum Dresden. In 2003 it was moved to Sächsischen Industriemuseum in Chemnitz.
Main technical data
No.

Parameter

Unit

Value

1.

Years of manufacture

-

1910 – 1914  

2.

Total built / used in Poland

-

19 / 3

3.

Tender class

-

-

4.

Axle arrangement

-

(0-2-0) (0-2-0)

5.

Design maximum speed

km/h

50

6.

Cylinder bore

mm

2 X 360 /

 2 X 570

7.

Piston stroke

mm

630

8.

Engine rating

kW/hp

 

9.

Tractive effort

kG

10.

Boiler pressure

MPa

1.32

11.

Grate dimensions

m X m

1.6 m2

12.

Firebox heating surface

m2

6.8

13.

Distance between tube plates

mm

3 700

14.

Number of flue tubes

-

199

15.

Heating surface of flue tubes

m2

92.5

16.

Number of smoke tubes

-

-

17.

Heating surface of smoke tubes

m2

-

18.

Evaporating surface, total

m2

99.3

19.

Superheater heating surface

m2

-

20.

Diameter of drivers

mm

1260

21.

Diameter of idlers front/rear

mm

-

22.

Total weight, empty

kg

50 400

23.

Total weight, working order

kg

61 500

24.

Weight on drivers, working order

kg

61 500

25.

Weight with tender, empty

kg

-

26.

Weight with tender, working order

kg

-

27.

Maximum axle load

T

15.4

28.

Axle base (with tender)

mm

7 700

29.

Overall length (with tender)

mm

11 624

30.

Brake type

-

Westinghouse
References and acknowledgments
<![if !supportLists]>- <![endif]>Lokomotiv-Archiv Sachsen 2 by Fritz Näbrich, Günter Meyer and Rainer Preuß (Transpress, 1984);
<![if !supportLists]>- <![endif]>TB vol.2.