<![if !vml]>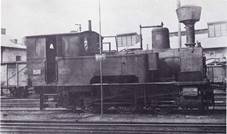 <![endif]>
KkStB 94.52 (Krauss Linz 4159/1899), formerly BLB 'Wassilko', then 9452. This engine remained in Austria; after Anschluss it was impressed into DRG and withdrawn in 1940. Location and date unknown. Source: LAÖ.
Following the introduction of the new designation system in 1905, class 94 of Austro-Hungarian state railways (kkStB) included nine locomotives for mixed traffic with the 0-3-0 axle arrangement, supplied by Krauss Linz in two batches. First of them numbered six examples built between 1886 and 1891; five were delivered to Bukowinaer Lokalbahnen (BLB) and one to Lemberg-Czernowitz-Jassy Eisenbahn (LCJE). Both these railways operated local traffic in eastern Galicia, today within the borders of Ukraine, Moldova and Romania. On July 1, 1889, they were absorbed by kkStB (apart from a short Romanian section of LCJE, which was taken over by state railways CFR in 1888), so last two examples had only kkStB service numbers. Further three examples were built for former BLB in 1899. They were heavier by about one tonne and had cylinders slightly increased in diameter. Class 94 was a simple design which featured inner frame and Allan valve gear. In 1905 locomotives from the first and second batch were numbered 94.31 through 36 and 94.51 through 53, respectively. This discontinuity resulted from the fact that earlier kkStB class 94 was split into four 'new' classes, but service numbers were retained. All these locomotives had individual names.
All nine engines survived the war. Six were taken over directly by Romanian Căile Ferate Române (CFR) and three fell into Russian hands. Of the latter, 94.31 'Pino' (Krauss Linz 1715/1886) was later handed over to CFR (according to ITFR, after a short period with PKP as No. 3021). 94.52 'Wassilko' (Krauss Linz 4159/1899) returned to Austria and was later impressed into DRG, to be withdrawn in 1940. 94.53 'Alesani' (Krauss Linz 4160/1899) briefly served with PKP as No. 3012 and later went to CFR. All Romanian locomotives retained their original kkStB service numbers. The above-mentioned short Polish episode was, however, not the last one. On December 8, 1935, 94.31 and 94.51 (Krauss Linz 4158/1899, originally named 'Ziffer') were sold to PKP and re-numbered TKh18-1 and TKh18-2, respectively. Details are not known, but both served in south-eastern Poland (on lines previously operated by Kolomeaer Lokalbahn) and remained in use until September 1939. Both fell into Russian hands and retained their PKP designations, written in Russian script. In 1941 they were impressed into Ostbahn. The fate of the TKh18-1 is not known. TKh18-2 was, according to SK, evacuated to Germany and later went to industry. All Romanian locomotives of this type were withdrawn until 1937 and none has been preserved.
Main technical data
No.

Parameter

Unit

Value

1.

Years of manufacture

-

1886 – 1899

2.

Total built / used in Poland

-

9 / 3

3.

Tender class

-

-

4.

Axle arrangement

-

0-3-0

5.

Design maximum speed

km/h

40

6.

Cylinder bore

mm

2 x 335 /

2 x 3601)

7.

Piston stroke

mm

500

8.

Engine rating

kW/hp

9.

Tractive effort

kG

10.

Boiler pressure

MPa

1.22

11.

Grate dimensions

m x m

1.3 m2

12.

Firebox heating surface

m2

5.70

13.

Distance between tube plates

mm

3000

14.

Number of flue tubes

-

134

15.

Heating surface of flue tubes

m2

64.40

16.

Number of smoke tubes

-

-

17.

Heating surface of smoke tubes

m2

-

18.

Evaporating surface, total

m2

70.10

19.

Superheater heating surface

m2

-

20.

Diameter of drivers

mm

987

21.

Diameter of idlers front/rear

mm

- / -

22.

Total weight, empty

kg

23 500 / 24 5001)

23.

Total weight, working order

kg

32 000 / 33 0001)

24.

Weight on drivers, working order

kg

32 000 / 33 0001)

25.

Weight with tender, empty

kg

-

26.

Weight with tender, working order

kg

-

27.

Maximum axle load

T

11.1

28.

Axle base (with tender)

mm

2 900

29.

Overall length (with tender)

mm

30.

Brake type

-
<![if !supportLists]>1) <![endif]>Second batch (94.51 through 53).
References and acknowledgments
<![if !supportLists]>- <![endif]>ITFR, LP, TK vol. 4;
<![if !supportLists]>- <![endif]>www.pospichal.net/lokstatistik (website by Josef Pospichal);
<![if !supportLists]>- <![endif]>article on the Kolomeaer Lokalbahn by Ryszard Stankiewicz (SK vol. 8/2013).