<![if !vml]>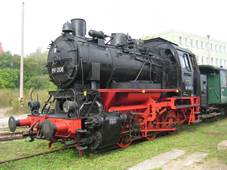 <![endif]>
DR 89 008 (Henschel 23583/1938), Schwerin. October 3, 2005. Photo by Jens Hofmann (www.commons.wikimedia.org).
<![if !vml]>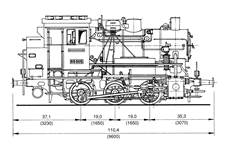 <![endif]>
Side drawing of Class 980 by K.-E. Hertam (source: TB vol. 2).
<![if !vml]>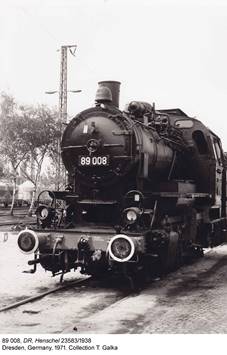 <![endif]>
Another photo of DR 89 008, taken in Dresden in 1971 (probably shortly before or after withdrawal). Photo from my collection.
<![if !vml]>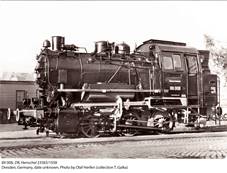 <![endif]>
DR 89 008 once more: Dresden, date unknown. Photo by Olaf Herfen (from my collection).
After the railways of German lands were merged into Deutsche Reichseisenbahnen in 1920 and finally transformed into state-owned Deutsche Reichsbahn-Gesellschaft (DRG) in 1924, a need for standardization became obvious. This led to the development of a number of standard locomotive types (Einheitslokomotiven), intended to supplement and finally replace older classes. Some of them were later built in very large numbers. Among those which enjoyed a very modest production run was Baureihe (class) 890 light freight tank locomotive, built in only ten examples. First three were delivered by BMAG in 1934 (serial numbers 10290 through 10292) and ran on saturated steam. Also in 1934, Henschel built three examples (22357 through 22359), fitted with steam superheater. Comparative tests at the Lokomotiv-Versuchsamt Grünewald and service tests (all six locomotives were assigned to the Berlin Anhalter Bahnhof depot) revealed that both variants had similar tractive characteristics, but superheated version was obviously more economical. Four superheated engines from Henschel followed in 1938 (23582 through 23585). All these locomotives were designated 89 001 through 010; these numbers were previously assigned to ex-KPEV T8 tank engines, withdrawn in late 1920s. Further production was frustrated by war and the need to reduce the number of locomotive types in favor of output.
After the war five engines of this type were taken over by PKP and classed TKh5. Their service with state railways was comparatively short. TKh5-1 (BMAG 10290/1934) was withdrawn in April 1949 and sold to a food industry plant in Piła; its subsequent fate is not known. TKh5-2 (Henschel 22357/1934) and TKh5-4 (Henschel 23582/1938) were transferred in late 1940s to the ZNTK Nowy Sącz (railway stock repair works, today Newag company) and remained in use there probably until early 1970s. TKh5-3 (Henschel 22359/1934) and TKh5-5 (Henschel 23585/1938) saw some service with local railways in the Poznań area (possibly with Gostyń Local Railway, pre-war Gostinger Eisenbahn). After their nationalization they were assigned to the Leszno depot and written off in 1954; according to some sources they were sold to industry. Of the five 890s that remained in Germany, three were taken to the Soviet Union in 1947 and two served with DR. 89 008 (Henschel 23583/1938), withdrawn in 1971, has been preserved; initially transferred to Verkehrsmuseum Dresden, it was sold to Mecklemburgische Eisenbahnfreunde Schwerin. Plinthed in Schwerin, it was later restored to working order.
Some Polish sources, especially older, state that class TKh5 was in fact Prussian class T3. The reason is that there was a locomotive designated TKh 5 (a space matters!) which in fact was an ex-T3. This particular engine (Henschel 1949/1885, KPEV Berlin 1753) was an industrial locomotive owned by Janikowo sugar plant and never served with PKP. One of the oldest surviving engines in Poland, it was unfortunately abandoned in Krzeszowice and cut up by scrap thieves in 2006.
Main technical data
No.

Parameter

Unit

Value

1.

Years of manufacture

-

1934 – 1938

2.

Total built / used in Poland

-

10 / 5

3.

Tender class

-

-

4.

Axle arrangement

-

0-3-0

5.

Design maximum speed

km/h

45

6.

Cylinder bore

mm

2 x 420

7.

Piston stroke

mm

550

8.

Engine rating

kW/hp

235 / 3201)

386 / 5252)

9.

Tractive effort

kG

10.

Boiler pressure

MPa

1.43

11.

Grate dimensions

m x m

1.42 m2

12.

Firebox heating surface

m2

6.11

13.

Distance between tube plates

mm

2 800

14.

Number of flue tubes

-

2191) / 1002)

15.

Heating surface of flue tubes

m2

76.11) / 34.752)

16.

Number of smoke tubes

-

- 1) / 282)

17.

Heating surface of smoke tubes

m2

- 1) / 27.02)

18.

Evaporating surface, total

m2

82.211) / 67.862)

19.

Superheater heating surface

m2

- 1) / 24.12)

20.

Diameter of drivers

mm

1100

21.

Diameter of idlers front/rear

mm

- / -

22.

Total weight, empty

kg

35 3001) /

36 2002)

23.

Total weight, working order

kg

45 8001) /

46 6002)

24.

Weight on drivers, working order

kg

45 8001) /

46 6002)

25.

Weight with tender, empty

kg

-

26.

Weight with tender, working order

kg

-

27.

Maximum axle load

T

15.31) / 15.52)

28.

Axle base (with tender)

mm

3 300

29.

Overall length (with tender)

mm

9 600

30.

Brake type

-

Knorr
<![if !supportLists]>1) <![endif]>Saturated steam.
<![if !supportLists]>2) <![endif]>Superheated steam.
List of vehicles can be found here.
References and acknowledgments
<![if !supportLists]>- <![endif]>TB vol. 2;
<![if !supportLists]>- <![endif]>Dampflok-Archiv 3 by Manfred Weisbrod, Hans Müller and Wolfgang Petznick (Transpress, Berlin, 1982);
<![if !supportLists]>- <![endif]>Ingo Hütter's locomotive database (www.beitraege.lokomotive.de);
<![if !supportLists]>- <![endif]>Monographic article on the history of the Leszno depot by Jacek Rutkowski (SK vol. 4/2007).