<![if !vml]>

<![endif]>
Kampflokomotive T14 Berlin 8101 (Henschel 11692/1913) remained a single example; factory photo, 1913. Source: www.commons.wikimedia.org.
<![if !vml]>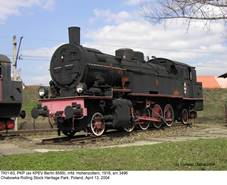 <![endif]>
TKt1-63 (Hohenzollern 3496/1916), on display at the Railway Stock Heritage Park in Chabówka; photo taken on April 13, 2004
<![if !vml]>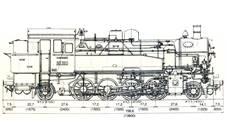 <![endif]>
T14 side drawing by M.Kratochvil (TB vol.2)
<![if !vml]>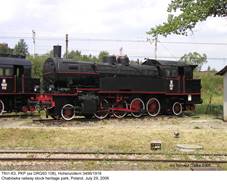 <![endif]>
Another picture of the TKt1-63, taken on July 29, 2006.
<![if !vml]>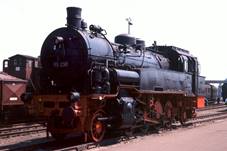 <![endif]>
93 230 (Union 2315/1917), photographed in Potsdam on May 17, 1993 by someone who wishes to be known as MPW57. Source: www.de.wikipedia.org.
<![if !vml]>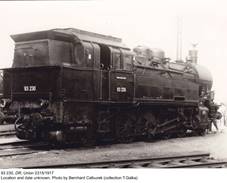 <![endif]>
DR 93 230, Union 2315/1917. Location and date unknown. Photo by Bernhard Cafourek (from my collection). This locomotive has been preserved and can now be seen at the Eisenbahnmuseum Gummersbach-Dieringhausen.
<![if !vml]>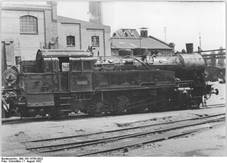 <![endif]>
DR 93 023 (ex KPEV Berlin 8528, Union 2199/1915), location unknown, 7.8.1952. In 1968 this locomotive was withdrawn and sold to industry. Source: Bundesarchiv via www.commons.wikimedia.org.
<![if !vml]>

<![endif]>
An unidentified T14, location and date unknown. Source: Die Lokomotive April 1922.
<![if !vml]>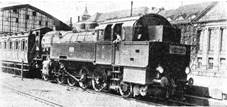 <![endif]>
Another unidentified T14, this time from Berliner Stadtbahn. Source: Die Lokomotive July 1924.
Prussian class T14 tank locomotive was designed by Union Gießerei of Königsberg in 1914, against a requirement for a universal mixed traffic engine. It was, however, not the first machine to bear this service designation: it was preceded by an advanced three-cylinder passenger tank engine for Berliner Stadtbahn, intended to supplant class T12. This locomotive (Henschel 11692/1913, Berlin 8101, later Breslau 8505) was intended as an effective competitor to electric units in suburban traffic and hence dubbed Kampflokomotive (literally 'combat locomotive'), but only one was built; in 1919 it was handed over to French Chemin de Fer de l'Est as a part of war reparations and re-numbered 4691.
Second T14 fared much better. Prototype appeared shortly before WWI and this type soon proved very useful, also for passenger traffic, so until 1919 as many as 587 examples were built by Union, Henschel, Hohenzollern and Hanomag for KPEV and Alsace-Lorraine railways, the latter receiving forty between 1915 and 1917. Furthermore, two very similar machines were built by Hanomag in 1925 and 1926 for the private Farge – Vegesack railway; later they were also incorporated into class T14, bringing the grand total to 589 examples. T14s were robust and strong, capable of hauling even a 2300-tonne draft, but had several shortcomings, including uneven weight distribution: load axle varied from 14.2 to 17.3 tonnes and front idle axle took the highest load, which could not contribute to good running qualities. According to some reports, motion gear was prone to failures.
After WWI, most T14s remained in Germany; DRG had 408 engines, re-designated class 93. Many went to Belgium (56, SNCB class 97) and France (65, apart from those used by Alsace-Lorraine railways – included into SNCF class 141TA together with two other types). Poland received 26 examples, classed TKt1; they were assigned service numbers TKt1-1 through 22 and TKt1-1Dz through 4Dz (Dz for 'Danzig' – these machines served in Gdańsk). According to official records, one T141 (ex Halle 8509, Union 2509/1919) was erroneously incorporated into this class as TKt1-23. Initially most were based around Poznań and Gdańsk and used in local freight and suburban traffic, as well as for switching. In early 1930s, however, many were transferred to southern Poland. They proved useful on some mountain lines, but were too weak for the principal Kraków-Zakopane line (gradients up to 24‰), on which they were later supplanted by more powerful OKz32s.
After September 1939, wartime fortunes of TKt1s were quite complex. Fourteen were evacuated to Lwów, to fall into Soviet hands. Four were taken over by Lithuanian authorities and impressed into LG (Lietuvos Gelezinkeliali) service as 501 – 504, to be taken over by the Soviets a few months later. After the assault on the USSR in 1941, three TKt1s were captured by the Germans and impressed into DRG service. In all, fifteen TKt1s remained in the Soviet Union and not a single engine was ever returned. T14s taken as war booty, converted to 1524 mm track and impressed into Soviet service were classed Tъ (in Russian alphabet, ъ is a phonetic symbol with no Latin equivalent), but this designation referred also to T141s, DRG class 935-12, in fact developed from T14. In all, Soviet class Tъ numbered 124 engines. They were used mainly for switching, many went to industry. It is not clear whether this Soviet class included also ex-PKP examples.
After the war, class 93 locomotives were scattered between many countries: Germany, Belgium, France, Luxembourg (impressed into CFL as class 43), Czechoslovakia and Austria. Deutsche Bundesbahn in West Germany had over 138 engines of this type (data for 1950); last two of them were withdrawn in September 1960. In East Germany, DR had over 160 former T14s, which survived in service until 1972. PKP took 87 engines, but only eight of them were pre-war Polish ones. This number includes pre-war TKt1-3Dz (Union 2448/1918, KPEV Danzig 8501, DRG 93 420) and TKt1-19 (Union 2415/1918, KPEV Posen 8517, DRG 93 426) that briefly served in Czechoslovakia, but most probably were not given ČSD numbers and were returned in 1947 to become TKt1-82 and TKt1-83, respectively. Two engines of this type were erroneously included into the TKt2 class (which corresponded to KPEV T141), so post-war PKP class TKt1 'officially' numbered 85 examples. Several of these were, however, damaged and nine were never restored in service, to be written off and scrapped between 1949 and 1952.
After the war, most TKt1s were based in Upper Silesia; several served on mountain lines in southern Poland, just like before 1939, but soon were replaced by superior TKt48s. In the meantime, old engine was found very useful in industrial service. Between 1953 and 1970, as many as 49 examples were transferred to various industrial plants: collieries, foundries, cement plants, power stations and many others. Early 70s, however, witnessed the end of most TKt1s, of which many were already almost sixty years old. Last example in the PKP service, TKt1-63 (Hohenzollern 3496/1916, KPEV Berlin 8589, DRG 93 108) was written off in January 1972 and, after over twenty years of oblivion, managed to find its way to the Chabówka railway stock heritage park, where it can today be seen on static display as the sole remaining machine of this type in Poland. With industrial operators, several examples remained in service for a few years more. TKt1-29 (Union 2272/1916, KPEV Bromberg 8502, DRG 93 176), converted to oil firing, was withdrawn in March 1981 and TKt1-51 (Union 2351/1917, KPEV Magdeburg 8509, DRG 93 265) was finally withdrawn after almost 64 years in service, in May 1981. Both these record-breakers were, unfortunately, scrapped.
Apart from TKt1-63, only one engine of this type has survived until today, namely DRG 93 230 (Union 2315/1917, KPEV Erfurt 8526), withdrawn in 1968 and plinthed in Dresden. In 2010 it was transferred to Eisenbahnmuseum Gummersbach-Dieringhausen.
Main technical data
No.

Parameter

Unit

Value

1.

Years of manufacture

-

1914 – 19194)

2.

Total built / used in Poland

-

587 + 21) /

262) – 873)

3.

Tender class

-

-

4.

Axle arrangement

-

1-4-1

5.

Design maximum speed

km/h

65

6.

Cylinder bore

mm

2 X 600

7.

Piston stroke

mm

660

8.

Engine rating

kW/hp

 736 / 1000

9.

Tractive effort

kG

 12 100

10.

Boiler pressure

MPa

1.22

11.

Grate dimensions

m X m

2.61 X 0.98

12.

Firebox heating surface

m2

13.89

13.

Distance between tube plates

mm

4 700

14.

Number of flue tubes

-

111

15.

Heating surface of flue tubes

m2

65.0

16.

Number of smoke tubes

-

26

17.

Heating surface of smoke tubes

m2

47.97

18.

Evaporating surface, total

m2

126.86

19.

Superheater heating surface

m2

50.28

20.

Diameter of drivers

mm

1350

21.

Diameter of idlers front/rear

mm

1000 / 1000

22.

Total weight, empty

kg

77 050

23.

Total weight, working order

kg

97 600

24.

Weight on drivers, working order

kg

63 400

25.

Weight with tender, empty

kg

-

26.

Weight with tender, working order

kg

-

27.

Maximum axle load

T

17.3

28.

Axle base (with tender)

mm

9 300

29.

Overall length (with tender)

mm

13 800

30.

Brake type

-

Knorr
<![if !supportLists]>1) <![endif]>Class T14 included also two examples built for the Farge – Vegesack private railway between 1925 and 1926.
<![if !supportLists]>2) <![endif]>After WWI class TKt1 included also one T141.
<![if !supportLists]>3) <![endif]>Two examples erroneously included into class TKt2.
<![if !supportLists]>4) <![endif]>Last two machines for the private railway built between 1925 and 1926.
References and acknowledgments
<![if !supportLists]>̶ <![endif]>Monographic article by Paweł Terczyński (SK vol. 12/2004);
<![if !supportLists]>̶ <![endif]>www.lokomotive.de (Ingo Hütter's database);
<![if !supportLists]>̶ <![endif]>TB vol. 2, LP.