<![if !vml]>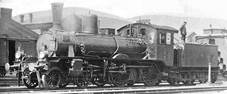 <![endif]>
KPEV Elberfeld 372 (Henschel 4032/1894). This locomotive was later transferred to Mecklenburgische Friedrich Franz Eisenbahn and numbered 186; withdrawn between 1922 and 1924. Location unknown, before 1906. Source: www.commons.wikimedia.org.
<![if !vml]>

<![endif]>
Class 3670 side drawing; source: TB vol.1
(© Lokomotiv-Revue).
<![if !vml]>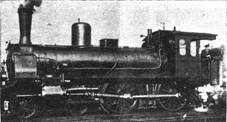 <![endif]>
KPEV P41 Bauart Erfurt Erfurt 1802 (previously Erfurt 47, Henschel 3356/1891), location and date unknown. Source: Die Lokomotive August 1921.
<![if !vml]>

<![endif]>
Experimental Cassel 131 (Henschel 4853/1898) was reportedly the first locomotive fitted with steam superheater; it was withdrawn in 1921. Probably a factory photo; source: Die Lokomotive December 1923.
In 1891 Prussian state railways KPEV ordered prototype express and passenger locomotives with the 2-2-0 axle arrangement, intended to replace older 1-2-0 engines. Their design owed much to the visit paid by a group of Prussian railway officials and engineers to the UK and USA. New passenger and express engines had much in common and differed principally in the diameter of drivers (1730 mm and 1950 mm, respectively). First three passenger locomotives, Cöln 319 through 321, were derived from earlier Musterblatt III 1a (since 1906 class P32) with compound steam engine. Later referred to as P3 Bauart 2ʹB, they were built against a somehow specific requirements of Mosel and Koblenz-Trier railways and remained in use only until 1912. Instead of further developing this type, it was decided to design a larger and more powerful locomotive, in both single-expansion and compound versions. The former materialized as Erfurt 496 and 497 (Henschel 3355/1891 and 3356/1891); in 1906 they were classed P4.
Following service test several modifications were introduced, including drivers increased in diameter to 1750 mm. This type was standardized as Musterblatt III 1c. Between 1891 and 1892 Henschel built 55 examples, in 1906 classed P41 Bauart Erfurt. The most numerous variant Musterblatt III 1d (later class P41 Bauart Hannover) was built from 1893 to 1901 by Henschel (325), Hanomag (60), Borsig (25), Schwartzkopff (eight) and Grafenstaden (seven). This type featured cylinders increased in diameter from 430 to 460 mm, flues reduced in number from 230 to 219, modified bogie (which resulted in axle base and overall length increase) and Heusinger valve gear that replaced obsolete Allan unit. This gives the total of 482 P4s of all sub-types delivered to KPEV. Furthermore three locomotives corresponding to the final variant were built between 1903 and 1910 for Prussian military railways Königlich Preussische Militär-Eisenbahn and numbered 6, 8 and 9, although reasons for ordering these obsolete engines with more modern types available are not clear. Nineteen similar locomotives were built between 1896 and 1902 by Hanomag for Großherzoglich Oldenburgische Staatseisenbahnen; also classed P41, they were shorter and could be easily identified by lacking boiler steam dome. In 1904 Lübeck-Büchener Eisenbahn ordered two engines from Henschel, basically similar to Bauart Hannover, but with reduced axle base due to shorter turntables. Cassel 131 (Henschel 4853/1898) was experimentally fitted with Schmidt-type steam superheater; withdrawn in 1921, it was later transferred to the Verkehrs- und Baumuseum in Berlin with boiler partially cut-out, but has not survived until today. Compound version, developed in parallel with the single-expansion one, was later classed P42. It was eventually found superior and built in large numbers. In fact ten (some sources give five) Bauart Erfurt locomotives were later converted to compounds and duly re-classed.
New P41s were initially assigned to several regional railway managements and on occasions worked even light express trains. They were typically coupled with three-axle 3T12 or 3T15 tenders, sometimes with four-axle 2'2'T16s. Soon, however, they were superseded in main line service by more powerful P42s and finally by superheated P6s and P8s. In 1920 six Prussian P41s were transferred to Mecklenburgische Friedrich Franz Eisenbahn, but all were withdrawn between 1922 and 1924. After WWI and merging German railways into DRG it was initially planned to re-number as many as 157 examples, but finally only nine, all of the Bauart Hannover variety, were re-classed 3670, the rest being written off before 1925. Last survived probably until 1927. Remarkably, all nineteen engines from Oldenburg were retained in use and re-classed 3612. Their service life was slightly longer, the last ones surviving until 1931. A few locomotives of this type went to Latvia (LDZ class An, together with other 2-2-0s, service numbers An-32 through 34), Lithuania and Yugoslavia, but little is known about their use there. Polish state railways received 26 engines, of which 21 were classed Od1 in 1926. Assignment of service numbers to individual examples is not known. They were used mainly on secondary and suburban lines. As many as fourteen were withdrawn between 1927 and 1936, five in 1937 and last two in April 1938. Od1-9 (Henschel 4191/1895), withdrawn in 1937, was captured by the Soviets in 1939; it later fell into German hands and served with Ostbahn, but its ultimate fate is not known. No locomotive of this type has been preserved.
Main technical data
No.

Parameter

Unit

Value

1.

Years of manufacture

-

1891 – 1901

2.

Total built / used in Poland

-

4821) / 262)

3.

Tender class

-

16C1

4.

Axle arrangement

-

2-2-0

5.

Design maximum speed

km/h

90

6.

Cylinder bore

mm

2 X 460 

(2 X 430)

7.

Piston stroke

mm

600

8.

Engine rating

kW/hp

9.

Tractive effort

kG

5 800

10.

Boiler pressure

MPa

1.22

11.

Grate dimensions

m X m

2.27 m2 (2.3 m2)

12.

Firebox heating surface

m2

9.0

13.

Distance between tube plates

mm

3 900

14.

Number of flue tubes

-

219 (230)

15.

Heating surface of flue tubes

m2

110.0 (116.0)

16.

Number of smoke tubes

-

-

17.

Heating surface of smoke tubes

m2

-

18.

Evaporating surface, total

m2

119.0 (125.0)

19.

Superheater heating surface

m2

-

20.

Diameter of drivers

mm

1 750 (1 730)

21.

Diameter of idlers front/rear

mm

980 / -

22.

Total weight, empty

kg

43 600 (43 300)

23.

Total weight, working order

kg

48 400 (48 700)

24.

Weight on drivers, working order

kg

29 100 (28 000)

25.

Weight with tender, empty

kg

26.

Weight with tender, working order

kg

27.

Maximum axle load

T

14.55 (14.0)

28.

Axle base (with tender)

mm

13 305 (12 480)

29.

Overall length (with tender)

mm

16 411 (15 615)

30.

Brake type

-

Westinghouse
Note: data for Bauart Hannover, in brackets for Bauart Erfurt. Dimensions and weights with the 3T15 tender.
<![if !supportLists]>1)

<![endif]>Excluding similar engines built for railway managements other than KPEV.
<![if !supportLists]>2) <![endif]>Only 21 actually re-classed Od1.
References and acknowledgments
<![if !supportLists]>- <![endif]>Lokomotiv-Archiv Preußen by Andreas Wagner, Dieter Bäzold, Rainer Zschech and Ralph Lüderitz (Bechtermünz Verlag, 1996);
<![if !supportLists]>- <![endif]>Ingo Hütter's website www.lokomotive.de/lokomotivgeschichte/datenbank;
<![if !supportLists]>- <![endif]>LP.