<![if !vml]>

<![endif]>
Prototype P8 (Cöln 2401, BMAG 3616/1906) in its original form; probably a factory photo. Later this engine became DRG 38 1001 and was withdrawn in 1927. Source: Die Lokomotive April 1915.
<![if !vml]>

<![endif]>
KPEV Erfurt 2478 (Linke-Hofmann 1088/1914) prepared for the Baltic Exhibition in Malmö, Sweden. Knorr-type feedwater heater is noteworthy. This locomotive remained in Germany, was re-numbered
38 1622 and served with DR until November 1957. Location and date unknown. Source: Die Lokomotive May 1915.
<![if !vml]>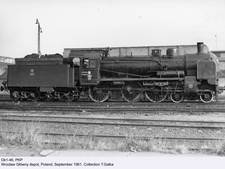 <![endif]>
Ok1-46, Wrocław Główny depot, September 1961. Photo from my collection. Several more post-war pictures of Polish Ok1s can be found here.
<![if !vml]>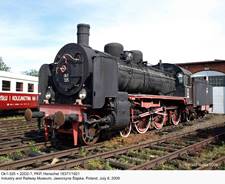 <![endif]>
Ok1-325 (ex DRG 38 3267), Henschel 18371/1921 Jaworzyna Śląska loco depot, July 8, 2009.
<![if !vml]>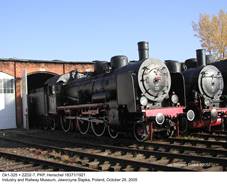 <![endif]>
The same locomotive photographed earlier, on October 28, 2005.
<![if !vml]>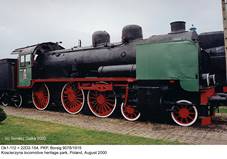 <![endif]>
Ok1-112 (ex DRG 38 1698), Borsig  9076/1915, Kościerzyna loco depot, August 2000. Note incomplete motion gear and enlarged makeshift smoke lifters.
<![if !vml]>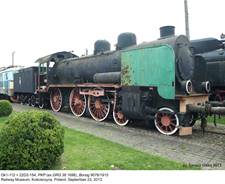 <![endif]>
Another picture of this locomotive, taken on September 23, 2013.
<![if !vml]>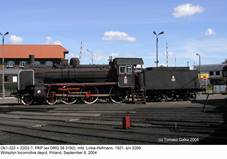 <![endif]>
Ok1-322 (ex DRG 38 3192), Linke-Hofmann, 2269/1921, Wolsztyn loco depot, September 8, 2004.
<![if !vml]>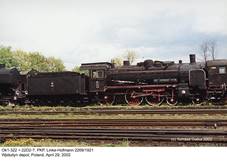 <![endif]>
Earlier picture of this machine, taken on April 29, 2002...
<![if !vml]>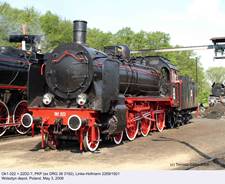 <![endif]>
...and yet another: May 3, 2008.
<![if !vml]>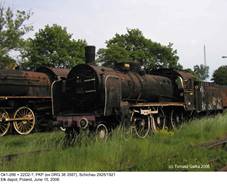 <![endif]>
Slightly derelict Ok1-266 (ex DRG 38 3587, KPEV Elberfeld 3034), Schichau 2925/1921, Ełk, June 15, 2006.
<![if !vml]>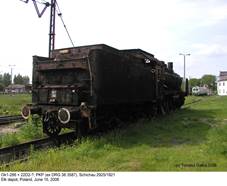 <![endif]>
Another photo of Ok1-266, taken on the same occasion...
<![if !vml]>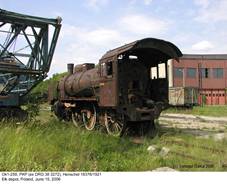 <![endif]>
... and the other example from Ełk: wreck of the Ok1-258 (ex DRG 38 3272, KPEV Elberfeld 2624), Henschel 18376/1921. In December 2012 this engine was taken to Warsaw and probably scrapped.
<![if !vml]>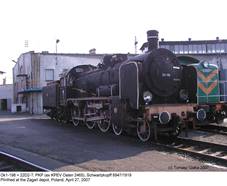 <![endif]>
Ok1-198 (ex DRG 38 2402), Schwartzkopff 6947/1919, Żagań depot, April 27, 2007...
<![if !vml]>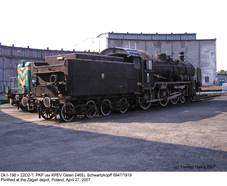 <![endif]>
... and another photo of this engine, taken on the same occasion.
<![if !vml]>

<![endif]>
Class 3810-40 side drawing from TB vol.1 (© Lokomotiv-Revue).
<![if !vml]>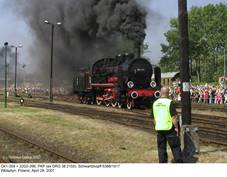 <![endif]>
Ok1-359 (Schartzkopff  6388/1917) appeared at the Steam Locomotive Parade in Wolsztyn on April 28, 2007...
<![if !vml]>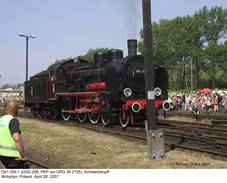 <![endif]>
...but I was not particularly lucky in taking pictures: this bald-headed guard and the pole!
<![if !vml]>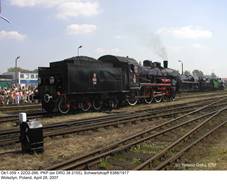 <![endif]>
Perhaps this rear view is the best one?
More pictures of the Ok1-359, taken at the 2008 Show in Wolsztyn, can be seen here.
<![if !vml]>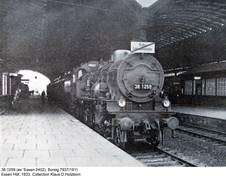 <![endif]>
Not excellent in quality, but nice: DRG 38 1259, (Borsig 7937/1911, ex 'Essen 2402'), Essen Hbf, 1933. This engines was withdrawn from service in 1935. Many thanks to Klaus D. Holzborn!
<![if !vml]>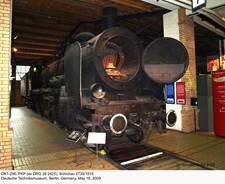 <![endif]>
Ok1-296 (ex 38 2425) on display at the Deutsches Technikmuseum, Berlin; photo taken on May 16, 2009. Details of Schmidt superheater can be easily seen.
<![if !vml]>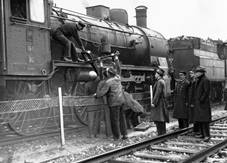 <![endif]>
Ok1-90: connecting rod assembly after a crash in Krzeszowice, October 1934. This engine (BMAG 6386/1917, ex Kattowitz 2473) survived in service until 1939, but its subsequent fate is unknown. Source: National Digital Archives (www.nac.gov.pl). Used by permission.
<![if !vml]>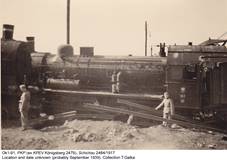 <![endif]>
Derailed Ok1-91, photographed somewhere in Poland probably in September 1939. This engine (Schichau 2484/1917) later became DRG 38 1202 (second with this number), was returned to PKP after the war and served as Ok1-101 until October 1974. Photo from my collection.
<![if !vml]>

<![endif]>
Essen 2408, KPEV, Borsig 8126/1912, location and date unknown. This locomotive later became DRG 98 1310, was taken over by NKPS in 1945 and transferred to industry three years later. From my collection.
<![if !vml]>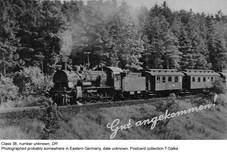 <![endif]>
An unknown Class 38 engine, photographed somewhere in Eastern Germany. Postcard from my collection. More pictures of these engines in the DR service can be found here.
<![if !vml]>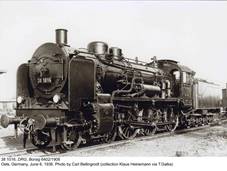 <![endif]>
38 1016 (Borsig 6402/1908), photographed in Oels on June 6, 1936. Photo by Carl Bellingrodt (from my collection). After the war this engine went to DR and was withdrawn in September 1962.
<![if !vml]>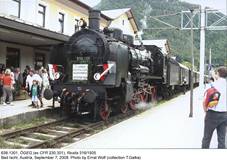 <![endif]>
638.1301, owned by ÖGEG (ex CFR 230.301, Reşiţa 316/1935) with a special train at Bad Ischl, Austria, photographed on September 7, 2008. Photo by Ernst Wolf (from my collection).
<![if !vml]>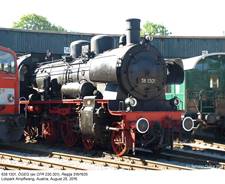 <![endif]>
Another picture of the 638.1301, this time with 'German-style' service number on the smokebox door; Lokpark Ampflwang, Austria, August 25, 2016.
<![if !vml]>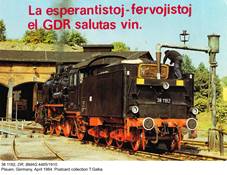 <![endif]>
38 1182 (BMAG 4485/1910) from the DR fleet, photographed in Plauen, Germany, in April 1984. Postcard from my collection, issued to commemorate a meeting of Esperanto-speaking railway fans. Currently this engine is owned by DB and based in Gera.
<![if !vml]>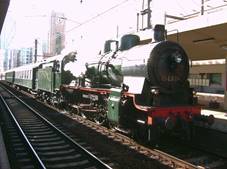 <![endif]>
Maybe not excellent lighting, but very nice photo: SNCB 64.169 (Henschel 18939/1921), formerly CFR 230.084, photographed in Brussels in 2008…
<![if !vml]>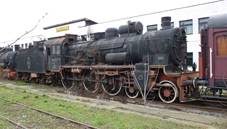 <![endif]>
…and once operational CFR 230.224 (Reşiţa 231/1933), dumped in Targu Mures, Romania, March 6, 2014. Both photos by Charles Hinton (many thanks!).
<![if !vml]>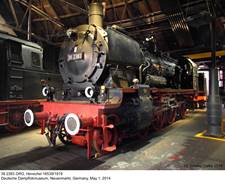 <![endif]>
38 2383 (Henschel 16539/1919) on static display at the Deutsche Dampflokmuseum in Neuenmarkt; photo taken on May 1, 2014.
<![if !vml]>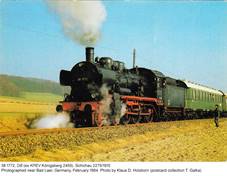 <![endif]>
KPEV Königsberg 2459 (Schichau 2275/1915) later became DRG 38 1772 and remained in use with DB until December 1974. Sold to a private person, it is kept operational; in 2002 it was leased to Eisenbahnfreunde Betzdorf. Photographed near Bad Laer in February 1984 by Klaus D. Holzborn (postcard from my collection).
<![if !vml]>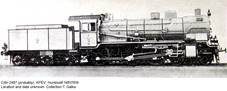 <![endif]>
This locomotive is most probably KPEV Cöln 2487 (Humboldt 1481/1919); location and date unknown. Photo from my collection.
<![if !vml]>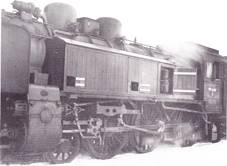 <![endif]>
Of rather poor quality, but very interesting photo of the 38 3759 (ex Elberfeld 3172, AEG 2403/1922), fitted with additional thermal insulation for Eastern Front service; RAW München-Freimann, date unknown. This locomotive remained in service with DB until November 1964. Source: Bundesbahn-Ausbesserungswerk München-Freimann by Anton Joachimsthaler, 1985.
<![if !vml]>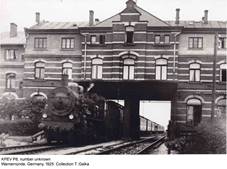 <![endif]>
An unidentified P8, photographed in Warnemünde in 1925. Photo from my collection.
<![if !vml]>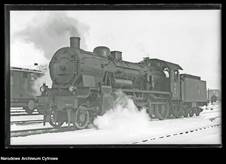 <![endif]>
Ok1-2Dz (former KPEV Danzig 2421, Schichau 2494/1917), probably 1931, location unknown. This locomotive was later impressed into DRG as 38 1008 (second with this number); returned after the war, it served as Ok1-97 until May 1977. Source: National Digital Archives (www.nac.gov.pl), used by permission.
Prussian state railways KPEV had a particular liking to passenger and even express locomotives with two driven axles: class P4 remained in production until 1911, class S7 – even until 1914. The fact that their tractive effort was not sufficient for heavier drafts was, however, recognized much earlier. This resulted in development of express and passenger locomotives with three driven axles (classes S10 and P6, respectively). Steam superheating was another important novel feature of these machines, offering an alternative to complex and expensive compounds running on saturated steam. Class S10 – the last express locomotive type ordered by KPEV – was built in over 550 examples. On the contrary, class P6 (1-3-0 axle arrangement), introduced in 1901, was not successful. 1600 mm drivers were too small for its design speed and there were problems with weight distribution. Only 275 machines were thus built. Class P7 was an adaptation of Badische Staatsbahn class IVe, designed by Alfred de Glehn and built by Grafenstaden and Maschinenbaugesellschaft Karlsruhe between 1894 and 1901 (73 engines in all). This locomotive featured two-axle lead truck, but its four-cylinder compound engine, running on saturated steam, did not find much favor in KPEV service and only eighteen were delivered in 1901. Class P8, which followed, owed much to earlier P6, but was a new design with two-axle lead truck. Such was the origin of one of the most popular and widely used European locomotives, to be built in almost 4,000 examples.
Beginning of the P8 career certainly did not presage such future. New machine was designed by Robert Garbe in 1905 for passenger and to some extent also light express traffic with maximum service speed of 110 km/h. Prototype was built by Schwartzkopff (s/n 3616/1906) and tests began in August 1906. It soon turned out that boiler design was very successful, despite moderate pressure of only 12 bar (compared to 14 bar in earlier S7), while running qualities left something to be desired; in particular, running was uneasy at high speed. New machine was accepted for production, but some redesign was undertaken: in 1910 diameter of cylinders was reduced from 590 to 575 mm, weight distribution was corrected and maximum service speed was reduced to 100 km/h. Moreover, flat front cab wall replaced the V-shaped previously used, intended to reduce drag. In this ultimate version, P8 finally emerged as a versatile passenger locomotive, reliable and popular among crews.
Production for Prussian railways lasted until 1923 and involved twelve companies, which delivered a total of 3438 engines. 65 examples were built in 1918 for the military railway authority in Warsaw, then occupied by Germans, by Henschel (30), Linke-Hofmann (15) and BMAG (20). Further P8s, with various minor modifications, were ordered by Mecklemburgische Friedrich Franz Eisenbahn (three from Henschel and ten from Humboldt), Oldenburgische Eisenbahn (five from Hanomag) and Badische Staatseisenbahn (40 from MBG). There were also orders from abroad. PKP ordered 65 examples (see below). Romanian state railways took delivery of 95 brand new engines from Hanomag (five), Henschel (52) and BMAG (38). The latter company built also five P8s for Lithuanian state railways. This gives a total of 3726 engines built in Germany by thirteen manufacturers: AEG (126), Borsig (150), Hagans (95), Hanomag (40), Henschel (792), Hohenzollern (30), Humboldt (403),  Linke-Hofmann (423), MBG (40), Schichau (340), Schwartzkopff (1145), Union (35) and Vulcan (107). Production in Germany was finally halted in 1930 with the last batch of thirteen P8s for Romania. Furthermore, this machine was license-built between 1932 and 1939 by Malaxa (91) and Reşiţa (139) in Romania. This gives the total number of machines built at 3956 examples. Many sources give the Malaxa production at 83 examples, hence the grand total of 3948.
After WWI, German railways had to hand over 627 P8s to various countries as war reparations – the majority went to Belgium, France and Poland. In post-war DRG service they were re-designated class 3810-40. Second 'batch' of these machines went to several European countries after WWII; it is difficult to estimate how many, but according to some sources German railways were left with 2803 examples, of which many were unserviceable. During post-war service, many of them were fitted with long, narrow smoke lifters, remaining that of German Kriegsloks. DR used their machines until early 1970s and DB withdrew last example in January 1975. At least eight machines (possibly more) have been preserved. In 1951, two DB engines (38 2919, Vulcan 3676/1921, and 38 2890, Vulcan 3647/1921) were converted into tank locomotives, by coupling them rigidly with short, two-axle tenders. This rebuild was performed by Krauss-Maffei; 'new' engines were re-classed 78 1001 and 78 1002 and given new serial numbers, 17677/1951 and 17678/1951, respectively. They were used mainly with suburban trains and remained in service until 1961.
Foreign users of class P8 include:
<![if !supportLists]>- <![endif]>Belgium (class 64) – 168 examples acquired in 1918, slightly modified, in use until 1966;
<![if !supportLists]>- <![endif]>France (classes 230C and 230F) – 162 examples acquired in 1918, several (probably 19) later sold to Poland;
<![if !supportLists]>- <![endif]>Romania (class 230.0) – first batch for CFR (Căile Ferate Române) came in 1919 and comprised eighteen ex-KPEV engines presented by French authorities. Further eighteen second-hand P8s from Germany followed in 1926. Furthermore, CFR took delivery of 325 new engines from German and Romanian factories. Nineteen locomotives from Reşiţa (230.501 through 519) were fitted with Lentz poppet valves and eleven from Malaxa (230.520 through 530) with Caprotti valve gear. Finally, three ex-DRG engines (230.400, 230.401 and 230.402) were acquired after WWII. This gives the grand total of 364 examples;
<![if !supportLists]>- <![endif]>Lithuania (class K8): eleven ex-KPEV P8s acquired by LG (Lietuvos Gelezinkeliai) after WWI plus five built in 1925;
<![if !supportLists]>- <![endif]>Greece: ten examples (class Zd) taken over after WWI;
<![if !supportLists]>- <![endif]>Italy: 25 examples acquired by FS after WWI (class 675);
<![if !supportLists]>- <![endif]>Czechoslovakia (class 377.0) – 31 examples impressed into ČSD after WWII, numbers 377.0500 to 0530, plus probably several more not repaired, many were ex-Polish Ok1s, most returned to Poland and Western Germany between 1947 and 1952 (377.0519 was fitted with Riggenbach counter-pressure brake and used for testing other locomotives until 1963, then scrapped);
<![if !supportLists]>- <![endif]>Yugoslavia: seven ex-DRG engines taken over after WWII (JDŽ class 09);
<![if !supportLists]>- <![endif]>Soviet Union – first 'batch' comprised Polish Ok1s, captured in September 1939, some later converted to 1524 mm track. Five Lithuanian K8s followed in June 1940. After the annexation of Bukovina, several CFR 230.0s were acquired, but only two were converted to 1524 mm track and just one was evacuated in June 1941. More German and Romanian machines were captured and impressed into MPS service as Red Army advanced westwards. Probably no Soviet designation was ever allocated and their total number remains unknown. These engines remained in service until early 1950s;
<![if !supportLists]>- <![endif]>Austria: two heritage ex-CFR engines with fictitious designations, currently owned by ÖGEG.
Some references also add Turkey, but I have found no trace in Turkish sources (according to www.trainsofturkey.com, TCDD engines Nos. 46001 to 46025 were derived from P8, but were different locomotives with four driven axles).
Poland had the largest fleet of these engines. After WWI, 190 examples were handed over by German railways and re-designated Ok1-1 through Ok1-190; two more were used in Gdańsk and designated Ok1-1Dz and Ok1-2Dz (Dz for 'Danzig'). This number includes second-hand engines from France. Furthermore, 65 brand new machines were supplied by Linke-Hofmann, Hanomag and Schwartzkopff between 1921 and 1923 and given service numbers from Ok1-201 to Ok1-265. This gives a total of 257 machines. They were used throughout the country and earned a good reputation for manufacturing quality, reliability and ease of maintenance. In 1938, five machines were leased to the French-Polish Railway Company for passenger traffic on the Coal Trunk Line between Upper Silesia and Gdynia; their service numbers remained unchanged. Even after the appearance of Ok22 (its direct development – 190 examples built between 1923 and 1934) and much stronger, albeit less successful Os24, Ok1 remained the principal passenger locomotive in Poland.
As with other types, in September 1939 Polish Ok1s were divided between Germany and Soviet Union. German examples (160) were impressed into class 3810-40 and most of them were given service numbers of machines withdrawn in the 1930s. The Soviets took 84 and some were converted to the 1524 mm track, but exact number is not known. Two (Ok1-54 and Ok1-230) were evacuated to Lithuania and taken over by LG (service numbers 67 and 68, respectively); in 1940 they fell into Soviet hands. The fate of eleven Ok1s is not known. After WWII, Polish railways took over 429 machines, so again Ok1 became one of the most numerous and important classes – in fact it was the most important passenger locomotive at least until mid-1950s. Ok1s were still held in high esteem; despite their age, failure rate was in fact lower than with indigenous Ol49, designed for the same duties. On the other hand, Prussian engine, due to narrow firebox, demanded high-quality coal. In early 1970s there were still about 250 examples in service, but then their number dwindled rapidly and last were withdrawn in 1980. Four of them (Ok1-112, 258, 289 and 303) were for some time used as stationary boilers at various industrial plants. As many as eight machines avoided scrapping, but Ok1-296 (Schichau 2739/1919, KPEV Danzig 2441, then Stettin 2536 and finally DRG 38 2425), withdrawn in January 1981, was sold to Germany and is now exhibited at Deutsches Technikmuseum (formerly Museum für Verkehr und Technik), Berlin. Ok1-258 (former 38 3272, Henschel 18376/1921), kept in Ełk for over fifteen years in very poor condition, was taken from there in December 2012 and probably scrapped. Thus, six Ok1s can now be seen in Poland. Ok1-359 (Schwartzkopff 6388/1917, ex KPEV Osten 2545, ex DRG 38 2155), based in Wolsztyn since March 1989, had long been the oldest operational steam locomotive in Poland (before Chabówka-based Ol12-7, which is five years older, was again restored in service). This engine, withdrawn from service in 2001 due to boiler certificate expiry, underwent major repair and re-appeared in service in November 2006. It steamed for the last time in May 2009 and currently is awaiting decision on its future fate. List of preserved P8s can be found here; this list is probably neither complete nor error-free, so any amendment or correction is most welcome. According to Internet sources (mainly www.enzia.com), as many as 21 locomotives of this type have been preserved in Romania.
Main technical data
| | | | |
| --- | --- | --- | --- |
| No. | Parameter | Unit | Value |
| 1. | Years of manufacture | - | 1906 – 1940 |
| 2. | Total built / used in Poland | - | 3948 / 257 (4291)) |
| 3. | Tender class | - | 22D2 |
| 4. | Axle arrangement | - | 2-3-0 |
| 5. | Design maximum speed | km/h | 100 |
| 6. | Cylinder bore | mm | 2 x 575 |
| 7. | Piston stroke | mm | 630 |
| 8. | Engine rating | kW/hp | 662 / 900 |
| 9. | Tractive effort | kG | 10 500 |
| 10. | Boiler pressure | MPa | 1.22 |
| 11. | Grate dimensions | m x m | 2.62 x 1.01 |
| 12. | Firebox heating surface | m2 | 14.58 |
| 13. | Distance between tube plates | mm | 4 700 |
| 14. | Number of flue tubes | - | 119 |
| 15. | Heating surface of flue tubes | m2 | 80.67 |
| 16. | Number of smoke tubes | - | 26 |
| 17. | Heating surface of smoke tubes | m2 | 48.0 |
| 18. | Evaporating surface, total | m2 | 143.25 |
| 19. | Superheater heating surface | m2 | 52.0 |
| 20. | Diameter of drivers | mm | 1750 |
| 21. | Diameter of idlers front/rear | mm | 1000 / - |
| 22. | Total weight, empty | kg | 71 700 |
| 23. | Total weight, working order | kg | 78 200 |
| 24. | Weight on drivers, working order | kg | 51 600 |
| 25. | Weight with tender, empty | kg | 94 700 |
| 26. | Weight with tender, working order | kg | 129 700 |
| 27. | Maximum axle load | T | 17.7 |
| 28. | Axle base (with tender) | mm | 15 500 |
| 29. | Overall length (with tender) | mm | 18 590 |
| 30. | Brake type | - | Knorr, Westinghouse |
1) After WWII – some sources give 430 examples..
References and acknowledgments
<![if !supportLists]>- <![endif]>www.parowozy.best.net - website by Michał 'Doctor' Pawełczyk;
<![if !supportLists]>- <![endif]>Ingo Hütter's locomotive database (available at www.lokomotive.de);
<![if !supportLists]>- <![endif]>LP, ITFR;
<![if !supportLists]>- <![endif]>Die preuß. P8 – 38 2267 der DGEG by Siegfried Baum (Eisenbahnen und Museen, Folge 47, DGEG, 2000);
<![if !supportLists]>- <![endif]>Parowozy serii Ok1 (pruska seria P8) by Andrzej Paszke (ZP Grupa, 2008).