<![if !vml]>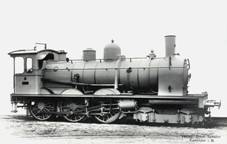 <![endif]>
Factory photo of the GBadStE class IVe, later variant (postcard from my collection). It is doubtful if any photographs of Polish Ok101s exist.
<![if !vml]>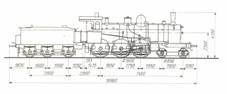 <![endif]>
Side drawing of class IVe (later variant with the three-axle tender) from Lokomotiv-Archiv Baden (see references).
Among German locomotives acquired by PKP after WWI, the majority were of Prussian origin. Railways of other German lands, however, also had their contributions – far less numerous, but by no means less interesting. An example is provided by Badenian class IVe.
In 1894, Badenian state railways GBadStE (Grossherzoglich Badischen Staatseisenbahnen) ordered from Société Alsacienne de Constructions Mécaniques (SACM, also known as Grafenstaden) in then-German Alsace a locomotive for Schwarzwaldbahn. This line, with gradients up to 20 ‰ and tight curves, was quite demanding and a four-cylinder compound was considered suitable. Prototype (s/n 4551/1894) was fitted with de Glehn steam engine and after tests (during which 811 hp were attained) was accepted for service. It was followed by seven engines from SACM, serialled 4701 through 4707/1895. Further production was undertaken by Maschinenbau  Gesellschaft Karlsruhe (MBG), which supplied 75 examples between 1895 and 1901. Engines from MBG differed in several details and could be distinguished by sand domes located on boilers rather than on footplates. All 83 engines were classed IVe; first 39 were coupled with three-axle tenders and the remaining 44 with larger four-axle ones.
Between 1899 and 1904 Grafenstaden built eighteen similar locomotives for Prussian state railways KPEV, classed P7. Although sometimes referred to as a version of class IVe, they were different engines, with 1750 mm drivers, redesigned boiler and steam pressure increased from 13 to 14 bar. They were also longer and heavier. Their performance was considered unsatisfactory: Prussian railwaymen were unfamiliar with demanding de Glehn compounds and maintenance was judged complex and costly. Thirteen were withdrawn before 1918 and five went to Belgium as a part of war reparations.
These modern for that time engines (first in Germany with 2-3-0 axle arrangement) remained in service until the outbreak of WWI. Eight were taken over by military railways (Königlich Preußische Militär-Eisenbahn) and of these two were assigned to the Militär-Generaldirektion der Eisenbahnen in Warschau. These two engines were in 1918 taken over by Polish authorities and impressed into service with interim designation P8Bd (due to the same axle arrangement that Prussian P8 – Bd stood for 'Baden') and service numbers 111 and 112. With the introduction of new designation system they were classed Ok101 and assigned service numbers Ok101-1 (ex GBadStB 553, MGB 1400/1895) and Ok101-2 (ex GBadStB 591, MGB 1491/1898); both had three-axle tenders, classed 15C101. It is doubtful, however, if these numbers were in fact given, as both engines were written off between 1924 and 1926. Most probably such early withdrawal was caused by their untypical design; four-cylinder compounds were never favored by Polish railways. Moreover, de Glehn steam engines, while assuring easy running and economy, demanded well-trained drivers.
Badenian class IVe did not enjoy a long career indeed. After WWI, two engines went to Belgium (service numbers 6118 and 6176) and thirteen to France (Etat 230.901 through 230.913). 35 were impressed into DRG and classed 3870, but their service was not long: last were withdrawn in November 1932. According to the article by Krzysztof Zintel (see references), 38 7001 (ex GBadStE 38, SACM 4703/1895) has been preserved in Karlsruhe as a sort of educational exhibit, with many parts removed. This has not been confirmed by Ingo Hütter (www.locomotive.de), who gives that this engine, withdrawn in 1932 and handed over to Verkehrsmuseum in 1936, was in fact  damaged by a bomb hit in 1944 and scrapped in the 1950s.
Main technical data
No.

Parameter

Unit

Value

1.

Years of manufacture

-

1894 – 1901

2.

Total built / used in Poland

-

83 / 2

3.

Tender class

-

15C101

4.

Axle arrangement

-

2-3-0

5.

Design maximum speed

km/h

90

6.

Cylinder bore

mm

2 X 350 /

2 X 550

7.

Piston stroke

mm

640

8.

Engine rating

kW/hp

640

9.

Tractive effort

kG

596 / 8111)

10.

Boiler pressure

MPa

1.33

11.

Grate dimensions

m X m

2.1 m2

12.

Firebox heating surface

m2

11.17

13.

Distance between tube plates

mm

4 250

14.

Number of flue tubes

-

191

15.

Heating surface of flue tubes

m2

114.76

16.

Number of smoke tubes

-

-

17.

Heating surface of smoke tubes

m2

-

18.

Evaporating surface, total

m2

125.93

19.

Superheater heating surface

m2

-

20.

Diameter of drivers

mm

1600

21.

Diameter of idlers front/rear

mm

850 / -

22.

Total weight, empty

kg

52 800

23.

Total weight, working order

kg

58 300

24.

Adhesive weight, working order

kg

41 700

25.

Weight with tender, empty

kg

26.

Weight with tender, working order

kg

93 800

27.

Maximum axle load

T

13.9

28.

Axle base (with tender)

mm

13 8502)

29.

Overall length (with tender)

mm

16 9602)

30.

Brake type

-

Westinghouse-Henry
<![if !supportLists]>1) <![endif]>Highest power attained during tests.
<![if !supportLists]>2) <![endif]>With three-axle tender.
References and acknowledgments
<![if !supportLists]>- <![endif]>Lokomotiv-Archiv Baden by Hermann Lohr and Georg Thielmann (Transpress, Berlin, 1988);
<![if !supportLists]>- <![endif]>Monographic article on Badenian locomotives in Poland by Krzysztof Zintel (SK vol. 6/2003);
<![if !supportLists]>- <![endif]>www.lokomotive.de (website by Ingo Hütter).