<![if !vml]>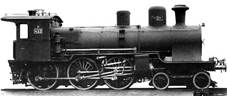 <![endif]>
Factory photo of the KWStB 422 (Esslingen 2912/1898). Source: www.commons.wikimedia.org.
<![if !vml]>

<![endif]>
 Side drawing of class D. Source: Lokomotiv-Archiv Württemberg (see References).
Class AD 2-2-0 of the Königlich Württembergischen Staats-Eisenbahnen (KWStE) proved too weak for heavy passenger trains on the demanding Ulm-Stuttgart-Bretten line. Thus, between 1898 and 1905, the railway took delivery of fourteen class D passenger locomotives from Maschinenfabrik Esslingen. They ran on saturated steam and featured four-cylinder compound steam engines of the de Glehn type. Prototype was 2911/1898 and the locomotives were assigned service numbers from 421 to 434. These engines, although successful and possessing satisfactory characteristics, were complex and demanded skillful drivers. In fact they were quickly surpassed by more modern types running on superheated steam.
Four-cylinder compounds were not favored by newly-created German state railways, so eight locomotives of this type that remained in Germany saw very little service, despite comparatively young age. DRG service numbers 38 101 through 108 were reserved for them, but never actually assigned, as all were withdrawn until 1924 and scrapped. KWStB 426 and 429 went to France and were taken over by Chemins de Fer de l'État, becoming 230.985 and 230.986. Four-cylinder de Glehn compounds were quite widespread in France, so both enjoyed longer service runs, the former being withdrawn only in 1934 and the latter around 1930. According to Lokomotiv-Archiv Württemberg (see References), the remaining four locomotives (KWStE 423, 425, 430 and 432) were taken over by PKP. Due to the same axle arrangement as in popular Prussian P8, they were initially classed P8w, where the upper index indicated the land of origin. In 1926 they were re-classed Ok102. However, LP gives only three examples; KWStE 423 is missing, so this locomotive was either never taken over by PKP or withdrawn before 1926. The official list of steam engine types, issued by the Ministry of Transport in 1927, also gives three examples then in use. Be as it was, this class disappeared from the PKP rosters before 1936. No locomotive of this type has survived until today.
Main technical data
No.

Parameter

Unit

Value

1.

Years of manufacture

-

1898 – 1905  

2.

Total built / used in Poland

-

14 / 4 (3?)

3.

Tender class

-

13C102

4.

Axle arrangement

-

2-3-0

5.

Design maximum speed

km/h

90

6.

Cylinder bore

mm

2 X 380 /

2 X 600

7.

Piston stroke

mm

560

8.

Engine rating

kW/hp

9.

Tractive effort

kG

10.

Boiler pressure

MPa

1.43

11.

Grate dimensions

m X m

2.3 m2

12.

Firebox heating surface

m2

12.1

13.

Distance between tube plates

mm

3 990

14.

Number of flue tubes

-

15.

Heating surface of flue tubes

m2

149.9

16.

Number of smoke tubes

-

-

17.

Heating surface of smoke tubes

m2

-

18.

Evaporating surface, total

m2

162.0

19.

Superheater heating surface

m2

-

20.

Diameter of drivers

mm

1 650

21.

Diameter of idlers front/rear

mm

850 / -

22.

Total weight, empty

kg

57 300

23.

Total weight, working order

kg

64 400

24.

Weight on drivers, working order

kg

44 800

25.

Weight with tender, empty

kg

26.

Weight with tender, working order

kg

96 500

27.

Maximum axle load

T

15.0

28.

Axle base (with tender)

mm

14 075

29.

Overall length (with tender)

mm

16 920

30.

Brake type

-

steam1)
1) Westinghouse brakes were latter fitted.
References and acknowledgments
<![if !supportLists]>- <![endif]>LP;
<![if !supportLists]>- <![endif]>www.pl.wikipedia.org;
<![if !supportLists]>- <![endif]>www.de.wikipedia.org;
<![if !supportLists]>- <![endif]>Lokomotiv-Archiv Württemberg by Hermann Lohr and Georg Thielmann (Transpress, Berlin, 1988).