<![if !vml]>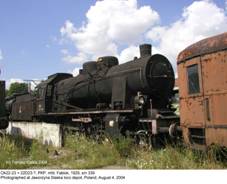 <![endif]>
Ok22-23 (Fablok 339/1929) at Jaworzyna Śląska depot (now Industry and Railway Museum), photographed on August 4, 2004.
<![if !vml]>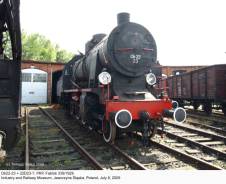 <![endif]>
The same engine, in much better condition, photographed on July 8, 2009.
<![if !vml]>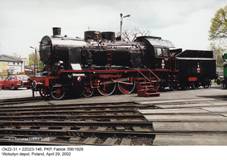 <![endif]>
Ok22-31 (Fablok 356/1929) at Wolsztyn depot, photographed on April 29, 2002; this machine is now operational.
<![if !vml]>

<![endif]>
Side drawing of the Ok22 from PNP.
<![if !vml]>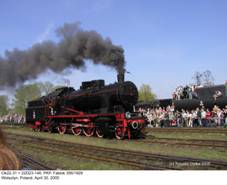 <![endif]>
On April 30, 2005, Ok22-31 participated in the traditional 'Steam Locomotive Parade' at the Wolsztyn depot.
<![if !vml]>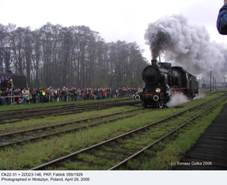 <![endif]>
Next year, on April 29, 2006, weather was much worse, but railway fans do not care for such trifles. Neither does Ok22-31.
More pictures of this engine, taken at the 2008 Show, can be seen here.
<![if !vml]>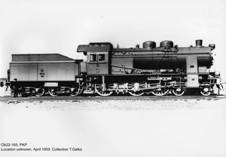 <![endif]>
Ok22-165. My data give 'location unknown, April 1959', but judging from the service number this is a pre-war picture. Photo from my collection.
<![if !vml]>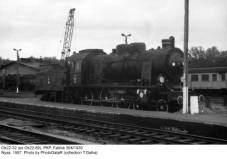 <![endif]>
Ok22-32 (pre-war Ok22-89), photographed in Nysa in 1987. Photo by PhotoGataR (from my collection).
<![if !vml]>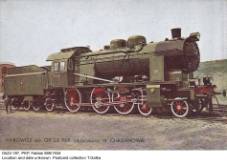 <![endif]>
Ok22-187 (Fablok 586/1934) on a pre-war postcard from my collection. This engine was taken over by DRG and impressed into service as 38 4608; after the war she remained with DB and was written off in December 1951.
<![if !vml]>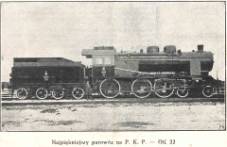 <![endif]>
The caption reads: 'The most beautiful PKP steam engine': such was the outcome of a 1929 poll. This photo adorns the cover of the Technika Parowozowa monthly 1929 annual set. Service number is illegible. Class designation is given as 'OK 22', which is not proper.
<![if !vml]>

<![endif]>
Factory photo of an unidentified Ok22; source: Die Lokomotive November 1924.
<![if !vml]>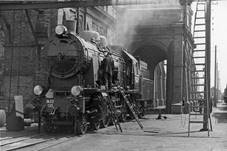 <![endif]>
Ok22-130 (Fablok 453/1930) has just completed an overhaul at some railway stock repair works; photo taken in August 1940. The locomotive is operated by DRG, but still displays Polish service number. Later re-numbered 38 4572, this engine went to DB and was formally written off in December 1951. Source: National Digital Archives (used by permission).
<![if !vml]>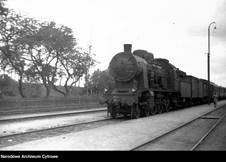 <![endif]>
Ok22-82 (Fablok 387/1929), Gródek Jagielloński, 1934. This locomotive was impressed into NKPS and later MPS as Oк22-82; withdrawal date is unknown. Source: as above.
First passenger locomotive, designed and built for PKP after WWI, was a derivative of Prussian P8 – a very successful machine, built in almost 4,000 examples between 1906 and 1940 and used in many European countries. Poland acquired 192 P8s as a part of war reparations and bought 65 brand new machines from Linke-Hofmann, Hanomag and Schwartzkopff between 1921 and 1923; all these locomotives were classed Ok1. More examples were taken over after WWII and Ok1 remained in service until 1980 as the most numerous class of passenger locomotives with PKP.
Immediately after WWI, lack of engines suitable for passenger traffic was particularly acute, as most acquired German, Austrian and Russian locomotives were freighters, usually obsolete and in poor condition. New passenger engine was thus badly needed and it was decided to pattern its design upon that of the P8. New engine, later to be classed Ok22, was ordered in 1922 and first five examples were built in 1923 by Hanomag (10144/1923 through 10148/1923), as Polish locomotive industry still had to be created – virtually from scrap. After extensive tests and some minor modifications, production was undertaken by the First Locomotive Factory in Poland (Fablok) of Chrzanów in 1928, first example (Ok22-6, s/n 275/1928) being delivered in December. Until 1934, 185 machines were built there.
Main differences between P8 and Ok22 concerned the boiler which, however, remained a fairly conservative design. In order to facilitate low-grade coal combustion, boiler was raised by 400 mm to accommodate larger firebox (grate was shorter by 260 mm, but wider by 690 mm, its area being increased from 2.65 to 4.01 sq.m). Number of flues was increased from 119 to 175 and of smoke tubes – from 26 to 28. Evaporating surface was larger by over 28%, but superheater heating surface – only by less than 8%; with unchanged boiler pressure of only 12 bar and the same dimension of cylinders, overall efficiency was slightly below that of P8. Locomotive frame, steam engine and motion gear remained virtually unchanged. Machines built by Fablok had modified and enlarged cabs (similar to that of Ty23) and two boiler domes. They were coupled with 22D23 four-axle tenders (again from Ty23) which, compared to 22D2s of Hanomag-built examples, had slightly lower empty weight, but were longer and had coal box capacity increased from 7 to 10 tonnes.
First twenty Ok22s were assigned to the Warsaw regional management, which was common practice with new locomotive types. Between two world wars, Ok22 was one of the most important classes in PKP service, used throughout the country. Five machines, Ok22-151 to Ok22-155, based in the Kapuścisko Tranzytowe depot near Bydgoszcz, were leased to the French-Polish Railway Company for passenger traffic on the Coal Trunk Line between Upper Silesia and Gdynia. Until the introduction of Pt31, they were also commonly used with express trains (more powerful Os24 had poor running qualities at higher speed). In-service modifications, apart from fitting electric lighting from 1931 onwards, were rather few. Five examples (Ok22-117 through Ok22-121) had Lentz valve gears which, although generally successful, proved somehow troublesome in maintenance and have not found widespread use. Several machines had Dabeg or Worthington feedwater pumps instead of standard Metcalfe-Friedmann exhaust-steam injectors. Ok22-23 was in 1935 experimentally fitted with Nicolai-type piston valves. According to PNPP, 55 engines were fitted with Langer or Pyram devices for smoke-less combustion (air and steam jets directed into firebox to improve combustion), which proved unsuccessful and were soon removed.
In 1939, Ok22s shared the fate of other Polish locomotives. 112 examples captured by Germans were impressed into the DRG service and classed 3845-46 in 1941. 72 engines fell into the hands of the Soviets. The prototype Ok22-1 went with an evacuation train to Lithuania and was absorbed by state LG railways; numbered 41 (class K9), it became a Soviet booty in 1940. Some sources state that this was in fact Ok22-132 (Fablok 472/1932), destroyed in Wilno by a direct bomb hit in June 1941. Most Soviet engines were converted to 1524 mm track and served in Western Ukraine and Byelorussia, with original Polish service numbers. First converted example (in November 1939) was Ok22-100, and 59 more followed until 1941; after German attack most of them were sent eastwards. Anyway, such fast conversion (compared to other ex-PKP classes) seems indicative of the Ok22 being highly valued by their new owners. After Fall Barbarossa, 21 Soviet engines fell into German hands; most were impressed into DRG. The fate of five engines is not known. According to some sources, a few examples were evacuated to Romania in 1939, but in fact the only Ok22 in the CFR service was the Ok22-112 (Fablok 433/1930), captured by the Soviets in 1939, then taken over by Wehrmacht, transferred to Romania and re-numbered 230.903, to fall into the hands of Soviets again in 1944 – a colorful life indeed! Some locomotives serving with Ostbahn were later, as the fortunes of war changed, captured by the Soviets, but only one (ex Ok22-42), which had served with NKPS before 1941, was retained, as it was considered Soviet property.
In 1945, Polish administration initially took over 51 Ok22s, which   were restored in service and given new numbers. Four more were returned by ČSD and two by ÖBB in 1947 and 1948; this given a total of 57 engines. As with many other pre-war classes, not a single engine returned from the Soviet Union. In 1955, 31 Ok22s were re-vindicated from Eastern Germany; despite being in generally poor condition, all were given new service numbers Ok22-58 through Ok22-88, although many saw no service and were immediately scrapped. Over thirty examples were written off and scrapped in Western Germany in the 1950s. Soviet Ok22s remained in use until mid-1960s, later some went to industry.
After introduction of Ol49, Ok22s were gradually shifted to local traffic, but occasionally hauled even long-distance trains until late 1960s. Post-war modifications were few and typical – steel fireboxes, standardized injectors and boiler fittings and lighting (apart from 25 engines, all pre-war Ok22s were fitted with gas lighting). Few examples were withdrawn before 1975 (in January 86 Ok22s were in the PKP inventory), but afterwards they fell in number quite rapidly, following deliveries of SP42s in large numbers. Last survived in service in Lower Silesia until November 1979 – in fact they were outlived by Ok1s.
Mention has also to be made of two Ok22s reboilered in 1952 with boilers taken from Tr203s (ex-USATC S160 engines, supplied after WWII). According to some sources, these were Ok22-35 and Ok22-45, but other sources suggest that these were possibly wrecked undercarriages with no service numbers assigned, of which some were still at hand. Classed Ok203 and later re-classed Ok55, they were joined by the third example – which did not use an Ok22 undercarriage – in 1959. This reconstruction proved entirely successful, as Tr203 boilers were much more modern and efficient than those of the original Ok22; plans for further conversions were, however, abandoned, as it had been decided not to proceed with any design work concerning steam locomotives. These hybrids were in October 1970 impressed into the Ok22 class and re-numbered Ok22-89 through Ok22-91, to be written off between 1976 and 1978 and scrapped. Class Ok55 is described under a separate entry.
Two locomotives of this type have survived until today. Ok22-23 (Fablok 339/1929, pre-war Ok22-44, then DRG 38 4530), withdrawn from service in 1979, can be seen at the Industry and Railway Museum in Jaworzyna Śląska. Ok22-31 (Fablok 356/1929, pre-war Ok22-51, then DRG 38 4536), based in Wolsztyn, was restored in service in 1987. Withdrawn in September 1997 and kept in Wolsztyn on static display, it was later overhauled (from December 2002 to May 2004), restored in service once again and from time to time hauls special trains.
Although only marginally superior to its archetype P8, Ok22 was a successful machine, tough and reliable, very important for passenger traffic both before and after WWII. Intended to supplement rather than to replace Ok1, it served along with the older class; in fact, the last Ok1 was withdrawn a few months after the last Ok22.
Main technical data
No.

Parameter

Unit

Value

1.

Years of manufacture

-

1923 – 1934

2.

Total built / used in Poland

-

190 / 190

3.

Tender class

-

22D23) or 22D23

4.

Axle arrangement

-

2-3-0

5.

Design maximum speed

km/h

100

6.

Cylinder bore

mm

2 x 5751)

7.

Piston stroke

mm

630

8.

Engine rating

kW/hp

720 / 980

9.

Tractive effort

kG

10 7102)

10.

Boiler pressure

MPa

1.22

11.

Grate dimensions

m x m

2.36 x 1.7

12.

Firebox heating surface

m2

14.1

13.

Distance between tube plates

mm

4 700

14.

Number of flue tubes

-

175

15.

Heating surface of flue tubes

m2

118.5

16.

Number of smoke tubes

-

28

17.

Heating surface of smoke tubes

m2

51.6

18.

Evaporating surface, total

m2

184.2

19.

Superheater heating surface

m2

56.0

20.

Diameter of drivers

mm

1750

21.

Diameter of idlers front/rear

mm

1000 / -

22.

Total weight, empty

kg

71 800

23.

Total weight, working order

kg

78 900

24.

Adhesive weight, working order

kg

51 000

25.

Weight with tender, empty

kg

94 8004) / 94 400

26.

Weight with tender, working order

kg

130 4004) /

133 000

27.

Maximum axle load

T

17.0

28.

Axle base (with tender)

mm

15 768

29.

Overall length (with tender)

mm

18 6124) / 18 940

30.

Brake type

-

Westinghouse
<![if !supportLists]>1) <![endif]>Some sources erroneously give 540 mm
<![if !supportLists]>2) <![endif]>Some sources give 8 560 kG
<![if !supportLists]>3) <![endif]>Ok22-1 to Ok22-5
<![if !supportLists]>4) <![endif]>With 22D2 tender
References and acknowledgments
<![if !supportLists]>- <![endif]>www.parowozy.best.net (website by Michał 'Doctor' Pawełczyk);
<![if !supportLists]>- <![endif]>monographic article by Paweł Terczyński (SK vol. 1/1997);
<![if !supportLists]>- <![endif]>PNPP, AP, LP;
<![if !supportLists]>- <![endif]>www.parowozy.com.pl (website by Wojtek Lis).