<![if !vml]>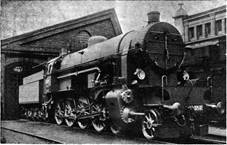 <![endif]>
Südbahn 570.02 (StEG 4001/1915), location and date unknown. This type was the basis for the Os24 design. 570.02 remained in Austria and after Anschluss became DRG 33 002; returned after the war and re-numbered 133.02, it was withdrawn in January 1954. Source: Die Lokomotive December 1915.
<![if !vml]>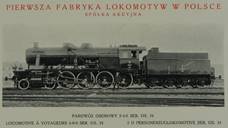 <![endif]>
Factory photo of the Os24 from the Fablok leaflet (source: www.commons.wikimedia.org).
<![if !vml]>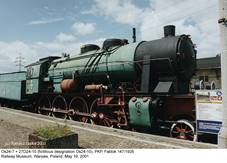 <![endif]>
Os24-10 (in fact Os24-7), Railway Museum, Warsaw, Poland,  May 19, 2001.
<![if !vml]>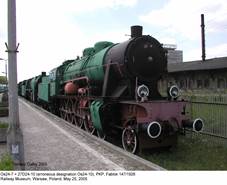 <![endif]>
Another picture of the only surviving Os24, taken on May 25, 2005...
<![if !vml]>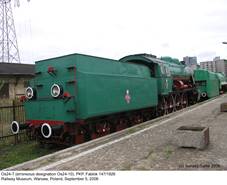 <![endif]>
...and yet another, taken on September 5, 2006.
<![if !vml]>

<![endif]>
Os24 drawing by M.Ćwikła, from SK vol.6/1999.
<![if !vml]>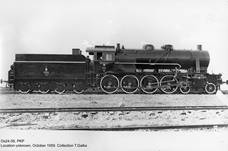 <![endif]>
Os24-59. My data give 'location unknown, October 1959', but judging from the service number this is a pre-war picture. Photo from my collection.
<![if !vml]>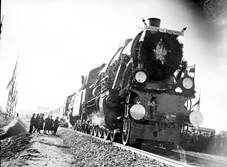 <![endif]>
Decorated Os24-7 (Fablok 121/1926), double-heading with another locomotive of this type, leaves Kraków to inaugurate the service to Miechów; November 1934. This engine fell into Soviet hands in 1939 and was later captured by Germans. Impressed into the DRG service as 33 214, it was returned in 1945 and re-numbered Os24-4, to be written off in April 1949. Source: National Digital Archives (www.nac.gov.pl). Used by permission.
<![if !vml]>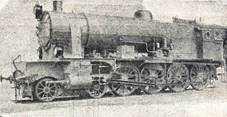 <![endif]>
Of poor quality, but interesting, this photo of an Austrian class 113 engine fitted with the Dabeg feedwater pump and heater was published in the Technika Parowozowa monthly, vol. 1/1929.
<![if !vml]>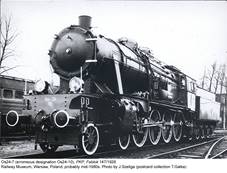 <![endif]>
Another picture of the Os24-7, photographed probably shortly after her transfer to the Railway Museum. Photo by J. Szeliga (postcard from my collection).
<![if !vml]>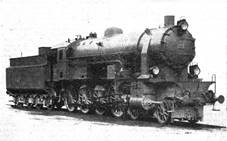 <![endif]>
Original Class 570 design was later developed into BBÖ Class 113. Prototype 113.01 (StEG 4693/1923) later became DRG 33 101; returned after the war and re-numbered 33.101, it was withdrawn in October 1960. Location and date unknown; source: Die Lokomotive December 1924.
Steam locomotives with the 2-4-0 axle arrangement were first designed and built in the USA, but never achieved much popularity there; from somehow awkward Centipede of 1855 to five machines supplied by Baldwin to Ferrocarriles Nacionales de Mexico in 1935, only about 600 were built, not many by American standards. They were known as Mastodons or simply Twelve-Wheelers. This layout eventually found much more favor with European railways. As it combined considerable tractive effort with moderate axle load and satisfactory running qualities, it was destined primarily for passenger traffic in mountain regions with comparatively weak tracks. No wonder, thus, that one of the main protagonists of this axle arrangement were the Austro-Hungarian state railways kkStB and later their descendants, ČSD and MÁV; beside these, many engines of this layout were purchased by Spanish RENFE.
In 1915, StEG (Maschinenfabrik der priv. österreichisch-ungarischen Staatseisenbahnen-Gesellschaft) of Vienna designed a 2-4-0 locomotive for Südbahn, designated class 570, mainly for heavy passenger trains running across the Semmering pass between Vienna and Graz. These large locomotives – in fact first passenger engines with four driven axles – were fast and powerful, but prone to snaking, so running above 80 km/h was somehow uneasy. Only two were built, plus five more for the KDB railway in northern Slovakia (classed I t); the latter were taken over by Czechoslovak ČSD after WWI as class 455.0 and remained in use until 1959. Between 1923 and 1928 further forty engines of slightly modified design were built for Austrian BBÖ railways as class 113; despite certain modifications, their running qualities still left much to be desired and consequently their maximum speed was reduced to 85 km/h in 1934. Much more – about 500 – locomotives of similar design were also built after WWI in Hungary as class 424.
When the First Locomotive Factory in Poland, later known as Fablok, was founded in Chrzanów in May 1919, technical assistance was provided by StEG; no wonder, thus, that Austrian designs were favored. Although first five Ok22 passenger locomotives had already been supplied by Hanomag, it was felt that these engines, with axle load of 17 tonnes, were not suitable for many railway lines in southern and eastern Poland, characterized by weak tracks. StEG suggested a design based on wartime class 570 – not on modified class 113 – and in 1924 first twenty locomotives were ordered and classed Os24. First of them was commissioned on January 23, 1926, and the last in May. Two subsequent orders, each for twenty engines, followed and the last of these was delivered in 1927.
Os24 locomotives, large and impressive, were pre-war PKP's pride and glory, at least until the end of 1920s, when new Pu29s and later Pt31s made their appearance. Impressive they were, mainly due to high-pitched boiler (firebox had to be located very high with such axle arrangement) and quite pleasant silhouette; they were not, however, trouble-free. Despite their designation, they were initially used mainly with express trains, but soon it was found that, just as their Austrian ancestors, they had a pronounced tendency to snaking and uneasy running at higher speeds, above 50 km/h. Moreover, it soon turned out that passing tight curves resulted in frame fractures between cylinders and first coupled axle. Poor manufacture quality was suggested as the main reason; it was also argued that valve gear design was faulty and resulted in excessive dynamic load on connecting rods and side sills. Other specialists pointed out that load distribution between lead truck and first coupled axle was improper. No modifications were, however, undertaken. On the other hand, some new design concepts were tested on these engines. Two (Os24-19 and Os24-20) had their typical valve gears replaced by the Lentz-type poppet-valve ones. In 1927 four (Os24-16, Os24-17, Os24-18 and Os24-20) were fitted with Dabeg feedwater heaters and pumps, driven by third pair of drivers. Last two examples had Worthington-type feedwater pumps. Despite certain advantages  none of these novelties was accepted for widespread use. An account of the tests with Dabeg pumps, published in 1928, stated that they presented no advantage compared to steam injectors then in common use, providing that the latter were properly adjusted and operated by skilled personnel. Moreover, pumps were considerably heavier than injectors.
All engines of the Os24 class were used in eastern and south-eastern Poland. With gradual improvement of track quality and mounting supplies of superior Pt31s of indigenous design they were shifted to passenger trains; in this role, however, Ok1 (Prussian P8) and Ok22 (its direct derivative) proved much better. In the end, class Os24 was judged too heavy and powerful for its ultimate role and in general rather unsuccessful. This also explains why this layout was not developed further; no other Polish locomotive had the 2-4-0 axle arrangement. Os24s were coupled with four-axle 27D24 tenders – then the heaviest locomotive tenders built in Poland.
In 1939, two examples (Os24-17 and Os24-31) were destroyed and ten were taken over by the Germans. In 1941 they were re-numbered 33 201 through 210 – their Austrian counterparts were designated class 330 (ex-570) and 331 (ex-113) – and served mainly with Ostbahn. The remaining 48 engines were taken over by the Soviets. According to PNPP, thirty were converted to the 1524 mm track; in 1941 they were evacuated eastwards and never returned. The remaining 18 were captured by Germans after Fall Barbarossa. They were in a very poor condition, so only six were repaired and restored in service (DRG 33 211 through 216). Some unserviceable Os24s, brought by DRG to Warsaw and awaiting repair, were destroyed during hostilities. Most German engines of this type were transferred to Austria during the closing stages of WWII, so in 1945 only four were taken over by Polish railways (two left by DRG in Poland and two captured by the Soviets, but not impressed into the NKPS service). However, eleven more soon followed from Austria. After the war, Soviet railways had 34 examples, which retained their original service numbers, written in Russian script (OC24). According to PNPP, last were withdrawn in 1962.
Just as before the war, all fifteen machines of this type were based in eastern Poland, namely in Lublin, Chełm and Rozwadów. They were known by the affectionate name 'Osa' (Wasp), derived from its designation. Their service was not very long and lasted only until late 60s. One locomotive of this type – the sole surviving example – has been preserved in the Railway Museum in Warsaw. Despite bearing plates with Os24-10 service number, it is in fact the Os24-7 (Fablok 147/1926, pre-war Os24-39), captured by Soviets in 1939. This engine later fell into German hands and became DRG 33 215 in 1944. Taken over by ÖBB in 1945, it was again taken by the Soviets in July 1948 and immediately handed over to PKP. This locomotive was withdrawn from use on April 17, 1970, as the last of this class, and thoroughly reconditioned in 1983.  
Main technical data
| | | | |
| --- | --- | --- | --- |
| No. | Parameter | Unit | Value |
| 1. | Years of manufacture | - | 1925 – 1927 |
| 2. | Total built / used in Poland | - | 60 / 60 |
| 3. | Tender class | - | 27D241) |
| 4. | Axle arrangement | - | 2-4-0 |
| 5. | Design maximum speed | km/h | 90 |
| 6. | Cylinder bore | mm | 2 x 615 |
| 7. | Piston stroke | mm | 650 |
| 8. | Engine rating | kW/hp | 955 / 1300 |
| 9. | Tractive effort | kG | 11 800 |
| 10. | Boiler pressure | MPa | 1.43 |
| 11. | Grate dimensions | m x m | 2.794 x 1.63 |
| 12. | Firebox heating surface | m2 | 16.1 |
| 13. | Distance between tube plates | mm | 5 200 |
| 14. | Number of flue tubes | - | 161 |
| 15. | Heating surface of flue tubes | m2 | 120.8 |
| 16. | Number of smoke tubes | - | 32 |
| 17. | Heating surface of smoke tubes | m2 | 65.34 |
| 18. | Evaporating surface, total | m2 | 202.242) |
| 19. | Superheater heating surface | m2 | 75.5 |
| 20. | Diameter of drivers | mm | 1750 |
| 21. | Diameter of idlers front/rear | mm | 1000 / - |
| 22. | Total weight, empty | kg | 82 000 |
| 23. | Total weight, working order | kg | 90 000 |
| 24. | Weight on drivers, working order | kg | 63 200 |
| 25. | Weight with tender, empty | kg | 104 400 |
| 26. | Weight with tender, working order | kg | 144 850 |
| 27. | Maximum axle load | T | 15.8 |
| 28. | Axle base (with tender) | mm | 17 174 |
| 29. | Overall length (with tender) | mm | 19 760 |
| 30. | Brake type | - | Westinghouse |
<![if !supportLists]>1) <![endif]>Some sources give 25D24.
<![if !supportLists]>2) <![endif]>Some sources give about 217 m2, which is incorrect.
List of vehicles can be found here.
References and acknowledgments
<![if !supportLists]>- <![endif]>Monographic article by Paweł Terczyński (SK vol. 6/1999);
<![if !supportLists]>- <![endif]>PNPP, LP;
<![if !supportLists]>- <![endif]>www.beitraege.lokomotive.de (locomotive database by Ingo Hütter).