<![if !vml]>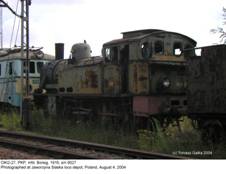 <![endif]>
Oki2-27, Jaworzyna Śląska loco depot, August 4, 2004…
<![if !vml]>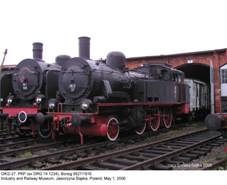 <![endif]>
…and the same engine after external refurbishment, photographed on May 1, 2006.
<![if !vml]>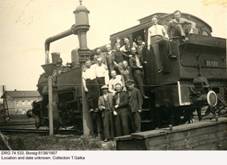 <![endif]> 
DRG 74 533 (ex Elberfeld 7724, Borsig 6136/1907), somewhere in Germany, date unknown. Photo from my collection.
<![if !vml]>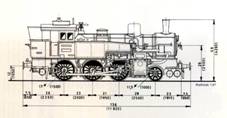 <![endif]>
Class 744-13 side drawing, © Lokomotiv-Revue; source: TB vol.2.
<![if !vml]>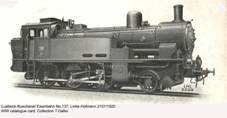 <![endif]>
A drawing from the LHW catalogue card shows LBE No.137 (Linke-Hofmann 2151/1920). This engine later became 74 1316; after brief service in The Netherlands in 1946 was transferred to DB and written off in 1958. From my collection.
<![if !vml]>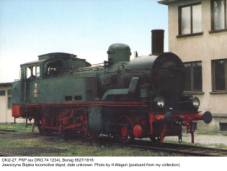 <![endif]>
OKi2-27 once again, this time a photo by H. Magoń (postcard from my collection).
<![if !vml]>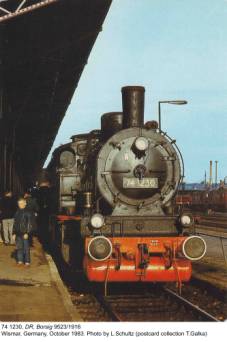 <![endif]>
74 1230, DR (Borsig 9523/1916), photographed in Wismar in October 1983. Photo by L. Schultz (postcard from my collection).
<![if !vml]>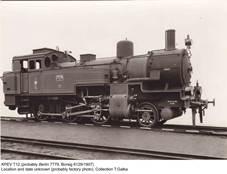 <![endif]>
Most probably this is Berlin 7779 (Borsig 6129/1907), which survived with DB as 74 526 until 1957. Location and date unknown, probably a factory photo. From my collection.
<![if !vml]>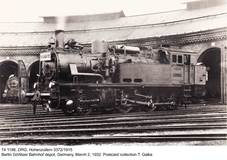 <![endif]>
74 1188 (former Berlin 8466, Hohenzollern 3372/1915) at the Berlin Görlitzer Bahnhof depot on March 2, 1932. After 1945 this locomotive remained with DR and its withdrawal rate is unknown. Postcard from my collection.
<![if !vml]>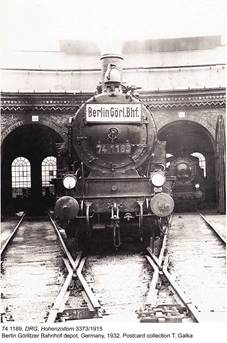 <![endif]>
Another postcard from my collection, the same location, the same year and 'next in turn' engine: 74 1189 (ex Berlin 8467, Hohenzollern 3373/1915). Taken over by PKP, it became OKi2-42 and remained in service until December 1956.
<![if !vml]>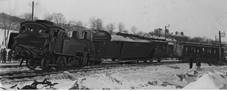 <![endif]>
Heavily retouched photo of the Oki2-9, taken after a crash in Gdynia on January 19, 1931. This locomotive – former KPEV Kattowitz 7712, Borsig 7925/1911 – was captured by Germans in 1939 and became 74 1335. Returned after the war and re-numbered Oki2-18, it was withdrawn in April 1955. Source: National Digital Archives (used by permission).
<![if !vml]>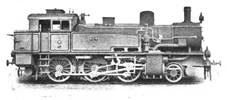 <![endif]>
Factory photo of the Berlin 8218 (Hohenzollern 2943/1912). This engine enjoyed a comparatively long life: re-numbered DRG 74 854, it was later taken over by DB and withdrawn in May 1962. Source: Die Lokomotive December 1921.
<![if !vml]>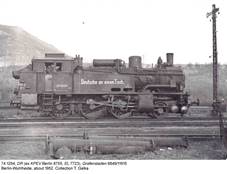 <![endif]>
DR 74 1254 (Grafenstaden 6849/1915) was originally delivered to Reichseisenbahnen Elsaß-Lothringen and numbered 7723. After the war it was transferred to KPEV and re-numbered Berlin 8755, then impressed into DRG; withdrawn in May 1965. Berlin-Wuhlheide, about 1952. Photo from my collection.
Between 1903 and 1910, Prussian state railways KPEV received 470 class T11 tank engines for passenger traffic with the 1-3-0 axle arrangement. They were designed by renowned Robert Garbe and served mainly in the Berlin area with the S-Bahn. These locomotives ran on saturated steam and had the tractive effort of 8.6 tonnes. Even before the deliveries of production examples began, a variant with steam superheater had been conceived and first four engines of this type were built by Union-Gießerei of Königsberg in 1902. After some design changes they were ordered in series in 1905 as class T12 – just as their predecessors, mainly for the S-Bahn. First 72 examples were fitted with chamber-type superheater in the smokebox. Later, a 33.4 sq.m Schmidt-type superheater with individual sections located in smoke tubes was introduced and earlier examples were brought up to this standard during overhauls. Externally T12 resembled its predecessor, the main differences being the smokebox larger in diameter than the boiler and slightly shorter waterboxes. Steam pressure remained at 12 bar, but due to larger cylinders (diameter increased from 480 to 540 mm) tractive effort was higher by 0.6 tonne. This engine could haul a 300-tonne draft on a 3‰ grade at 60 km/h; due to the lead Krauss-Helmholtz truck, running qualities were good even at the maximum speed of 80 km/h.
Until 1921, KPEV received 974 T12s, of which the majority – possibly about 500 – went to the S-Bahn. Most were built by Borsig, the rest came from Union, Grafenstaden and Hohenzollern. During the production run, many minor design modifications were introduced. At least forty more engines were supplied to other German railways; some of them differed in certain details. After WWI, newly-formed DRG took over 899 ex-KPEV engines, which were classed 744-13 and given service numbers 74 401 through 1300 (with the exception of 74 544). Further ten, initially based at Saarbrücken and in 1920 impressed into Saarbahnen, were taken over by DRG as 74 1301 through 1310 when the Saar region was incorporated into the German Reich in 1935. Finally, in 1938, DRG took over eleven T12s built for the Lübeck-Büchener Eisenbahn (LBE) by Linke-Hofmann in three small batches in 1914, 1920 and 1923. These engines had been given LBE service numbers 132 through 142 and became DRG 1311 through 1321; the differed in some details and were longer by 280 mm. Five were streamlined, in a manner similar to that of three 1-2-1 tank engines built for this line by Henschel between 1936 and 1937 and numbered 1 through 3. Streamlining was removed in 1948, but tapered coal-boxes were retained.
Electrification of the S-Bahn, which started in 1924 and was basically completed until 1933, made many engines of this type surplus. They were moved to secondary local lines or relegated to switching. After WWII they remained in service with both DB and DR until 1968; some went to industry.
Relatively few T12s were impressed into the PKP service after WWI. Classed OKi2, they numbered just twelve examples, plus six more in Gdańsk; the latter had service numbers OKi2-1Dz through 6Dz, where 'Dz' stood for 'Danzig'. All had been previously assigned to KPEV regional managements (KED) in Danzig (Gdańsk) or Kattowitz (Katowice). They were assigned to the Toruń regional management and remained in use until 1939. After the September campaign all fell into German hands and were absorbed by DRG with new service numbers 74 1322 through 1338 (OKi2-1 was probably not restored in service and its subsequent fate is not known). Of these, thirteen were returned after the war, but PKP received many more engines of this type as a part of war reparations, so post-war class OKi2 numbered as many as 84 examples. All were assigned to the regional management in Poznań and remained in use with local trains and as switchers until early 1970s. Few of them, after withdrawal, went to industry and the last example remained in use at the ZNTK (Railway Stock Repair Works) in Łapy until 1980. This engine (Borsig 9527/1916, KPEV 'Berlin 8707', then DRG 74 1234 and finally OKi2-27) was in 1985 transferred to the Railway Museum of Warsaw and later went to the Jaworzyna Śląska depot (now Industry and Railway Museum). Recently externally refurbished, it remains on static display. As far as I know, two more T12s still exist, both in Germany. One, 'Berlin 8470' and then 74 1192 (Hohenzollern 3376/1915) is the property of Deutsche Gesellschaft für Eisenbahngeschichte (DGEG) and can be seen at the Bochum-Dahlhausen museum. The other one, 'Berlin 8703', then 74 1230 (Borsig 9523/1916), was withdrawn from the DR service in 1969 and preserved as a heritage locomotive. Currently, re-designated 088 745-5, it is based at the Berlin Schöneweide depot and is still in working order, commemorating long service of this class with the S-Bahn.
Main technical data
No.

Parameter

Unit

Value

1.

Years of manufacture

-

1907 – 1921

2.

Total built / used in Poland

-

10141) /

18 – 842)

3.

Tender class

-

-

4.

Axle arrangement

-

1-3-0

5.

Design maximum speed

km/h

80

6.

Cylinder bore

mm

2 X 540

7.

Piston stroke

mm

630

8.

Engine rating

kW/hp

640 / 870

9.

Tractive effort

kG

9 200

10.

Boiler pressure

MPa

1.22

11.

Grate dimensions

m X m

1.75 X 0.99

12.

Firebox heating surface

m2

9.41

13.

Distance between tube plates

mm

4370

14.

Number of flue tubes

-

120

15.

Heating surface of flue tubes

m2

65.8

16.

Number of smoke tubes

-

18

17.

Heating surface of smoke tubes

m2

30.8

18.

Evaporating surface, total

m2

106.013)

19.

Superheater heating surface

m2

33.4

20.

Diameter of drivers

mm

1500

21.

Diameter of idlers front/rear

mm

1000 / -

22.

Total weight, empty

kg

53 180

23.

Total weight, working order

kg

67 200

24.

Weight on drivers, working order

kg

50 100

25.

Weight with tender, empty

kg

-

26.

Weight with tender, working order

kg

-

27.

Maximum axle load

T

17.7

28.

Axle base (with tender)

mm

6 350

29.

Overall length (with tender)

mm

11 800

30.

Brake type

-

Knorr, Westinghouse
<![if !supportLists]>1) <![endif]>Some sources give 974, which refers to the output for KPEV only.
<![if !supportLists]>2) <![endif]>After WWII.
<![if !supportLists]>3) <![endif]>Some sources give 105.37 sq.m or 108.0 sq.m, which may refer to various versions.
References and acknowledgments
<![if !supportLists]>- <![endif]>TB vol.1, LP;
<![if !supportLists]>- <![endif]>K (various issues).