<![if !vml]>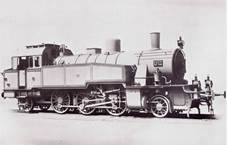 <![endif]>
KPEV T6 Altona 2201 (Schwartzkopff 3036/1902), probably withdrawn in 1910. Source: Lokomotiven der alten deutschen Staats- und Privatbahnen by Hermann Maey and Erhard Born, Transpress, 1983.
<![if !vml]>

<![endif]>
T6 side drawing from Lokomotiv-Archiv Preussen Band 3 (see References).
In late 1890s increasing traffic in and around Berlin forced KPEV to order new locomotives, as existing types with 0-2-1, 1-2-0 and 2-2-0 axle arrangements had been found too weak. Fast startup and ability to run in both directions at maximum speed were considered mandatory. Apart from two 1-3-0 designs (running on saturated and superheated steam – T11 and T12, respectively), a 1-3-1 was proposed. The latter was designed by Gustav Wittfeld and featured three-cylinder single-expansion steam engine, rather exotic by KPEV standards. Prototype was built by Schwartzkopff in 1902.
Plain analysis of design characteristics seemed to favor Wittfeld's engine, classed T6. Test rides, however, were extremely disappointing. Steaming capacity turned out to be much below that required for a three-cylinder engine. Besides, water and coal consumption was substantially higher than for T11 and T12, which were considered superior. T6 was finally judged unsuccessful and production was limited to twelve examples, all built by Schwartzkopff. Ten were delivered to Königliche Eisenbahndirektion (KED) Berlin and two to KED Altona. In 1908 all T6s were rebuilt and had the inner cylinder removed; empty weight reduction allowed for increase of water and coal capacities. Despite this radical change, T6 remained a poor steamer. A suggestion to install steam superheater was rejected, as this would have resulted in an unacceptable change of axle load distribution. Service of these engines in Berlin lasted only until 1914; later they were transferred to Danzig (Gdańsk), Bromberg (Bydgoszcz) and Halle. Two T6s assigned to KED Altona were most probably withdrawn in 1910.
After WWI five T6s were kept by DRG, but all were withdrawn before 1923, so that none was given new service number. Four engines from Gdańsk and one from Bydgoszcz were taken over by PKP and after 1926 classed OKl1. Little is known about their service, apart from the fact that most – perhaps all – were based in Gdańsk and used mainly with local traffic. As far as I know, only one photo of Polish OKl1 exists, taken in Gdynia probably in 1926. Two were withdrawn until 1936 and remaining three in 1937. In September 1939 OKl1-2 (Schwartzkopff 3049/1902), already withdrawn, was captured by the Soviets and returned to service. Later it fell into German hands and served with Ostbahn; its final fate is not known. No locomotive of this type has been preserved.
Main technical data
No.

Parameter

Unit

Value

1.

Years of manufacture

-

1902

2.

Total built / used in Poland

-

12 / 5

3.

Tender class

-

-

4.

Axle arrangement

-

1-3-1

5.

Design maximum speed

km/h

801)

6.

Cylinder bore

mm

2 X 500 /

3 X 5002)

7.

Piston stroke

mm

630

8.

Engine rating

kW/hp

9.

Tractive effort

kG

7 000

10.

Boiler pressure

MPa

1.43

11.

Grate dimensions

m X m

2.3 m2

12.

Firebox heating surface

m2

11.9

13.

Distance between tube plates

mm

4200

14.

Number of flue tubes

-

240

15.

Heating surface of flue tubes

m2

142.4

16.

Number of smoke tubes

-

-

17.

Heating surface of smoke tubes

m2

-

18.

Evaporating surface, total

m2

154.3

19.

Superheater heating surface

m2

-

20.

Diameter of drivers

mm

1500

21.

Diameter of idlers front/rear

mm

1000 / 1000

22.

Total weight, empty

kg

64 400

23.

Total weight, working order

kg

78 900

24.

Weight on drivers, working order

kg

48 700

25.

Weight with tender, empty

kg

-

26.

Weight with tender, working order

kg

-

27.

Maximum axle load

T

16.6

28.

Axle base (with tender)

mm

9 000

29.

Overall length (with tender)

mm

13 600

30.

Brake type

-

Knorr
1) Some sources give 75 km/h.
2) Original variant before reconstruction.
References and acknowledgments
<![if !supportLists]>- <![endif]>Monographic article by Ryszard Stankiewicz (KMD vol. 2-3/2007);
<![if !supportLists]>- <![endif]>Lokomotiv-Archiv Preussen Band 3 by Andreas Wagner (Bechtermünz Verlag, 1996);
<![if !supportLists]>- <![endif]>LP.